The Museumplein is a public space in the Museumkwartier neighbourhood of the Amsterdam-Zuid borough in Amsterdam, Netherlands.
It is home to some of the city's finest museums and galleries.
The Rijksmuseum, Van Gogh Museum, Stedelijk Museum, and Royal Concertgebouw Orchestra are at Museumplein.
The square hosts festivals, concerts, and other summer activities and both locals and tourists love its green area and services.
The Diamond Museum, the Moco Museum, and the "I Amsterdam" sign are also near Museumplein.
Museumplein is a must-see for art admirers and Amsterdam culture explorers.
GVB Amsterdam is the best way to navigate the city quickly, easily, and cost-effectively. If you are in the city for over two days, we recommend buying GVB Public Transport Ticket.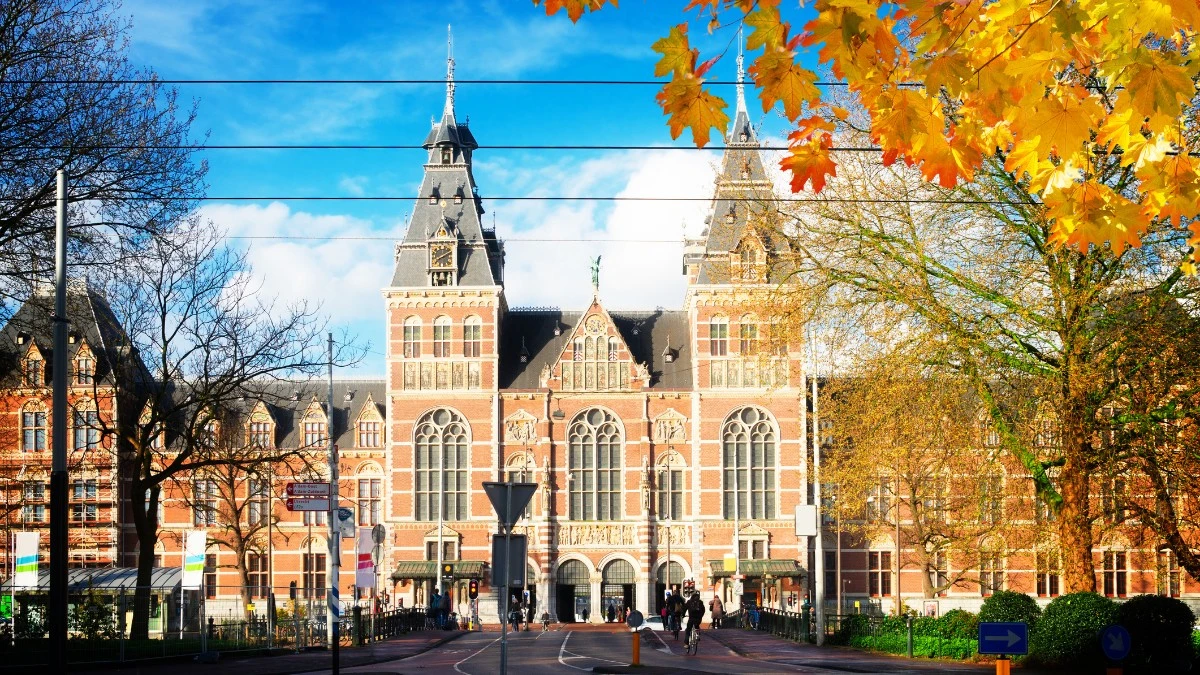 Museums in Museumplein
Amsterdam's top museums are at Museumplein. We list them below:
Rijksmuseum is a world-famous museum that has Rembrandt, Vermeer, and Van Gogh masterpieces. The museum displays Dutch history, culture, and design.
The Van Gogh Museum honors the Dutch painter Vincent van Gogh. The museum boasts the world's largest Van Gogh and contemporary art collection.
Amsterdam's Stedelijk Museum showcases modern and contemporary art. The collection emphasizes Dutch painters from the 19th century to the present.
Moco Museum, a privately owned modern and contemporary art museum, focuses on street and pop art. Banksy, Warhol, and others are represented.
Museumplein is Amsterdam's cultural hub and a must-see for art and history lovers.
Planning a holiday in Amsterdam? Read about the city's weather, coffee shops, Foodhallen, taxis, parking, restaurants, pancakes, and the light festival.
'I Amsterdam' Sign at Museumplein
The "I Amsterdam" sign at Museumplein in front of the Rijksmuseum is a prominent Amsterdam attraction.
This sign has 23.5 meters (77 feet) in length and 3 meters in height, and each letter is 2 meters (10 feet) tall and 23.5 cm thick.
The sign was built in Museumplein in 2004 to promote Amsterdam as a tourist and business destination.
Since then, it has become a city icon and an ideal place to click a selfie.
After concerns that it had become too linked with Amsterdam's mass tourism sector, the sign was temporarily removed from Museumplein in 2018.
In 2019, the sign was erected yet again on the Museumplein and continues to draw international tourists.
The "I Amsterdam" sign at Museumplein is surrounded by a vast open space for picnics, lounging, and seeing the Rijksmuseum and other surrounding attractions.
If you are planning a vacation to the Dutch capital, check out our itinerary recommendation for a 1-day, 2-day, 3-day, and 5-day visit to Amsterdam.
Kids activities at Museumplein
Museumplein has various kid-friendly attractions and activities.
Museums: Museumplein has world-class museums with intriguing exhibitions for kids of all ages. The Van Gogh Museum offers a free family guide and children's activity book. The Stedelijk Museum of Modern Art features a family guide and weekend courses.
Playground: At the "I Amsterdam" sign is a spacious playground for smaller children. The playground includes slides, swings, climbing platforms, and sandpits.
Ice-skating: Museumplein has a public ice-skating rink in winter. Kids can skate with pals or rent skates.
Relax and have a picnic: Museumplein is a wide-open park with many grassy spots for picnics and activities. Bring a blanket and food to admire the museums and architecture.
Listen to music: Museumplein hosts free kid-friendly concerts and shows year-round. Check the local events calendar for your stay.
Museumplein has many more activities for youngsters. Families may enjoy its various cultural attractions and open areas.
Recommended Reading
– Couple things to do in Amsterdam
– Kids activities in Amsterdam
– Free things to do in Amsterdam
Sources
# Tripadvisor.in
# Iamexpat.nl
# Getyourguide.com

The travel specialists at TheBetterVacation.com use only high-quality sources while researching & writing their articles. We make every attempt to keep our content current, reliable and trustworthy.
Popular attractions in Amsterdam