Even though it is always good to have more time to explore the city, two days are enough to visit some popular attractions of Amsterdam and get a sense of its culture and vibe.
In two days, you can visit the most famous museums in Amsterdam, go cycling through Vondelpark, explore the charming Jordaan neighborhood, and take a canal boat to see the city from a different angle.
There are several places in Amsterdam that you must check, so it is crucial to prioritize the things and places that are interesting for you.
Creating an itinerary in advance will help you save time.
GVB Amsterdam is the cheapest and best way to go around the Dutch capital. If you are in the city for over two days, we recommend buying GVB Public Transport Ticket.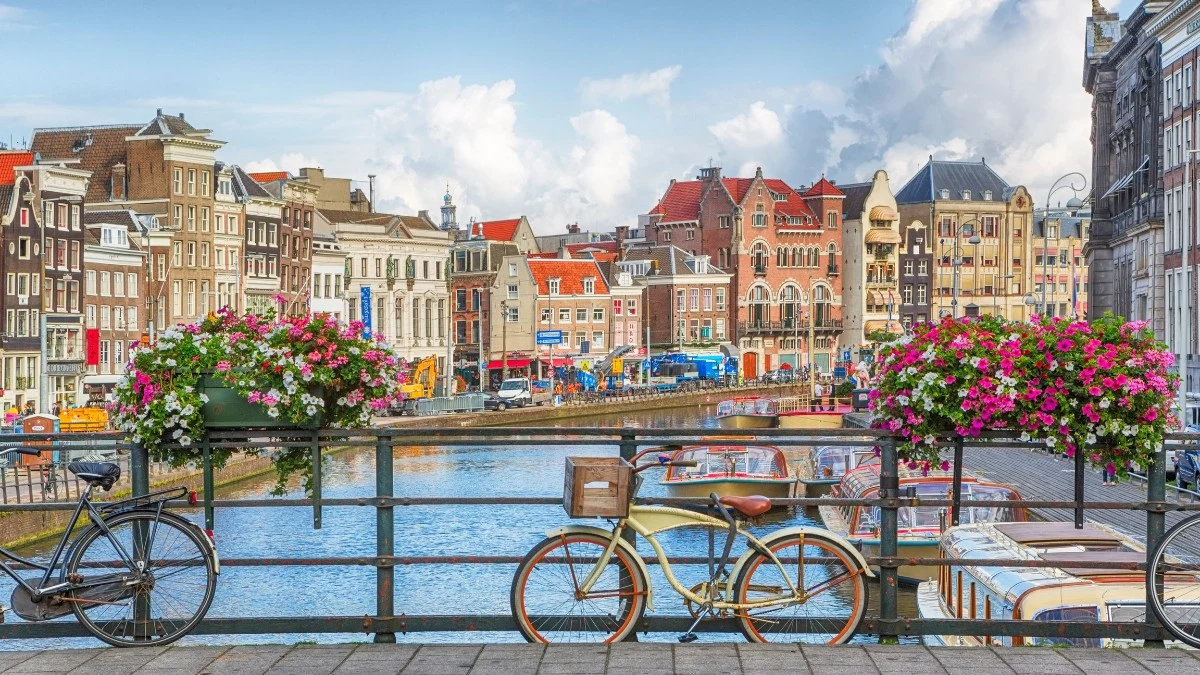 Two day plan for Amsterdam
The following is a suggested two-day schedule for Amsterdam:
Day 1: Morning
On the first day, visit the Van Gogh Museum, which houses the largest collection of paintings by the world-famous Dutch artist Vincent Van Gogh.
Try to reach the attraction during the early hour to beat the crowds as this museum is quite popular.
After exploring the museum, you can go on a brief walk to the nearby Albert Cuyp Market, one of the most popular and largest street markets in Amsterdam.
The street market sells various products ranging from clothes to handicrafts.
Read about the city's weather, coffee shops, Foodhallen, taxis, parking, restaurants, pancakes, Museumplein, and the light festival even before you plan a holiday to Amsterdam.
Day 1: Lunch
There are many dining options in the Jordaan district, considered a charming neighborhood popular for its art galleries, trendy boutiques, and narrow lanes.
Day 1: Afternoon
Ride a bike through the largest park in Amsterdam, Voldelpark, after lunch.
Enjoy the park's serene beauty by watching beautiful lakes, gardens, and sculptures.
At last, you can visit Anne Frank House, a museum dedicated to the legacy and life of Anne Frank, a young girl from the Jewish community.
Book tickets in advance as it is a popular attraction.
Day 2: Morning
Start your second day in Amsterdam by visiting Rijksmuseum, one of the famous and largest museums in the city.
You will see a huge collection of Dutch history and art, including the works by Van Gogh, Vermeer, and Rembrandt.
Try to arrive early to beat the crowd and spend more time.
After the museum tour, stroll down to the nearby shopping street, Van Baerlestraat.
Day 2: Lunch
You can visit De Foodhallen, the famous indoor food market offering various foods, from Dutch Biterballen to sushi.
Day 2: Afternoon
Take a canal cruise and get mesmerized by the panoramic view of Amsterdam from the water.
It is the best way to view the city's historical sights and beautiful canals from a different angle.
Finish your day by visiting Amsterdam's Red Light District, noted for its nightlife and adult activities.
While visiting this location, it is critical to respect the local culture.
Recommended Reading
– Things to do in Amsterdam for couples
– Activities to do for kids in Amsterdam
– Free things to do in Amsterdam
Tips to make the most of two days
To help you make the most of your two days in Amsterdam, here are some tips:
Plan early: Conduct in-depth research about the interesting attractions before reaching Amsterdam so that figuring out things will be smoother, and you can save time.
Purchase a city pass: If you plan to visit multiple attractions and museums, you must buy a city pass. This will help you save entrance fees and skip the queues at a few attractions.
Start your day early: During the peak season, Amsterdam gets overcrowded, so it is better to begin your day early to avoid crowds and long queues.
Taste local food: There are various cafes and restaurants in the city, and you must try traditional Dutch cuisines. This will also provide you with a taste of Dutch culture.
Hire a bike or go on foot: Amsterdam is fairly walkable and bike-friendly, so consider renting a bike to explore. By doing this, you can beat the traffic and see more of the city.
Go for canal cruising: Consider taking a canal cruise to explore the city from a unique perspective since the canals are an iconic part of Amsterdam.
Don't waste time: Saving time is crucial for a two-day trip to Amsterdam. Please ensure you have enough time to return to the hotel or the airport/station if you leave on the second day.
Check out our recommended itinerary for a memorable 1-day, 2-day, 3-day, and 5-day holiday in the Dutch capital.
Popular attractions in Amsterdam