If you are on a budget holiday or are a large group of travelers, you will be glad to know that not everything in Amsterdam costs money.
The Dutch capital offers free attractions, activities, and experiences.
Check out our list of free things to do in Amsterdam.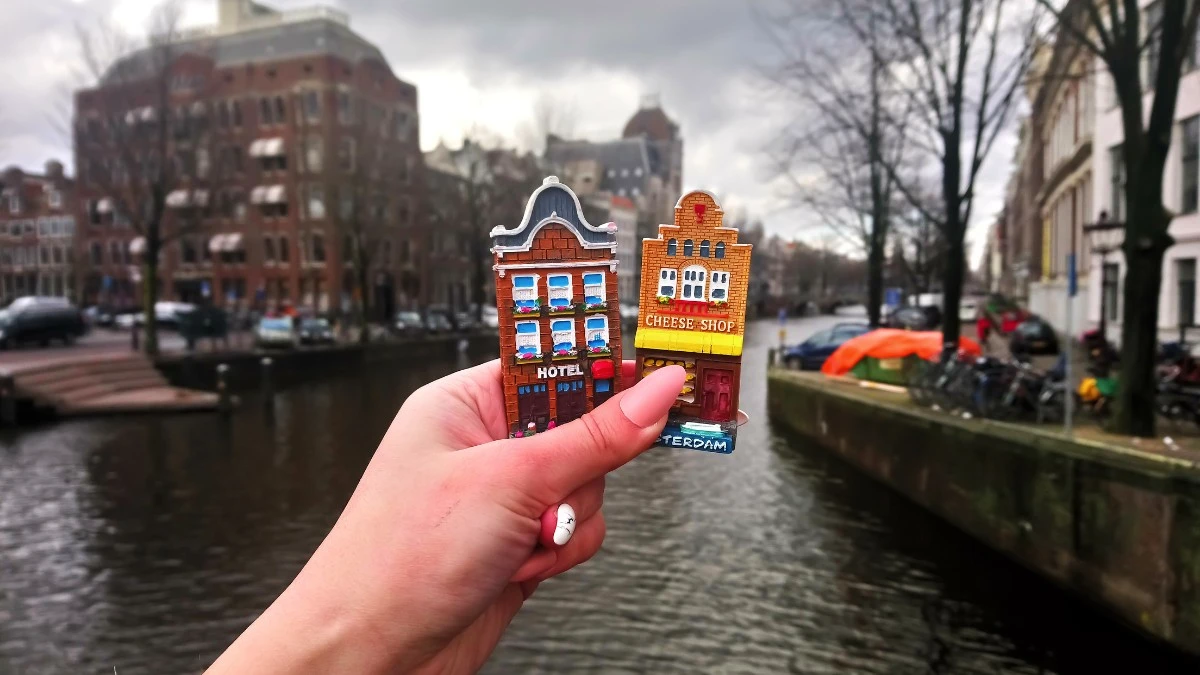 Walk or bike along the canals
Amsterdam's spectacular architecture and distinct atmosphere may be seen by strolling or riding along its canals.
The 17th-century Dutch Golden Period canals of Amsterdam are famous.
Trees, bridges, and lovely houseboats border the city's canals, which connect old buildings.
Tourists may explore the city on foot or by bike along the canals.
It's also a great way to find hidden jewels and off-the-beaten-path locales and understand Amsterdam's bike culture.
Tourists can hire bikes from various outlets at a nominal price to explore the bike-friendly city.
GVB Amsterdam is the best way to navigate the city quickly, easily, and cost-effectively. If you are in the city for over two days, we recommend buying GVB Public Transport Ticket.
Visit the parks in the city
Amsterdam's parks are fantastic places to rest, unwind, and appreciate nature in a busy city.
The largest and most renowned park in Amsterdam is Vondelpark.
It's perfect for picnics, sunbathing, riding, rollerblading, and jogging.
Vondelpark has cafés, restaurants, playgrounds, an open-air theatre, and sculptures and art installations.
Westerpark, towards the west, is another popular park.
This park hosts music festivals, film screenings, and art exhibitions.
It has restaurants, cafés, a petting zoo, a playground, and a rowing lake.
The southern Amsterdam park Amstelpark has various gardens, a small train ride for kids, a petting zoo, a playground, and various sculptures and art pieces.
Explore the Jordaan neighborhood
Amsterdam's old Jordaan area showcases the city's diverse culture.
Jordaan, in central Amsterdam, is noted for its small alleys, gorgeous canals, and charming residences and stores.
Once a working-class neighborhood, it is now stylish and popular with residents and visitors.
The neighborhood has several art galleries, boutique stores, cafés, and restaurants for shopping, dining, and exploring.
Visitors can learn about Anne Frank and her family at this historic location, who hid in the building during World War II.
The Noordermarkt, a Saturday farmers' market, is another Jordaan attraction.
The market has live music, fresh fruit, flowers, and handcrafted crafts.
Planning a holiday in Amsterdam? Read about the city's weather, coffee shops, Foodhallen, taxis, parking, restaurants, pancakes, Museumplein, and the light festival.
Check out the street markets
Amsterdam's street markets allow visitors to explore local culture and shop.
Amsterdam has numerous prominent street markets with unique goods.
The Albert Cuyp Market in De Pijp, Amsterdam, is a prominent market.
This lively market sells fresh vegetables, seafood, cheese, apparel, and gifts.
Amsterdam's oldest flea market, Waterlooplein, is also very popular.
The city center market sells vintage apparel, antiques, and more.
The market is open daily except on Sunday.
Amsterdam's eastern Dappermarkt is also very popular and sells fresh food, spices, and apparel worldwide.
Dappermarkt is open daily except Sunday.
Visit the free museums
Amsterdam's free museums allow visitors to learn about the city's culture and history without spending money.
Amsterdam has many free, world-class museums.
See the street art
Several outstanding local and international artists create murals, graffiti, and other public art throughout Amsterdam.
The NDSM Wharf, a converted shipyard, is a great spot to see street art in Amsterdam.
The neighborhood has several artist studios and big murals and installations.
The Spuistraat and neighboring areas in Amsterdam's city center are famous for street art. Murals, graffiti, and stencils decorate this region.
Tourists may join guided tours of street art to learn about its history, culture, and artists.
These excursions are a fun and unique way to learn about Amsterdam and its people and explore its street art movement.
Recommended Reading
– Couple things to do in Amsterdam
– Kids activities in Amsterdam
Visit Begijnhof Amsterdam
Begijnhof is one of the oldest 'hofjes' in Amsterdam.
A 'hofje' is a Dutch word for a courtyard with houses around it, where elderly people (mostly women) live.
The Begijnhof was founded in the 14th century for Beguines, devout ladies.
A lovely garden, antique buildings, and a peaceful environment make the courtyard a city paradise.
The 15th-century English Reformed Church is a Begijnhof feature.
The Gothic church has gorgeous stained-glass windows and a long history.
Visitors can attend church services or observe its beauty and history.
Attend a free concert
Amsterdam has a vibrant music scene with numerous free concerts and shows.
Free concerts are a terrific opportunity to meet people and explore the city's culture.
Tourists can find free concerts in parks, squares, and cultural centers – you may only have to look around.
If you are planning a vacation to the Dutch capital, check out our itinerary recommendation for a 1-day, 2-day, 3-day, and 5-day visit to Amsterdam.
Watch sunset over the city
Amsterdam has many fantastic sunset-watching spots, and we list the best –
Overhoeksplein: Located across the IJ River from the city center, this public square provides stunning views of Amsterdam's skyline and sunsets.
Westerkerk Tower: As one of Amsterdam's tallest structures, Westerkerk Tower offers incredible city views, particularly the sunset over the canals and rooftops.
A'DAM Lookout: This observation deck on top of the A'DAM Tower features a 360-degree panoramic view of the city, including breathtaking sunset vistas over Amsterdam.
Magere Brug: This iconic bridge over the Amstel River presents a picturesque view of the city and the riverside sunset.
Oosterdok: This public plaza is situated near Amsterdam Central Station and delivers a captivating metropolitan perspective, including the IJ River sunset.
Take a free walking tour
Amsterdam also offers local-guided free walking tours.
These 2-3-hour trips include prominent tourist destinations and lesser-known regions of the city.
Popular Amsterdam free walking excursions include:
New Amsterdam Tours: New Amsterdam Tours gives free walking tours of Amsterdam between 10.30 am and 2 pm daily. Dam Square, the Red Light District, and the Anne Frank Home are visited.
Sandemans New Europe: This firm gives free Amsterdam walking tours at 10 am, 11 am, 2 am, and 4 pm daily. The trip visits the Royal Palace, Jordaan, and Amsterdam waterways.
Strawberry Tours: This organization gives free Amsterdam walking tours from 11 am and 2 pm daily. The tour visits the Dam Plaza, Red Light District, and Anne Frank Home.
It is worth noting that these excursions are free, but guides work for gratuities.
At the end of the trip, you should tip your guide based on how much you loved it and how much you can afford.
Popular attractions in Amsterdam