Keukenhof Castle is a well-known country mansion from the Golden Age of the Dutch Republic.
It was built in 1641 and still stands today, welcoming locals and tourists. 
Keukenhof Castle is located just outside Lisse, at the entrance of the famed Keukenhof Gardens.
The Keukenhof Castle houses fantastic artifacts but is overshadowed by the more popular annual Tulip Flower Festival at Keukenhof Gardens.
However, unlike Keukenhof Gardens, the Keukenhof Castle is open all year round for tourists and admirers.
This article shares everything you must know before booking tickets for Keukenhof.
Keukenhof means 'kitchen gardens' and gets its name because the Countess (and later the Castle's cooks) gathered fruits and vegetables from this spot.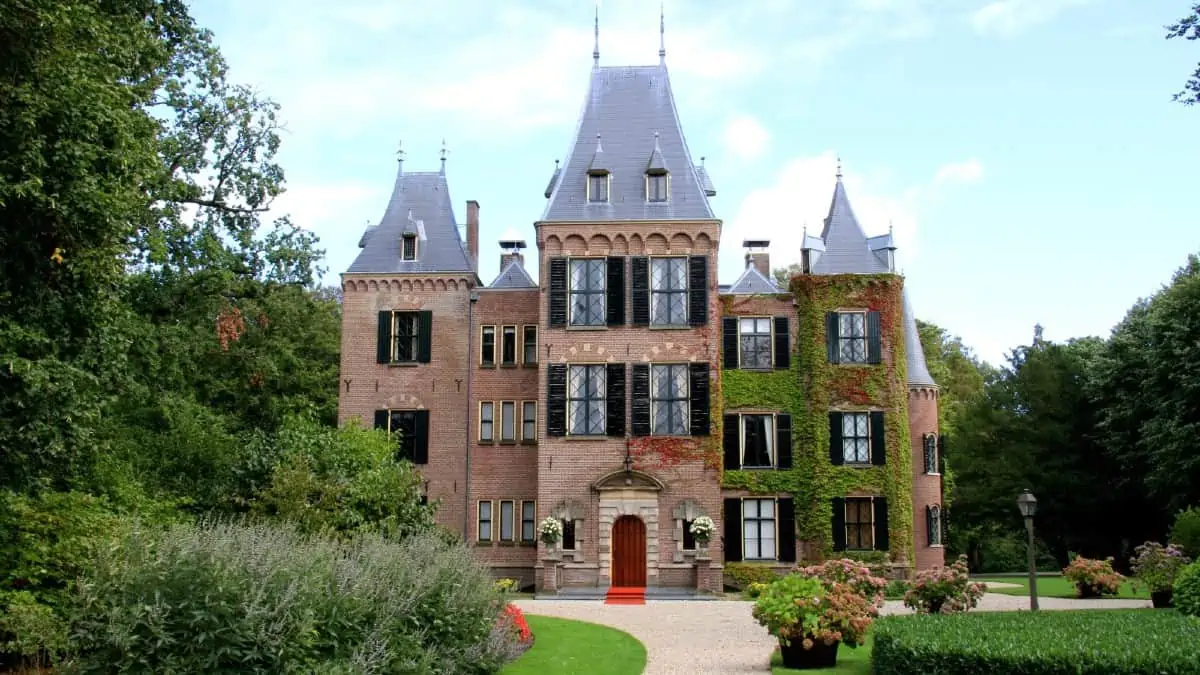 What to expect at Keukenhof Castle
The Keukenhof Castle portrays the culture and history in its most raw form.
Fabulous furniture and portraits adorn the Castle, so you understand how the Dutch lived during the Golden Age. 
Famous paintings of Nicolaes Maes from the 17th Century also decorate the walls. He was one of Rembrandt's most famous pupils.
You can also see the Chinese and Japanese porcelain beautifully displayed in a unique cabinet and the fantastic chimney by French architect and designer Daniel Marot.
Also, in the book cabinet, you can find a complete Encyclopedia from 1770.
The Keukenhof Castle is one of the many things that make visiting Keukenhof worth the effort.
---
---
Where to book tickets
Tickets for Keukenhof Castle can be purchased online or in person at the attraction.
Online ticket prices tend to be cheaper than tickets at the attraction.
When you buy online, you can avoid the long queues at the ticket counters.
When you book early, you also get your preferred time slot.
Because the attraction sells limited tickets due to their high demand, booking early helps avoid last-minute disappointments.
How do online tickets work
Visit the Keukenhof Castle ticket booking page, select your preferred date, time slot, and number of tickets, and buy the tickets right away.
After making the purchase, you will receive the tickets in your email.
Ticket printouts are not required.
You can enter the attraction by showing the e-ticket on your smartphone.
Keukenhof Castle ticket prices
Keukenhof tickets cost €20 for visitors aged 18 years and above.
Children between four and 17 years get a €11 discount and pay €9 for entry.
Kids under four years can get in for free.
Keukenhof Castle tickets
Visitors can explore Keukenhof Castle only under the guidance of the attraction's official guide, and you must book your tickets in advance.
The guided tour of Keukenhof Castle in February and March is free. 
Here are some ticket options to reach Keukenhof Gardens in 2024. 
A maximum of 15 people per group can be reserved.
Visual Story: 15 must-know tips before visiting Keukenhof Gardens
---
---
How to reach Keukenhof Castle
The Keukenhof Estate is located adjacent to the Keukenhof flower garden and is only 30 minutes away from Amsterdam, Haarlem, The Hague, and Leiden.
Address: Keukenhof 1, 2161 AN Lisse, Netherlands. Get Directions
You can either take public transport or take your car to Keukenhof. 
By bus
Bus 90 takes you to Lisse, Keukenhofdreef. From there, the museum is just a five-minute walk.
By car
If you're traveling by car, turn on your Google Maps and get started! 
You can park for free on the grounds of the Keukenhof Estate.
During events paid parking is available in the parking lot of the Keukenhof Flower Gardens.
If you don't have a car, there are many other ways to get to Keukenhof from Amsterdam.
Opening hours
The Castle is open from Monday to Sunday between 8:30 am and 7:30 pm.
The Castle is open only for guided tours. So, make sure you have the ticket before you visit the place.
How long does the tour take
A complete tour of the Keukenhof Castle takes around two hours.
Best time to visit
The best time to visit Keukenhof is at 8.30 am when it opens. 
Most guests visit Keukenhof Castle during the two-month-long flower festival from mid-March to mid-May.
If you prefer a less crowded experience, consider visiting during weekdays and avoid weekends and public holidays. 
Since the more significant attraction is the colorful, blooming Tulips in the region, you must decide when to visit Keukenhof Gardens based on the weather.
Keukenhof Castle Estate
The best part is that the Estate of Keukenhof Castle is free to enter.
Guests don't have to purchase any tickets.
The Estate of Keukenhof is open every day of the week from 8.30 am to 5 pm.
Part of the Estate is a petting zoo where Dutch farm animals, such as horses, cows, chickens, peacocks, rabbits, etc., are displayed. 
Also, entry to Keukenhof Petting Zoo is free. 
The Estate also has a museum called LAM Lisser Art Museum, for visitors to indulge in visual art forms.
Recommended Reading: Bike rentals near Keukenhof Gardens
Sources

# Keukenhof.nl
# Wikipedia.org
# Tulipfestivalamsterdam.com
# Bollenstreek.nl

The travel specialists at TheBetterVacation.com use only high-quality sources while researching & writing their articles. We make every attempt to keep our content current, reliable and trustworthy.
Popular attractions in Amsterdam