If you are holidaying in the Netherlands during springtime, you must visit Keukenhof Gardens, the world's most famous flower festival.
Keukenhof is located in the flower region of the Netherlands called 'Bollenstreek' and is only 40 km (25 miles) from Amsterdam.
Since the capital city is the most popular holiday destination in Holland, most tourists visit the Keukenhof Gardens from Amsterdam.
This article explains everything you must know before booking your Keukenhof Gardens tour from Amsterdam in 2023.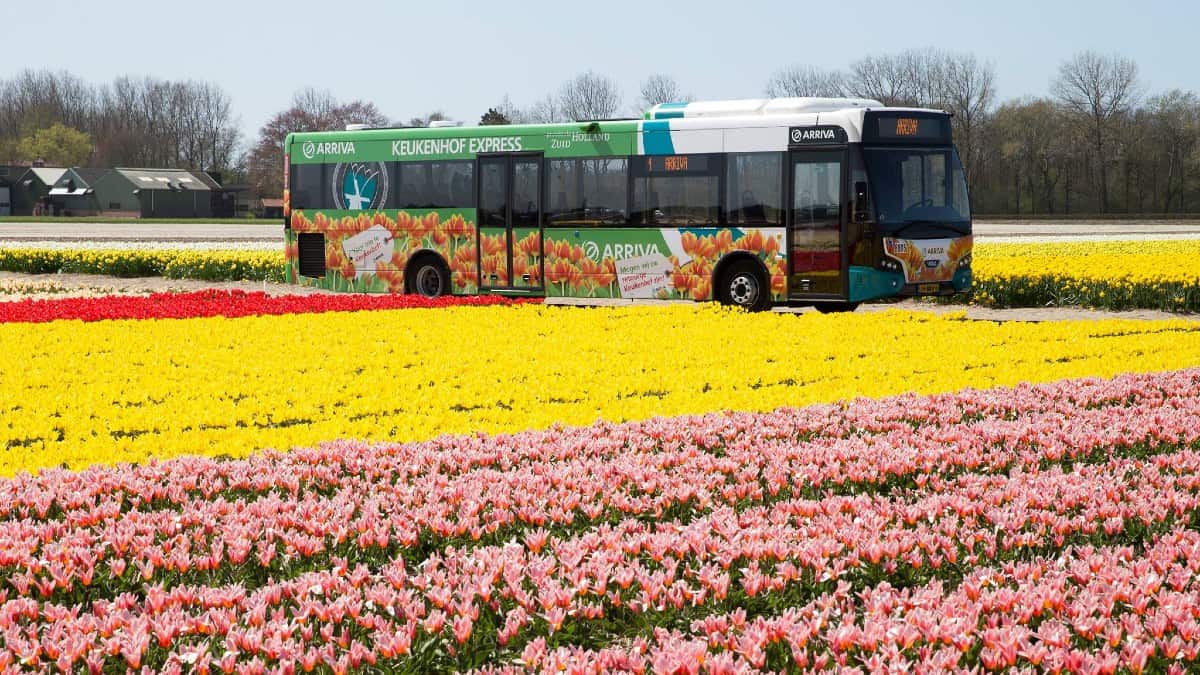 Take the Keukenhof Express Bus
If you prefer public transport, the Keukenhof Express Bus is one of the best options to travel from Amsterdam to Keukenhof Gardens.
The Keukenhof bus departs from various train stations such as Amsterdam RAI Station, Amsterdam Airport Schiphol, Haarlem Station, Leiden Station, and Noordwijk / Katwijk beach.
It is the fastest and cheapest way to reach Keukenhof Tulip Gardens from the Dutch capital.
You will need to show your ticket again for your return trip.
If you book one of these Express Buses, you can bike around the flower fields near Keukenhof, knowing that your bus will be waiting for you.
In 2023, Tulip lovers visiting Keukenhof can also opt for the Tulip Festival Card. With the Tulip Card, visitors don't need to book a time slot in advance for the bus. You can reach Amsterdam Central Station and board the bus to Keukenhof. The Card gets you skip-the-line entry to Keukenhof Gardens, an audio guide to tour the Tulip fields around, and three days of public transport.
Visual Story: 15 must-know tips before visiting Keukenhof Gardens
---
---
Book guided tour from Amsterdam to Keukenhof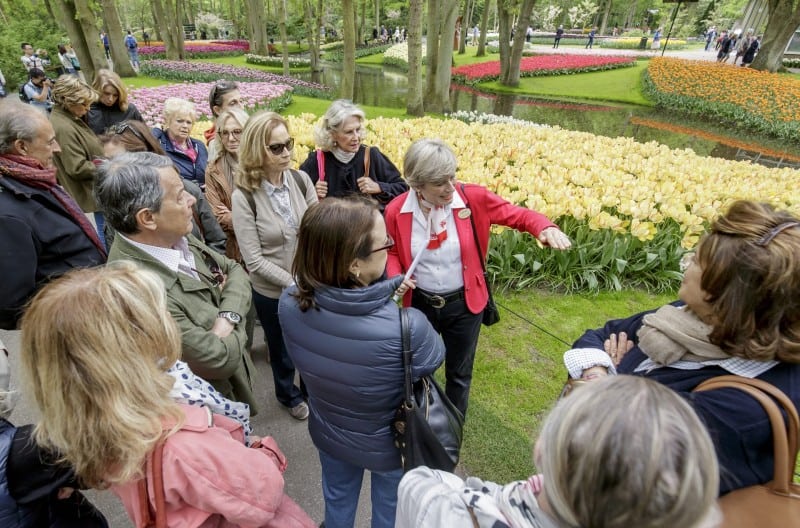 Tourists who prefer a local expert to take them around can choose from two highly-rated tours to Keukenhof.
These tours start from Amsterdam and include an English-speaking guide, who stays with you throughout the day.
Cheapest guided tour of Keukenhof
If you prefer luxury travel, you should check out this guided tour to the Keukenhof Gardens starting from Amsterdam.
Once you book the guided tour, you will receive a voucher in your email.
On the day of the travel, show your smartphone voucher at THIS IS HOLLAND, and you get your return bus ticket and a skip-the-line ticket to Keukenhof Gardens.
These guided tours depart for Keukenhof from 10 am till 3 pm.
Besides the English live guide, you also get an audio guide to share lots of information on the Garden of Europe.
Your fast-track entry quickly gets you past the lines and into the Tulip Gardens.
Once you are done, you need to get back to the coach waiting for you and return to Amsterdam.
Cost of Tickets
Ticket Price (3+ years): €43
Kids under three years can join in for free.
These guided tours to Keukenhof are also available from Rotterdam and The Hague.
---
---
Keukenhof Tulip Fields Tour + Windmill + Farm Visit
This eight-hour-long tour offers the best possible Keukenhof experience, which is why this is also one of the costliest tours.
The starting point of this tour is Overhoeksplein 51, 1031 KS, Amsterdam, where you meet your local guide.
After the initial briefing, you board the bus to the Keukenhof flower festival, where you get a skip-the-line entry.
Next, you visit a Tulip bulb farm, where you also meet and greet the family who runs it.
The family gives you the go-ahead to explore their bulb fields, making for great photo opportunities.
The 90-minutes Spring Cruise near Keukenhof is next on the agenda, after which you visit an authentic working windmill in the Lake District.
After about seven hours in the Tulip growing region of Holland, you will head your way back to Amsterdam.
Cost of the tour (3+ years): €85 per person
Children under three years of age join in for free, but they must sit on your lap during the tour.
If you don't want a local to take you around, opt for the much cheaper Keukenhof Day Trip with Windmill Cruise.
The beauty of Keukenhof depends on the blooming Tulips, which in turn depend on the weather. Find out when to visit Keukenhof Gardens.
---
---
Book private tour to Keukenhof Gardens
If you want a VIP experience during your Keukenhof visit, you must try the private tour.
Your professional guide, who is also your driver, picks you up in a private vehicle.
It is usually a standard 5-seater car such as Kia Niro, Ford Fiesta, or something similar.
You will then travel through the Dutch countryside dotted with windmills, green pastures, and spectacular rows of colorful tulips.
Since it is your car, you customize this tour.
If you prefer, you can avoid the crowds and visit Keukenhof during its quietest hours.
Skip-the-line entry tickets to Keukenhof are also included with this tour.
Your guide explains everything about Keukenhof Gardens and the growing and cultivation of spring flowers.
After your day trip out of Amsterdam is over, the driver cum guide drops you back at the place of your choice.
Cost of tour: €910 for up to four adults
---
---
Drive to Keukenhof Gardens
Amsterdam offers many rental car services which can take you to Keukenhof Gardens and back.
The Tulip Garden is easily accessible by car from the Dutch capital and other cities such as Rotterdam, The Hague, Leiden, etc.
Keukenhof is located between Amsterdam and The Hague, and you can drive on the A4 (exit Nieuw-Vennep) and the A44 (exit 3 Lisse) to get to the flower festival.
If not sure of the route, enter the attraction's address 'Stationsweg 166A, Lisse' in your preferred navigation system and start driving. Get Directions
Follow the signs to 'Keukenhof' until you reach the massive parking lot near the garden entrance.
In 2023, all visitors must book their Keukenhof entry (€20) and parking tickets (€6) online to avoid crowding in the lines.
The drive from Amsterdam to Keukenhof takes approximately 40 minutes.
If you don't have a car, you can rent one here and pick the car of your choice.
On peak days, around 45,000 tourists and locals visit Keukenhof. Is the Tulip Flower Festival at Keukenhof worth it?
Rent a taxi from Amsterdam to Keukenhof
If money isn't an issue and you prefer the most luxurious way to travel from Amsterdam to the Tulip fields, a taxi is the best choice.
When you book a taxi, you won't have to wait for other passengers and get privacy.
At around €100 for a single journey, it is the most expensive way to get to the Tulip Flower Festival.
To get a taxi in Amsterdam, you can call the city taxi line 0031 (0) 900 677 7777 or find them in popular areas such as Amsterdam Central Station, Dam Square, Rembrandtplein, Leidseplein, or Museumplein.
Tip: Don't miss out on the Keukenhof Castle, an integral part of the Keukenhof Gardens visit.
Sources

# Keukenhof.nl
# Tulipfestivalamsterdam.com
# Tulip-garden-tickets.com
# Viator.com

The travel specialists at TheBetterVacation.com use only high-quality sources while researching & writing their articles. We make every attempt to keep our content current, reliable and trustworthy.
Popular attractions in Amsterdam