Keukenhof has the world's largest permanent display of tulips and is in South Holland, south of Haarlem, in an area known as the country's 'Dune and Bulb Region.'
The Tulip garden of the Netherlands is 40 km (25 miles) from Amsterdam, 58 km (36 miles) from Rotterdam, 33 km (20 miles) from The Hague, and 20 km (12 miles) from the cities of Haarlem and Leiden.
Because of this distance from the major tourist spots, visitors wonder if visiting Keukenhof Gardens in 2023 is worth it.
They want to know if Keukenhof deserves the effort.
Quick answer
Here is our list of ten reasons why every traveler worth their salt must visit Keukenhof Holland in 2023.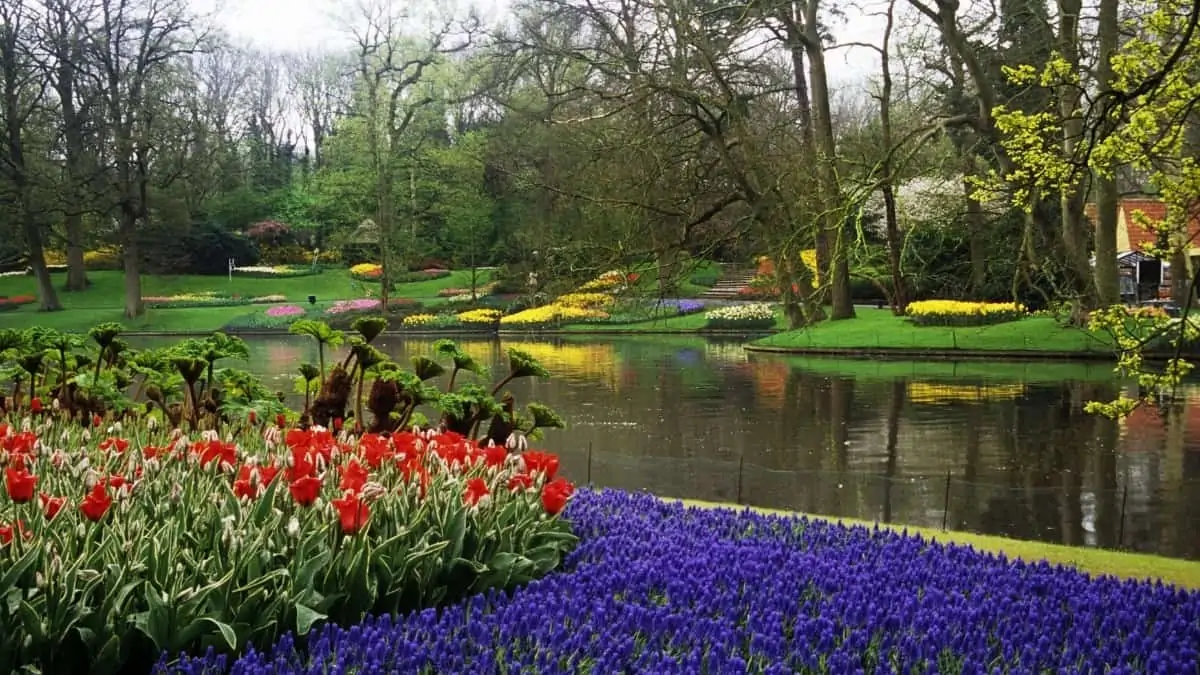 One and a half million can't be wrong
Every year, Keukenhof Tulip Gardens is open to visitors only for around 60 days – from mid-March to mid-May.
In 2019, these sixty days saw 1.5 million visitors walk through the gates at an average of 25,000 per day.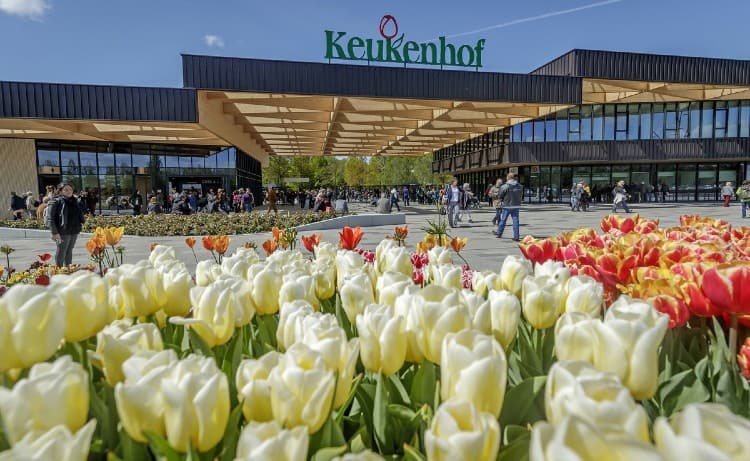 That's approximately the number of visitors the Louvre Museum in Paris gets every day.
On peak days, the Gardens received around 45,000 visitors.
If you want to avoid the crowd, be at Keukenhof's entrance before 10.30 am or after 4 pm. Want to see when the Tulips are in full bloom? Find out when to visit Keukenhof Gardens for the best flowers.
---
---
So many fun ways to explore the gardens
There are many ways to explore the Keukenhof gardens.
You book the regular Keukenhof ticket and explore only the gardens.
Or, after seeing the Gardens, you can rent a bike at Keukenhof and cycle around the surrounding flower fields of Holland's Tulip region.
Visitors can rent women's, men's, and children's bikes and tandems in the parking lot at the main entrance of Keukenhof. There are other bike rental shops as well.
Cost of renting bicycle in Keukenhof
| Type of Bike | For 3 hours | Whole day |
| --- | --- | --- |
| Adult bike | € 11 | € 16 |
| Bike for kids | € 8 | € 12 |
| Tandem | € 25 | € 30 |
If you prefer something fancier, you can board a Renault Twizy and drive around for twenty kilometers of the Tulip gardens with a GPS-enabled audio tour. It is perfect for couples.
Or book a half-day guided tour to Keukenhof, so that a local can accompany you and take you around.
If money isn't an issue, but a better experience is critical, opt for the full day private guided tour from Amsterdam.
Visitors can also book a Keukenhof entry + Round trip Bus Tour from Amsterdam and explore a world of colorful flower fields, themed gardens, and beautiful flower shows at the world-famous Keukenhof.
Some tourists willing to pack more in a day and enjoy a personalized experience of a private tour opt for the Keukenhof and Zaanse Schans Windmill Private Day Tour.
Visual Story: 15 must-know tips before visiting Keukenhof Gardens
---
---
Keukenhof has a new theme every year
Each year the Keukenhof Tulip festival has a different theme, and the flowers, arrangements, and activities get planned accordingly.
There is always a centerpiece in the flower show – made up of thousands of flowers – depicting the theme.
In 2018, 'Romance' was the flower show's theme, and in 2019 it was the 'Flower Power.'
The theme for 2020 and 2021 was 'A World of Colours,' but both the annual tulip festivals didn't happen because of the pandemic.
Keukenhof Gardens' theme for 2022 was 'Flower Classics.'
In 2023 Keukenhof has decided to work with various themes rather than focusing on one.
All the beautiful gardens, flower shows, and events at Keukenhof will be linked to this theme.
---
---
The variety of flowers is unprecedented
At Keukenhof, visitors get to see more than 800+ different varieties of Tulips.
While the attraction's focus is Tulips, they aren't the only types of flowers at the famous tulip gardens of the Netherlands.
The gardens and the four pavilions showcase Roses, Daffodils, Crocuses, Hyacinths, Gerbera Daisies, Carnations, Lilies-of-the-valley, Bluebells, Snowdrops, Irises, Orchids, Callas, Amaryllises, etc.
If the colors of the flowers don't get you, the fragrance will.
Most beautiful garden in the world
Along with the Versailles Gardens and Kew Gardens in London, Keukenhof also ranks in the top five of the world's most beautiful gardens.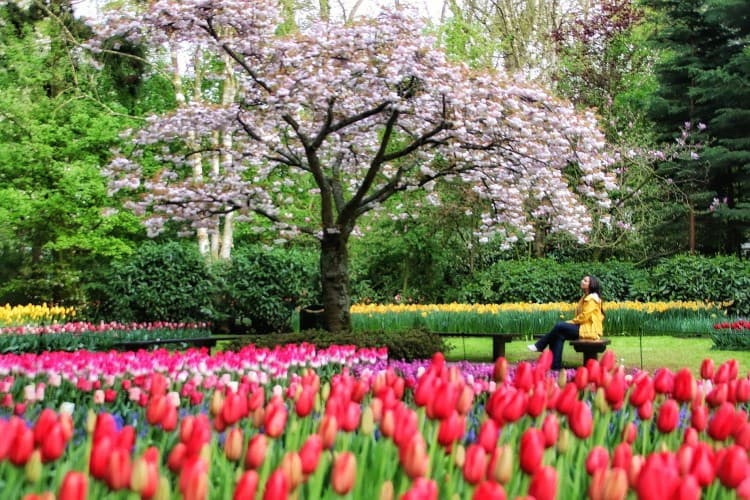 Don't you want this bragging, right? That you once visited one of the world's most beautiful places.
At 32 hectares (79 acres), Keukenhof is also one of the world's most extensive flower gardens.
---
---
Keukenhof is always a different experience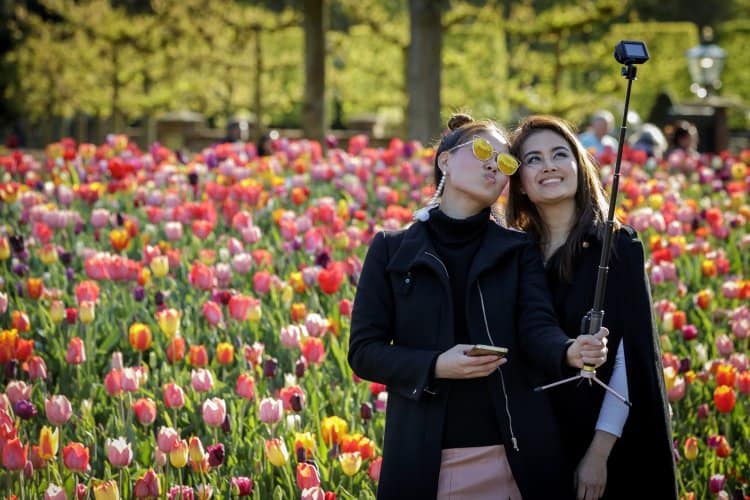 This is one of the few attractions in the world, which is different every time you visit.
Different flowers will be in bloom, and the theme will be different, arrangements and activities will be different, etc.
Gardeners plant the flower bulbs in multiple layers to ensure flowers bloom at different times.
As a result, each time you visit the Netherlands' Tulip park, you will have a unique experience.
Keukenhof has art installations as well
Keukenhof is not just about the flowers. Every year fantastic art installations are scattered amongst the flowers.
Flowers form the basis of some of these installations.
For instance, in 2020, over 50,000 plants and 150,000 flowers were used on the Keukenhof grounds in Lisse to create a massive pair of lungs.
Dozens of volunteers created the installation in just four days, and it measured half of a football field (2,250 m2).
International artists also contribute with their art installations made of metal, wood, etc., which seamlessly blend with the flowers.
---
---
Keukenhof has a historic castle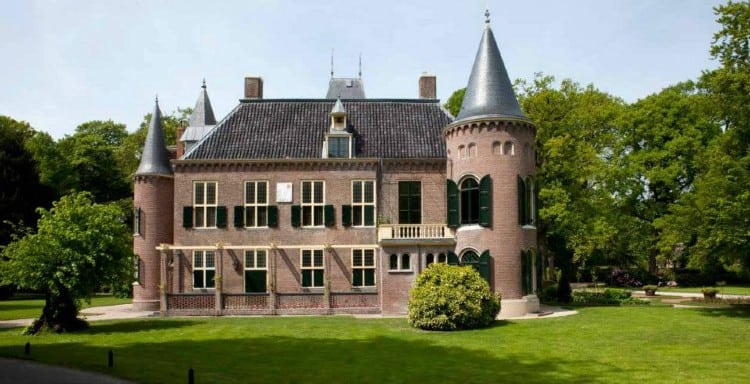 The Keukenhof Castle is 380-years-old and is an excellent opportunity to understand Dutch history.
The gardens around the castle are free to enter, but only guided tour groups are allowed inside.
It has impressive artifacts on display from the Golden period of Dutch history.
Visit the castle after you are done with Keukenhof Gardens because you can't re-enter the Gardens.
Bloemencorso Bollenstreek, the flower parade
This is not something you can do every day.
But if you are in Keukenhof Gardens on 22 April 2023, you can see the Annual Flower Parade pass through the Keukenhof gardens.
Floats made up of bulb flowers will parade through the streets in Bollenstreek (Bulb Region) and pass by Keukenhof.
Insider tip: 22 April will be the busiest day of 2023 at Keukenhof, so visit on this day only if you can handle the crowd.
---
---
Visiting Keukenhof Gardens is easy and cheap
The last reason why we feel Keukenhof is worth all the attention is because it is cheap and easy to visit.
It is an excellent value for money activity that can occupy your whole day.
If you can handle your travel to Lisse, you can purchase the Keukenhof entry tickets that cost only €20 for all 18+ visitors.
Kids aged 4 to 17 years only pay €9.
If you don't want the hassle of managing your travel to Keukenhof and back, opt for one of these three tours from the nearby cities.
On the coach tours from Rotterdam and The Hague, 4 to 11-year-old kids get a €50 discount.
Want to save some money on the tickets? Check out the different ways you can travel to Keukenhof Gardens from Amsterdam.
Sources

# Keukenhof.nl
# Wikipedia.org
# Viator.com
# Tulipfestivalamsterdam.com

The travel specialists at TheBetterVacation.com use only high-quality sources while researching & writing their articles. We make every attempt to keep our content current, reliable and trustworthy.
Popular attractions in Amsterdam