You haven't seen the beauty of Amsterdam if you did not experience it from the water.
Taking a canal cruise is one of the most popular things to do in Amsterdam – more than 6 million tourists book a canal cruise every year.
Floating down Amsterdam's canals is one of the most memorable ways to discover the city's sights and attractions.
During the tours, which usually last an hour or slightly more, the cruise boats pass famous merchant houses, century-old city towers, and hundreds of bridges and locks.
Cruises are popular during the day and night when passengers can see Amsterdam all lit up.
This article shares everything you must know before buying your Amsterdam Canal Cruise ticket.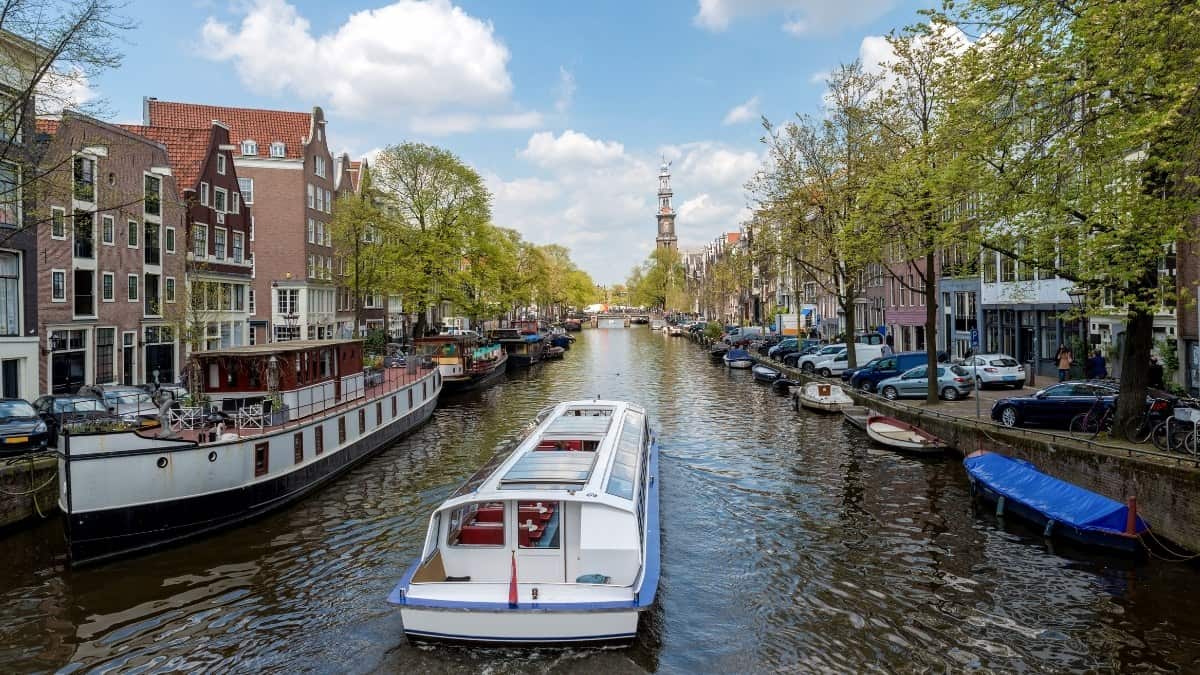 About Amsterdam's Canals
Amsterdam gets this name because the city expanded around a dam on the river Amstel.
Amsterdam's 165 canals were created over the centuries to stimulate trade and transport; even today, they are an integral part of the city's charm.
No wonder the city is also called 'Venice of the North.'
Amsterdam's Canal Ring is locally known as Grachtengordel and, in 2010, was recognized as a UNESCO world heritage site.
The city's canal system comprises three rings of semicircular waterways bisected by smaller canals radiating from the middle.
These canals ended up creating 90 artificial islands connected by 1280+ bridges.
More than three million tourists go on a Canal Cruise in Amsterdam annually.
How much does a canal cruise cost?
The cheapest Amsterdam Canal Cruise costs €16 for passengers 14 years and above. Kids aged four to 13 years pay a discounted rate of €8.
Luxury Canal Cruise is priced at €22 for all passengers 11 years and older, and younger guests pay a reduced price of €13.
Cruises with additional frills, such as pizza, wine, beer, etc., cost anywhere from €25 to €35 per person.
Private canal cruises are available for approximately €550 for groups of around ten passengers.
Online tickets are cheaper than the walk-in prices, plus you also save time by avoiding the wait at ticketing counters.
Why online tickets are better
It is better to book your tickets in advance, whichever cruise you opt for.
Online cruise tickets help you save time because you avoid the ticket counter lines.
All cruise companies price their online tickets cheaper than walk-in tickets, so you also save money.
When you book your tickets in advance, you are also guaranteed a cruise at the time of your choice.
How online cruise tickets work
Immediately after your purchase, your canal cruise tickets get emailed to you.
On the day of your visit, you can scan your ticket from your mobile and board the boat.
No need to take printouts.
Passengers must be at the departure location at least ten minutes in advance.
Canal Cruises with dinner
Pairing your Amsterdam canal cruise with dinner and drinks creates memories that stay on for life.
That is why both locals and tourists love to enjoy tasty culinary delights while cruising through the lit canals of the city.
There are many options, and most of these canal cruises with dinner and drinks last 90 minutes to two hours.
Canal Cruises with drinks
The most famous canal cruises in the Dutch capital are the ones that come with unlimited drinks!
These guided Amsterdam canal tours show you the most famous city sights while you sit back, relax, and sip the drink of your choice.
These canal cruises with unlimited drinks also serve local snacks such as stroopwafels, Gouda cheese with Zaanse Mustard, Dutch Drop 'Hopjes' (licorice), Speculaas (Spicy shortcrust biscuit), etc.
All canal cruise boats that serve alcohol require you to bring a valid ID such as your passport, driver's license, identity card, student card, etc.
Luxury Canal Cruises
The city has over 100 km (60 miles) of canals, through which thousands of cruise boats float daily.
These boats come in many flavors – some are plain sightseeing boats, while the luxury canal cruises offer additional frills such as snacks, drinks on board, BBQ, blankets, etc.
If you are not on a budget holiday, we recommend you spend a few Euros more and go for the luxury canal cruise.
After all, a sightseeing cruise down the city's canals will surely highlight your holiday in Amsterdam.
Canal Cruises at night
Amsterdam is a beautiful city; after dark, it acquires a unique charm, which is better seen during a canal cruise.
Thousands of glittering lights illuminate hundreds of bridges and canal houses, giving the city a magical twist.
No wonder Amsterdam canal cruises at night are as popular with tourists as the day cruises.
Many types of night cruises can be overwhelming for first-time tourists.
Private Canal Cruises
Large groups or families prefer to have their private boat to have fun together.
You can club a private cruise through Amsterdam's canals with pizza, BBQ, beer, wine, etc.
Since the boat is yours for the tour duration, the captain consults you while deciding the route to explore.
These exclusive canal cruises are costlier, but they are also the most fun.
Canal Cruises with pizza
An evening cruise is the ultimate Amsterdam experience, and when you combine it with fresh, hot pizza, it becomes a memory to savor for the rest of your life.
A pizza cruise combines sightseeing, relaxation, and food all at once.
Amsterdam's pizza cruises are perfect for tourists – families with kids, groups of friends, romantic couples, or solo adventurers.
Sights to see during a canal cruise
What you see precisely depends on the canal cruise you opt for, but you will surely enjoy 17th-century canal houses, beautiful bridges, classic houseboats, and city life that will leave you speechless.
Depending on your boat's route, you will also see Anne Frank House, the old Heineken factory, the red light district, Wester church, Rijksmuseum, etc.
Almost every canal cruise takes you to Magere Brug (Skinny Bridge), which opens every 20 minutes to let through river traffic.
The boats for sightseeing tours are low enough to pass underneath the bridge even when closed.
Your boat captain adds a personal touch to your trip by telling fun anecdotes while cruising through these sights.
They may even take you to lesser-known parts of the canal network if you are lucky.
Canal cruise timings
Canal cruises in Amsterdam sail from 9 am to 10 pm throughout the year.
During the peak season of April to October, the cruises depart every 15 minutes till 6 pm, after which they depart every 30 minutes till 10 pm.
During the winter season of November to March, cruises usually depart every 30 minutes throughout the day.
How long does the Canal Cruise take?
Most canal cruises take around 60 to 75 minutes, during which you will explore the Amsterdam canal ring and discover the exciting history and facts about the Dutch capital.
Extended canal cruises, such as dinner cruises, romantic night cruises, pizza cruises, beer boats, etc., could take slightly longer.
From where do the boat tours depart
Hundreds of boats go through the canals of Amsterdam every day.
The most popular tour boats are on the Prins Hendrikkade (in front of Central Station), along Damrak and Rokin, and the Stadhouderskade (near the Rijksmuseum).
When you book your canal cruise tickets online, you get an email mentioning the location from where your boat tour will depart.
Note: Some tourists buy their canal cruise tickets on the spot and fall for scamsters offering a 'private' but illegal boat tour. These are fly-by-night operators out to make a quick buck, so avoid them. Your canal cruise will probably be much shorter and less impressive than promised.
Best canal cruise operators
There are several canal cruise tour operators.
Together, these operators have around 500 cruise boats with a license to ferry passengers for a fee.
They are all similar in that each will give you a good ride through the canals and part of the harbor.
The configuration of tour boats differs from operator to operator and even within the same company.
The boats take slightly different routes, and sailing times may also vary.
Three of the most popular boat tour operators are Stromma, Blue Boat, and Lovers.
Sources

# Amsterdamcanalcruises.nl
# Iamsterdam.com
# Lovers.nl
# Thingstodoinamsterdam.com

The travel specialists at TheBetterVacation.com use only high-quality sources while researching & writing their articles. We make every attempt to keep our content current, reliable and trustworthy.
Popular attractions in Amsterdam