Explore the biggest science museum in the Netherlands, NEMO – Science Museum.
The museum is a five-story building, shaped like a ship-at-anchor, and is painted with a fun sea-green color which aligns with the shape of the building.
The NEMO Science Museum is geared towards entertaining and educating guests of all ages with its engaging demonstrations, exhibits, and informative shows.
The museum offers a complete experience by touching various subjects like biology, physiology, physics, geometry, chemistry, technology, renewable energy, space, and history.
The museum should be a must-visit in your Amsterdam itinerary.
This article shares everything you must know before booking NEMO Science Museum tickets.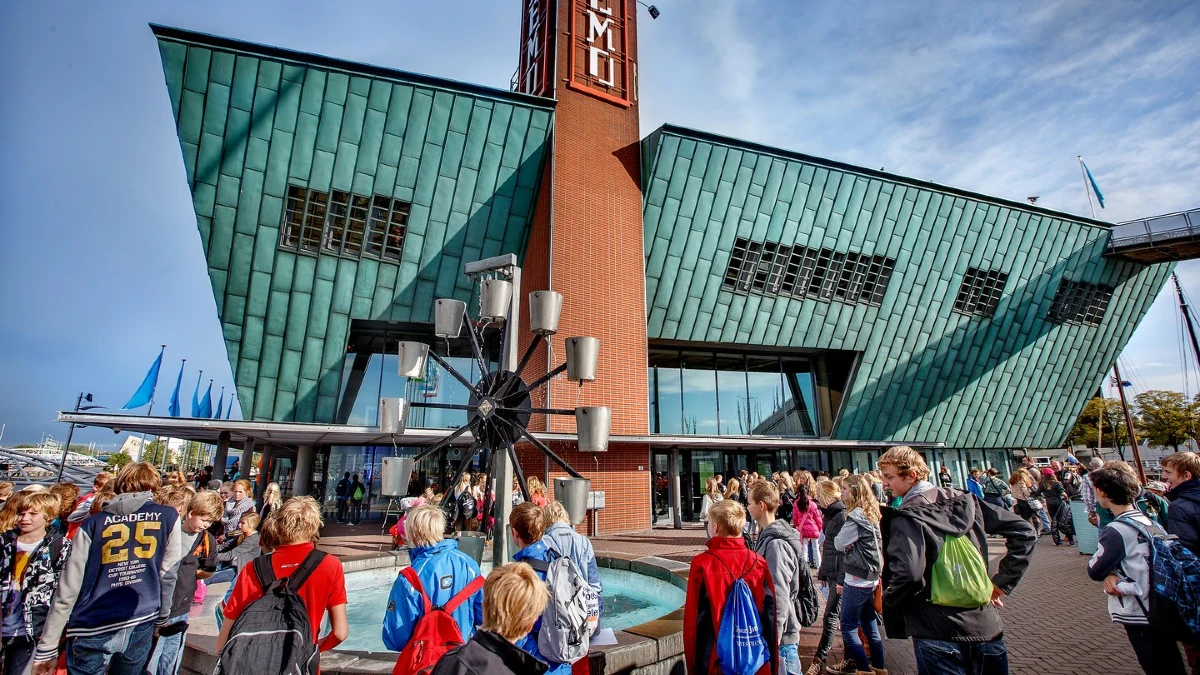 What to expect at NEMO Science Museum
Have you ever wondered how you could be a conductor of electricity? Ever thought about how a rainbow is formed or how the wind moves?
Fret Not! Amsterdam's NEMO Museum has all the answers to your midnight thoughts.
Nemo Science Museum, Amsterdam, is an interactive place that lets you participate in experiments while you learn about the wonders of science.
The museum seems more attractive to the younger audience with its technology, experiments, and easy explanations of complex scientific theories.
Some of the major exhibitions at the museum include-
– Humania
– Sensational Science
– World of Shapes
– The Machine
– Energetica
– Life in the Universe
– Laboratory
– Energize
– Water Power
– Constructions
– Science throughout the Ages
– Innovation Gallery
– Energy Junkies
– Project Tomorrow
The terrace is also a must-see during your visit to the Museum. Look at the beautiful sights of Amsterdam as your last step in your visit.
Enjoy freshly made food in the glass lounge restaurant on the NEMO roof with breathtaking views of Amsterdam.
After your trip, you can unwind at the coffee shop while learning everything NEMO offers.
On the second level, in the Museum's center, you can relax at the Cafe.
It's a great place to stop for a quick break and have a snack or drink.
There are a lot of exhibitions to explore in the NEMO Science, some of them are:
Prepare for a fun day while learning physics, engineering, chemistry, and biology by booking your ticket to the NEMO Museum and getting a key to a fun-filled day.
---
---
Where to book tickets
Tickets for Nemo Science Museum can be purchased online or in person at the attraction.
Online ticket prices tend to be cheaper than tickets at the attraction.
When you buy online, you can avoid the long queues at the ticket counters.
When you book early, you also get your preferred time slot.
Because some attractions sell a limited number of tickets due to their high demand, booking early helps avoid last-minute disappointments.
How do online tickets work
Visit the NEMO Science Museum ticket booking page, select your preferred date, time slot, and number of tickets, and buy the tickets right away.
After making the purchase, you will receive the tickets in your email.
Ticket printouts are not required.
You can enter the attraction by showing the e-ticket on your smartphone.
NEMO Science Museum ticket prices
The NEMO Science Museum ticket costs €18 for all visitors aged four and above, while kids below four can enter for free.
Kids up to 12 years should always be accompanied by an adult (16 years or older).
Disabled visitors, and their carers get free admission to the museum.
NEMO Science Museum tickets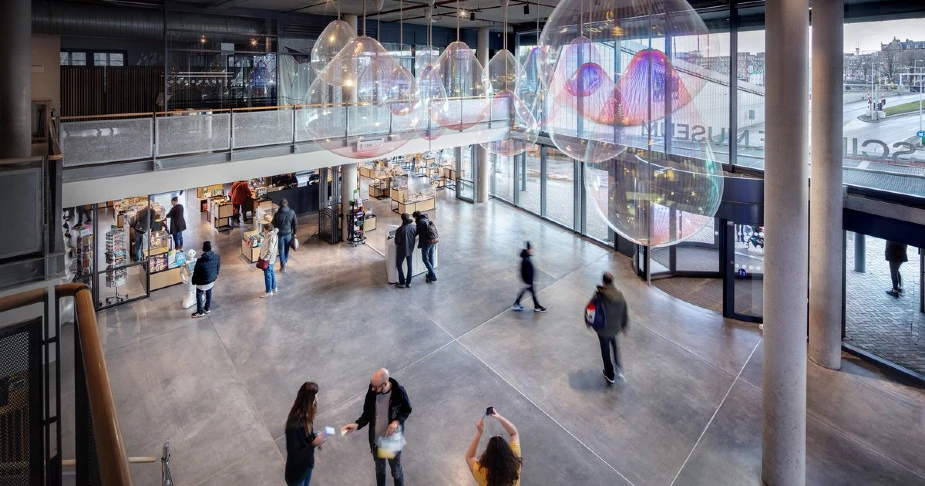 Get ready for a day filled with fun and knowledge at the NEMO Science Museum in Amsterdam.
The science experiments and chain reactions using a giant Rube Goldberg machine have a lot to teach you, so book your tickets now!
After learning everything you can, head to the terrace to enjoy a few more experiments and stunning views of Amsterdam's waterside.
Ticket Price
Adult Ticket (4+ years): €18
Child Ticket (up to 4 years): Free
NEMO Science Museum + Canal Cruise Amsterdam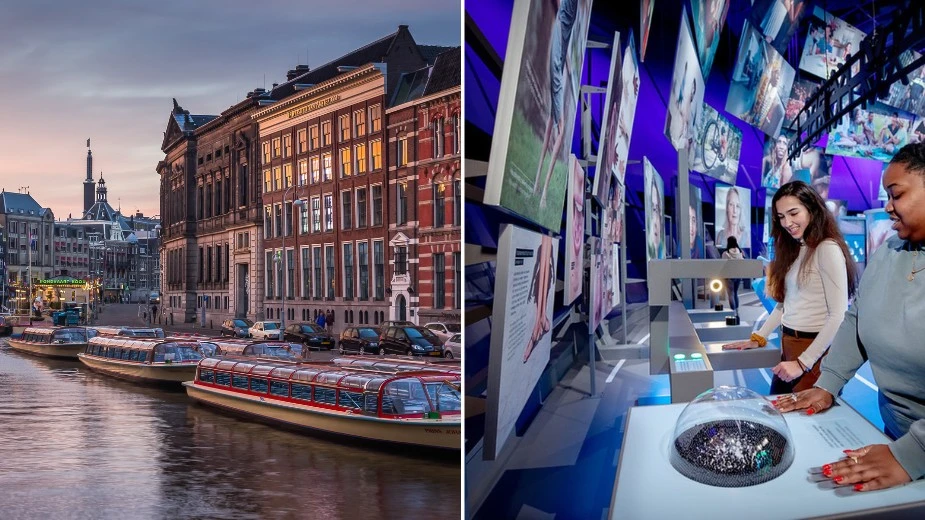 Add some adventure to your NEMO Science Museum tour by purchasing its tickets in combination with Canal Cruise.
After taking science lessons at the museum, you can plan to go on an hour-long Amsterdam Canal Cruise with your friends and family, which offers a spectacular view of the city.
Get a whopping discount of up to 15% on the purchasing this combo ticket.
Ticket Cost: €31 per person
Save time & money! Discover Amsterdam with the Amsterdam City Card. Visit world-class museums and attractions, get unlimited access to Amsterdam's public transport, and enjoy a free canal cruise.
---
---
How to reach NEMO Science Museum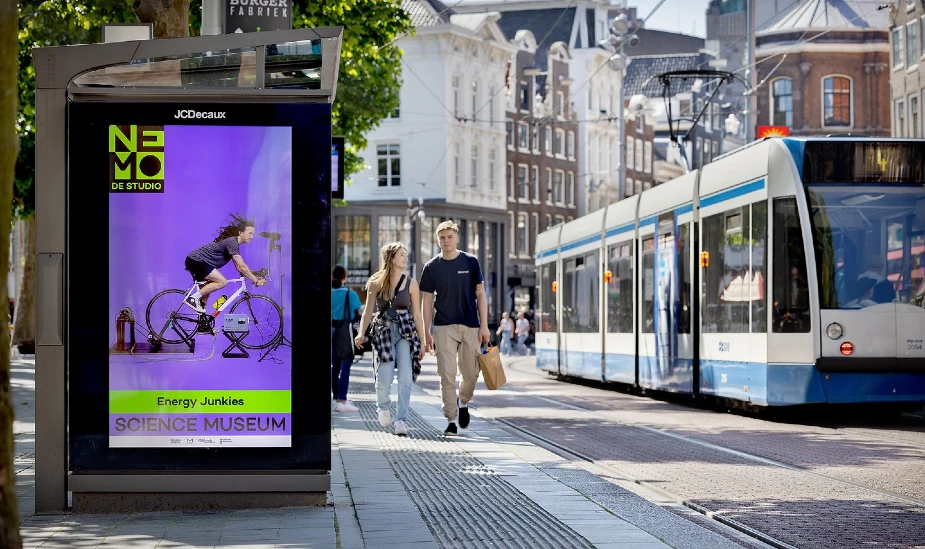 NEMO Museum is in the Oosterdokseiland neighborhood between the Oosterdokseiland and the Kattenburg.
Address: NEMO Science Museum, Oosterdok 2, 1011 VX Amsterdam. Get Directions
One of the easiest ways to reach the Nemo Science Museum in Amsterdam is by public transport or car.
By Train
If you're taking the train, get off at Central Station.
From there, it is a 15-minute walk to the NEMO Science Museum.
By Subway
If you're taking the Subway, you can use the metro lines 51 (Orange Line), 53 (Red Line), or 54 (Yellow Line) and get off at Nieuwmarkt.
From there, it is a 13-minute walk.
By Bus
If you're taking the bus, use Bus 22 or 43 and get off at Prins Hendrikkade.
From there, it is a 10-minute walk.
By Car
If you're traveling by car, turn on your Google Maps and get started!
There are numerous car parking lots near the museum.
Click here to find the perfect spot for you!
Operating hours of NEMO Science Museum
NEMO Science Museum in Amsterdam is open from 10 am to 5.30 pm every Tuesday through Sunday.
On certain Mondays, the Museum is open, which include-
– 2 January 2023
– 20, 27 February 2023
– 3, 10, 17, 24 April 2023
– 1, 8, 15, 22, 29 May 2023
– 5, 12, 19, 26 June 2023
– 3, 10, 17, 24, 31 July 2023
– 7, 14, 21, 28 August 2023
– 4 September 2023
– 16, 23, 30 October 2023
– 25 December 2023
How long does the tour take
A complete tour of the NEMO Science Museum takes two to three hours.
Take your time looking at the different exhibitions, ​​theater shows, movies, workshops, and demonstrations.
There are a lot of learning opportunities that will jog your brain and give you a run for your money.
Best time to visit NEMO Science Museum
The best time to visit NEMO Science Museum is either as soon as it opens at 10 am or later in the evening to avoid crowds.
Pack your things and reach NEMO Science Museum during the weekend, especially early in the mornings.
If you prefer a less crowded experience, consider visiting during weekdays and avoid weekends and public holidays, as it has a higher chance of school group visits.
FAQs about NEMO Science Museum
Here are some frequently asked questions about NEMO Science Museum.
Can I leave and re-enter NEMO Science Museum on the same ticket?
NEMO Science Museum allows visitors to leave and re-enter on the same day using the same ticket. Visitors can take breaks, step out for lunch, and come back to the museum without needing to purchase an additional ticket.
Is the museum accessible to people with disabilities?
NEMO is committed to being accessible to all visitors. The museum has facilities for disabled visitors, including ramps, elevators, and accessible restrooms. They also offer wheelchairs for visitors to use.
Is the NEMO Science Museum suitable for children?
NEMO is a family-friendly museum with many hands-on and interactive exhibits designed to engage and educate children. It's an excellent place for kids to explore science and technology.
Can I take photos inside the NEMO Science Museum?
Photography is allowed in most parts of the museum. However, it's essential to respect the rules regarding photography and not use flash, especially near sensitive exhibits.
Is there a café or restaurant at the NEMO Science Museum?
The museum has a café and restaurant where you can grab a meal, snacks, or beverages. It offers a pleasant place to take a break during your visit.
Does the museum host any special exhibitions or events?
The NEMO Science Museum hosts special exhibitions, workshops, and events related to science and technology. Check their official website for information on current and upcoming exhibitions and programs.
Source
# Tickets-amsterdam.com
# Thrillophilia.com
# Klook.com

The travel specialists at TheBetterVacation.com use only high-quality sources while researching & writing their articles. We make every attempt to keep our content current, reliable and trustworthy.
Popular attractions in Amsterdam