A'Dam Lookout is an observation deck that offers breathtaking panoramic views of Amsterdam.
You can spot many city attractions like The Historical Centre, The Pulsating Port, The Dutch Porter Landscape, etc., from A'dam Lookout.
You can also spot the famous UNESCO-listed canals from this observation platform.
Besides the observational deck, there is an adrenalin-rushing swing (yes, you get to swing from above the building!) and a new exhibition showcasing the culture and history of Amsterdam.
This article shares everything you need to know before buying A'dam Lookout tickets.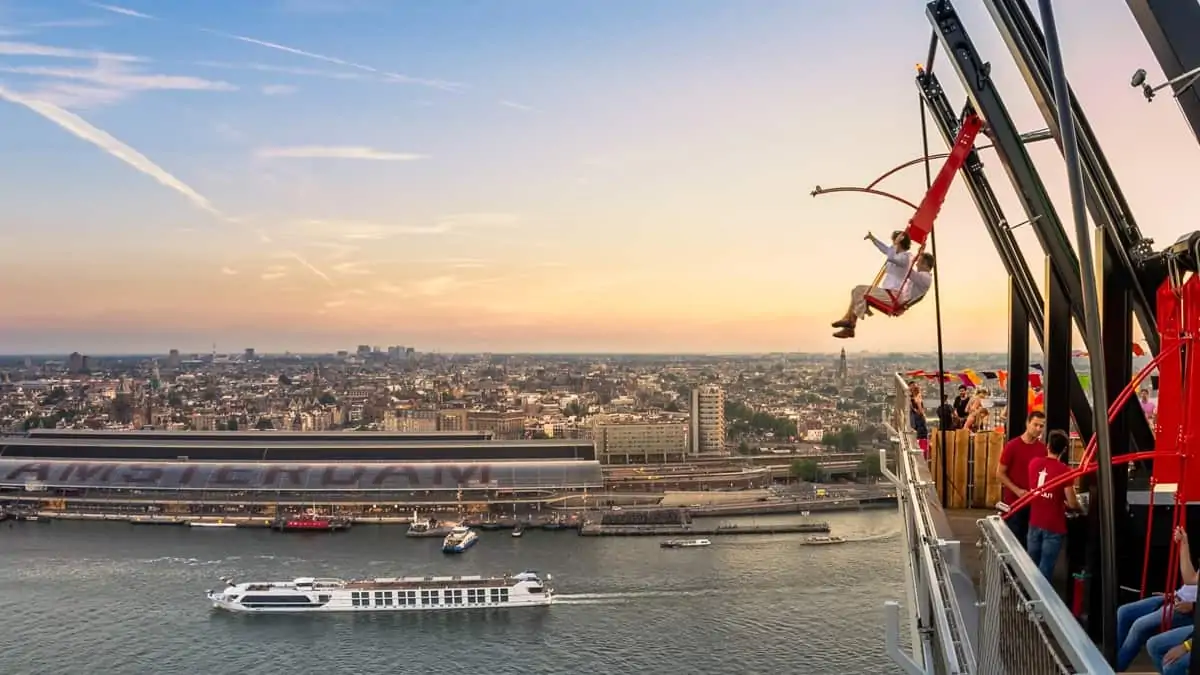 What to expect at A'dam Lookout
Watch this video to get a sense of what this thrilling attraction in Amsterdam is all about –
---
---
How high is A'Dam Lookout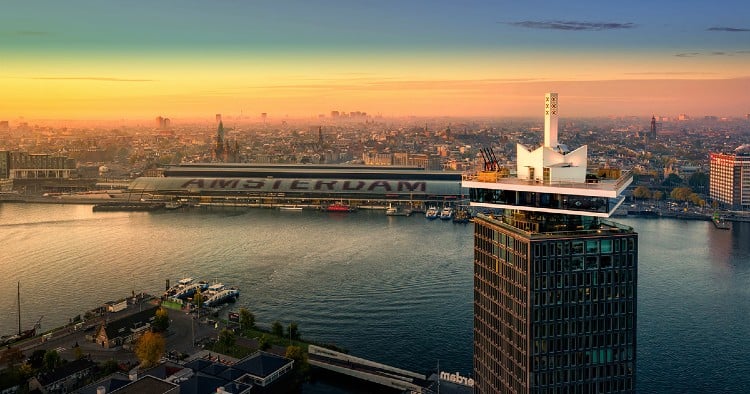 Sitting proudly at the top of the A'DAM tower, the Lookout's deck showcases fantastic 360° panoramic views of Amsterdam.
The attraction is at the top 2 floors of a 21-story tower on the banks of the river IJ located just across the Central Station.
A'Dam Lookout is 100 meters (328 feet) high.
---
---
How to reach A'dam lookout
The LOOKOUT sits at the top of the A'DAM Tower Amsterdam, the iconic building right next to the Eye Film Institute and opposite the Central Station in Amsterdam.
A'Dam Lookout address: Overhoeksplein 5, 1031 KS Amsterdam, Netherlands. Get Direction.
A'DAM Tower Amsterdam is a massive building next to the Eye Film Institute and opposite Central Station.
You have multiple options to reach A'Dam Lookout.
By public transport
Get onto a train, tram, or metro to reach the Amsterdam Central Station.
From the station, follow the signs 'IJ-Zijde' (IJ-Side), from where the ferry to the North of Amsterdam departs.
Get onto the free ferry to 'Buiksloterweg,' and you will reach the building in two minutes.
Reaching by car
Insert the address 'Overhoeksplein 1' in your GPS and follow the instructions.
Once you reach the A'DAM Tower, follow the signs to find Lookout's parking garage, which is available 24/7.
Parking at A'DAM Lookout costs 1 Euro every 20 minutes. No cash, only Maestro and Credit Cards are accepted.
A'Dam Lookout by bike
After parking your bike at the 'IJ-Zijde' (IJ-Side) of Amsterdam Central Station, hop on to the free ferry to 'Buiksloterweg.'
You will reach your destination in two minutes.
For a flat fee, get free access to 44 Museums and attractions in Amsterdam and free travel on public transport. Buy I Amsterdam card
---
---
A'dam Lookout hours
A'DAM LookOut is open seven days a week from 10 am to 10 pm.
The box office closes at 9 pm, and you can't buy tickets after that.
The last entry inside A'dam Lookout is also at 9 pm.
The Skydeck and Lookout Indoor close at 9 pm, but you can continue to stay longer in MADAM for a drink.
---
---
Waiting time at A'dam Lookout
When the weather is nice during weekends, there can be a 10 to 15-minutes waiting time at A'Dam Lookout.
However, if you book your tickets online, you can skip the line at the ticketing counter.
The short waiting time doesn't mean it isn't popular. A'dam Lookout is highly rated on Tripadvisor.
If it is a busy day, you may have to wait your turn at the Swing.
During peak times, waiting in the queue for the Swing can last as long as 30 minutes.
---
---
A'Dam Lookout Swing
Interestingly, the sky deck also comes with Europe's highest set of swings.
It is constructed right at the edge of the building, which stands 20 stories tall. That's why it is appropriately named – 'Over the Edge.'
Daredevils and thrill-seekers visiting Amsterdam can swing 100 meters high, back and forth over the edge of the A'DAM Tower. All this while watching the whole of Amsterdam below them.
You can experience the breathtaking view of the capital city while adrenaline courses through your veins.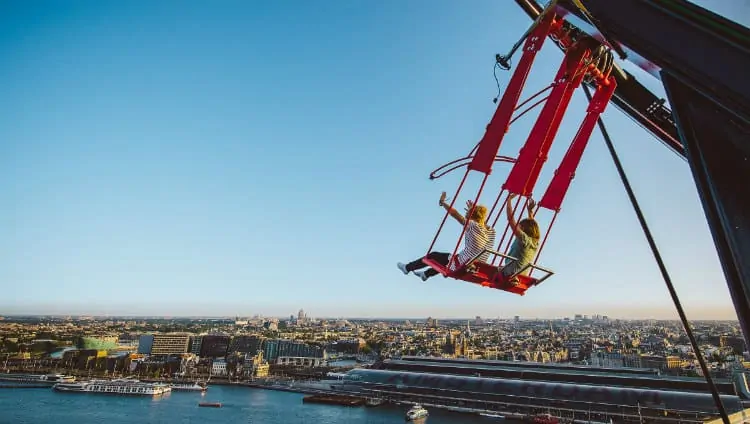 ---
---
A'dam Lookout swing price
The A'Dam Lookout Swing is not part of the A'Dam Lookout Skydeck tickets.
You must buy a separate ticket to get on the Swing.
The cost of an A'dam Lookout swing ticket is the same for all, irrespective of age – 6 Euros per person.
However, be aware that 'Over the Edge' is not an appropriate swing for children smaller than 1.30 meters (4.2 feet).
The tickets for the swing are available online, at the box office, and on the A'dam Lookout Sky deck.
Be aware that the Lookout's Swing tickets are not refundable.
After buying the tickets, you won't get your money back if you develop cold feet.
Save money with unlimited free travel in Amsterdam – on buses, trams, trains and ferries. Buy Amsterdam Travel Ticket
---
---
A'dam Lookout tickets
There are two ways to experience Adam Lookout – with Standard Tickets or Premium Tickets.
Both these tickets are delivered to your inbox as soon as you purchase.
You don't need to take printouts.
On the day of your visit, show the email on your smartphone at the entrance of A'dam Lookout and walk in.
Standard Tickets: Adam Lookout + Swing
With the Standard A'dam Lookout ticket, you gain access to the SkyDeck and get to go on the A'dam Lookout Swing.
While booking your tickets, you must choose a time slot from 10.05 am to 9.25 pm.
This chosen time slot is the time of entrance to the SkyDeck, and you get onto the Swing 15 minutes later.
Kids under the age of 4 get in for free.
Ticket Price
Adult Ticket (13+ years): 18.50 Euros
Children Ticket (4 to 12 years): 12.50 Euros

Premium Tickets: Adam Lookout + Swing + two drinks
With the Premium A'dam Lookout tickets, you get three things – Skip The Line access to the Skydeck, time on the Lookout Swing, and two drinks.
Your drink choice is beer, wine, soda, coffee, or tea.
Along with this Premium ticket, you get your photograph taken at A'dam Lookout and a small gift.
Ticket Price
Adult Ticket (13+ years): 24.50 Euros
Children Ticket (4 to 12 years): 12.50 Euros
A'dam lookout combo tickets
Adam Lookout combo tours are quite popular with tourists for three reasons:
a) Combo tickets help save up to 20% over the ticket costs if they were bought individually
b) It takes a maximum of 90 minutes to finish your tour of A'dam Lookout.
This leaves a lot of time in the hands of the tourists, so they look out for at least one more experience.
c) Around A'dam Lookout, there are many interesting tourist experiences such as Heineken Experience, Zaanse Schans, Canal Cruise, etc.
Tourists love to club these attractions with their visit to A'dam Lookout.
Check out two of the most popular A'dam Lookout combo tickets –
A'dam Lookout + Canal Cruise + Heineken Experience
This ticket provides you access to A'dam Lookout.
'Over the Edge' Swing is not included in this ticket, but you can buy the Swing tickets at the venue for 5 Euros per head.
After spending 90 minutes at A'dam Lookout, you will show your smartphone ticket and get onto a Canal cruise to the Heineken Experience.
This is a one-way Canal cruise ticket.
After 45 minutes of cruising, you will reach Heineken Experience, where you learn what goes into a pint of Heineken beer.
You also get two drinks free.
The tour of the Heineken facility takes approximately two hours.
A'dam Lookout + Zaanse Schans tour
This ticket gives you access to the only Skydeck in Amsterdam and the open-air museum of Zaanse Schans.
You start from A'Dam Lookout and travel in air-conditioned comfort to Zaanse Schans Museum to admire historical windmills, wooden houses, and barns dating back to the 18th and 19th centuries.
You can also visit the Clog Museum to learn about wooden footwear and sample Dutch cheese at a dairy farm.
Once done, you travel back to A'dam Lookout to get a bird's eye view of Amsterdam from 100 meters (328 feet).
This is a guided tour; a live guide will be with you all along.
Sources

# Adamlookout.com
# Iamsterdam.com
# Tripadvisor.com

The travel specialists at TheBetterVacation.com use only high-quality sources while researching & writing their articles. We make every attempt to keep our content current, reliable and trustworthy
Popular attractions in Amsterdam