Amsterdam Zoo, officially known as Artis Royal Zoo, is one of the Netherlands' oldest and renowned zoological gardens.
Amsterdam ARTIS Royal Zoo was founded in 1838, making it one of the oldest zoos in the World.
Home to more than 700 animal species, the zoo attracts around 1.5 million tourists annually.
The Amsterdam Zoological Garden is an oasis in the middle of a bustling city, making it a preferred destination for kids and adults.
This article covers everything you must know before booking tickets for Amsterdam Zoo.
Top Amsterdam Zoo Tickets
What to expect at Artis Royal Zoo
Amsterdam Zoo is home to a wide variety of animals worldwide. You can see mammals, birds, reptiles, and aquatic creatures in well-designed and spacious enclosures.
The highlights include lions, elephants, giraffes, penguins, gorillas, and many colorful and exotic birds.
Throughout the zoo, you'll find informative displays and interactive exhibits that teach visitors about the animals, their habitats, and the importance of wildlife conservation.
The zoo boasts beautiful historical architecture, including a stunning 19th-century entrance gate and numerous historic buildings.
Amsterdam Zoo is family-friendly, with play areas for children and activities to engage and educate young visitors.
---
---
Where to book tickets
Tickets for the Amsterdam Zoo can be purchased online or in person at the attraction.
Online ticket prices tend to be cheaper than tickets at the attraction.
When you buy online, you can avoid the long queues at the ticket counters.
When you book early, you also get your preferred time slot.
Because some attractions sell a limited number of tickets due to their high demand, booking early helps avoid last-minute disappointments.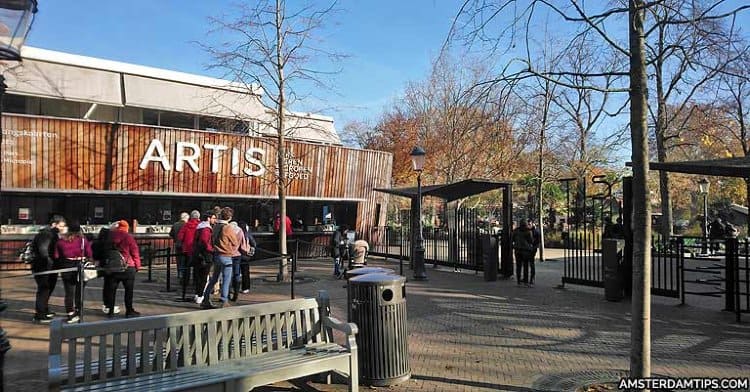 How do online tickets work
Visit the Amsterdam Zoo ticket booking page, select your preferred date, time slot, and number of tickets, and buy the tickets right away.
After making the purchase, you will receive the tickets in your email.
Ticket printouts are not required.
You can enter the attraction by showing the e-ticket on your smartphone.
Amsterdam Zoo ticket prices
Tickets for the Amsterdam Zoo are priced at €25 for visitors aged 13 and above.
For children between three and 12 years, the tickets cost €21.
Children under the age of three can enter for free.
Tip: I Amsterdam City Card can get you inside Amsterdam Zoo for free.
Amsterdam Zoo tickets
Explore one of the oldest zoos in the world with ARTIS Amsterdam Zoo tickets and witness the bigger and more natural Lion enclosure.
You will see hundreds of species, such as lions, zebras, and giraffes. Also, traverse the beautiful botanical gardens and take advantage of the animal-inspired programs with the zookeepers, including elephants, sea lions, and more.
Additionally, you can spot 27 different monuments, including several historical buildings. Lastly, get ready to be starry-eyed in the planetarium, which has different shows each day.
This ticket also gets you access to Amsterdam Aquarium and Amsterdam Planetarium, both inside the zoo.
Ticket Price
Adult Ticket (13+ years): €25
Child Ticket (3 to 12 years): €21
Infant Ticket (up to 3 years): Free
If you want to visit Amsterdam Zoo and Micropia on different days, it is better to purchase the combo ticket and claim a 10% discount.
Visual Story: 11 must-know tips before visiting Amsterdam Zoo
---
---
How to reach Amsterdam Zoo
The Artis Royal Zoo is situated in Central Amsterdam, close to Hortus Botanicus.
Address: ARTIS Royal Zoo i.e. Amsterdam Zoo is at 38-40 Plantage Kerklaan, 1018 CZ, Amsterdam. Get Directions.
You can reach the ARTIS Royal Zoo via both public and private transport.
We recommend public transport because, during the peak seasons or school holidays, the Zoo's car parking slots and nearby slots get filled very soon.
By Tram
Tram 14 starts from the Amsterdam Central Station and stops at the ARTIS Amsterdam Royal Zoo.
Trams 7 and 19 can also drop you within a few minutes walk of the Amsterdam Zoo.
Waterlooplein is the nearest Metro station, and the Zoo is just a 10-minute walk once you leave the station.
By Car
If you're traveling by car, turn on Google Maps and get started.
ARTIS Amsterdam Royal Zoo has its parking facility just 150 meters (500 feet) from the main entrance.
You can get the parking tickets from the parking ticket machine or ticket window at the zoo's main entrance.
Parking is available from 8.30 am until 12 midnight, and the cost is €15 per car.
For a flat fee, get free access to 44 Museums and attractions in Amsterdam and free travel on public transport. Buy I Amsterdam card
Opening hours of Amsterdam Zoo
During the peak season of March to October, Amsterdam Zoo opens at 9 am and closes at 6 pm, and during the lean season of November to February, it opens at 9 am and closes early at 5 pm.
The last entry into Amsterdam Zoo is half an hour before closing time.
Micropia is open from 11 am to 5 pm every day of the week.
How long does the tour take
A complete tour of Amsterdam Zoo takes three to four hours. This allows a leisurely visit to see most animal exhibits, explore the gardens, and take in some educational exhibits.
If you plan a picnic, want to attend specific shows or events, or plan to dine at the zoo's restaurants, your visit may take longer.
Best time to visit Amsterdam Zoo
The best time to visit Amsterdam Zoo is when it opens at 9 am.
There are four advantages of starting early, the animals are most active early in the morning, the temperatures are still moderate, the crowd is yet to get in, and you have the whole day to explore.
When you start early, you can explore for a few hours, have lunch at a restaurant, and begin exploring the zoo again.
We recommend weekdays for a peaceful visit because it gets crowded on weekends and school holidays. After all, the Dutch zoo is a highly-rated attraction.
---
---
What to see in Amsterdam Zoo
Amsterdam Zoo has been around for more than two centuries. Over the years, it has refined itself as an oasis in an otherwise busy city of Amsterdam.
Home to more than 700 animal species and around 200 tree species, this wildlife attraction is in every tourist's itinerary.
Besides the animals and birds at the Amsterdam Zoo, there are six other must-see exhibits which we highly recommend.
The Aquarium
The ARTIS Royal Zoo has an aquarium, which is pretty popular with both kids and adults.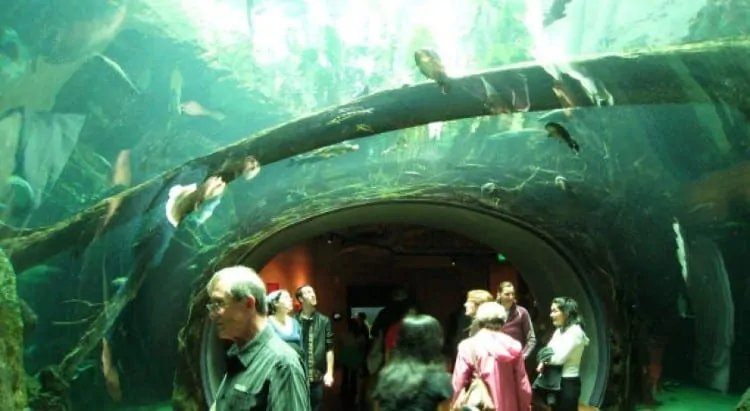 Access to this aquarium is included in the Amsterdam Zoo tickets.
You can witness many aquatic species and amphibians in the aquarium, including the endangered coral species and sharks.
Amsterdam Canal
The Amsterdam Canal is part of the zoo's aquarium and is a remarkable display built to highlight the global concern of plastics in the water.
The Planetarium
Access to the Amsterdam Zoo Planetarium is also part of the Amsterdam Zoo tickets.
Two must-do experiences at the Planetarium are – Space Trip and Earth Habitat.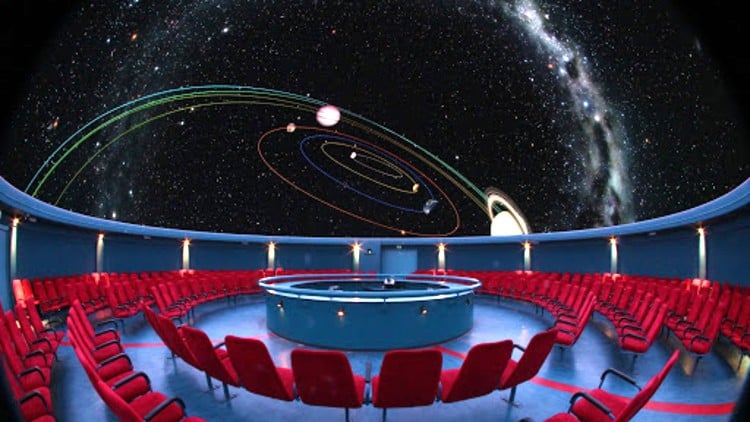 Space Trip
During the space trip, you will travel faster than the speed of light and come across many planets, moons, stars, and the entire galaxies.
You will visit several planets in our solar system before continuing your journey beyond the Milky Way galaxy.
Habitat Earth
Habitat Earth is a unique never-before experience, where visitors experience how all life in the world is connected.
Visitors plunge below the ocean's surface, experience deep ocean ecosystems, see the symbiotic relationship between Earth's tallest trees and tiny fungi, etc.
Micropia Museum
It is the only museum of its kind, displaying the invisible world of micro-organisms.
This exhibit in the Artis Royal Zoo needs a separate entry ticket.
Advice to visit Micropia
If you plan to visit Amsterdam Zoo and Micropia the same day, buy the Amsterdam Zoo ticket and add the Micropia ticket as an add-on (you will save €11.50 per person). If you want to visit them on different days, buy the combo ticket and get a 10% discount. If you only want to see the microbes museum, buy the Micropia tickets.
The Zoological Museum
The Zoological Museum at Artis Zoo has some of the most compelling scientific collections of the early 19th century.
You also get to see several exhibitions.
Butterfly Pavilion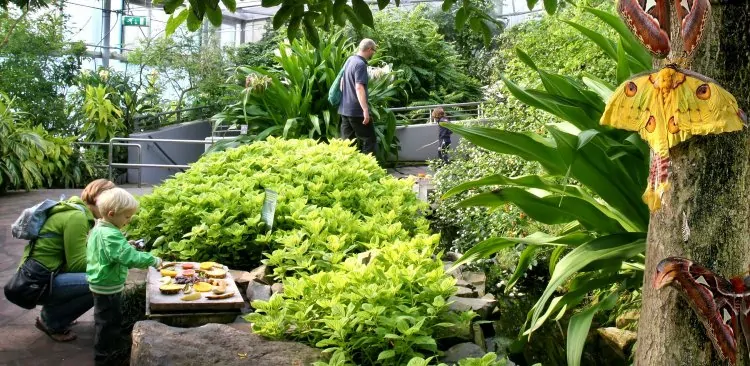 The Butterfly Pavilion is a great place to spend quality time because it is perfect for all age groups.
The pavilion houses more than a thousand butterflies flying freely in the 1,000 m2 tropical enclosure.
Depending on the season, the pavilion usually contains 20 to 30 types of butterflies.
The Insectarium
More than 70 live species of insects are exhibited in a modern environment at this Insectarium in the Amsterdam Zoo.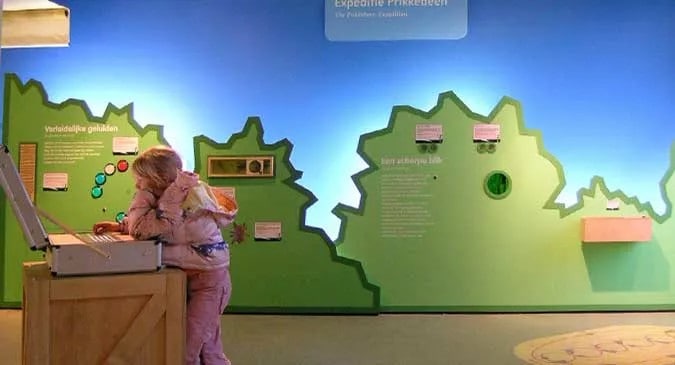 At this small exhibit, both adults and kids see the enormous diversity of the insect world.
At the Insectarium, you can make your cobweb, look into an ant nest with an infra-red camera, and even design your 'own' insect.
Don't miss the audio-visual show at the entrance with magnified images and surround sound.
Amsterdam Zoo map
Even though it is a relatively small zoo, it is wiser to have a copy of the Amsterdam Zoo's map to navigate the various exhibits.
A map can help you locate the animal enclosures and visitor facilities such as restrooms, restaurants, baby changing facilities, medical rooms, souvenir shops, etc.
Carrying the Amsterdam Zoo's layout is highly recommended if you are traveling with kids because you won't waste time finding the various exhibits and getting exhausted.
Download map (PDF, 530 Kb)
---
---
Amsterdam Zoo FAQs
Here are some of the frequently asked questions about the Amsterdam Zoo.
How much is the admission fee, and are there discounts available?
The Amsterdam Zoo admission tickets are priced at €25 for adults aged 13 years and above and €21 for kids between 3 and 12 years. Children under the age of three can enter for free.
Is there parking available at the zoo?
ARTIS Amsterdam Royal Zoo has its own parking, only 150 meters (500 feet) from the main entrance. Parking tickets are available at the ticket window or the parking ticket machine at the main entrance. The zoo charges € 12.50 for members and € 15 for non-members.
Are there guided tours at Amsterdam Zoo?
Yes, Amsterdam Zoo offers guided tours that provide valuable insights into the zoo's exhibits, animals, and conservation efforts. These tours are scheduled every Saturday and Sunday at 11 am and 1 pm. 
Is the Amsterdam Zoo wheelchair accessible?
Amsterdam Zoo is wheelchair accessible, providing facilities to accommodate visitors with mobility challenges.
Is photography allowed in the Amsterdam Zoo?
Photography is allowed, but it's important to respect the animals and other visitors. Flash photography and the use of drones are not permitted.
Is there an app or map available to help navigate the zoo?
The Amsterdam Zoo doesn't have a mobile app. However, you can use the detailed map of the zoo, to navigate the wildlife attraction and locate specific exhibits and facilities.
Popular attractions in Amsterdam
Sources

Artis.nl
Wikipedia.org
Tripadvisor.com
Amsterdam.info

The travel specialists at TheBetterVacation.com use only high-quality sources while researching & writing their articles. We make every attempt to keep our content current, reliable and trustworthy.