Amsterdam ARTIS Royal Zoo was founded in 1838, making it one of the oldest zoos in the World.
Home to more than 700 animal species, the zoo attracts around 1.5 million tourists every year.
The Amsterdam Zoological Garden is an oasis in the middle of a bustling city, making it a preferred destination for both kids and adults.
In this article, we explain everything you need to know before buying Amsterdam Zoo tickets.
Top Amsterdam Zoo Tickets
What to expect at Artis Royal Zoo
Amsterdam Zoo tickets
Two unique attractions exist within the Amsterdam Zoo complex – the classic zoo with all animals, birds, reptiles, etc., and Micropia.
Micropia is an award-winning Museum that celebrates microorganisms and the vital role they play in our daily lives.
Visitors can buy Amsterdam Zoo tickets, Amsterdam Zoo and Micropia combo tickets, or only Micropia tickets.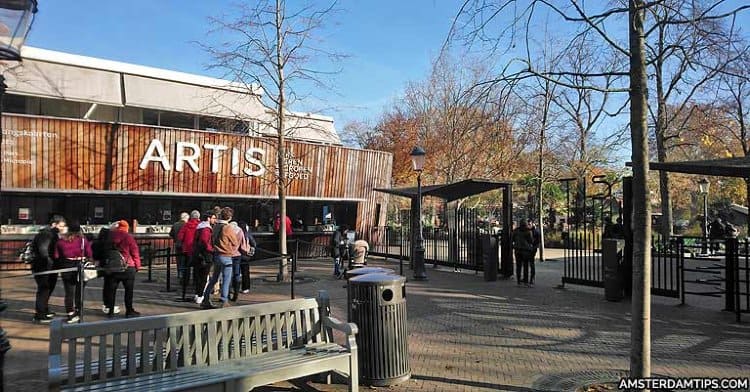 Online tickets are better
You can purchase tickets to the Royal Artis Zoo in Amsterdam online or at the attraction's gate.
When you book an Amsterdam Zoo ticket online, you save a few Euros per person on the ticket cost.
The tickets are at least 10% costlier if bought at the Zoo's ticket counter.
Purchasing your tickets for the Amsterdam Zoo online will also save you the hassle of standing in a long queue at the counter.
While buying online tickets, you can book them in advance or buy same-day tickets.
Amsterdam Zoo's ticket prices
The Amsterdam Zoo tickets cost €25 for all visitors ten years and older.
Kids between 3 to 9 years get a 20% discount on the full price and pay only €20 for entry.
While availing of these ticket discounts, please keep a valid photo ID card ready.
Unfortunately, the zoo doesn't offer discounts on the ticket price for seniors and visitors with a disability.
Tip: I Amsterdam City Card can get you inside Amsterdam Zoo for free.
Same-day ticket prices
The price for Royal ARTIS Zoo's same-day tickets doesn't change – it is €25 for visitors ten years and older and €20 for kids aged 3 to 9.
Even if you reach the Amsterdam Zoo, you can still purchase your tickets online and save a few Euros.
You don't need to print online tickets. You can show them on your mobile and walk in.
Buy Amsterdam Zoo tickets
With this Artis Zoo ticket, visitors can access all animal exhibits, attend keeper talks and see animal shows.
This ticket also gets you access to Amsterdam Aquarium and Amsterdam Planetarium, both inside the zoo.
Before you leave this kid-friendly attraction in Amsterdam, you can admire the trees in the park, some of which are centuries old.
For just €4.50 per person, you can upgrade this ticket and visit Micropia (Museum of microbes) as well.
Ticket price
Adult ticket (10+ years): €25
Child ticket (3 to 9 years): €20
If you want to visit Amsterdam Zoo and Micropia on different days, it is better to purchase the combo ticket and claim a 10% discount.
Visual Story: 11 must-know tips before visiting Amsterdam Zoo
Best time to visit Amsterdam Zoo
The best time to visit Amsterdam Zoo is as soon as they open at 9 am.
There are four advantages of starting early – the animals are most active early in the morning, the temperatures are still moderate, the crowd is yet to get in, and you have the whole day to explore.
When you start early, you can explore for a few hours, have lunch at one of the restaurants, and begin exploring the zoo again.
We recommend weekdays for a peaceful visit because it gets crowded on weekends and school holidays. After all, the Dutch zoo is a highly rated attraction.
How long does Amsterdam Zoo take
If you visit with kids and plan to see all animal exhibits, attend keeper talks, feeding sessions, etc., you will need four hours to explore Artis Amsterdam Zoo.
However, if you are a bunch of adults and want to wrap up soon, you can cover most animal exhibits in two hours.
Families that break for lunch tend to take more time.
If you also decide to see Micropia (a Museum on tiny microbes, located inside the Amsterdam Zoo premises), you will need another 90 minutes.
Tip: When you buy Amsterdam Zoo tickets online, you can skip the long lines at the ticket office and save time.
What to see in Amsterdam Zoo
Amsterdam Zoo has been around for more than two centuries.
Over the years, it has refined itself as an oasis in an otherwise busy city of Amsterdam.
So much so, most of the locals are known to have Annual Membership at the Amsterdam Zoo.
Home to more than 700 animal species and around 200 tree species, this wildlife attraction is in every tourist's itinerary.
Besides the animals and birds at the Amsterdam Zoo, there are six other must-see exhibits which we highly recommend.
The Aquarium
The ARTIS Royal Zoo has an aquarium, which is pretty popular with both kids and adults.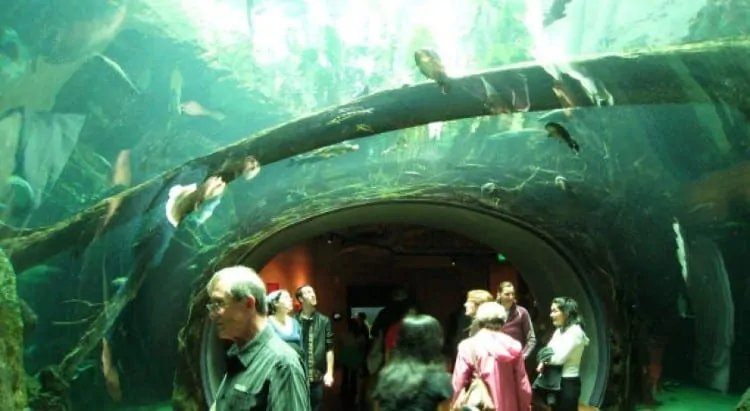 Access to this aquarium is included in the Amsterdam Zoo tickets.
You can witness many aquatic species and amphibians in the aquarium, including the endangered coral species and sharks.
The ARTIS Zoo Aquarium also has a canal.
Amsterdam Canal
The Amsterdam Canal is part of the zoo's aquarium and is a remarkable display built to highlight the global concern of plastics in the water.
The Planetarium
Access to the Amsterdam Zoo Planetarium is also part of the Amsterdam Zoo tickets.
Two must-do experiences at the Planetarium are – Space Trip and Earth Habitat.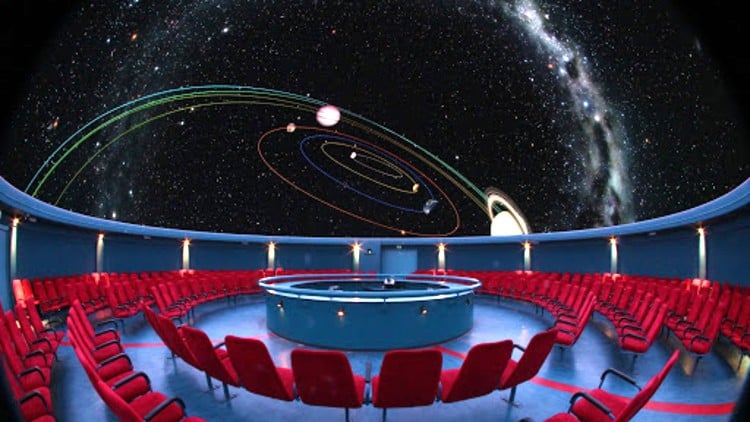 Space Trip
During the space trip, you will travel faster than the speed of light and come across many planets, moons, stars, and the entire galaxies.
You will visit several planets in our solar system before continuing your journey beyond the Milky Way galaxy.
Habitat Earth
Habitat Earth is a unique never-before experience, where visitors experience how all life in the world is connected.
Visitors plunge below the ocean's surface, experience deep ocean ecosystems, see the symbiotic relationship between Earth's tallest trees and tiny fungi, etc.
Micropia Museum
It is the only museum of its kind, displaying the invisible world of micro-organisms.
This exhibit in the Artis Royal Zoo needs a separate entry ticket.
Advice to visit Micropia
If you plan to visit Amsterdam Zoo and Micropia the same day, buy the Amsterdam Zoo ticket and add the Micropia ticket as an add-on (you will save €11.50 per person). If you want to visit them on different days, buy the combo ticket and get a 10% discount. If you only want to see the microbes museum, buy the Micropia tickets.
The Zoological Museum
The Zoological Museum at Artis Zoo has some of the most compelling scientific collections of the early 19th century.
You also get to see several exhibitions.
Butterfly Pavilion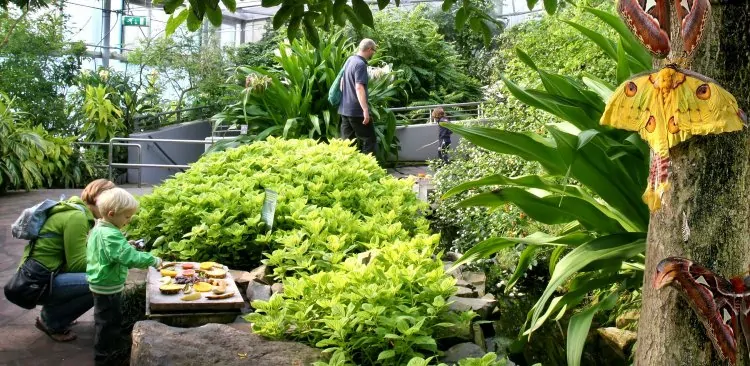 The Butterfly Pavilion is a great place to spend quality time because it is perfect for all age groups.
The pavilion houses more than a thousand butterflies flying freely in the 1,000 m2 tropical enclosure.
Depending on the season, the pavilion usually contains 20 to 30 types of butterflies.
Tip: Try to spot the massive Blue Morpho butterfly.
The Insectarium
More than 70 live species of insects are exhibited in a modern environment at this Insectarium in the Amsterdam Zoo.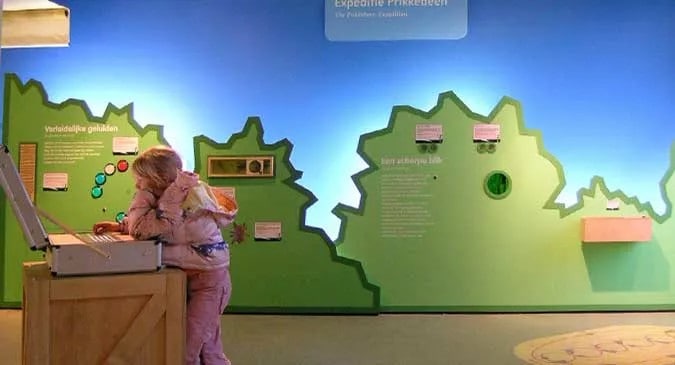 At this small exhibit, both adults and kids see the enormous diversity of the insect world.
At the Insectarium, you can make your cobweb, look into an ant nest with an infra-red camera, and even design your 'own' insect.
Don't miss the audio-visual show at the entrance with magnified images and surround sound.
How to reach Amsterdam Zoo
ARTIS Royal Zoo i.e. Amsterdam Zoo is at 38-40 Plantage Kerklaan, 1018 CZ, Amsterdam.
You can reach the ARTIS Royal Zoo via both public and private transport.
We recommend public transport because during the peak seasons or school holidays, both the Zoo's car parking slots and the slots nearby get filled very soon.
The best way to reach Amsterdam Zoo is by tram.
Tram 14 starts from the Amsterdam Central Station and stops at the ARTIS Amsterdam Royal zoo
Tram 7 and 19 can also drop you within five minutes walk of the Amsterdam Zoo.
Many tourists also opt for the Metro to reach Amsterdam zoo.
Waterlooplein is the nearest Metro station and the Zoo is just a 10 minute walk once you get out of the station.
Car parking
ARTIS Amsterdam Royal Zoo has its parking facility just 150 meters (approx 500 feet) from the main entrance. Get Directions
You can get the parking tickets from the parking ticket machine or ticket window at the zoo's main entrance.
Parking is available from 8:30 am until 12 midnight, and the cost is 15 Euros per car.
For a flat fee, get free access to 44 Museums and attractions in Amsterdam and free travel on public transport. Buy I Amsterdam card
Amsterdam Zoo hours
During the peak season of March to October, Amsterdam Zoo opens at 9 am and closes at 6 pm, and during the lean season of November to February, it opens at 9 am and closes early at 5 pm.
The last entry into Amsterdam Zoo is half an hour before closing time.
Micropia is open from 11 am to 5 pm every day of the week.
Amsterdam Zoo map
Even though it is a relatively small zoo, it is wiser to have a copy of the Amsterdam Zoo's map to navigate the various exhibits.
A map can help you locate the animal enclosures and visitor facilities such as restrooms, restaurants, baby changing facilities, medical rooms, souvenir shops, etc.
Carrying the Amsterdam Zoo's layout is highly recommended if you are traveling with kids because you won't waste time finding the various exhibits and getting exhausted.
You can download and print the zoo map here.
Sources

# Artis.nl
# Wikipedia.org
# Tripadvisor.com
# Amsterdam.info

The travel specialists at TheBetterVacation.com use only high-quality sources while researching & writing their articles. We make every attempt to keep our content current, reliable and trustworthy.
Popular attractions in Amsterdam