Rijksmuseum is 800 years of Dutch art and history in one place.
The art museum has around 8000 paintings, portraits, sculptures, weapons, clothes, dolls, etc., displayed in its 80 galleries.
With around 2.5 Million tourists visiting Rijksmuseum every year, it is the most visited museum in the Netherlands.
In this article, we explain everything you need to know before buying Rijksmuseum tickets.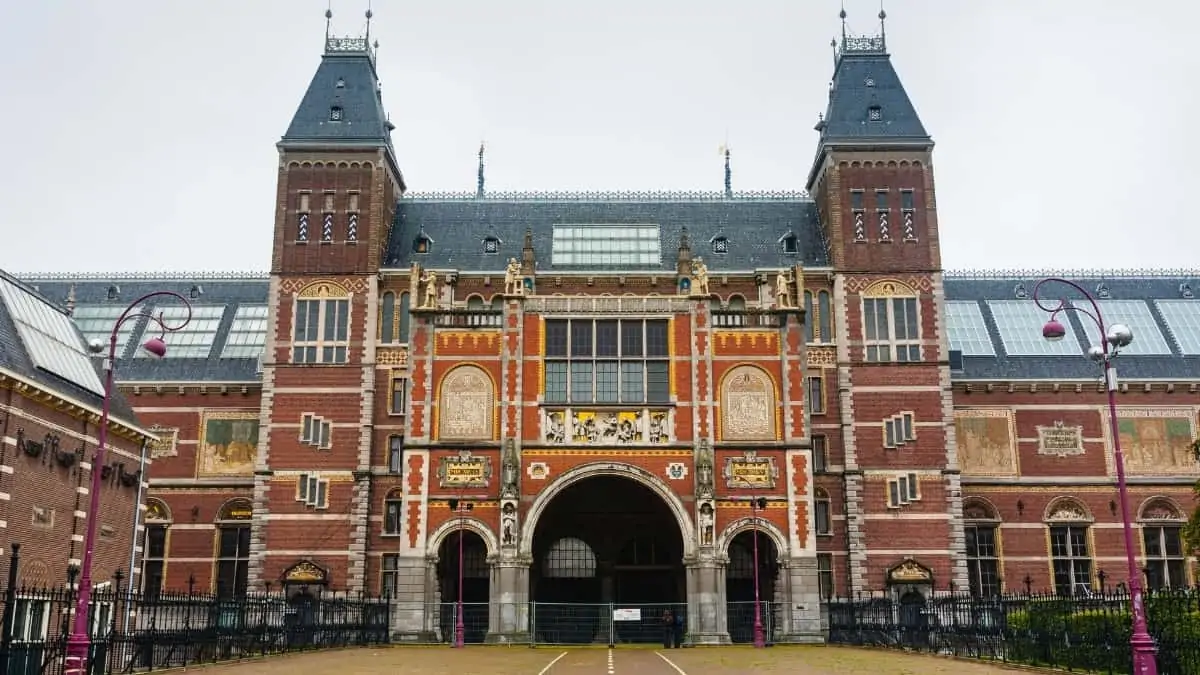 What to expect at Rijksmuseum
Rijksmuseum is the best place to see some of the masterpieces of the Dutch Golden Age.
Even though the art museum has more than one million works of art in its collection, it is most famous for its fantastic collection of paintings.
Masterpieces by Rembrandt, Johannes Vermeer, Franz Hals, Jan Willem Pieneman, Van Gogh, etc., are on display.
The Night Watch, The Milkmaid, Marriage portrait of Isaac Massa and Beatrix van der Laen, The Threatened Swan, Battle of Waterloo, etc., are some of the most famous paintings on display.
Rijksmuseum tickets
You can book three types of experiences at Rijksmuseum: self-guided, guided tours, or private guided tours.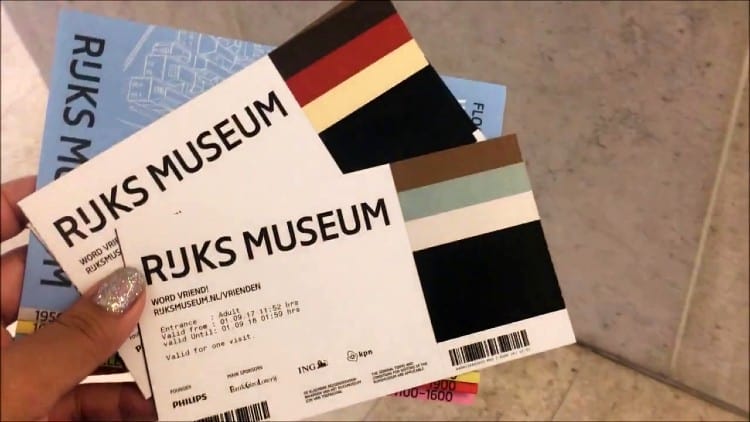 Where to buy tickets to Rijksmuseum
You can get your Rijksmuseum entry tickets at the venue or buy them online, much in advance.
If you plan to get them at the attraction, you must get in the ticketing window queue.
Depending on the time of the day (and month), you may have to wait in the ticket counter line for 45 minutes or more to buy your ticket.
The second and better option is to book tickets to Rijksmuseum online.
When you buy Rijksmuseum tickets in advance, you save yourself a lot of waiting time by skipping the ticket counter queue.
That is why these tickets are also known as Rijksmuseum skip the line tickets.
Update: Due to the pandemic, tickets are no longer sold at the attraction. Instead, all visitors must purchase their tickets online.
How online tickets work
When you book Rijksmuseum tickets online, you select your preferred time of visit.
Immediately after purchase, your tickets get emailed to you.
You don't need to take any printouts.
Now all you must do is, reach the tourist attraction 15 minutes before the time mentioned on your ticket.
Since you have a ticket and are on time, you can show it on your smartphone and walk into the Rijksmuseum art museum right away.
Rijksmuseum ticket prices
The self-guided Rijksmuseum ticket is the cheapest and most popular ticket and costs €21 for all adults 19 years and older.
Entry to Rijksmuseum is free for kids 18 years and below, but you must mention them and get free tickets while booking.
The Dutch art museum doesn't offer discounts to seniors, or students.
If you hold the I Amsterdam card, you qualify for a 100% discount on the Rijksmuseum ticket. So yes, you can show your card and walk in!
Rijksmuseum tickets are timed
Earlier Rijksmuseum tickets used to be valid for 12 months from the date of purchase, but not any more.
Since the covid-19 pandemic, visitors must select a date and time of their visit and be at the museum at least 10 minutes before the selected time slot.
The ticket allows you to enter the museum up to 15 minutes after the time mentioned on the ticket.
Self-guided entry ticket
This Rijksmuseum general admission ticket is the cheapest and the most popular among both tourists and locals.
This ticket gets you full access to the permanent collection and has a one-day validity. You can even get out of the Museum and get back in.
Ticket price
Adult ticket (19+ years): €21
Child ticket (up to 18 years): Free entry
Guided tour of Rijksmuseum
This is also a skip the line ticket and quite popular amongst tourists who visit art museums regularly.
During this two-hour guided tour of the museum, an art expert takes you through Dutch art history.
The guide makes sure you don't miss the masterpieces and narrates interesting stories and anecdotes to spice up your visit.
The group size is limited to a maximum of 10 adults, for an immersive tour.
After the tour is over you can continue to hang around the museum for as long as you want.
Ticket price
Adult ticket (18+ years): €48.50
Youth ticket (13 to 17 years): €23.50
Child ticket (up to 9 years): €17.50
Private tour of Rijksmuseum
A private tour of Rijksmuseum is the costliest way to explore the magnificent masterpieces of Vermeer, Rembrandt, Van Gogh, etc.
The experienced art expert guide will explain the technical aspects of the paintings and discuss the hidden meanings of some of the works.
You can opt for a semi-private tour (small group of up to 8 visitors) or a private tour on the booking page. Prices vary accordingly.
Small group tour prices
Adult ticket (18+ years): €100
Youth ticket (10 to 17 years): €84
Child ticket (up to 9 years): €62
Private tour prices
Adult ticket (18+ years): €285
Youth ticket (10 to 17 years): €84
Child ticket (up to 9 years): €62
Combo tours of Rijksmuseum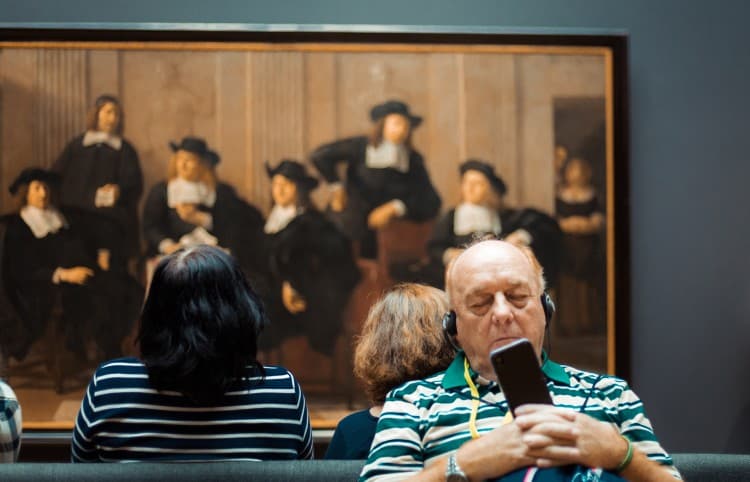 Combos or bundles are a great way to save money – they are usually 10 to 15% cheaper than if you booked the experiences individually.
Another reason combo tours are quite popular among visitors to Amsterdam is because the tourist attractions are nearby.
For instance, did you know that only 300 meters (985 feet) separate the Van Gogh Museum and Rijksmuseum.
Visual Story: 10 must-know tips before visiting Rijksmuseum
How to reach Rijksmuseum
The Rijksmuseum is located on Museumstraat and is easily accessible by public transport, cars, and bicycles.
Amsterdam is car-friendly, but we recommend you use public transport to reach Rijksmuseum.
Tram No 2, 5, 19, and 12 can get you closer to Rijksmuseum.
Tram 2: Amsterdam Central Station to Rijksmuseum tram stop
Tram 5: Zuid Station to Rijksmuseum tram stop
Tram 19: Sloterdijk station to Spiegelgracht tram stop
Tram 12: Amstel Station to Rijksmuseum tram stop
If you are far away from the Dutch art museum, we recommend Amsterdam Metro.
Weesperplein is the Metro station nearest to Rijksmuseum.
From Weesperplein Metro station, board Tram No 1, 7, or 19 and get down at Spiegelgracht tram stop, which is just two minutes walk from the museum.
Rijksmuseum is also accessible by regional buses.
Bus number 288 can bring you from Marnixstraat regional bus station to the Rijksmuseum bus stop.
Bus number 397 gets you from Schiphol Amsterdam Airport to Rijksmuseum.
Note: I Amsterdam card gets you free access to 44 Museums and attractions in Amsterdam and free travel on public transport for a flat one-time fee.
Rijksmuseum opening hours
Rijksmuseum opens at 9 am and closes at 5 pm, all through the year.
The last entry is at 4.30 pm, and that's when the Rijksmuseum ticket desk also closes.
The Rijksmuseum Gardens, Rijks Shop, and Rijks Café remain open for visitors from 9 am to 6 am and can be accessed without any tickets.
Best time to visit the Rijksmuseum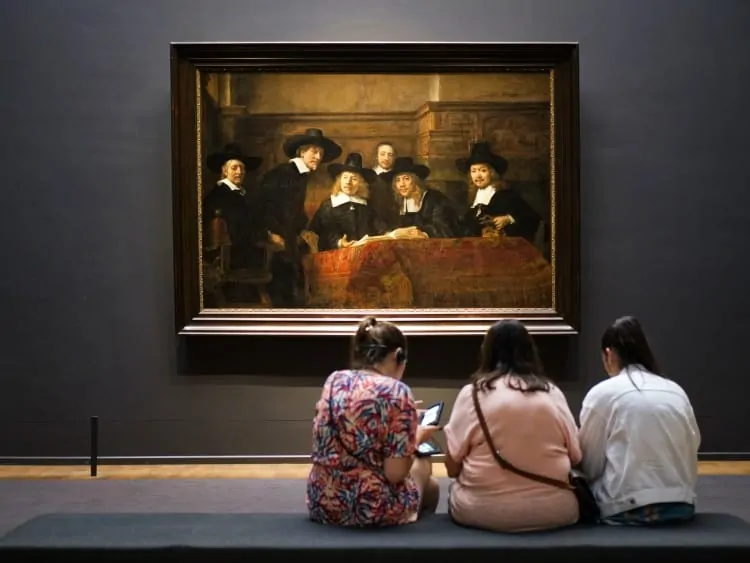 The best time to visit Rijksmuseum is as soon as they open at 9 am.
The next best time to visit Rijksmuseum is after 3 pm because by then, the large group tours have all left.
If you enter the Art Museum at 3 pm, you get a maximum of two hours to explore the Museum because it closes at 5 pm.
Rijksmuseum is most crowded between 11 am and 3 pm.
Peak Season
During the peak tourist months of May to September, Rijksmuseum gets crowded, and visitors wait in the ticket lines for even an hour.
Fridays, weekends, and school holidays aren't the best time to visit Rijksmuseum either.
If you don't like waiting in long lines, you must avoid rainy days for everybody lands up at this indoor attraction.
However, if you book your tickets online, you can skip these long lines at the ticket counter in advance.
The Amsterdam Pass includes tickets to Rijksmuseum, Van Gogh Museum, a 1-hour canal cruise, and unlimited rides on Amsterdam's public transport system for 48 hours. You also get a 10% discount code, which you can use (five times!) to get discounts on future purchases.
Waiting times at the Rijksmuseum
When you visit the Rijksmuseum, you must queue up at two lines.
The first waiting line is at the ticketing counter, and depending on the day and the season, you may have to wait anywhere from 10 minutes to one hour.
We suggest you buy Rijksmuseum tickets online to avoid this waiting (and save some energy for exploring the art museum).
If you have already booked your tickets in advance, you can directly queue up at the second waiting line – to get inside the Museum.
Visitors can't skip the second queue, but the good news is, it moves fast.
How long does Rijksmuseum tour take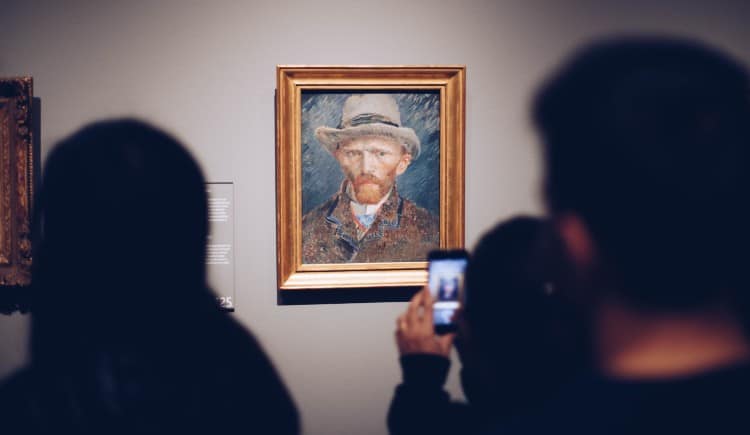 Rijksmuseum recommends spending at least five hours to see all the exhibits at the art museum, but if you want to focus only on the masterpieces, you can finish your tour in two hours.
Art experts believe that after two hours, art fatigue sets it. So they recommend taking a quick break at one of the cafes to recharge.
Rijksmuseum's audio guide
Visitors who want to know more about the exhibits, can book a physical audio guide device at the venue for €5 per person.
Or you can download the art museum's mobile app for android or iphone.
The app has 90-minute long tours in Dutch, Dutch Sign Language, English, French, German, Spanish, Italian, Japanese, Russian and Mandarin Chinese.
The mobile app tours are the same as those on the audio guide available for hire in the museum.
If you forget to bring your headphones, you can purchase one at the museum.
Save money with unlimited free travel in Amsterdam – on buses, trams, trains and ferries. Buy Amsterdam Travel Ticket
Famous paintings
If you are short on time, the best way to explore Rijksmuseum is by focusing on the masterpieces.
Of course, it is difficult to choose the best because every exhibit makes it to the Museum only when it is worthwhile.
Here is our list of the most popular paintings in Rijksmuseum –
The Night Watch
It was painted by Rembrandt van Rijn in 1642. The Night Watch was Rembrandt's most famous painting during his period.
It is an oil painting on canvas of dimensions 12 inches by 14 inches.
The Milkmaid
The Milkmaid was painted by Johannes Vermeer between the years 1658 and1660.
In the painting, a typical kitchen maid is shown pouring some milk from a jar.
Marriage portrait of Isaac Massa and Beatrix van der Laen
This 1622 painting by Franz Hals is an unusual portrait by 17th century standards.
First, it was rare to show the sitters smiling and second, it was unusual for a couple to be sitting so close to each other in public.
The Threatened Swan
The Threatened Swan was the first acquisition of Nationale Kunstgalerlj (the museum that became Rijksmuseum).
That's why in a way the painting became the symbol of the Dutch national resistance.
Jan Asselijn painted The Threatened Swan in 1650.
Battle of Waterloo
Jan Willem Pieneman painted Battle of Waterloo in 1824.
The painting depicts the Duke of Wellington, who receives the message that Prussian forces are coming to his aid.
Interior with woman beside a lenin cupboard
In 'Interior with woman beside a lenin cupboard', Pieter de Hooch depicts two contrasting views of the world – outdoors and the interior.
This 1663 painting is approximately 28 inches by 30 inches – relatively bigger than the rest.
Winter landscape with ice skaters
Hendrick Avercamp painted Winter Landscape With Ice Skaters
in 1608, and it went on to become one of his most successful artworks.
The painting has many characters and incidents, which is why visitors spend time exploring them all.
Early self-portrait of Rembrandt
Rembrandt van Rijn painted this in 1628 when he was only 22 years old.
Interestingly, when the paint was still wet Rembrandt is known to have used the butt end of his brush and made scratches to accentuate the curls of his tousled hair.
Jeremiah lamenting the destruction of Jerusalem
Rembrandt van Rijn painted Jeremiah lamenting the destruction of Jerusalem in 1630.
The focus of the painting is on Jeremiah's sorrow after the king is blinded and Jerusalem is set on fire.
Portrait of Lizzie Ansingh
Therese Schwartze painted Portrait of Lizzie Ansingh in 1902.
This was an informal portrait of Schwartze's niece and fellow painter Lizzie Ansingh.
Portrait of Sir Thomas Gresham
Anthonius Mor created Portrait of Sir Thomas Gresham and his wife over five years – from 1560 to 1565.
Mor depicts the famous English merchant alongside his wife Lady Anne Fernely in a companion portrait.
The Merry Family
Jan Steen created the painting called 'The Merry Family' with many characters in the year 1668.
In this famous piece of art, he depicts a family drinking alcohol together.
He wanted to warn the viewers about the dangers of immorality.
Rijksmuseum's map
If you have booked a guided tour of Rijksmuseum, you don't need a map.
However, if you don't have a guide to take you around, you must get a map.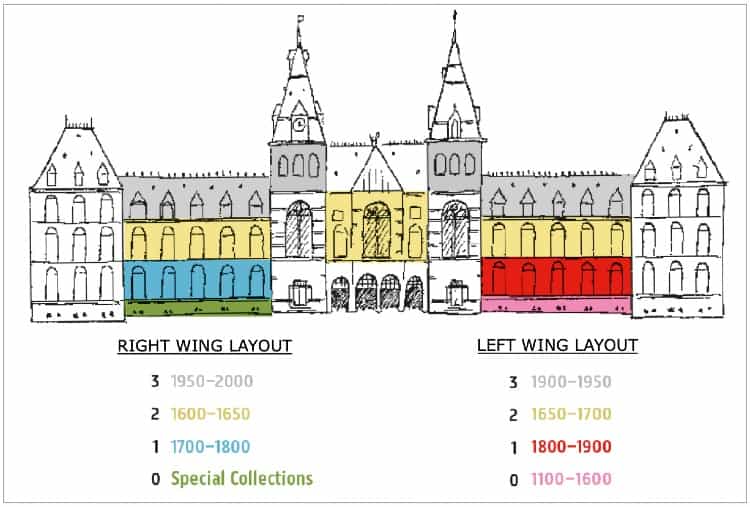 The Rijksmuseum is divided into various sections, zones, and floors –
mostly depending on painting's year of creation.
For a first-time visitor, the massive art museum can be confusing.
A map of Rijksmuseum can help you save time and ensure you don't miss the masterpieces.
A map will also help you find tourist facilities such as washrooms, cafes, smoking areas, souvenir shops, etc.
Download Rijksmuseum floor plan
Sources

# Rijksmuseum.nl
# Wikipedia.org
# Artsandculture.google.com
# Lonelyplanet.com

The travel specialists at TheBetterVacation.com use only high-quality sources while researching & writing their articles. We make every attempt to keep our content current, reliable and trustworthy.
Popular attractions in Amsterdam