Keukenhof Gardens near Amsterdam attract more than 1.5 million tourists annually.
These Tulip fields in the Netherlands are open for visitors only for around 60 days every year.
At the seasonal Keukenhof gardens, visitors get to see more than 7 million flowers, including 800 different kinds of tulips.
In this article, we explain everything you must know before buying your tickets to Keukenhof 2022.
What to expect at Keukenhof
Keukenhof 2022 dates
Keukenhof Gardens are most beautiful in spring, and the creators make sure the visitors see it at its best.
In 2022 the Keukenhof tulip gardens will be open from 24 March to 15 May, including the Easter weekend (17 – 18 April 2022), King's Day (27 April), and Liberation Day (5 May).
Usually, the tulip gardens are open for 60 days every year. However, in 2022, tourists will enjoy Keukenhof Gardens for only 52 days.
Keukenhof theme 2022
The Keukenhof Amsterdam is prepared with a specific theme every year, and the flower decoration, events, artwork, activities, etc., reflect this theme.
Keukenhof Gardens' theme for 2022 is 'Flower Classics.'
All the beautiful gardens, flower shows, and events at Keukenhof will be linked to this theme.
The theme for 2020 and 2021 was 'A World of Colours,' but the festival got washed out both times because of the pandemic.
Where are the Keukenhof gardens?
Keukenhof is also known as the Garden of Europe and is in Lisse, South Holland, Netherlands.
The Keukenhof Park covers 32 hectares (79 acres) and is a prominent part of the 'Dune and Bulb Region' (also known as Duin- en Bollenstreek).
The Tulip fields of the Netherlands are to the Southwest of Amsterdam.
Address: Stationsweg 166A, 2161 AM Lisse, Netherlands. Get Directions
How to reach Keukenhof
There are many ways to reach Keukenhof in Holland.
Whichever mode of transport you choose, it is better to book Keukenhof tickets in advance to get the preferred time slot.
By Car
To get to Keukenhof you can take motorways A4 (exit Nieuw-Vennep) and A44 (exit 3, Lisse).
'Keukenhof' is well sign-posted after the exit.
Two large car parks ensure that the Keukenhof Tulip gardens never run out of parking space.
A day's parking costs €6 per car, but the best part is, you can add on a parking sticker while purchasing your Keukenhof tickets.
By Bus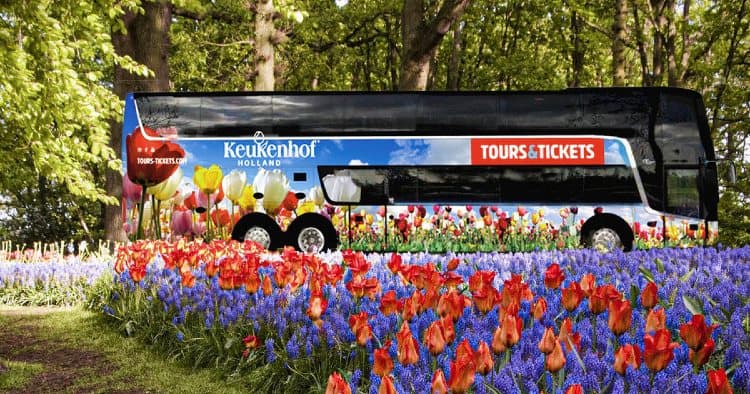 The Keukenhof Express bus is the easiest way to get to Keukenhof Gardens and Holland's tulip fields.
During the Tulip season, these buses are available from six cities – Amsterdam, Leiden, Haarlem, Katwijk, Noordwijk and Noordwijkerhout
Keukenhof Express bus tickets come with skip-the-line admission to the Keukenhof Gardens and the return journey.
After exploring the gardens, you can board the same buses and get back.
By Train
There is no direct train to the Tulip festival near Amsterdam.
However, if you are around Central Station, you can travel half the distance by train.
From Central Station, you can take a 15-minute train to Schiphol Airport.
And from the Airport, take the bus 858 from outside the Arrival Hall 4. This will take you directly to the Keukenhof Gardens within 30 minutes.
Find out everything about traveling from Amsterdam to Keukenhof Gardens.
Keukenhof opening hours
In 2022, from 24 March to 15 May, the Keukenhof Gardens will be open every day from 8 am to 7.30 pm.
The Tulip fields of Holland are only available for two months every year during spring when it is at its best.
Best time to visit Keukenhof
Since the Tulips are the main attraction of Keukenhof in Holland, it is best to visit the gardens when they are blooming, and the weather is perfect for a stroll.
It is difficult to predict when the 800+ types of Tulips on display will bloom, which is why we recommend a broad window of late April to early May for the best views.
However, you should know that the gardeners plant the flower bulbs in multiple layers to ensure different flowers bloom at different times.
As a result, every day is a great day to visit the Tulip park of the Netherlands.
Avoid the crowd at Keukenhof
On regular days Keukenhof has an average of 25,000 daily visitors, and on peak days, more than 45,000 tourists and locals pass through its gate.
If you want to avoid the crowd, be at Keukenhof's entrance before 11 am or after 3 pm.
Note: The morning light is excellent for taking photos.
When NOT to visit Keukenhof
The Tulip fields of Holland are the most crowded on National holidays.
It is better to avoid the gardens on the following days because it will be teeming with tourists and locals.
15 April (Friday): Good Friday
17 April (Sunday): Easter Day
18 April (Monday): 2nd Day of Easter
27 April (Wednesday): King's Day
On 27 April, the Gardens will be moderately crowded.
However, since the Dutch will celebrate the King's birthday, it will be a nightmare to reach the gardens by public transportation.
How long does Keukenhof take
Keukenhof Park is 32 hectares (79 acres) and home to 7 million flower bulbs.
Most visitors take three to four hours exploring the Tulip gardens with so much to see.
However, you can spend the whole day at the Gardens if you want because the entry tickets don't have a time limit.
Tip: If you plan to spend the whole day, we recommend regular stops to rest, eat and drink. Because of all the walking, visitors tend to tire quickly.
Keukenhof tickets
Choosing the right kind of experience at Keukenhof is difficult because of the numerous ticket options available.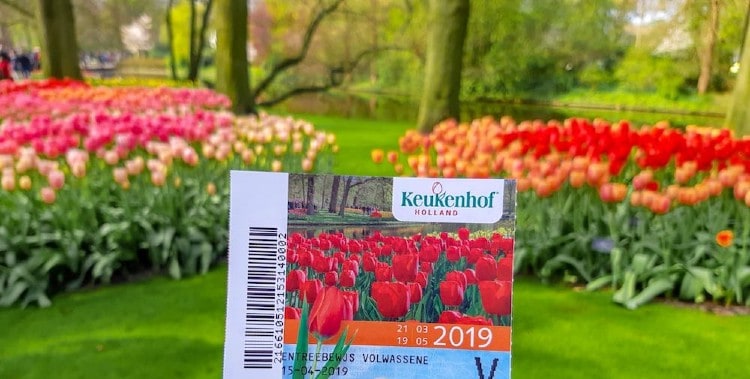 Timed entry: While buying your Keukenhof entry tickets, you must select a time slot. It is essential to be at the attraction's entrance at the time mentioned on your ticket.
Cancellation policy: Keukenhof tickets can be canceled up to 24 hours in advance to receive a full refund.
Mobile tickets: The tickets get emailed to you, and on the day of the visit, you can show them on your mobile and walk in. You don't have to take printouts.
Purchasing your Keukenhof tickets online is a better experience for three reasons:
Online tickets are cheaper than the price you will pay at the entrance.
You don't wait in the ticket counter queue and waste your time and energy.
Tickets on-site get sold on a 'first come, first served' basis. Booking your tickets online (and in advance) guarantees an entry.
In 2022, due to the pandemic, it is mandatory to purchase your Keukenhof entry tickets online.
Skip the Line Keukenhof tickets
These are the cheapest and the most popular Keukenhof tickets.
You get to skip the line at the Keukenhof entrance and access everything that's part of the gardens.
However, you will have to manage your own transport.
Ticket price
Adult ticket (18+ years): 19 Euros
Child ticket (4 to 17 years): 9 Euros
Infant ticket (up to 3 years): Free entry
You can also book your parking space at the Gardens in advance for an additional six Euros.
Keukenhof tickets with transport
The Tulip garden of Keukenhof is close to many Dutch cities, and tourists from everywhere land up to see the flower festival.
Here is how far the cities are –
| City | Distance | Travel Time |
| --- | --- | --- |
| Amsterdam | 40 Kms (25 Miles) | 40 minutes |
| Rotterdam | 58 Kms (36 Miles) | 60 minutes |
| The Hague | 32 Kms (20 Miles) | 50 minutes |
| Haarlem | 19 Kms (12 Miles) | 24 minutes |
Tourists also visit the Gardens from nearby towns such as Katwijk, Noordwijk and Noordwijkerhout.
Because of this distance from the major cities, many tourists prefer to book Keukenhof gardens tickets, including transport both ways.
Some of these tickets are also known as Keukenhof combi-tickets.
Travel to the gardens and back is in an air-conditioned coach.
Guided tour to Keukenhof Gardens
Visitors who prefer not to miss the key exhibits at the Keukenhof flower festival opt for a guided tour.
If you are not on a budget holiday, we recommend a tour which includes a local expert accompanying you, because you don't miss anything.
Most of the Keukenhof tours with transport come with a live guide in English.
Guided tours are available from Amsterdam, Rotterdam, and The Hague.
If you want it to be a quiet affair with your family or friends, opt for the private guided tour.
If you prefer something fancier, board a Renault Twizy and drive around for twenty kilometers (12.5 miles) of the Tulip gardens with a GPS-enabled audio tour. It is perfect for couples.
Visitors can also book a Keukenhof entry + Spring Cruise combo ticket and explore the quiet Dutch landscape, its cute villages, and historic windmills as they boat on the Kagerplassen.
If you prefer a full-day guided tour out of Amsterdam, check out the Keukenhof Tulip Fields Tour from Amsterdam with a visit to a windmill and a farm.
Some tourists willing to pack more in a day opt for the Keukenhof and Zaanse Schans combo tour.
Zaanse Schans is an area near the Dutch town of Zaandam, with historic windmills and distinctive green wooden houses resembling an 18th/19th-century village.
Because it is some distance from the major cities, visitors wonder if Keukenhof is worth the effort.
What to do in Keukenhof?
A visit to Keukenhof isn't just about looking at the flowers.
Check out the video below on what visitors can expect on their visit to Keukenhof –
Here is a list of things you can do at Keukenhof Gardens Holland to have an enriching trip.
See lots of tulips and take photos
Don't forget to take lots of photos at the Keukenhof Tulip festival. It is always good to create memories for later.
The light is perfect for capturing the colorful flowers' incredible photographs if you go early in the morning.
A few check-ins won't hurt either.
Visit the pavilions for the flower shows
Keukenhof has three indoor locations that host flower shows – Beatrix Pavilion, Oranje Nassau pavilion, and Willem-Alexander Pavilion.
More than 500 growers use these pavilions to showcase their flowers and arrangements.
Orange Nassau Pavilion is known for its colorful floral displays that change every week.
The Willem-Alexander Pavilion gets crowded in the last 12 days of the season when it is home to the world's largest lily show.
The Beatrix Pavilion turns into a forest full of orchids and anthuriums for two months.
Visitors can walk in for free into these pavilions.
The Julianna Pavilion showcases the history of the tulip and its influence on the Netherlands.
Here is the schedule of the flower shows planned at Keukenhof in 2022 –
24 Mar to 29 Mar: Tulip and Hyacinth show
31 Mar to 5 Apr: Freesia and Gerberashow
7 Apr to 12 Apr: Rose show
14 Apr to 18 Apr: Daffodil and Special Bulbs show
20 Apr to 25 Apr: Alstroemeria show
27 Apr to 2 May: Lisianthusshow
4 May to 9 May: Chrysanthemums and Calla show
11 May to 15 May: Carnation and summer flower show
24 Mar to 15 May: Anthurium show
24 Mar to 15 May: Orchid show
24 Mar to 15 May: Amaryllis show
24 Mar to 15 May: Potted Bulb show
24 Mar to 15 May: Potted Plant show
Learn to make flower arrangements
Every day there are ongoing workshops on how to arrange flowers.
Visitors can step into pavilions like Oranje Nassau and see specialists demonstrate spectacular flower arranging skills.
They show how everybody can use flowers to make simple bouquets and even unexpected creations with a little knowledge.
Rent a bike and explore
Keukenhof is bike-friendly.
You can rent a bike for a small fee, get a map with various biking routes, and explore the flower gardens and the surrounding area.
Visitors can rent women's, men's, children's bikes and tandems in the parking lot at the main entrance of Keukenhof or nearby rentals.
Bike rentals at Keukenhof are available for either three hours or the whole day, and the prices vary accordingly.
| Cycle | 3 hours | Whole day |
| --- | --- | --- |
| Adult bike | € 10 | € 15 |
| Kids bike | € 8 | € 12 |
| Tandem | € 25 | € 30 |
Take a 'whisper' boat trip
If you are tired from walking or cycling around, take the 'whisper' boat to see the Tulip fields from a different perspective.
The electrically-propelled 'whisper' boats depart at the windmill in Keukenhof park.
The boat trip takes 45 minutes, and all through, you get to hear interesting information about the flower region.
Unfortunately, the boats can't accommodate wheelchairs.
'Whisper' boat tickets cost 9 Euros for adults (12+ years), and 4.5 Euros for kids (4 to 11 years).
Some visitors opt for the Spring cruise as an additional activity, while booking their Keukenhof entry tickets.
Visit Keukenhof Castle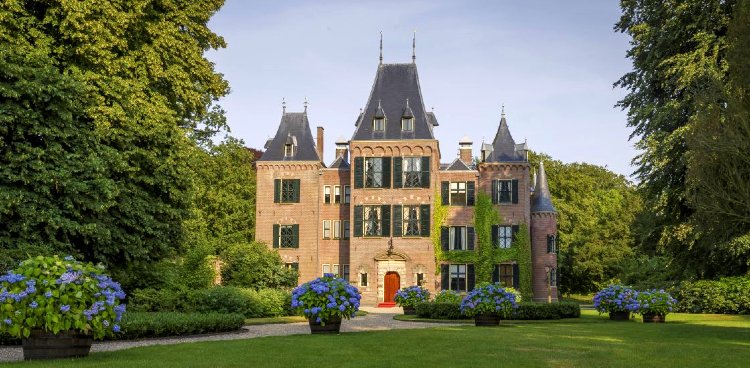 Many tourists visiting Keukenhof Gardens don't know that there is a Keukenhof Castle.
Book your Castle ticket in advance and check out some of the impressive artifacts on display from the Golden Age of Dutch history.
Insider Tip: Visit the Castle after you are done with Keukenhof Gardens because you can't re-enter the Gardens.
Indulge in kids activities
Kids love the lovely playground right in the center of Keukenhof.
Right next to the playground is a concession stand offering tasty treats.
If your child loves animals, you can head over to the Petting Zoo, which houses goats, sheep, chickens, peacocks, etc.
Hedge Maze is yet another attraction where kids can find their way out.
Elder kids can try out the Keukenhof scavenger hunt, which is both educational and entertaining.
Explore flower fields around Keukenhof
This is something you must plan for after you have explored the Keukenhof Gardens of Lisse and have some energy left.
Because once you exit Keukenhof Gardens, you can't re-enter.
From the parking of Keukenhof, you will be able to slip into the surrounding fields.
You can also book a Renault Twizy, a two-seater micro car, for a 20 kms (12.5 kms) drive around the flower fields.
Events at Keukenhof Gardens
Special activities, shows, and performances are conducted throughout the flower season at the Keukenhof Gardens.
Weekends and public holidays see special programs.
Your Keukenhof ticket will get you free access to these events.
Check out the schedule of Keukenhof's 2022 season events –
24 Mar to 27 Mar: Openings weekend Keukenhof Gardens
26 Mar to 28 Mar: Dutch Heritage weekend at Keukenhof
10 Apr to 11 Apr: Keukenhof Flower Market
16 Apr to 18 Apr: Easter weekend at Keukenhof Gardens
20 Apr: Miffy visits Keukenhof
23 Apr: Keukenhof Flower Parade
27 Apr: King's Day at Keukenhof
2 May to 6 May: May holiday in Keukenhof with Fien & Teun
8 May to 9 May: Romance at Keukenhof (Mothers Day)
Keukenhof flower parade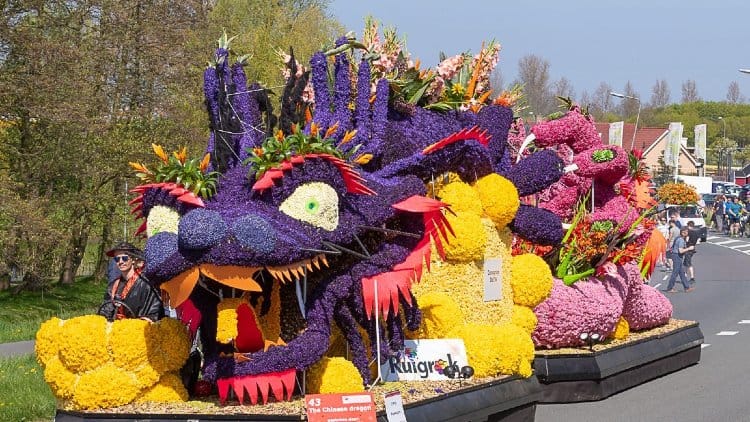 Bloemencorso Bollenstreek is one of the most popular flower parades in Holland.
Since it happens during the Keukenhof Flower festival and passes through Keukenhof Gardens, many refer to it as the Keukenhof Flower parade.
Like the Gardens, the Keukenhof flower parade also revolves around a theme every year.
In 2022 the theme is 'Celebrating Memories'.
This theme has been incorporated into the designs of the parade floats.
In 2022, the Keukenhof Flower Parade will be held on 23 April, a Saturday.
The parades are usually scheduled for late April because the Tulips are in full bloom.
The floats will go through a 40 km (25 Miles) route starting from Noordwijk and end at Haarlem.
Seeing Flower Parade from Keukenhof Gardens
At 3:30 pm, the beautiful cars decorated with flowers pass through the Keukenhof Gardens.
One of the best spots to see the Flower Parade is the Keukenhof Boulevard, the road in front of the Tulip Gardens.
Since the parade is an extraordinary event, it is incredibly crowded, and the roads remain closed from 3 pm to 5.30 pm.
If you plan to watch the parade, it is best to reach Keukenhof before 11 am.
Keukenhof weather
Both tourists and locals want to know the best time to visit Keukenhof.
That's why they check on the weather as well.
Impact of Keukenhof weather on flowers
Spring is the season of flowers.
Nature revives itself from the harsh winters' gloominess, and flowering is just one of the acts.
Since Tulips are flowers of the warm weather, they start growing and blooming way faster in spring than in the winters.
As a result, Keukenhof is covered with these colorful beauties and ends up becoming the best place to relax and experience spring.
Some of the Tulips need a little warmer weather than the others, so they bloom only by April.
How Keukenhof weather affects visitors
Keukenhof being an outdoors attraction, it is always a good idea to know what to expect.
You wouldn't want to be in a garden while it's raining, no matter how beautiful it is.
The good thing is that Keukenhof also has indoor pavilions that you can rush into when it rains.
For the best Keukenhof weather prediction, follow the link.
Keukenhof map
Keukenhof, the Tulip festival of Holland, has numerous sections and is a bit challenging to navigate because of its size.
It is better to spend time with Keukenhof Garden's map and plan your itinerary.
Carrying the Tulip garden's layout is even more necessary if you are visiting with kids.
Besides the flower exhibits, a map will also help you identify visitor services such as restaurants, washrooms, pavilions, etc.
Food at Keukenhof
Keukenhof Gardens has a lot of eateries and restaurants, each with its theme.
The options are plenty – you can visit the Italian, authentic Asian, or the Dutch restaurant offering poffertjes (traditional Dutch mini pancakes).
If you prefer a quick bite, there are numerous mobile food outlets spread across the park where you can get strawberries, herring, hotdogs, etc.
Can I bring my food and drinks?
Being a garden, the Keukenhof has picnic spots where you can sit and eat your food.
But visitors can't get their home food inside the restaurants.
Sources

# Keukenhof.nl
# Wikipedia.org
# Tulipfestivalamsterdam.com

The travel specialists at TheBetterVacation.com use only high-quality sources while researching & writing their articles. We make every attempt to keep our content current, reliable and trustworthy.
Popular attractions in Amsterdam
# Rijksmuseum
# Van Gogh Museum
# Anne Frank House
# Amsterdam Zoo
# Heineken Experience
# A'dam Lookout
# Stedelijk Museum
# Amsterdam Canal Cruise
# Madame Tussauds Amsterdam
# XtraCold Ice Bar
# Body Worlds
# Rembrandt House Museum
# Johan Cruyff Arena Stadium