XtraCold Ice Bar in Amsterdam is a once-in-a-lifetime experience in the city's heart.
The attraction is maintained at -10°C (14°F), and visitors experience what it is like to be stranded on the North Pole and enjoy three complimentary drinks out of a glass made from ice.
All visitors get a thermal coat and gloves to withstand the arctic temperatures.
This article shares everything you must know before booking your Ice Bar Amsterdam tickets.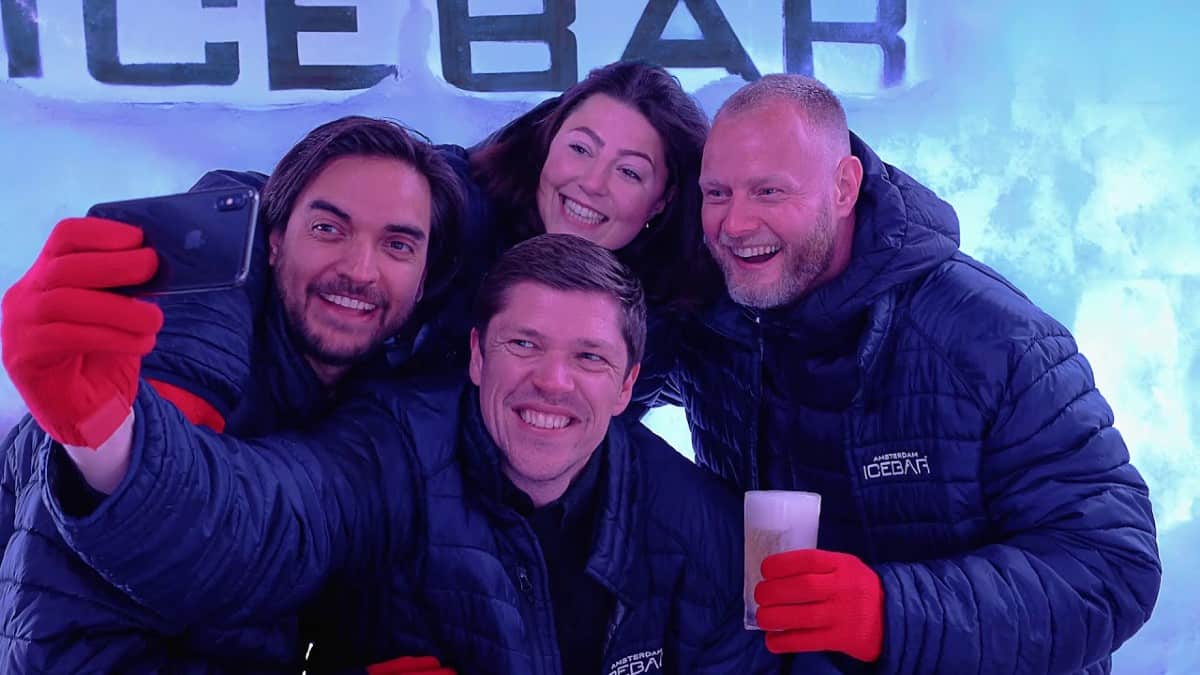 What to expect at IceBar Amsterdam
Ice Bar XtraCold Amsterdam is the coolest bar in the city and includes two parts – a heated lounge and the ice bar itself.
All visitors start in the lounge. You listen to some music even as you sip on a cold beer or cocktail.
After enjoying your first drink, you get introduced to Willem Barentz, captain of the ship 'Mercury' and a Dutch Arctic explorer.
You and your gang will get a thermal coat and gloves before you join him on his ship (the actual Ice Bar!) to find a way around the island of Nova Zembla.
Once inside the Ice Bar, you will be surrounded by ice, from the walls to the ice sculptures and the glasses served at the bar.
During the experience, you get three complimentary drinks, after which you can buy more.
Where to book tickets
Tickets for XtraCold Ice Bar Amsterdam can be purchased online or in person at the attraction.
Online ticket prices tend to be cheaper than tickets at the attraction.
When you buy online, you can avoid the long queues at the ticket counters.
When you book early, you also get your preferred time slot.
Because some attractions sell limited tickets due to their high demand, booking early helps avoid last-minute disappointments.
How do online tickets work
Visit the XtraCold Icebar Amsterdam ticket booking page, select your preferred date, time slot, and number of tickets, and buy the tickets right away.
After making the purchase, you will receive the tickets in your email.
Ticket printouts are not required.
You can enter the attraction by showing the e-ticket on your smartphone.
Xtracold Ice Bar Amsterdam ticket prices
Tickets for XtraCold Icebar Amsterdam are priced at €25 for all visitors aged 18 years and above.
XtraCold Ice Bar in Amsterdam offers no discounts for students, seniors, or disabled people.
Only people aged 18 and up are permitted.
Xtracold Ice Bar Amsterdam tickets
The Amsterdam XtraCold Icebar ticket includes admission into the attraction, a thermal coat, and gloves to withstand the arctic (-10°C) temperature and three complimentary drinks of your choice.
This one ticket gets you access to both the parts of the attraction – a heated lounge and the ice bar itself.
Ticket price: €25 per person
Icebar, a timed experience
Xtracold Icebar Amsterdam is a timed experience.
The time slot you select while booking your Ice Bar tickets is for entry into the bar entirely made of ice.
It is better to arrive at least 20 minutes before the time slot so to spend time at the Front Lounge Bar and enjoy your welcome drink.
If you are late for your time slot, the attraction tries to accommodate you, subject to availability.
XtraCold Icebar + Amsterdam's Weirdest Museum
Ripley's Believe It or Not! Amsterdam is only 1 km (0.6 miles) from XtraCold Icebar, which is why many tourists prefer to visit them on the same day.
At Amsterdam's weirdest museum, you will see more than 500 nearly unbelievable exhibits spread across 19 themed galleries.
You can experience one of the attractions first and take a leisurely 15-minute walk to get to the next.
Ticket price: €47 per person
How to reach XtraCold IceBar Amsterdam
XtraCod Ice Bar is just a 2-minute walk from Waterlooplein.
Address: Amsterdam Ice Bar is at Amstel 194-196, 1017 AG Amsterdam. Get Directions
You can reach the bar by train, bus, or car.
By train
Ice Bar is a 3-minute walk from Waterlooplein Subway Station, serviced by trains 51, 53, and 54.
You can also take tram 4 or 9 from Amsterdam Central Station and get out at Rembrandtplein. From there, the bar is just a 3-minute walk.
By bus
Buses N85 and N87 stop at Rembrandtplein, just a 5-minute walk to the bar.
If you use the City Sightseeing Bus or the Boat (Green Line), get down at Stop 5, which is five minutes from the attraction.
By car
If you're traveling in a car, turn on your Google Maps and get started.
There are several parking garages near the attraction.
The closest parking is Parking Waterlooplein.
Opening hours of XtraCold Ice Bar Amsterdam
XtraCold Ice Bar in Amsterdam is open daily from 11.45 am to 1 am.
The Ice Bar remains closed on the 27th of April, which is King's Day.
The last admission is always one hour before closing.
How long does the tour take
A complete tour of XtraCold Ice Bar Amsterdam takes around an hour.
Before stepping into the main attraction of the Ice Bar, visitors tend to spend approximately 20 minutes in the lounge waiting for their time slot.
All guests can be in the Ice Bar for 20 minutes, after which they can return to the lounge and spend as much time as they want drinking cocktails.
Best time to visit XtraCold Ice Bar
The best time to visit XtraCold Ice Bar Amsterdam is when it opens at 11.45 am.
During the morning hours, the crowd is less, so you get sufficient time to spend at the bar.
Another ideal time to visit the bar is after 7 pm. That's when the crowds thin out.
If you prefer a less crowded experience, consider visiting during weekdays and avoid weekends and public holidays.
Drinks served at IceBar Amsterdam
Every Ice Bar Amsterdam ticket comes with one Gold and two Silver coins.
The Gold coin is for a cocktail or beer at the Lounge Bar, while the Silver coins are for two drinks at the Icebar, served in a glass made of ice.
Drinks in Front Longue Bar
All visitors start their experience at the Front Lounge Bar, which offers various alcoholic and non-alcoholic beverages.
Visitors can use their Gold coin here for one complimentary drink and buy additional beverages if they want more.
At the Front Lounge Bar, tourists recommend 'Amsterdamned,' a mix of gin, peach liqueur, cranberry juice, and freshly squeezed lime juice.
They also serve Heineken beer.
The most popular mocktails are Mojito, Sex on the Beach, and Amsterdamned without alcohol.
Drinks inside actual Ice Bar
After having one or more drinks at the Front Lounge Bar, you will wear your coat and gloves and enter the Ice Bar.
Once inside, you can exchange your two Silver tokens for two drinks of your choice.
You can choose between five shots – Nuts & Nougat Vodka shot, Whipped Cream Vodka shot, White Vodka shot, Coconut Vodka shot, and Sambuca.
If you prefer something lighter, opt for Heineken beer, Sprite, or Orange Juice.
Inside the Ice Bar, guests can only have two drinks. Those who want to buy additional drinks get back to the Front Lounge Bar.
What to wear to Ice Bar Amsterdam
Ice Bar in Amsterdam has no dress code.
Guests can wear regular clothes, but shorts, skirts, dresses, and open shoes can get pretty cold.
All visitors get an overcoat and gloves before entering the Ice Bar, which is maintained at a temperature of -10°C (14°F).
Once they are out of the cold zone, they can spend time in Lounge Bar, which is comfortably warm.
Important Information
Children under the age of 18 are not allowed in the Ice Bar.
A valid ID is required to enter.
Ice Bar Amsterdam doesn't serve food.
Smoking is prohibited, but you can step out and step back in as long as you keep your ticket.
Since the Ice Bar doesn't have lockers, bringing a normal-sized purse or backpack would be better.
FAQs about XtraCold Ice Bar Amsterdam
Here are some frequently asked questions about XtraCold Ice Bar in Amsterdam.
What is the cancellation policy?
You can cancel your XtraCold Ice Bar Amsterdam tickets until the day before your visit. Please note that cancellations made after this time will not be accepted.
Can I go outside and enter the XtraCold Icebar with this ticket?
With this ticket, you may exit the Icebar for a break and return inside the bar.
Can I book a ticket with the iAmsterdam City Card?
You can purchase the XtraCold Ice Bar tickets with the iAmsterdam City Card, but only at the venue.
Can I attend the XtraCold Ice Bar before or after my time slot?
If you are late for your time slot, the bar will accommodate you on the next one. If you arrive when the Icebar is fully booked, you must wait for a timeslot when the room is available.
Is photography allowed inside XtraCold Ice Bar Amsterdam?
Photography for personal use is allowed in the lounge and bar areas. However, official photographers are available at the bar, and you can buy your photos for €7.50 just before leaving.
How cold is the XtraCold Ice Bar?
The bar is very cold at -10 °C, but in the lounge bar, it is comfortably warm.
Is the XtraCold IceBar wheelchair accessible?
The IceBar is wheelchair accessible. Since the bar is on the ground floor, wheelchair users can enter through the front door. There is a 5 cm step to enter the Icebar, but wheelchairs that can normally be raised won't have any trouble getting inside. Electric wheelchairs are not suitable for IceBar.
Sources

# Xtracold.com
# Tripadvisor.com
# Iamsterdam.com

The travel specialists at TheBetterVacation.com use only high-quality sources while researching & writing their articles. We make every attempt to keep our content current, reliable and trustworthy.
Popular attractions in Amsterdam