Amsterdam Dungeon is a horror theatre show performed by amusing artists to entertain you.
It is a uniquely thrilling attraction that will whisk you way back into the Netherlands' most perilous past.
The scary humorous characters from the "bad old days" will come to life in front of you as you see, hear, feel, and smell them.
This article shares everything you should know before buying tickets for Amsterdam Dungeon.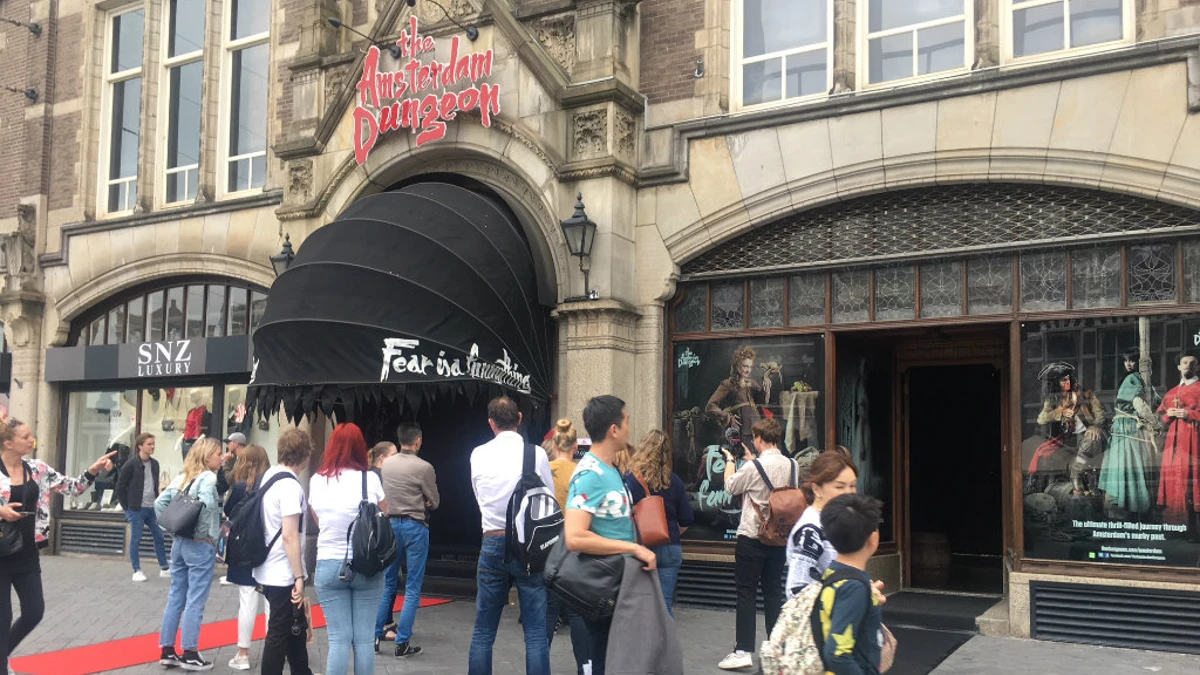 What to expect at Amsterdam Dungeon
Take a tour of The Amsterdam Dungeon to see the life and 500 years old dark history of the European City of Sin.
Experience what it was like for the common people who worked aboard the ships during the era of naval superiority in the past.
See a recreation of an Inquisition Court to witness its terrifying influence over the populace.
Watch a member of your group getting turned into a "prisoner" in a historical Dutch torture chamber during the show.
Shows at Amsterdam Dungeon
– The Descent
– Torture Chamber
– The Spanish Inquisition
– The Flying Dutchman
– Black John
– The Council of Blood
– Witch Burning
– The Gallow of Fields
– Murder on the Zeedijk
– The Last Shot
---
---
Where to buy Amsterdam Dungeon tickets
There are two modes of buying tickets for Amsterdam Dungeon Amsterdam – online or offline at the attraction.
If you land at the venue to buy tickets, you must line up at the counter. During peak times, these lines can get long, and you will end up wasting your time.
Online tickets for Amsterdam Dungeon can be cheaper than those sold at the venue.
When you book online and in advance, you also get your preferred time of visit.
Online tickets also help you avoid last-minute disappointment when tickets get sold out.
How online ticket works
On the booking page, select your preferred date, time slot, and the number of tickets, and buy them right away.
After the purchase, you will receive the tickets in your email.
You don't need to take any printouts.
All you have to do is show your smartphone ticket at the entrance and get ready for the tour.
Cost of Amsterdam Dungeon tickets
Amsterdam Dungeon tickets are priced at €23 for all visitors aged 16 years and above.
Young visitors aged 3 to 15 years get €4 discount and pay only €19 for entry.
Kids up to the age of 3 years get free admission.
Amsterdam Dungeon tickets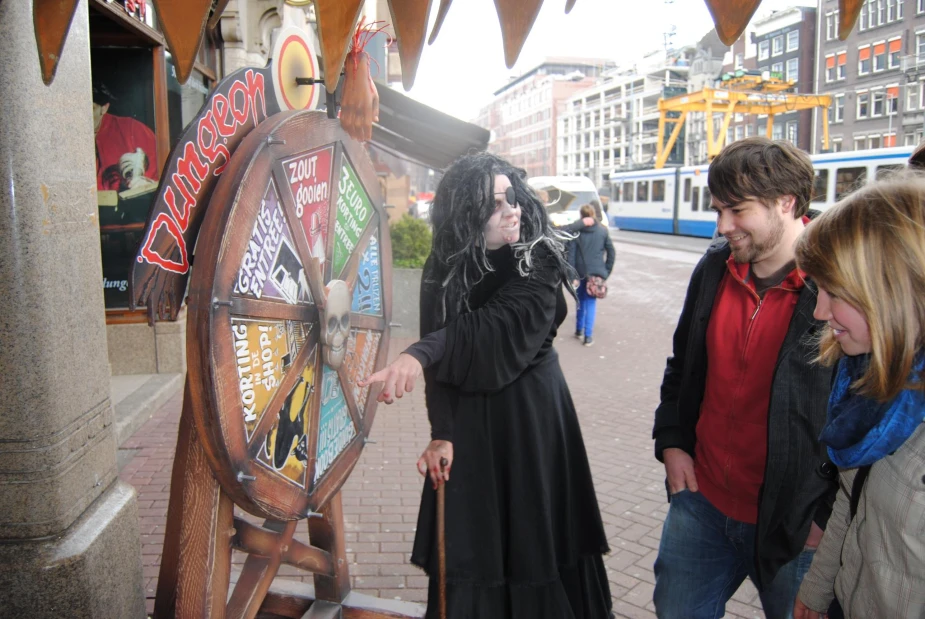 With this ticket, meet witches, judges, torturers, and more at the Amsterdam Dungeon.
You'll be part of the show, so no tour is the same.
Laugh and scream through several different shows and experiences, from torture chambers to witch trials to a haunted house.
Box item: Pregnant women or guests with neck or back complaints must notify an attendant at the entrance. This tour is not recommended for guests with claustrophobia.
Ticket Prices
Adult Ticket (16+ years): €23
Youth Ticket (3 to 15 years): €19
Combo tickets
Combo tickets are the best way to explore the iconic attractions of Amsterdam.
You can buy Amsterdam Dungeon tickets in combination with Madame Tussauds or Canal Cruise.
On the purchase of these tickets, you can reap a discount of 5%.
Madame Tussauds Amsterdam + The Amsterdam Dungeon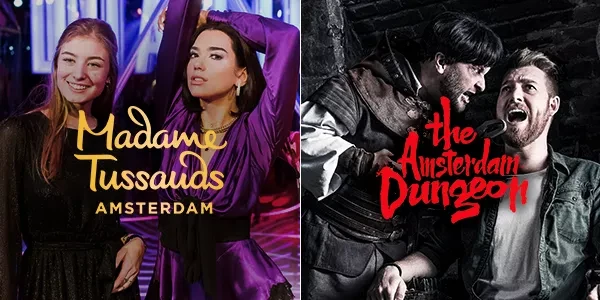 Madame Tussauds Amsterdam is just 300 meters (984 feet) from Amsterdam Dungeon, and you can walk the distance in just four minutes.
This is the reason why visitors love to explore both attractions together.
Buy Madame Tussauds Amsterdam + The Amsterdam Dungeon combo ticket and level up fun!
Ticket Cost: €46
The Amsterdam Dungeon + Canal Cruise Amsterdam
After watching the show at Amsterdam Dungeon, you may plan a visit to Amsterdam Canal Cruise, which is just 1 km (half a mile) away and can be reached in 10 minutes by car.
Book this combo ticket that offers a discount of up to 5%.
Ticket Cost: €37
Save time & money! Discover Amsterdam with the Amsterdam City Card. Visit world-class museums and attractions, get unlimited access to Amsterdam's public transport, and enjoy a free canal cruise.
---
---
How to reach Amsterdam Dungeon
The Amsterdam Dungeon is located in Rokin 78, just a short walk from Dam square.
Address: Rokin 78, 1012 KW Amsterdam, Netherlands. Get Directions
The most convenient way to reach The Amsterdam Dungeon is by bus, metro, and car.
By Bus
Amsterdam, Dam is the nearest bus stop to Amsterdam Dungeon, only six minutes walk away.
By Metro
Rokin is the nearest metro station, just at a one-minute walking distance.
By Car
If you are traveling by car, turn on your google maps and get started.
Parking Rokin is the nearest car parking to Amsterdam Dungeon, hardly a minute walk away.
Amsterdam Dungeon timings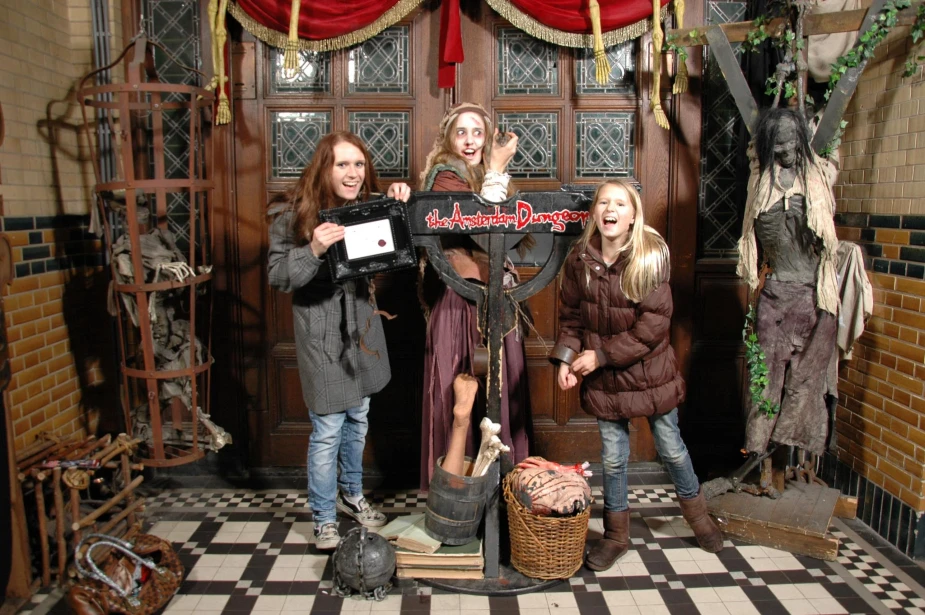 Amsterdam Dungeon is open every day of the week.
From Monday to Friday and on Sundays, it operates from 11 am to 5 pm.
On Saturdays, it runs from 11 am to 7 pm.
How long does Amsterdam Dungeon take
It takes nearly 75 minutes to explore Dungeon Amsterdam completely, and you will be on your feet most of the time.
However, if you spend time taking pictures and recording moments, you might require more time.
Best time to visit Amsterdam Dungeon
The best time to visit Amsterdam Dungeon is as soon as it opens at 11 am.
If you visit the dungeon early, you can enjoy the horror show to the fullest with less disturbance around.
Another best time to enjoy performances is after 4 pm when the crowd starts to thin.
Frequently Asked Questions about Amsterdam Dungeon
Here is a list of frequently asked questions by visitors about Amsterdam Dungeon.
In what languages are the Amsterdam Dungeon tours available?
Amsterdam Dungeon tours are offered in English and Dutch.
How long does the Amsterdam Dungeon tour take?
A tour takes around 75 minutes.
When does a new tour start at Amsterdam Dungeon?
Amsterdam Dungeon has a new tour every 15 minutes. At the ticket desk, you can mention if you would like to do the tour in English or Dutch.
Are guests obliged to participate in the show at Amsterdam Dungeon if the actor chooses them?
No one will be forced to participate, but it is an interactive experience, so an actor may invite or pick you out. 
How many people can go on the Amsterdam Dungeon tour?
A maximum of 30 guests are allowed in one tour. 
Where is the Amsterdam Dungeon located?
The Amsterdam Dungeon is situated on the Rokin, in the city center of Amsterdam. 
Do I need to take printouts of online tickets to visit Amsterdam Dungeon?
You don't need to take the print out the tickets. Your tickets will be scanned via mobile phone.
Is Amsterdam Dungeon wheelchair accessible?
Visitors in wheelchairs are most welcome. Unfortunately, the property is not suitable for electric wheelchairs.
Popular attractions in Amsterdam