The EYE Film Museum, a worldwide renowned repository of Dutch film heritage, welcomes you to enter the enchanting world of cinema.
Visit the Netherlands' national film museum to view Dutch and foreign classics and modern films.
The museum boasts a significant collection of cinema artifacts, engaging exhibitions, and a pleasant family environment.
This article shares everything you should know before buying tickets for EYE Film Museum in Amsterdam.
Top EYE Film Museum Tickets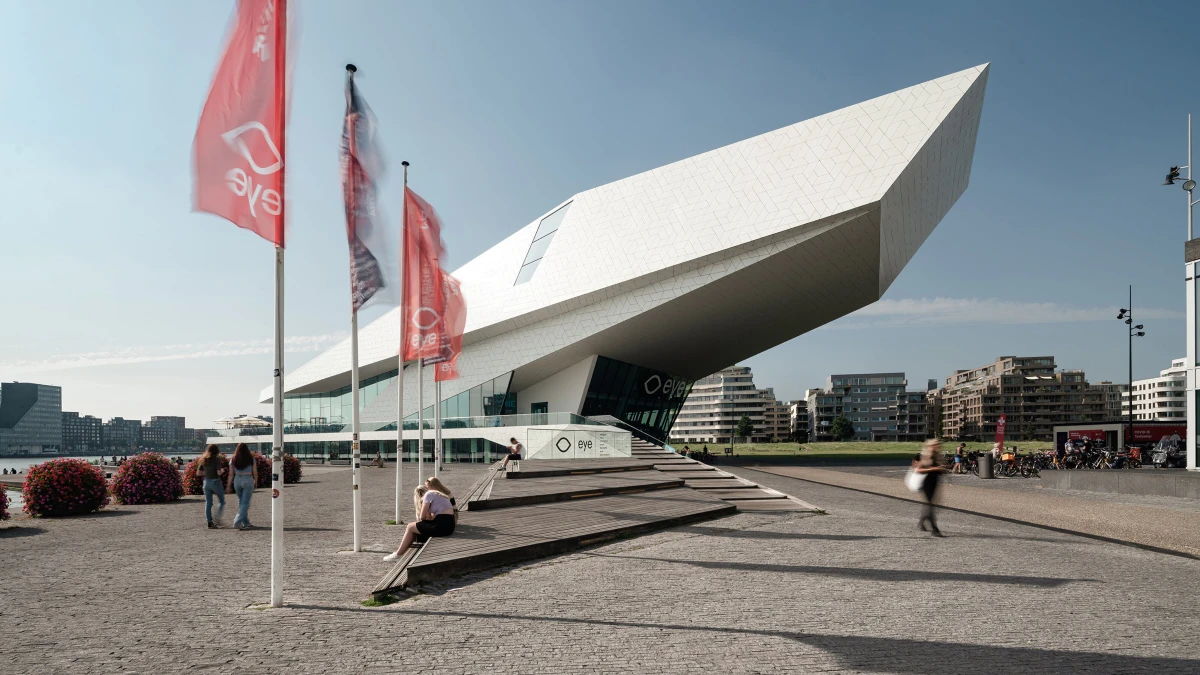 What to expect at EYE Film Museum
The EYE Film Museum is a film archive, museum, and cinema where visitors can view the best contemporary and historical movies in four cutting-edge theatres.
Visitors can explore seasonal exhibitions curated by the film industry in addition to watching movies.
Panorama, the permanent presentation, is a must-see attraction that is thrilling and unforgettable for adults and children.
Enjoy delectable meals and beverages at Eye Bar Restaurant while enjoying breathtaking views of the Amsterdam harbor and the museum's eye-catching architecture.
During your tour of the EYE Film Museum, peruse the exclusive shopping selection of Eye Shop and get lost in the varied film material collection of Eye Study.
---
---
Where to buy EYE Film Museum tickets
You can buy EYE Film Museum tickets at the attraction or online.
However, we suggest you book your tickets online as it offers many benefits.
– You get a discount on booking tickets online, which means you can save money.
– You don't have to travel to the attraction to buy tickets and sweat yourself standing in long queues.
– You can book your tickets in advance and plan your tour accordingly.
– Sometimes, the tickets get sold out quickly. However, if you purchase tickets online, you can avoid last-minute disappointments.
– You can pick a date for the tour that works best for you.
How online ticket works
On the booking page, select your preferred date, and the number of tickets and buy them right away.
Tickets will be emailed to your registered email address immediately after payment, so there is no need to print them.
You must show your smartphone ticket at the entrance.
Cost of EYE Film Museum tickets
EYE Film Museum tickets cost €13 for all visitors over 18 years.
Kids up to 17 years can enter the museum for free.
An adult must accompany a child below 11 years.
EYE Film Museum entry tickets
Most viewers regard the film as a kind of entertainment, but a visit to the EYE Film Museum may forever change your perception of cinema.
Your EYE Film Museum tickets will show how cinema is preserved and demonstrated within a museum framework.
The ticket provides access to the museum and its permanent and temporary exhibitions.
Ticket Price
Adult Ticket (18+ years): €13
Child Ticket (up to 17 years): Free
Save time & money! Discover Amsterdam with the Amsterdam City Card. Visit world-class museums and attractions, get unlimited access to Amsterdam's public transport, and enjoy a free canal cruise.
---
---
How to reach EYE Film Museum
EYE Film Museum is situated on the northern bank of the River IJ, just opposite Central Station.
Address: IJpromenade 1, 1031 KT Amsterdam, Netherlands. Get Directions
Public transport like buses and ferries are the best way to reach the museum.
By Bus
The nearest bus stop is Amsterdam, Centraal Station (8 minutes from the attraction).
Board bus 48 and get down at Amsterdam, Westerdoksdijk bus stop.
Bus 38 stops at Amsterdam, Buiksloterwegveer bus stop.
By Ferry
Ferry F3 stops at Amsterdam, Buiksloterweg, and Amsterdam Centraal Station ferry terminals.
F4 and F5 ferries stop at Amsterdam, Centraal Station.
The 24/7 ferry service is free and leaves every few minutes.
By Car
You can also drive to the attraction. So turn on Google Maps and get started!
There are several parking spaces near the attraction.
EYE Film Museum timings
EYE Film Museum is open from 10 am to 7 pm daily.
The museum is closed on 27 April, i.e., King's Day.
On Christmas Day and Boxing Day, the film museum is open as normal.
The hours of operation on 31 December and 1 January differ.
Check the official website for timings, before planning a visit!
How long does EYE Film Museum take
EYE Film Museum will take at least two hours to explore.
If you bring any tickets for the local performances, it can take you more than two hours here.
There are a lot of things to explore, including an exhibition hall, shops, and restaurants.
Take a stroll and enjoy the ancient cinema's splendor while viewing the numerous relics, tools, pictures, and documentaries on display.
Best time to visit EYE Film Museum
The best time to visit EYE Film Museum is as soon as it opens at 10 am.
The film museum receives more visitors on Fridays of the week.
Other than Friday, you can see a normal crowd at the museum.
What to see at EYE Film Museums
Planning a visit to Eye Film Museum in Amsterdam? Then there are some major highlights of the museum, you shouldn't forget to see.
Permanent Exhibition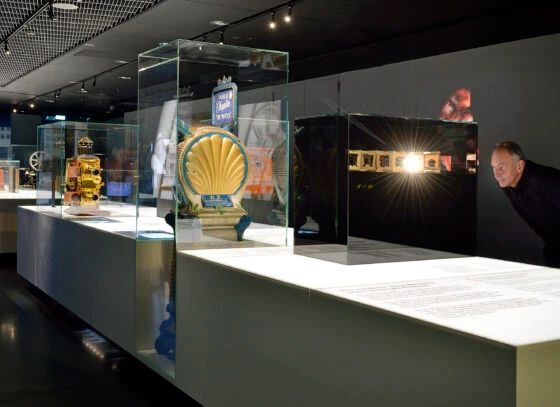 Panorama, the famous permanent exhibition, is located on the ground floor of the Eye Film Museum.
Watch the fascinating past of films come to life as you witness different film technologies that played a key part in developing the current film business.
Panorama is open every day and is suitable for both children and adults.
It is free to visit with a film or exhibition ticket.
Daily Calendar Events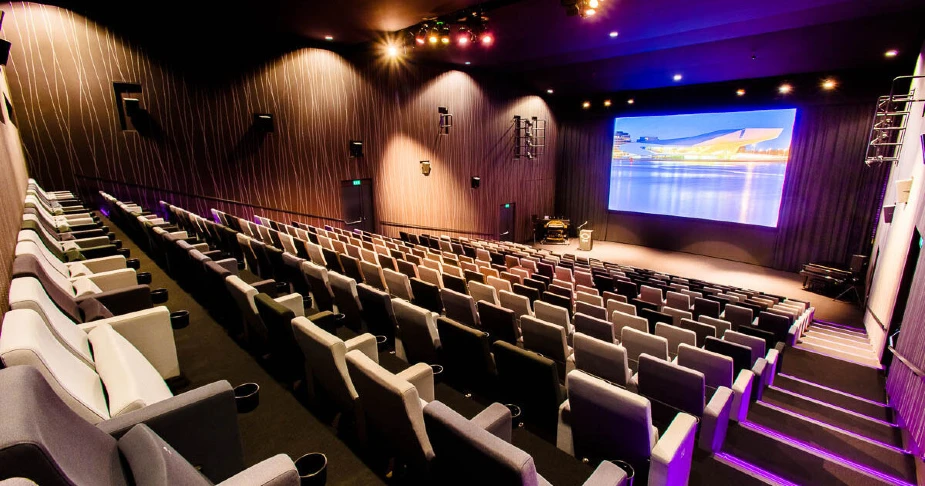 See historical and contemporary films of all genres in one of the Eye Film Museum's four state-of-the-art theatres to get the full Eye experience.
Countless screenings of local and international films are held during the day.
Watch them by pre-booking tickets through the unique Dutch museum's online events calendar.
Eye Bar Restaurant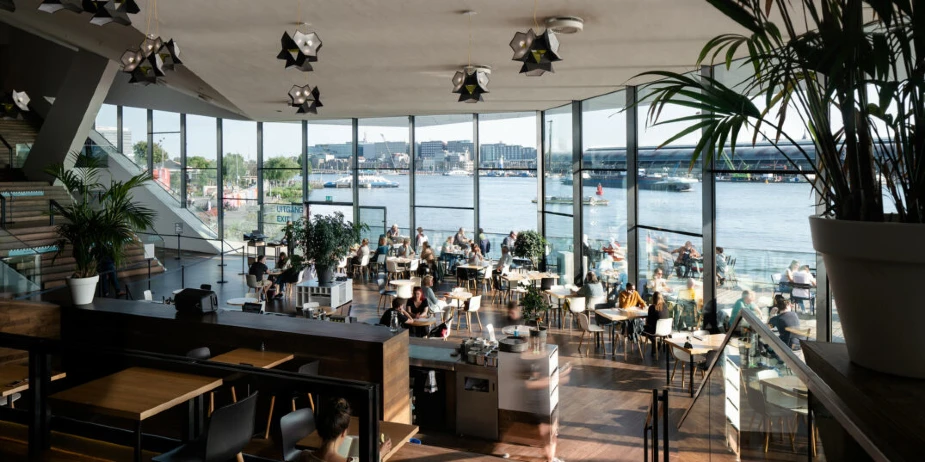 You may have a warm cup of coffee, refreshing cocktails, or a great meal or dinner in the Eye Bar Restaurant.
See the beautiful architecture of the Eye while taking in the breathtaking views of ships cruising on the IJ river.
Eye Shop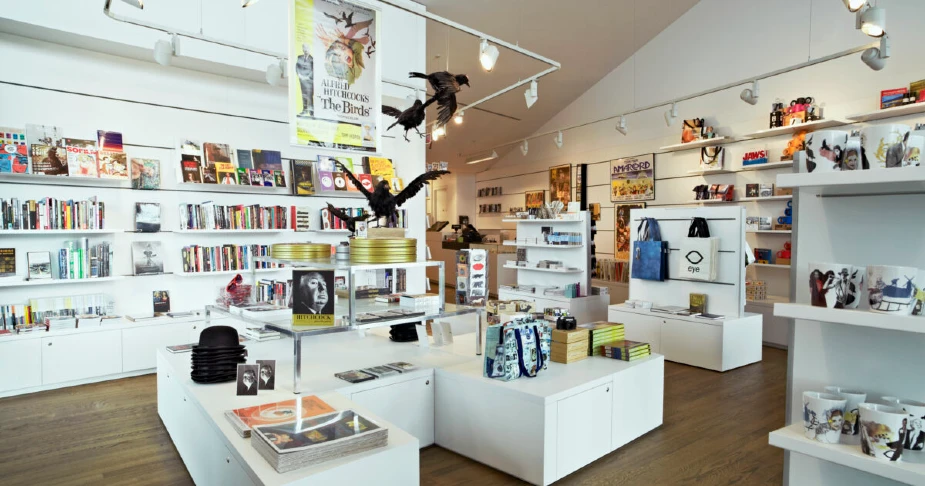 Cinema buffs may go on a shopping spree of a lifetime at Eye Shop, the Eye Film Museum's retail gift shop.
Eye Store includes everything from unique biographies, academic papers, and Eye catalogs to documentaries and DVDs presenting masterpieces.
Eye Study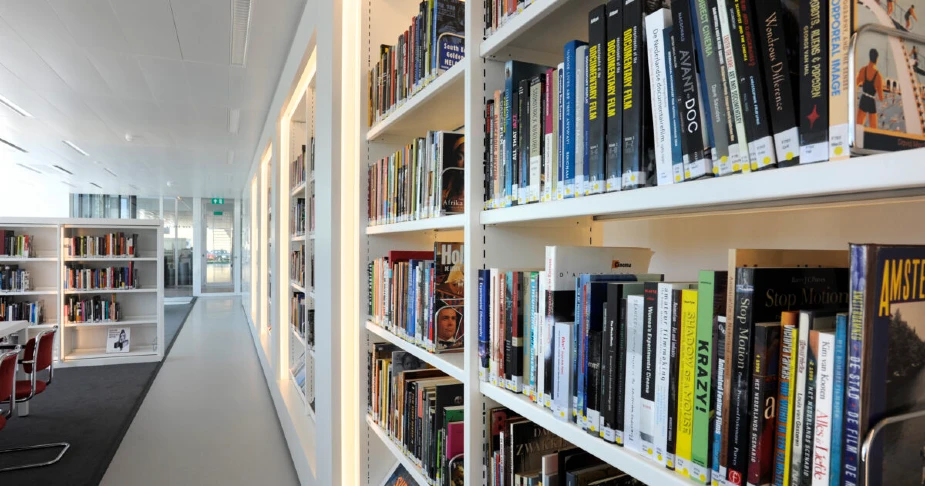 Eye Study is the museum library, which houses a collection honoring cinema's intriguing century-long history.
Here, you will discover approximately 14,000 digital movies and movie-related items.
Cinemini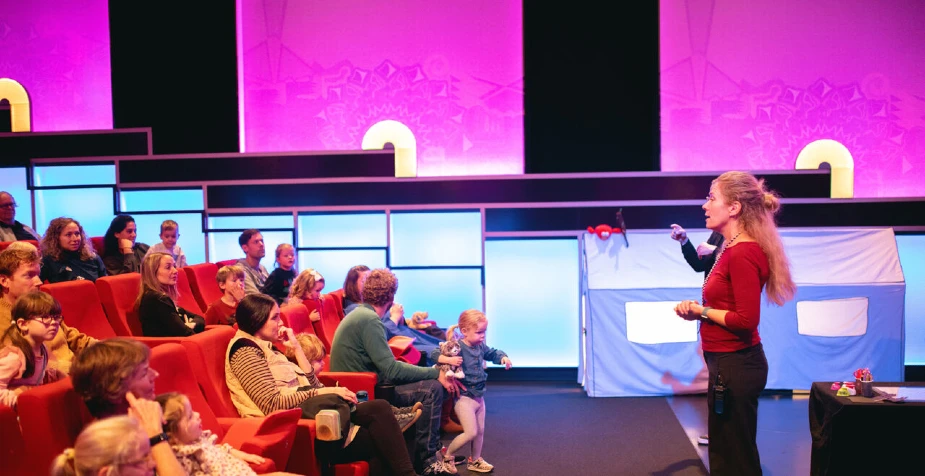 You can bring your children to Cinemini, the Eye Film Museum's small but outstanding film theatre, for a pleasant cinematic experience designed specifically for them.
Great short films and animated pictures for children aged two to six are shown here.
Children can experiment with lights and shadows in little tents during the entertaining show, making Cinemini a popular family attraction.
---
---
FAQs about EYE Film Museum
Here is a list of questions mostly asked by visitors before visiting the Film Museum.
Do I need to book EYE Film Museum tickets in advance?
Booking admission tickets to the EYE Film Museum in advance is preferable. You can also reserve a table at the restaurant and purchase tickets for individual performances to complete your experience at the Eye Film Museum. 
Is EYE Film Museum worth visiting?
The EYE Film Museum has much to offer visitors of all ages. With a library of 37000 films, this place can always give you something related to one of your choices. The shop will tempt you to fill your bags with all the one-of-a-kind items on sale.
Can I take photos in EYE Film Museum?
Audio and visual recordings are allowed at this museum. Add on to your experience at this place as you capture some great memories of the historical cinematography displayed here.
How much do the tickets to EYE Film Museum cost?
Anybody above 18 years can enter the EYE Film Museum for €13. The museum does not charge admission for visitors below 17 years.
Popular attractions in Amsterdam