Van Gogh Museum is an art museum dedicated to the 19th-century painter Vincent Van Gogh and his contemporaries.
The museum's permanent collection includes over 200 paintings by Vincent van Gogh, 500 drawings, and more than 750 letters.
With more than 2.5 million tourists every year, it is the most visited museum in Amsterdam.
In this article, we share everything you must know before buying Van Gogh Museum tickets.
What to expect at Van Gogh Museum
The Van Gogh Museum in Amsterdam traces Van Gogh's artistic life and hosts the world's largest collection of his work.
The museum's artwork is displayed chronologically from the ground floor to Floor 3 and offers an intimate look into the life and mind of the artistic genius.
Besides Van Gogh's paintings, you can also see some works by his contemporaries, including Gauguin, Toulouse-Lautrec, and Monet.
Van Gogh Museum tickets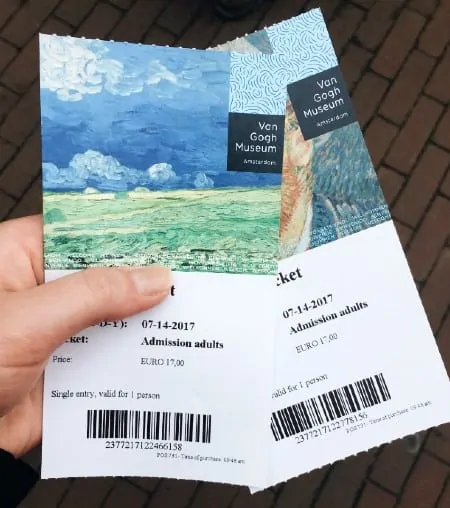 In pic: Interestingly the Museum uses Van Gogh's paintings on its tickets. Image – Adellbaker.com
Where to buy tickets
You can get your Van Gogh Museum entry tickets at the venue or buy them online, much in advance.
If you plan to get them at the attraction, you must get in the ticketing window queue.
Depending on the time of the day (and month), you may have to wait in the ticket counter line for 15 minutes to two hours to buy your ticket.
The second and better option is to book tickets to Van Gogh Museum online.
When you buy Van Gogh Museum tickets in advance, you save yourself a lot of waiting time by skipping the ticket counter queue.
That is why these tickets are also known as Van Gogh Museum fast track tickets.
Update: Due to the pandemic, tickets are no longer sold at the attraction. Instead, all visitors must purchase their tickets online.
How online tickets work
When you book Van Gogh Museum tickets online, you select your preferred time of visit.
Immediately after purchase, your tickets get emailed to you. You don't need to take any printouts.
Now all you must do is, reach the tourist attraction 15 minutes before the time mentioned on your ticket.
Since you have a ticket and are on time, you can show it on your smartphone and walk into the Van Gogh art museum right away.
Van Gogh Museum ticket prices
The self-guided Van Gogh Museum ticket is the cheapest and most popular ticket and costs €21 for all adults 18 years and older.
Entry to Van Gogh Museum is free for kids 18 years and below, but you must mention them and get free tickets while booking.
The Dutch art museum doesn't offer discounts to seniors or students.
If you hold the IAmsterdam card, you qualify for a 100% discount on the Van Gogh Museum ticket. So yes, you can show your card and walk in!
Skip the Line tickets
This ticket gives you skip the line access to Van Gogh Museum.
That is, you can walk past all the waiting people and enter the Museum the moment you arrive.
This ticket gets you to access to all temporary and permanent exhibitions in the museum.
On the ticket booking page, you can opt for an audio guide.
Van Gogh Museum's multimedia guide costs €3 for all visitors 18 years and older, and visitors 17 years and younger get it for free.
Ticket prices
Adult ticket (18+ years): €21
Child ticket (0-17 years): Free entry
Guided tour of Van Gogh Museum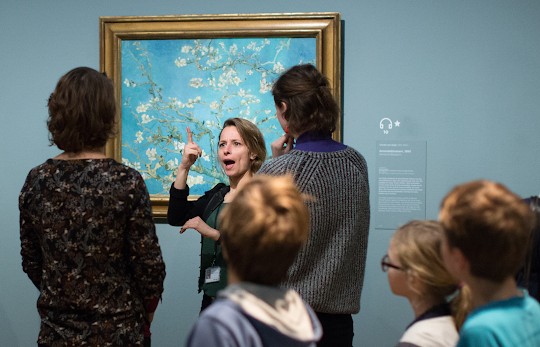 A local art expert takes you around during this two-hour guided tour and shows Van Gogh's masterpieces on display in the museum.
After the tour is over, you are free to stay on and enjoy the world's most extensive collection of Van Gogh paintings.
You can either opt for a small group tour (maximum of eight visitors) or a private tour.
Ticket prices (small group tour)
Adult ticket (18+ years): €105
Youth ticket (10 to 17 years): €84
Child ticket (6 to 9 years): €62
Ticket prices (private tour)
Adult ticket (18+ years): €285
Youth ticket (10 to 17 years): €84
Child ticket (6 to 9 years): €62
Van Gogh Museum combo tours
Combos or bundles are a great way to save money – they are usually 10 to 15% cheaper than if you booked the experiences individually.
Another reason combo tours are pretty popular among visitors to Amsterdam is that the tourist attractions are nearby.
For instance, did you know that only 300 meters (985 feet) separate the Van Gogh Museum and Rijksmuseum.
Here are the most popular combo tours, which also include a visit to the Van Gogh Museum.
Van Gogh Museum multimedia guide
Van Gogh Museum is better explored with an art expert guiding you.
However, if you don't want to book a guided tour of the Van Gogh Museum, the art museum's multimedia guide is the next best thing.
While booking your Van Gogh Museum tickets, you can book the guide as well. Or you can pick them up from the Multimedia Desk in the museum.
Van Gogh Museum's multimedia guide costs €3 for all visitors 18 years and older.
Kids 17 years and below qualify for the free guide, which is available in 11 languages.
Best time to visit Van Gogh Museum
The best time to reach Van Gogh Museum is before 10 am.
From 11 am, the Dutch art museum starts getting crowded, and till 3 pm there are long lines at the entrance and the exhibits.
If you can't reach before 10 am, the next best time to visit Van Gogh Museum is after 3 pm.
Weekends are crowded and waiting in the queues can take up anywhere from 90 minutes to two hours of your time.
However, if you buy Van Gogh Museum tickets online, you can skip these lines and walk right into the art museum right away.
Tip: It is better to avoid Van Gogh Museum on rainy days – on bad weather days, all tourists land up at the indoor attraction.
DISCOUNT ALERT
The Amsterdam Pass includes tickets to Rijksmuseum, Van Gogh Museum, a 1-hour canal cruise, and unlimited rides on Amsterdam's public transport system for 48 hours. You also get a 10% discount code, which you can use (five times!) to get discounts on future purchases.
Waiting times at Van Gogh Museum
With more than 2.5 Million tourists visiting Van Gogh Museum every year, there is bound to be a queue at the Museum's ticket counter.
The time you spend in the queue will depend on the time and the day of the week.
9 am to 10 am: 15 minutes of waiting time on weekdays and more than 30-35 minutes on weekends.
10 am to 1 pm: Depending on the season and the weather, waiting time during this period ranges between 90 minutes to 2 hours on weekends. On weekdays, it comes down to a little more than an hour.
1 pm to 3 pm: Most of the weekends, the waiting time during these hours is around 45 minutes and more. On weekdays, it likely to be 30 minutes or so.
3 pm to 6 pm: Moderate crowd on Fridays and weekends with a waiting time of about 15-20 minutes. On other days if you are lucky, you may get your tickets in just ten minutes.
However, if you buy Van Gogh Museum tickets online, you can avoid these queues, save time, and walk right into the Museum.
How long does Van Gogh Museum take?
Ninety minutes are enough to see and appreciate all the paintings on display at the Van Gogh Museum.
However, real Van Gogh buffs are even known to spend up to four hours exploring his paintings.
The art museum has four floors in the main building and three in the exhibition wing, with lots of stairs so be ready for a lot of walking.
Van Gogh Museum map
If you haven't booked a guided tour, the next best option during your visit to Van Gogh Museum is the multimedia guide.
But if you are on a budget and don't want to spend the extra €3 per person for the Van Gogh Museum Multimedia guide, we suggest carrying a map with you.
This art museum is colossal, and there is a lot to see – the trick is not getting lost and missing out on masterpieces.
From the location of the stairs to the sections of paintings and letters, this Museum map gives you an idea of every part of the Van Gogh Museum.
Having the Van Gogh Museum's floor plan on your mobile is a convenient way of guiding yourself inside the museum.
DID YOU KNOW?
During his peak Van Gogh worked on 900 paintings in 10 years – that's one painting every four days. Unfortunately, during his lifetime, he managed to sell only one of his paintings. However, after his death, his paintings have been in massive demand. Portrait of Dr. Gachet even sold for as high as $148.6 million.
How to reach Van Gogh Museum
Van Gogh Museum is at the Museum Square in Amsterdam South's borough, close to the Stedelijk Museum, the Rijksmuseum, and the Concertgebouw. Get Directions
Trams are the best way to get to reach Van Gogh Museum.
You can take Tram 2, 5, or 12 and get down at Van Baerlestraat or take Trams 3, 5, or 12 and get down at Museumplein.
From both the stops, the art museum is less than five minutes of walk away.
You can also board bus number 347 or 357 and get down at the Museumplein stop.
From Amsterdam Central Station
From Amsterdam Central, you can either take a Tram or a Bus to get to Van Gogh Museum.
Board Tram 2 or 12 and get down at Van Baerlestraat or get onto Bus numbers 347 (towards Uithoorn) or 357 (towards Kudelstaart) and get down at Museumplein stop.
You can use Van Gogh Museum's parking at Q-Park, underneath Museumplein, if you plan to drive.
Van Gogh Museum hours
During the peak season of July to September, Van Gogh Museum opens at 9 am and closes at 6 pm.
The rest of the year, the art museum opens at 10 am every day, and on weekdays it closes at 5 pm and on weekends at 6 pm.
The last admission is 30 minutes before closing time.
Van Gogh Museum paintings
Every painting of Van Gogh is unique, but some are more special than others.
Van Gogh's sources of inspiration and the depth of his paintings are worth understanding before you explore them in person.
Here are nine paintings you must not miss during your visit to the Van Gogh Museum.
1. The Potato Eaters
One of the most famous works of Van Gogh, 'The Potato Eaters,' was made between April – May 1885.
The painting got criticized back then due to its dark colors and imperfections, but its message is commendable.
The painting shows a group of working-class people having supper.
They have unhappy bony faces and are painted in dusty colors like that of an unpeeled potato.
2. Sunflowers
Van Gogh painted 'Sunflowers' with just three shades of yellow and nothing else in 1888 and 1889.
Through this painting, he wanted to show that one can create artwork with various variations of a single color without any loss of articulacy.
As per Van Gogh, the painting communicated 'gratitude.'
3. Almond Blossom
Almond trees are a symbol of life as they flower early in spring.
Vincent gifted the painting of the Almond Blossom to his brother and sister-in-law, who just had a baby.
Theo had promised his brother that his son would be named after Vincent.
Interestingly, it was Vincent Willem (son of Theo) who founded the Van Gogh Museum.
4. Garden with Courting Couples: Square Saint-Pierre
Van Gogh called this painting 'the painting of the garden with lovers'.
It has couples romancing under chestnut trees in a park.
Vincent longed to get a wife and family, but unfortunately, he had complicated love affairs.
5. Self-portrait as a painter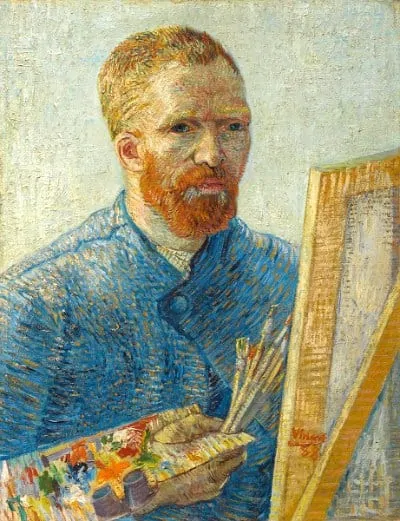 The last work Van Gogh produced in Paris was his portrait as a painter with palette and paintbrushes behind his easel.
In 'Self-portrait as a painter', he used bright unblended colors to show himself as a modern artist.
Paris had exhausted him physically and mentally, and that's why he painted himself sad in the painting.
Image: Vangoghmuseum.nl
6. The Yellow House
The Yellow House painting was that of the house in which Van Gogh finally moved in.
It was his dream home where like-minded painters could come, live and work with him.
A friend of his lived near the railway bridge shown in the painting.
He also painted the restaurant close to this house where he would often eat.
7. The Bedroom
Van Gogh had prepared his room in the Yellow house with simple furniture and his paintings adorning the walls.
While painting 'The Bedroom,' Van Gogh used bright colors, which have discolored over the years and thus look contrasting.
To resemble a Japanese print, he had flattened the interior and missed out on the shadows. He liked this painting a lot.
8. Irises
Van Gogh painted 'Irises,' in 1890, while in psychiatric hospital Saint-Rémy.
For him, the painting was mainly a study of color.
He set out a powerful color contrast by placing purple flowers against a yellow background, making the flowers stand out even more strongly.
Now, the color has faded to turn blue.
9. Wheatfield with Crows
This painting, in which he painted a stormy sky with crows and a dead-end path, is claimed to be one of his very last works.
The dead-end path made many people claim that he was referring to his approaching death.
Through this painting, he expressed sadness and extreme loneliness along with the healthy and fortifying side of the countryside.
Sources

# Vangoghmuseum.nl
# Wikipedia.org
# Britannica.com
# Amsterdam.info

The travel specialists at TheBetterVacation.com use only high-quality sources while researching & writing their articles. We make every attempt to keep our content current, reliable and trustworthy.
Popular attractions in Amsterdam