The Anne Frank House is a biographical museum dedicated to Jewish wartime diarist Anne Frank.
The Museum lets you experience the times described in the diary of the young girl, Anne Frank.
It also displays touching exhibits about the persecution and discrimination Jews went through.
This article shares everything you need to know before you visit Anne Frank's House.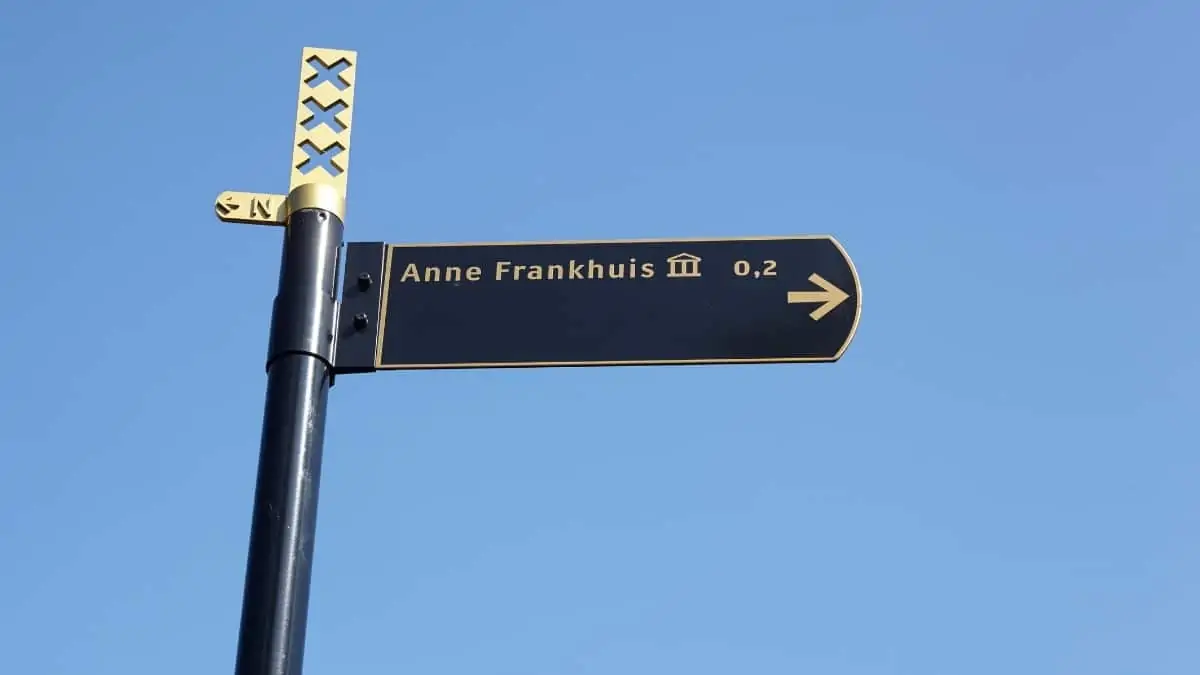 What to expect at Anne Frank House
Anne Frank Museum tickets
Anne Frank Museum is an excellent opportunity to see how families resided in 'Secret Annexes' during WW 2.
Unfortunately, there is no way to enter the museum for free – all visitors must purchase a ticket.
When you book Anne Frank Museum tickets, you must select a specified date and time.
And on the day of your tour, you must reach the museum at least 15 minutes before the time mentioned on your ticket.
Ticket prices
The adult Anne Frank House ticket for all visitors 18 years and above costs €14, while children from 10 to 17 years get a 50% discount and only pay €7.
Kids nine years and younger only pay the booking fee, which is €1.
These tickets are non-refundable and non-transferable.
Where to buy tickets
You can buy the Anne Frank House tickets ONLY from the official website of the Anne Frank House. The attraction doesn't have a ticket counter.
Eighty percent of the day's tickets are released on the website precisely two months in advance.
The surest way to book your tickets at your preferred time slot is to book at least a month in advance.
It is a tiny Museum (actually the house where Anne Frank lived), and not many tickets get issued per day.
As a result, the tickets sell out soon.
Same day tickets
Twenty percent of the day's Anne Frank House tickets get sold as same-day tickets.
They are released on the official website at 9 am.
You can try your luck with same-day tickets for Anne Frank's House, but we don't recommend placing your bets on them due to the massive demand.
Visitors who miss out on getting last-minute tickets to the Dutch museum opt for guided tours around Anne Frank's house and neighborhood.
Tours around Anne Frank House
The Anne Frank House is home to many emotions and stories that can only be brought to life by an expert storyteller.
If you don't have your Anne Frank Museum ticket yet, here is what we suggest:
Step 1: Book a tour of the area where Anne Frank grew up, and the nearby Jewish Cultural Quarter
Step 2: On the day of your visit, also try your luck with the same day Museum tickets
If you can buy the Anne Frank Museum tickets at the last minute, you get to explore both her house and the area where she grew up.
Else, you at least go on a guided walking tour of Anne Frank's neighborhood, listening to her stories.
Note: Both the tour tickets shared below will reach your email immediately after purchase. You don't have to take printouts. You can show the tickets in your email, on your smartphone to join the tour.
The Fascinating Story of Anne Frank
During this walking tour through Amsterdam, a professional guide will tell you about the city during World War 2 through the eyes of Anne Frank.
The route takes you from the Jewish Quarter, past Anne Frank's House.
During this two-hour tour, the guide will point out buildings and monuments still scarred by the war.
Adult ticket (13+ years): €28.50
Child ticket (4 to 12 years): €25.50
Infant ticket (up to 3 years): €2.50
Life of Anne Frank and World War II
During this two-hour tour, you learn about Anne Frank's life.
You hear from an expert guide about the writer's life growing up, as well as the history of the Jewish Quarter and Second World War.
The guide also takes you to visit the Jewish Cultural Quarter and see
important monuments such as the Portuguese Synagogue, Jewish Historical Museum, and Auschwitz Monument.
Adult ticket (13+ years): €28.50
Child ticket (4 to 12 years): €25.50
Infant ticket (up to 3 years): Free entry
If you want something cheaper, check out this Anne Frank walking tour. If the cost doesn't matter, but you want a better experience, we recommend the private Anne Frank tour.
What to see in Anne Frank House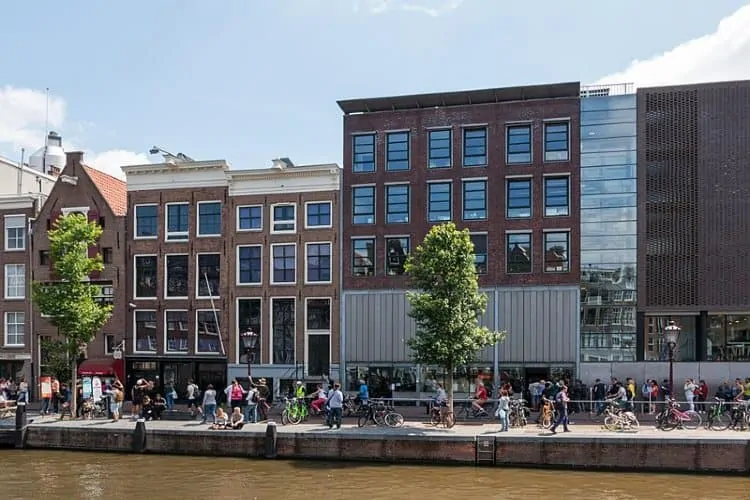 The Anne Frank House originally housed Otto Frank's business and has two parts – the main house and the annex.
The annex is where Otto Frank's family, which included 13-year-old Anne Frank, hid from the Nazis.
The family lived in this house for two years before being found and sent to concentration camps.
During your emotional visit to the Anne Frank House, you will see a lot of exhibits inside.
Anne Frank's Room
Anne Frank had pasted many photos on her room's walls.
It was an attempt by the Dutch girl to lighten up the atmosphere during hard times.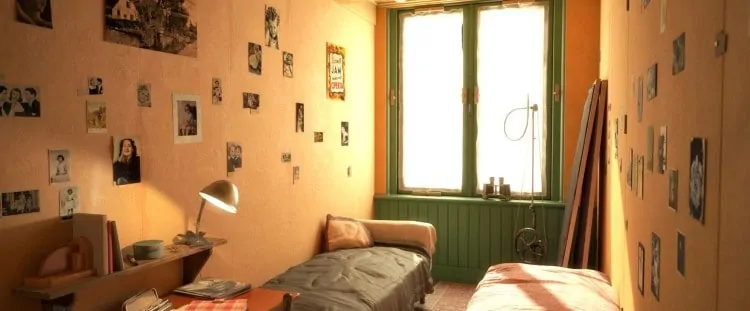 Anne Frank shared her room with Fritz Pfeffer, a German dentist.
Their age gap resulted in differing views and heated arguments.
Fritz Pfeffer gets mentioned in Anne Frank's diary as 'Albert Dussel.'
Diary Room
Anne Frank received the iconic diary as a gift on her 13th birthday on 12 June 1942.
However, back then, she had no idea that her family will be forced to go into hiding within a month.
In this room, you will see the original red-checked diary owned by Anne Frank.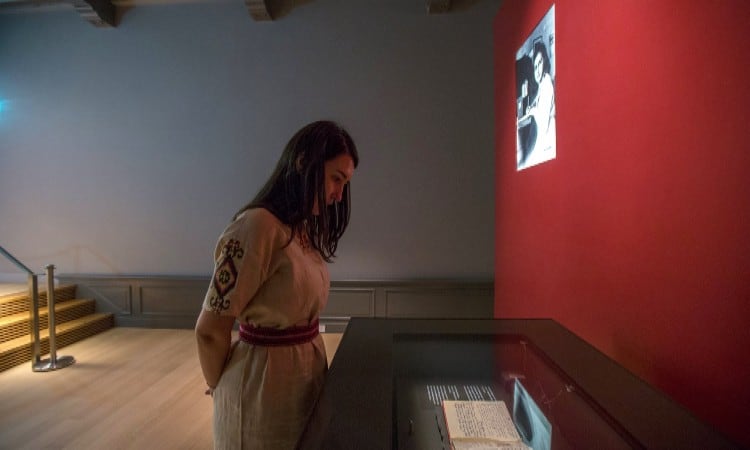 In the secret annex, Anne started writing in notebooks after finishing with her diary.
In March 1944, Anne Frank rewrote her diary to submit it to the Government.
Even after all the pain, she dreamt of becoming a famous writer and journalist.
The rewritten version is present in 215 loose sheets of paper, displayed alternately in the museum.
Apart from this, two other notebooks of Anne are on display in the museum – her quotes book and tales book.
In her 'Favourite Quotes Book', Anne Frank noted down quotes she liked the most.
In her 'Tales Book,' she wrote her short stories.
The hinged bookcase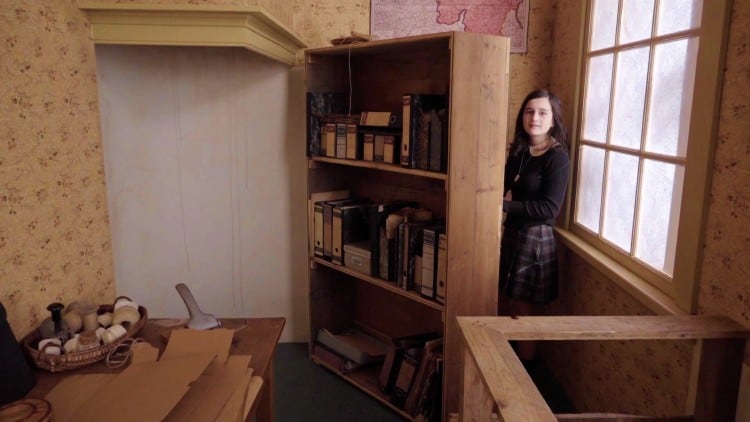 The hinged bookcase was the entrance to the tiny hiding place accommodating eight people.
The museum still has the original bookcase in its place.
However, its condition is fast deteriorating because of which it has a partial glass cover to prevent further damage.
During your visit to the Secret Annex, you will enter through the narrow opening past the moveable bookcase.
Height marks of Anne Frank
Anne and Margot Frank's parents marked their daughters' heights on their bedroom wall.
These marks show that in the two years they were hiding, Margot grew 1 centimeter whereas Anne grew over 13 centimeters.
Map of Normandy
Otto Frank cut a map of the Normandy coast from the front page of De Telegraaf of 8 June 1944 and pinned it to the wall in the Secret Annex.
On this map, he marked the advance of allied forces with pins.
How to reach Anne Frank House
The Anne Frank House is on the Prinsengracht canal, in the center of Amsterdam, and its entrance is around the corner at Westermarkt 20.
The Anne Frank House is close to the Westerkerk, the church whose bells feature in Anne's diary.
Amsterdam Metro's Green marker trains can take you to Dam Square station, which is 15 minutes walk from the Anne Frank House.
If you take the Red marker metro, get down at Amsterdam Centraal Station, from where the museum is 20 minutes walk.
The Anne Frank House is well connected by the tram routes as well.
Tram routes 13, 14, and 17 will drop you at Westermarkt.
The stop is announced as 'Westermarkt' and 'Anne Frank House' for the convenience of the tourists.
If buses are your preferred mode of transport, you must board route numbers 170, 172, and 174.
Remember to get down at Westermarkt.
Get Directions to Anne Frank House
Anne Frank House hours
From April to October, Anne Frank Museum opens at 9 am and closes at 10 pm.
During the rest of the year, the museum opens at 9 am and closes at 7 pm, except on Saturdays, when it remains open till 9 pm.
The last entry is 30 minutes before the closing time.
The Museum remains closed on 19 Sep on the occasion of Yom Kippur.
Pandemic timings: From Monday to Friday, Anne Frank Museum opens at 9.30 am and closes at 4.30 pm. On Saturday and Sunday, the museum opens at 9 am and closes at 7 pm.
I Amsterdam Card gets you free access to 44 Museums and attractions in Amsterdam, and free travel on public transport.
How long does Anne Frank Museum take
Most visitors take 60 to 90 minutes to explore Anne Frank House.
If you step into the cafe and the bookstore of the museum, you will need more time.
Since the Anne Frank Museum narrates an emotionally charged history, no time limit is imposed on the visitors – once you are in, you can stay for as long as you want.
Anne Frank House reviews
For most tourists, the Anne Frank House is an intensely moving and emotional experience.
Though the times have changed now, the vivid history captured in the House walls still remains.
Here are two Tripadvisor reviews of the Anne Frank Museum, which we thought you must read:
Anne Frank House & Museum
Worthwhile experience to see what Anne Frank, her family & the others hiding in the annex went through. She did not die, she was murdered for who she was, a Jew. Let love reign in our hearts & lives. Anne's words offer us hope, even in these times. More
Though provoking attraction
We visited on a Sunday morning after persisting in trying to buy on-the-day tickets online. It took 90 minutes but was well worth it. The museum is respectful to the Frank family and their friends. A reminder of the struggles of those who have gone before us, sensitively handled.
Also on a less serious note, the apple pie served in the cafe at the end of the tour is delicious(!). More
Anne Frank House with kids
While visiting with young children, it is advisable to prepare them with some background information.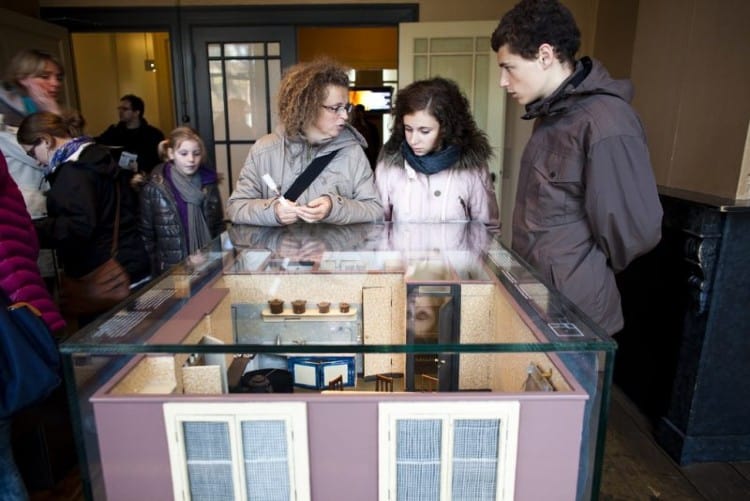 Once you have appraised them of what they are going to witness, kids will have a chance to enjoy the exhibition and relate to it.
You can refer to many websites, and videos present online to familiarise young ones with the history of Otto Frank's family.
You can also find a large number of books online on the history of Jews.
Reading Anne Frank's book titled 'The Diary of a Young Girl, will be the best preparation your child can have for this visit.
While preparing the young ones, you must also prepare yourself for the questions they may ask.
Sources

# Annefrank.org
# Wikipedia.org
# Amsterdam.info
# Iamsterdam.com

The travel specialists at TheBetterVacation.com use only high-quality sources while researching & writing their articles. We make every attempt to keep our content current, reliable and trustworthy.
Popular attractions in Amsterdam