The Keukenhof and the Tulip bulb fields of South Holland draw visitors from all over the world.
Most tourists only visit the Keukenhof Flower Garden, but a visit to Keukenhof is not complete without sightseeing the tulip fields of Holland.
Exploring the flower fields is best done by bicycle.
With a Keukenhof rental bike, you can cycle around the tulip fields in the region at your own pace, stop by to spend more time near your favorite flowers, and take as many photos as you want.
With a bike, besides the blooming Tulip fields, you can also visit other flower attractions such as Tulip Farm De Tulperij, Tulip Experience Amsterdam, The Tulip Barn, etc.
This article explains everything you must know before booking the bike tour of the tulip fields of Keukenhof Gardens in 2023.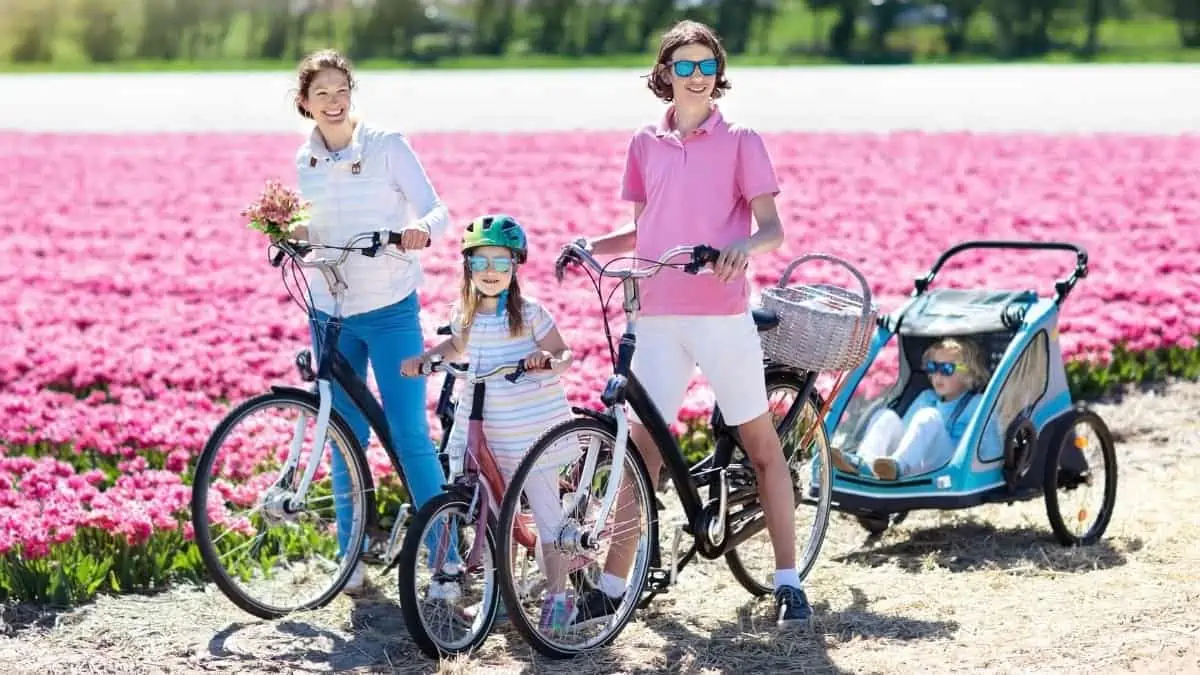 Why rented bikes are best for Keukenhof Gardens
Visitors can explore the main Keukenhof gardens only by walking.
However, rental bicycles are available to go around the surrounding tulip and other flower fields.
It makes sense to rent bikes because the area to explore is vast and can't be done by walking. Other vehicles aren't as comfortable as a bicycle.
Cyclists can stop quickly to enjoy the views and take photos without worrying about traffic and parking restrictions.
Since the Netherlands is flat, cycling is easy. If you face issues at all, it will be because of the breeze and occasional rain.
Rental bikes near Keukenhof
Some locals who drive to the Keukenhof Flower festival bring their own bikes.
Most tourists and locals rent bikes from the many bike rental points near Keukenhof.
As soon as the Keukenhof Garden opens on 23 March 2023, a bike rental place called 'Keukenhof Bike Rental' will come up right near the entrance, in the parking area.
Visitors can also hire bicycles at Hotel Lowietje, Heereweg 10 – Lisse, which is 400 meters (one-fourth of a mile) from the Keukenhof entrance.
Bike Rental Lisse at Veenenburgerlaan 73a – Hillegom, Lisse, is another location where you can hire cycles.
It is two kilometers from Keukenhof Gardens entrance.
If you prefer someone to show you around the blooming Tulip fields of South Holland, it is better to book the Highlights Bike Tour.
Enjoy a guided cycling tour around the spectacular Keukenhof with a guide.
If you haven't booked your Keukenhof tickets in 2023, check out this combo of Keukenhof entry tickets + Bike Tour.
Cost of rental bikes at Keukenhof in 2023
Take a relaxed 2.5-hour bike tour with an expert guide and treat your eyes to endless rows of beautiful flowers, plus other typical Dutch sights, such as the Keukenhof mill, a 14th-century castle, and much more.
Book the bicycle tour for 2.5-hours, the bike rental will cost €43.
A limited number of child seats are available on-site.
For kids aged 1 to 6 years and up to 28 kg, you can book the child seat for €12.50 per seat.
For children's bikes (24 inch) and children aged 7 to 12 years, the seat will cost you €22.50 per seat.
Please reserve these directly with the tour operator prior to your visit.
You can find the tour operator's phone number and email address on your confirmation email and voucher.
Why booking a cycle in advance is better
Bicycle rental shops in Keukenhof have a limited number of bikes for rental.
As a result, you may have to wait long before a rental bike is available during peak times.
For Keukenhof Gardens in 2023, it is possible to book rental bikes online, many of the tourists are booking them.
Booking your cycles in advance will ensure you don't waste your time at Keukenhof and can get to the beautiful flower fields as soon as you can.
Visual Story: 15 must-know tips before visiting Keukenhof Gardens
Holidaying in the Dutch capital? Find out how to travel from Amsterdam to Keukenhof.
Kinds of bikes to expect
The bike rental services at Keukenhof Gardens offer the choice of ladies, gentlemen, and children's bicycles.
For families who want to cycle together, Tandem bikes are also available.
Child seats, safety helmets, and baskets are also available at the rental shops.
Opening hours of bike rental shops
Bicycle rental companies in the region open for the day as soon as Keukenhof Gardens open because that's when the crowd comes in.
During the eight weeks that the Keukenhof Tulip show goes on, the bike rentals open at 9.30 am and close at 7 pm.
The bike rentals is open everyday from 23 March to 14 May for Keukenhof 2023.
Cycling routes around Tulip fields
When you rent your cycle, you will get a map of the recommended routes for exploring the Tulip bulb fields around Keukenhof Gardens in 2023.
The flowers you will see blooming in the Tulip fields will depend on the weather.
This is why, tourists and locals want to know when to visit Keukenhof for best experience.
Depending on your time and how much you want to pedal, you can opt from four different routes.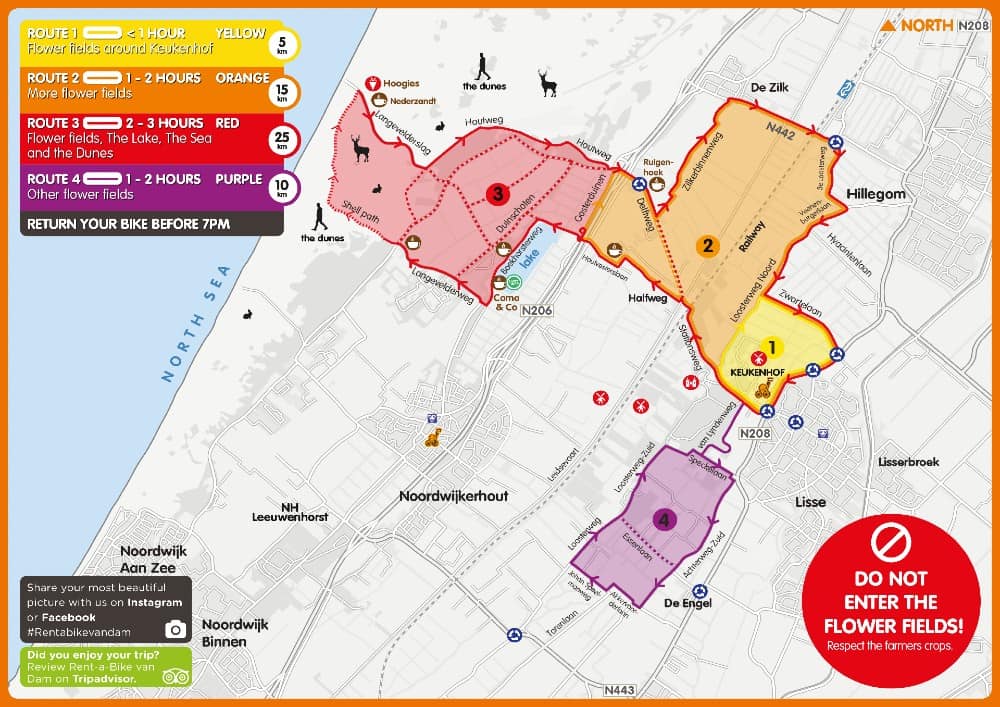 Cycle Route 1
Route 1 (Yellow on the map) is perfect if you are short on time but want to see the flower fields.
This route is 5 km (3 miles) long and circles the Keukenhof Gardens.
From the tulip fields, you can spot the Keukenhof mill as well.
Cycle Route 2
Route 2 (orange on the map) is 15 km (9 miles) long and helps you see most of the flower fields in about two hours.
Most riders opt for this route because it is perfect for all kinds of tourists – kids, youngsters, and seniors.
Cycle Route 3
Route 3 (red on the map) is 25 km (15 miles) and is the longest cycling route around Keukenhof.
Besides the Tulip flower fields, you will also go to the beach and the beautiful dune area in Holland when you bike on this path.
Most tourists spot deer in the dunes.
Cycle Route 4
Route 4 (Purple on the map) follows flower fields in another direction of Keukenhof Garden.
It is 10 km (6 miles) and usually takes 90 minutes to explore unless you stop by the famous flower bulb company De Tulperij.
Recommended Reading: Is Keukenhof Flower Festival worth it?
How much to pack in one day
It is possible to explore Keukenhof Gardens and cycle around the surrounding Tulip fields on the same day.
However, it is not essential to do both on the same day.
Visitors who have time on their hands split the two activities.
They spend day one exploring Keukenhof and Keukenhof Castle and day two cycling around Duin- en Bollenstreek (Dune and Bulb Region).
If you plan to indulge in both activities on the same day, visit Keukenhof in the morning, and after lunch, take your bicycle on the shortest route.
If you have already seen Keukenhof Gardens and only want to explore the Tulip fields, it is better to cycle a bit further north, which is much quieter with fewer tourists.
Even though the sun is intense in March and April, the breeze is still cold. We recommend bringing along sunscreen and a light jacket.
Sources

# Rentabikevandam-keukenhof
# Tulipfestivalamsterdam.com
# Bollenstreek.nl

The travel specialists at TheBetterVacation.com use only high-quality sources while researching & writing their articles. We make every attempt to keep our content current, reliable and trustworthy.
Popular attractions in Amsterdam