Amsterdam is full of iconic landmarks, and covering them in a single day is hard.
However, if you are short on time and trying to catch sight of a few major attractions, then one day is enough.
GVB Amsterdam is the cheapest and best way to go around the Dutch capital. If you are in the city for over two days, we recommend buying GVB Public Transport Ticket.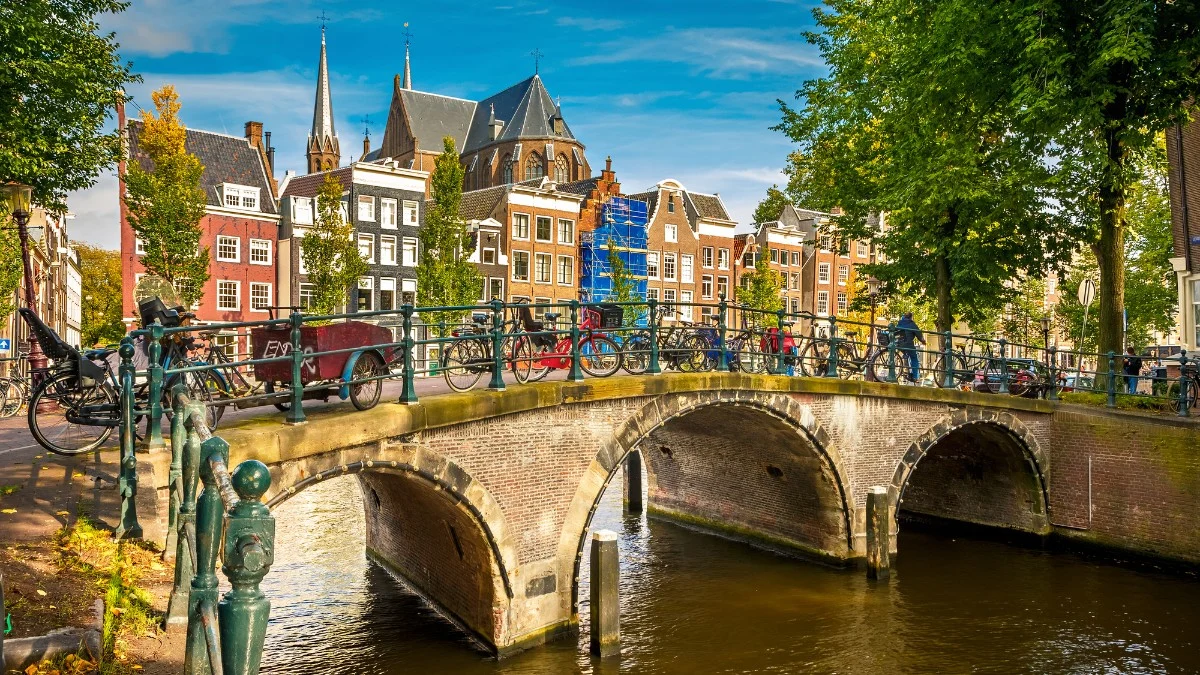 Table of contents
Amsterdam in one day
You can find a 1-day itinerary for Amsterdam below:
Morning schedule
You can start your day by visiting Rijksmuseum, the most famous and one of the largest museums in Amsterdam.
You will know about Dutch history and art as it includes the works of Van Gogh, Vermeer, and Rembrandt.
If you are a history buff or art lover, you can easily spend some time here, but it will be better if you arrive as soon as it opens to beat the crowds.
After exiting the Museum, take a brief stroll to the Vondelpark, a lovely green space in the city's center.
You can take a short walk, relax or hire a bike to enjoy the park.
The Amsterdam trip is not much exciting unless you head to the famous food market called De Foodhallen.
You can get a range of foods from Dutch biterballen to sushi, as it includes several food vendors.
Read about the city's weather, coffee shops, Foodhallen, taxis, parking, restaurants, pancakes, Museumplein, and the light festival even before you plan a holiday to Amsterdam.
Afternoon activities
Take a glimpse at Amsterdam City from the water by canal cruising.
You will enjoy this as you can see historic buildings and the beautiful canals of Amsterdam from a new angle.
Step into the Anne Frank House, a museum dedicating the life and legacy of Anne Frank after the Canal cruise.
During World War II, the young Jewish girl, "Anne Frank" played a crucial role by documenting her day-to-day activities.
Recommended Reading
– Things to do in Amsterdam for couples
– Activities to do for kids in Amsterdam
– Free things to do in Amsterdam
Evening plan
There are many restaurants in Amsterdam, and you can end your day at any one.
These restaurants serve various delectable cuisines ranging from traditional Dutch to international recipes.
Finally, walk down to the unique part of Amsterdam, the "Red Light District," known for its nightlife and adult entertainment.
While visiting this area, you must respect the local culture.
Check out our recommended itinerary for a memorable 2-day, 3-day, and 5-day holiday in Amsterdam.
Tips for exploring Amsterdam in one day
Follow these important tips to make your one-day trip to Amsterdam memorable –
Start making a plan: Before reaching Amsterdam, it is important to conduct research regarding the interesting attractions and activities. Doing so will help you save time in figuring out the next move.
Enter attractions early: During peak season, Amsterdam becomes overcrowded, so it is better to start your day early to escape crowds and long queues.
Select famous attractions: It is impossible to cover all attractions of Amsterdam, so focus on just the interesting places. Booking tickets in advance can help you save time.
Explore on foot or by bike: Amsterdam is considered a bike-friendly city, and all the places are within walking distance. So, walking or renting a bike can help you avoid traffic and explore every corner of the city.
Try the indigenous cuisines: You can try traditional Dutch food such as Dutch cheese, bitterballen, or stroopwafels, as there are several cafes and restaurants. This will also provide you with a taste of Amsterdam's culture.
Consider taking a canal cruise: The most iconic part of the city is the canal. So, canal cruising can help you view the panoramic sight of the city from a fresh perspective.
Follow the time: Since you are planning for the 1-day itinerary, it is important to focus on time and plan your actions. If you leave on the same day, ensure you have enough time to return to the hotel, train station/airport.
Popular attractions in Amsterdam