Amsterdam's Foodhallen is a famous indoor food market in the Oud-west area of the Dutch capital.
The food hall is constructed in a refurbished tram depot, offering a unique industrial feel.
The area is surrounded by several food vendors selling different cuisines such as Dutch, Mediterranean, Asian, and so on.
Foodhallen provides a lively, vibrant atmosphere with common seating areas and live music events. This makes it a popular destination among locals and visitors.
A bar in the hall serves beer, wine, and cocktails, making it a fantastic spot for evening hangouts with friends.
The Butcher, Le Big Fish, Maza, and Jabugo Bar Iberico are popular food sellers serving continental dishes at the Foodhallen.
The Foodhallen is open daily from noon until late with free admission.
Food and drink prices vary and depend on the vendor, although they are often low and reasonable.
GVB Amsterdam is the cheapest and best way to go around the Dutch capital. If you are in the city for over two days, we recommend buying GVB Public Transport Ticket.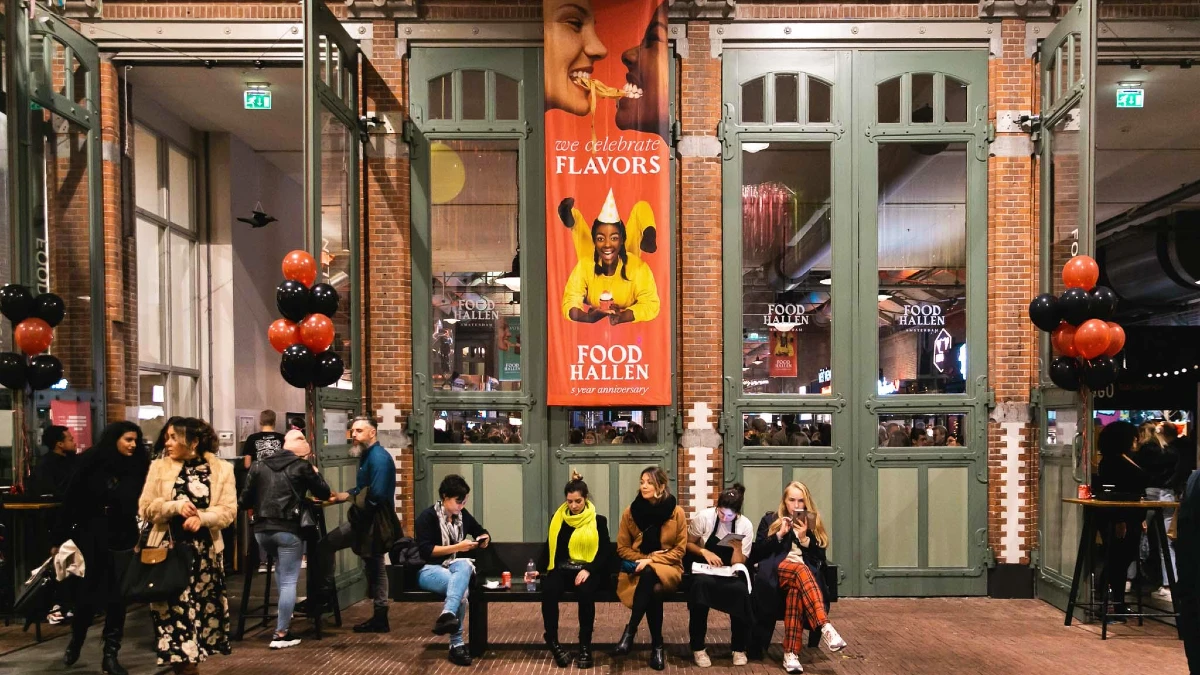 Popular places to eat at Foodhallen
Amsterdam's Foodhallen houses a vast selection of food vendors and booths, providing tourists with various dining options.
A few famous dining places at Foodhallen Amsterdam are:
Le Big Fish: Le Big Fish is a seafood stall offering fresh and flavorful fish recipes, like seafood platters, fish, and chips.
Jabugo Bar Iberico: Jabugo Bar Iberico serves delectable Spanish cuisines, focusing on charcuterie and Iberico ham.
Bulls and Dogs: At Bulls and Dogs, you will taste succulent hot dogs with distinctive toppings and flavors.
The Butcher: The Butcher at Foodhallen serves mouth-watering burgers and fries. This makes it a popular burger stall in Amsterdam.
Petit Gateau: Petit Gateau is a famous bakery serving flavorsome pastries, cakes, and other desserts.
Baowowow: This is an Asian street food stall offering different bao buns with meat, vegetables, and fillets with other tasty ingredients. 
Dim Sum Thing: Here, you can find various traditional Chinese dim sum recipes, such as bao buns and steamed dumplings. 
Several other stalls and vendors serve tasty food and drinks at Foodhallen Amsterdam.
Read about the city's weather, coffee shops, Foodhallen, taxis, parking, restaurants, pancakes, Museumplein, and the light festival even before you plan a holiday to Amsterdam.
Foodhallen's timings
Foodhallen in Amsterdam opens daily at noon.
From Sunday to Thursday, it closes at midnight, and on Friday and Saturday, it remains open till 1 am.
Guests can enter anytime as it doesn't have a last entry.
Parking at Foodhallen
There is no designated parking area at Foodhallen Amsterdam.
Parking lots in Q-Park De Hallen or Europarking allow visitors to park their vehicles. 
It is worth noting that Amsterdam's parking lots are expensive. Therefore, it is recommended to use bikes or public transportation.
You can take a bus or use a tram to reach Foodhallen Amsterdam. You can also use rental bikes present in that area. 
Check out our recommended itinerary for a memorable 1-day, 2-day, 3-day, and 5-day holiday in Amsterdam.
Cinema at Foodhallen Amsterdam
A movie theatre, "Foodhallen Amsterdam Cinema," is inside the Foodhallen Amsterdam Complex.
It focuses on arthouse and indie films and provides a unique theatrical experience.
The theatre is modest and quiet, with plush seats and state-of-the-art sound and projection technology.
Films from around the world are displayed at Foodhallen Amsterdam, focusing on vintage and recent movies, short films, and documentaries.
It holds unique events, including Q&A sessions with directors, film festivals, and other film meetings, along with its regular movie showings.
You can order food and beverages from different food vendors in the Foodhallen Complex and get them at your seats while watching the movie.
This unique feature will help you enjoy the dining and cinema experience simultaneously.
There are multiple daily screenings at the Foodhallen Amsterdam Complex, which is open daily.
You can purchase the tickets at the cinema box office.
FAQs about Foodhallen Amsterdam
Here are a few questions tourists and locals planning to visit Foodhallen ask.
What kinds of food are served at Foodhallen Amsterdam?
At Foodhallen Amsterdam, you will taste foods from various cultures, including Mexican, Mediterranean, Dutch, Asian, and many more. Burgers, sushi, tacos, pizza, and Dutch Bitterballen are popular options.
Does Foodhallen Amsterdam offer Vegan or vegetarian dishes?
Yes, Foodhallen Amsterdam serves vegetarian or vegan foods. Several vendors offer vegan or vegetarian alternatives on their menus, while some are experts in plant-based foods.
Can I visit Foodhallen Amsterdam with my family?
Foodhallen Amsterdam is family-friendly, and you can also bring your children. However, some vendors offer adult-oriented items like alcoholic beverages.
Do I need to pay the entrance fee to get into Foodhallen Amsterdam?
There is no admission fee to enter Foodhallen. You need to pay for the food and beverages you will order.
Does Foodhallen Amsterdam organize any events or live performances?
Foodhallen Amsterdam organizes live performances and events, including DJ sets, live music, etc. You can check their website or social media pages to learn about upcoming events. 
Do I need a reservation to eat at Foodhallen Amsterdam?
No, reservation is not compulsory. However, it can help you save time during weekends when it is crowded.
What range of prices for food and drinks can I expect at Foodhallen Amsterdam?
The range of prices for food and drinks entirely depends on the vendor at Foodhallen Amsterdam, but usually, you will find an affordable and reasonable price. Mostly, it ranges from €5 to €15.
What is the dress code for Foodhallen Amsterdam?
You can wear casual wear as there is no dress code at Foodhallen Amsterdam.
Can disabled people enter Foodhallen Amsterdam?
Yes, disabled people are welcome. Ramps and elevators are available for the needed person.
How long can I stay and enjoy my food at Foodhallen Amsterdam?
You can stay as long as you like. There is no time restriction.
Is Foodhallen Amsterdam open every day?
Foodhallen Amsterdam is open every day of the week. However, not all vendors are open every day. But there is nothing to worry about because multiple options are available daily.
Is it allowed to bring your food and drinks to Foodhallen Amsterdam?
No, your food and drinks are not allowed at Foodhallen Amsterdam. You need to purchase food and beverages from the vendors present in Foodhallen Amsterdam.
Does Foodhallen Amsterdam provide a play area or any such activities for kids?
No, there is no play area or such activities for kids at the Food market. However, children can enjoy the environment and food at Foodhallen Amsterdam.
Recommended Reading
– Things to do in Amsterdam for couples
– Activities to do for kids in Amsterdam
– Free things to do in Amsterdam
Sources
# Drizzleanddip.com
# Matadornetwork.com
# Amsterdamfoodie.nl

The travel specialists at TheBetterVacation.com use only high-quality sources while researching & writing their articles. We make every attempt to keep our content current, reliable and trustworthy.
Popular attractions in Amsterdam