In Amsterdam, coffee shops provide more than just coffee and other drinks – they also offer cannabis products like hashish and marijuana.
These establishments differ from typical cafes that solely serve food and non-alcoholic beverages.
With around 160 coffee shops concentrated mainly in the Red Light District, Amsterdam boasts diverse atmospheres, from hipster and psychedelic vibes to those catering to tourists.
The distinctive ambiance of these Amsterdam coffee shops sets them apart from their counterparts.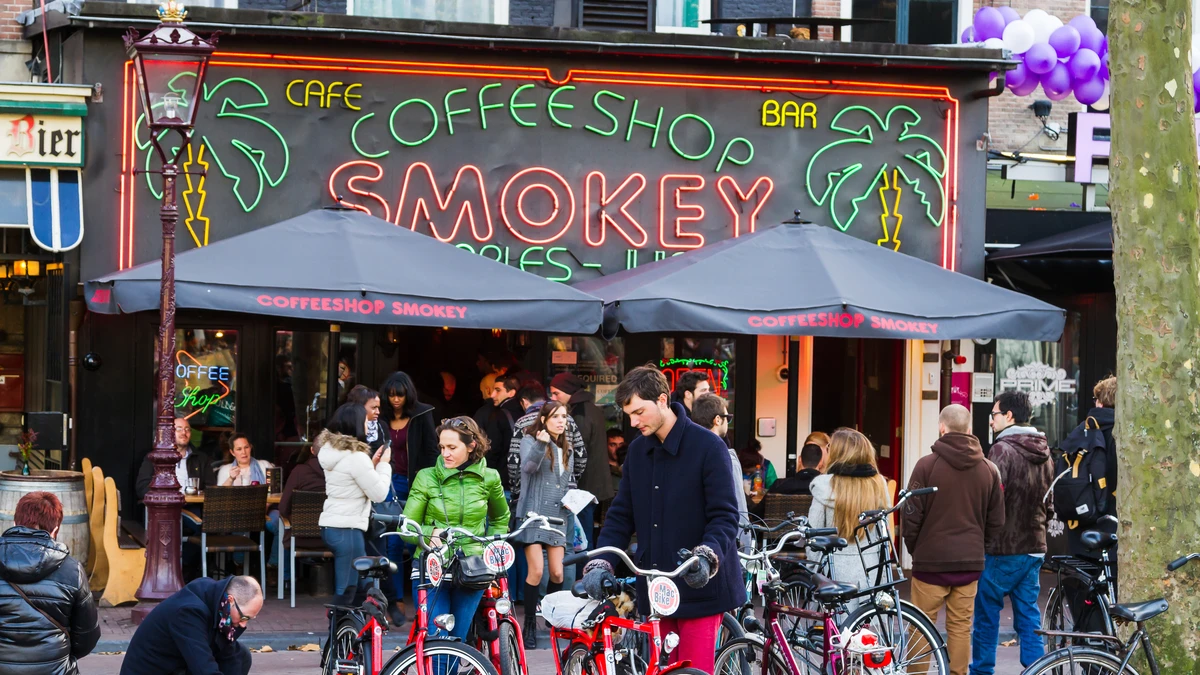 Famous coffee shops in Amsterdam
The Bulldog: As one of Amsterdam's most famous coffee shops, The Bulldog boasts several locations throughout the city, with the original Oudezijds Voorburgwal being a well-known tourist attraction.
Barney's: Barney's, another famous coffee shop, can be found in Reguliersgracht and Haarlemmerstraat. They have earned accolades for their diverse assortment of cannabis strains.
Grey Area: Situated near the Anne Frank House, Grey Area is a quaint and intimate shop renowned for offering the finest quality cannabis in Amsterdam.
The Greenhouse: This prominent chain of coffee shops, with multiple branches across the city, is celebrated for its unique cannabis varieties and commitment to organic farming and eco-friendly practices.
Amnesia: Located close to the Waterlooplein flea market in the city center, Amnesia provides an extensive selection of beverages, snacks, and cannabis products.
GVB Amsterdam is the cheapest and best way to go around the Dutch capital. If you are in the city for over two days, we recommend buying GVB Public Transport Ticket.
Rules to follow in an Amsterdam coffeeshop
Amsterdam's coffee shop regulations encompass a set of rules that oversee the sale and consumption of cannabis in these establishments.
Age requirement: Customers must be at least 18 to enter or purchase cannabis products from coffee shops.
Purchase limit: Customers can buy a maximum of 5 grams of cannabis daily.
Alcohol ban: Coffee shops sell coffee and other cannabis products. They are not allowed to sell alcohol or other intoxicating substances.
No advertising: Coffee shops cannot promote their products. All transactions must occur within the shop.
Public smoking prohibition: Smoking cannabis is prohibited in public spaces such as parks or streets.
Hard drugs ban: Coffee shops cannot sell or permit the use of hard drugs on their premises.
No disturbances: Coffee shops must operate in a manner that does not negatively impact society.
The government regulates coffee shops, and those that fail to adhere to these rules may face severe penalties or even closure.
Read about the city's weather, coffee shops, Foodhallen, taxis, parking, restaurants, pancakes, Museumplein, and the light festival even before you plan a holiday to Amsterdam.
How to order weed in a coffeeshop
Although advertising for coffee shops in Amsterdam is prohibited, identifying them can still be relatively simple.
Official Dutch coffee shops showcase green and white license stickers on their windows.
To enter an Amsterdam coffee shop, you must be at least 18 and possess a valid ID.
Since promotion is not allowed for coffee shops, approach the counter and request the menu.
If you're unsure, feel free to ask the staff for guidance, as their priority is to ensure your safety.
Recommended Reading
– Things to do in Amsterdam for couples
– Activities to do for kids in Amsterdam
– Free things to do in Amsterdam
FAQs about Amsterdam Coffee Shops
Here are a few questions tourists in Amsterdam ask about Coffee Shops.
Is consuming and purchasing cannabis in coffee shops legal?
Yes, in Amsterdam, consuming and purchasing cannabis is legal in licensed coffee shops.
Are there any limitations on the quantity of cannabis that may be bought?
Customers can purchase up to 5 grams of cannabis at a time.
Is consuming cannabis items safe in Amsterdam coffee shops?
If you are in a licensed coffee shop, then it is completely safe to consume cannabis items. However, it is worth noting that be careful of cannabis potency and avoid over-consumption.
Can I get assistance from the staff at coffee shops regarding the cannabis products, and are they knowledgeable?
In licensed coffee shops, the staffs are knowledgeable enough to advise you on various available items and strains.
Are the coffee shops in Amsterdam offering high-quality cannabis products?
The quality of cannabis items varies in licensed coffee shops, but Amsterdam is famous for offering the best quality cannabis items.
Are there any hazards to purchasing cannabis products from coffee shops, like a chance of acquiring fake or contaminated items?
If you go to unlicensed or unregulated sellers, you can acquire false cannabis products. But, licensed coffee shops sell quality products since they adhere to strict rules.
Is it safe to go through the Red Light District, which has several coffee shops?
The Red Light District is the busiest and most crowded area during the evening. However, it is usually safe to stroll around. Visitors must be cautious of their surroundings.
Do coffee shops offer cannabis products at a reasonable price?    
The cost of cannabis products in Amsterdam coffee shops depends on the quality and type. The price usually ranges between €5 to €20 per gram.
Can foreigners lawfully buy and consume cannabis in coffee shops?
Yes, visitors from other countries can also buy and consume from licensed shops, but they must be 18 years or above.
Are there any negative implications to visiting Amsterdam coffee shops?
There are no negative implications if you visit licensed shops. Just be aware of how much cannabis you consume, and avoid driving. In Amsterdam, smoking cannabis in public places is illegal.
Check out our recommended itinerary for a memorable 1-day, 2-day, 3-day, and 5-day holiday in Amsterdam.
Popular attractions in Amsterdam