The time needed to explore Amsterdam fully depends on your interests, pace, and the kind of memories you want to create during the holiday.
Most visitors need at least 5 to 7 days to explore the city more thoroughly, including its main attractions, museums, neighborhoods, and hidden gems.
If you are in a rush, you can pack the main attractions of Amsterdam in three days and get a feel for Amsterdam.
GVB Amsterdam is the best way to navigate the city quickly, easily, and cost-effectively. If you are in the city for over two days, we recommend buying GVB Public Transport Ticket.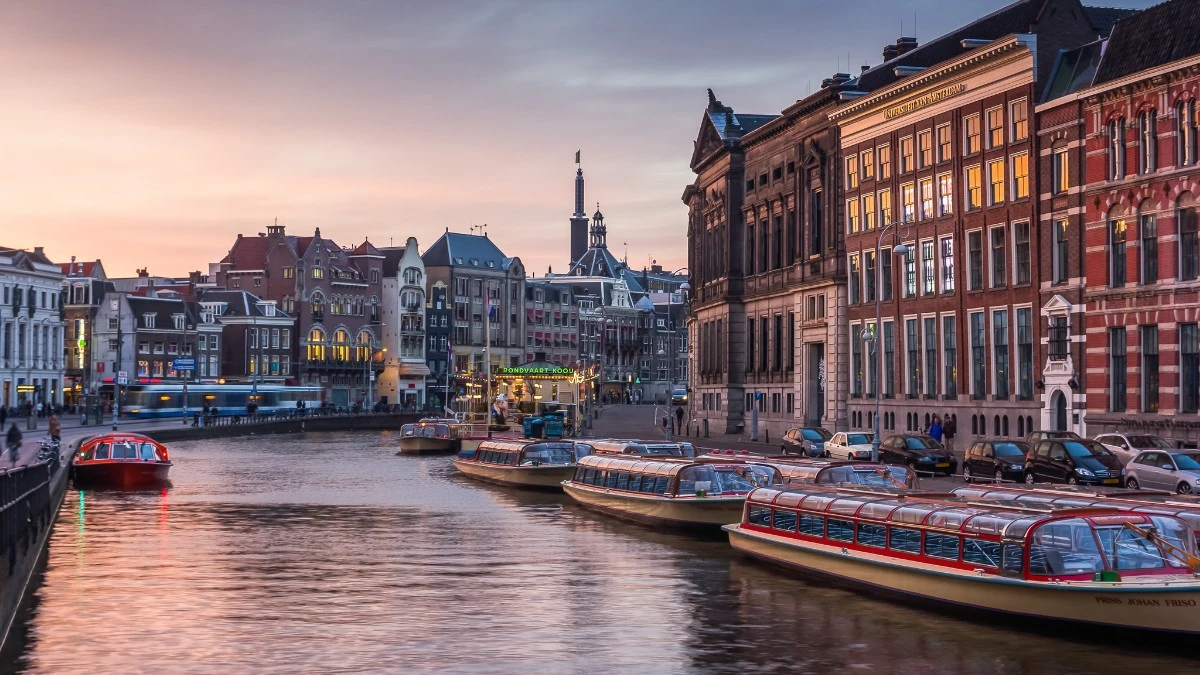 Table of contents
Here is a suggested itinerary for a three-day trip:
Day 1 activities
Start at Dam Square, the city's historical center.
The Dam is one of the city's most famous landmarks and a popular gathering place for tourists and locals.
The square has a rich history and is home to several significant buildings and monuments.
Enjoy a coffee at a nearby cafe and enjoy the bustling atmosphere.
Visit the Royal Palace, an impressive building with a rich history. Join a guided tour to learn about its architecture and former residents.
Explore the National Monument, a memorial to World War II victims.
Both the Royal Palace (Koninklijk Paleis) and National Monument (Nationaal Monument) are at The Dam.
Walk through the famous Red Light District (De Wallen) and see Oude Kerk, the city's oldest church.
Take a canal cruise to see the city from a unique perspective. Choose between a guided tour or a hop-on-hop-off boat.
Explore the Jordaan neighborhood, a charming and historic district in the heart of Amsterdam, known for its picturesque canals, narrow streets, and well-preserved 17th-century architecture.
Today, the Jordaan is renowned for its unique atmosphere, artistic vibe, and vibrant community.
End your day with dinner at a local restaurant, sampling traditional Dutch cuisine. Maybe visit Foodhallen Amsterdam.
Planning a holiday in Amsterdam? Read about the city's weather, coffee shops, Foodhallen, taxis, parking, restaurants, pancakes, Museumplein, and the light festival.
Day 2 activities
Start your day with a visit to the Anne Frank House, where you learn about Anne's life and the history of the Holocaust.
It is a small museum, so book your tickets in advance, especially if you are visiting during the peak season.
Head to the Museum Quarter and visit the Rijksmuseum, which houses a vast Dutch art and history collection.
Next, explore the Van Gogh Museum, dedicated to the life and work of Vincent van Gogh.
If modern art interests you, visit the Stedelijk Museum, showcasing contemporary art and design.
Relax at Vondelpark, Amsterdam's largest park.
The lush 45-hectare park is a thriving hub of activity throughout the year, and tourists love to picnic or rent a bike and cycle around.
Visit the Heineken Experience for an interactive tour of the brewery. Learn about the beer-making process and enjoy a tasting.
End your day with dinner at a local restaurant or explore the city's vibrant nightlife.
Recommended Reading
– Couple things to do in Amsterdam
– Kids activities in Amsterdam
– Free things to do in Amsterdam
Day 3 activities
Begin your day with a visit to the historic Begijnhof, a hidden courtyard with picturesque houses.
Learn about its history and the Beguines who lived there.
Explore the Flower Market (Bloemenmarkt) and shop for souvenirs like tulip bulbs, clogs, or Dutch cheese.
Depending on your interests, visit the Dutch Resistance Museum, which chronicles the Netherlands' struggle during World War II, or the Rembrandt House Museum, where the famous painter lived and worked.
Wander through the trendy De Pijp neighborhood, a vibrant area known for its cafes, restaurants, and shops.
Visit the Albert Cuyp Market, one of the largest street markets in Europe, to sample local street food and shop for unique items.
Discover the NEMO Science Museum, an interactive museum perfect for families or those interested in science and technology.
End your day with a sunset stroll along the canals or enjoy dinner and drinks at a waterside restaurant or cafe.
Remember to consider your interests and adjust the itinerary as needed.
The pace of your visit will depend on how much time you spend at each attraction and how much leisure time you include.
If you are planning a vacation to the Dutch capital, check out our itinerary recommendation for a 1-day, 2-day, and 5-day visit to Amsterdam.
Popular attractions in Amsterdam