Sagrada Familia is popular Catalan architect Antoni Gaudí's masterpiece in Barcelona. Since it attracts more than 3 million people every year, it is best to buy tickets for Sagrada Familia online before you visit it.
This Basilica has been under construction since 1882 and will be ready by 2026 – to celebrate Gaudí's 100th death anniversary. If you buy Sagrada Familia's tickets online to visit the inside of Gaudi's masterpiece in Barcelona, you will be contributing to the construction. That's right, money from the ticket sales is being used to build this Basilica.
With more than 3 million people visiting Sagrada Familia in Barcelona every year, this attraction gets very crowded. Such huge crowd translates into long waiting hours (up to 2 to 3 hours) if you don't plan your visit to Sagrada Familia well in advance.
Best way to avoid the waiting time and walk right in to see the insides of Gaudi's masterpiece is to buy Sagrada Familia's tickets online.
There are some other ways as well to beat the crowd.
How to avoid the crowd at Sagrada Familia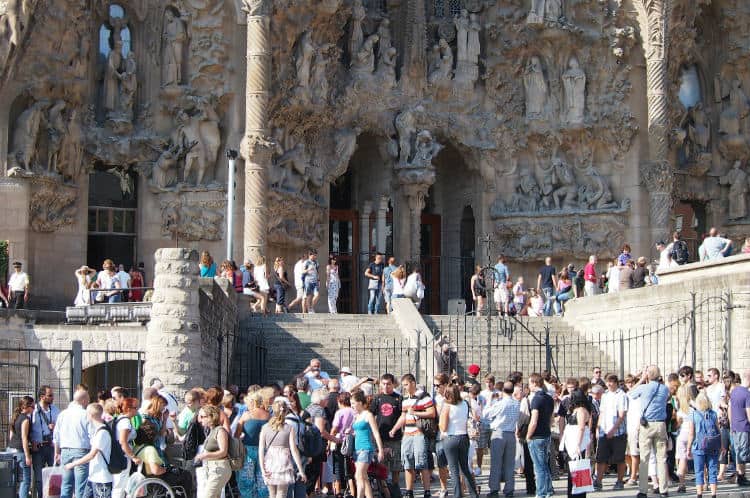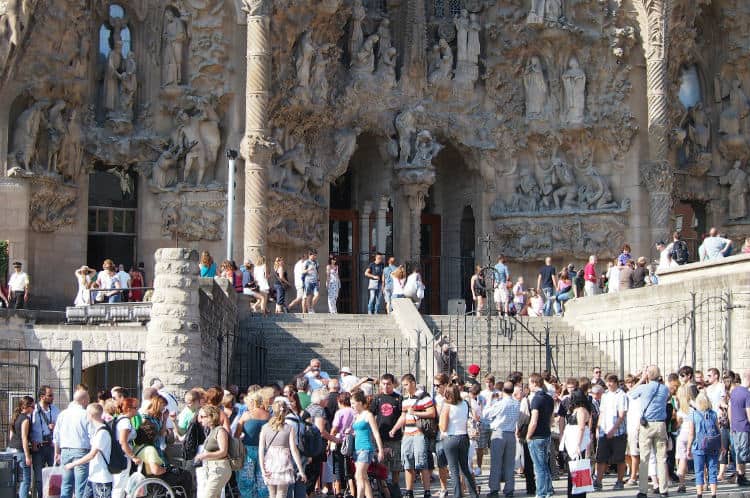 There are four ways to avoid the crowd at Sagrada Familia in Barcelona.
1. Buy your Sagrada Familia tickets online, in advance


If you will be visiting Gaudi's Sagrada Familia in the next 60 days, you can buy online tickets for Sagrada Familia. You will have to choose the time slot and the type of online tickets you prefer. While buying your tickets, you can opt for an audio tour or an onsite guide. Keep an eye out for discounts for students and elderly.
Recommended Reading: Is going up the Sagrada Familia Towers worth it?
2. Plan your visit on a Monday
Monday is not always bad news. If you are planning on beating the lines at Sagrada Familia, Mondays are the days to look out for. Since most of the museums in Barcelona are not open on Mondays, tourists assume that Sagrada Familia won't be open as well. They don't know that this Basilica stays open even when the whole of Spain closes down for celebrations – during Christmas and New Year.
3. Book a tour with a travel agent
If you don't want to book your Sagarda Familia tickets online, you can always leave all the headache to your travel agent and go for a planned itinerary. Local travel agents in Barcelona such as Skip the Line Barcelona and Julia Travel provide exhaustive tours. These groups are usually led by experienced guides which makes your visit to this UNESCO World Heritage site easy and worthwhile.
If you go through such travel agents you may end up seeing the inside and outside of Sagrada Familia, Barcelona at a slightly higher cost.
4. Book a lunch at Hotel Ayre Rossellon
Not all us are equal on patience. Some of us want to see Barcelona's Sagrada Familia from outside, take a few snaps, check-in on Facebook and move on to the next Barcelona attraction. If you fall into this category, you can avoid the crowd at Sagrada Familia completely.
All you have to do is book a lunch at Hotel Ayre Rossellon, which is located right behind the Basilica. From within the hotel, you will be able to check out the upper parts of the facades.
However, we don't understand why you would travel all the way to Barcelona and yet not see inside Gaudi's Basilica.
Recommended Reading: Interesting facts about Sagrada Familia
Online tickets vs Normal tickets at Sagrada Familia – what is the difference?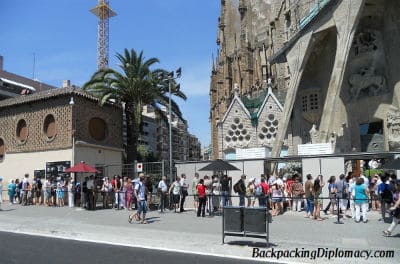 There is a bit of confusion when it comes to online tickets at Gaudi's Sagrada Familia.
Before booking their online tickets to see inside of Sagarda Familia many tourists wonder, if they will miss out anything if they purchase the tickets online.
Well, the answer is "No!". There is no difference in what you can see with an online ticket and what you can see with a ticket bought at the venue in Sagrada Familia.
However, there is one huge advantage of buying Sagrada Familia's online ticket.
Please allow us to explain….
When you land up at the Basilica without any tickets you will have to stand in queue at two places. First, at the ticketing counter to buy your tickets and then at the entry gates of the Basilica.
If you have already bought an advance ticket for Sagrada Familia online, you don't have to wait at the ticket counter. Thus saving yourself waiting times of up to 2-3 hours, depending on the season.
That's why these online tickets are known by various names such as Skip The Line tickets, Fast Track tickets, Priority Access tickets etc.
Buy online tickets to Sagrada Familia now!
Recommended Reading: Top views from the Nativity Facade Towers
Sagrada Familia tickets price
There are different kinds of Sagrada Familia online tickets which you can opt for. Here are the best selling online tickets –
Non-guided, Priority Access online tickets
Adult aged 30 to 64 years (Admission only): € 15,00
Adult aged 30 to 64 years (Admission + Audio guide): € 22,00
Adult aged 11 to 30 years (Admission only): € 13,00
Adult aged 11 to 30 years (Admission + Audio guide): € 20,00
Adult aged 65+ (Admission only): € 11,00
Adult aged 65+ (Admission + Audio guide): € 17,00
Child aged 1-10 (Admission): Free*
Recommended Reading: Nativity facade vs Passion facade – which one is better?
Guided, Priority Access online tickets
You can also decide to buy Skip The Line online tickets with an English speaking guide. We recommend this because the guides are well trained and help make your trip memorable. Guided tours with English speaking guides start at 10:00 am and 12:00 noon. Since the guides are responsible for large groups, you need to be on time.
Price of Guided Skip the Line online tickets
Adult aged 11 to 99 years (Admission + Guide): € 39,00
Child aged 1-10 (Admission): Free*
* Children below the age of 10 are only allowed inside with the supervision of an adult.
Note: Audio guide is ONLY available online. La Sagrada Familia has stopped selling it onsite. Children below ten don't have the audio guide option.
Recommended Reading: Best time to visit Sagrada Familia
Sagrada Familia free tickets
You don't have to pay for your online tickets at Sagrada Familia if you meet one of the conditions below.
You are a child who is ten years old and below, and is being accompanied by an adult.
You are an individual with +65% disability and can provide proof of your disability. In such circumstances, the person accompanying you also gets free online tickets to enter Sagrada Familia.
Sagrada Familia discounted tickets
To encourage youngsters to appreciate culture, Sagrada Familia offers ticket discounts. Every Wednesday, Thursday and Sunday youngsters aged 11 to 30 can avail of these discounted online tickets priced at 7 Euros. These tickets are available between 16 hours to 18 hours and can be bought from the entrance ticketing of the Basilica.
Whom to contact to buy Sagrada Familia tickets?
The good thing about Sagrada Familia's tickets is that you don't need to contact anyone. Sitting at your home, you can buy Sagrada Familia's tickets online and get their delivered to your door. Errr…we meant, your smartphone.
Buy Sagrada Familia online tickets and get them on your smartphone
Print Sagrada Familia's online tickets?
Once you buy Sagrada Familia online tickets, they get delivered to your email or to the smartphone. You don't need to take any prints. With online priority entry ticket in your smartphone, you can skip the queue at the ticketing counter and go to the Basilica's entry straight away.
This means, even if you are traveling elsewhere and have access to no printer you can go ahead and book your tickets online.
Recommended Reading: Top views from the Passion Facade Towers
Best time to visit Sagrada Familia
Sagrada Familia is open every day of the year. The time it opens changes with the season, so the best time to visit Sagrada Familia are:
November – February: 09:00 am – 18:00 pm
October – March: 09:00 am – 19:00 pm
April – September: 09:00 am – 20:00 pm
A more detailed analysis of the best time to visit Sagrada Familia