Flamenco is one of the most famous forms of Spanish music.
It is mostly played on the guitar and accompanied by singing and dancing.
When the art form came into being, it was only the song or "cante" played by the musician.
After the mid-19th century, flamenco songs were frequently accompanied by guitar music, a dancer, and a palo seco, a dry stick that beat on the ground to keep rhythm.
The dancers displayed a combination of rehearsed and improvisational dance forms.
Nowadays, you can enjoy the flamenco dance at the Los Tarantos Barcelona.
Flamenco is a UNESCO-protected cultural tradition and is one of Barcelona's pride and joy.
This article shares everything you need to know before booking tickets for Tarantos Flamenco Show in Barcelona.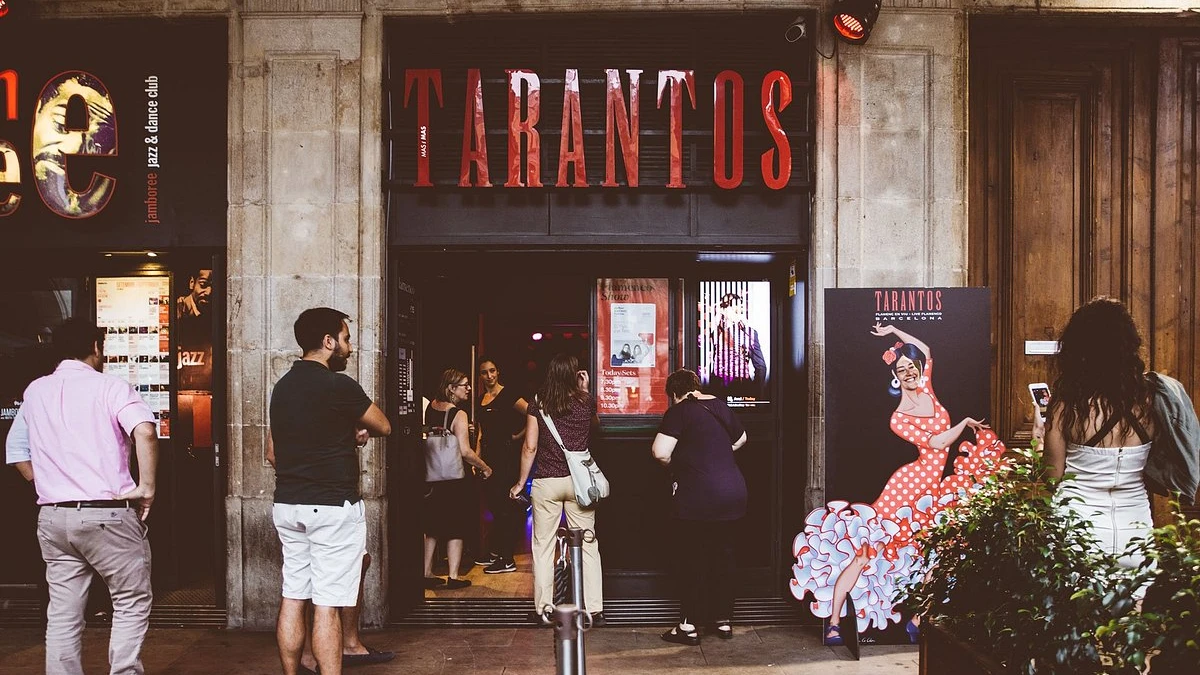 What to expect on Tarantos Flamenco Show
Get ready to immerse yourself in the sensual flamenco music and dancing as you see talented musicians and dancers.
Los Tarantos Barcelona is one of Barcelona's oldest flamenco venues, so this is a must-visit if you love this music style.
Learn more about the flamenco culture and history and admire the flamenco performers.
---
---
Where to buy Tarantos Flamenco Show tickets
You can buy Flamenco Show tickets at Los Tarantos Barcelona online.
It is preferable to buy tickets online because you get them at a lower price and avoid long queues at the ticket counter.
Tickets for Los Tarantos Barcelona get sold out quickly because they are always in high demand.
When you purchase online tickets, you can keep last-minute disappointment at bay.
How online ticket works
On the booking page, select your preferred date, number of tickets, and slot, and buy the tickets right away.
Once your tickets are booked, you'll receive the tickets in your registered email.
Show your smartphone ticket at the entrance and enter Los Tarantos Barcelona.
Cost of Tarantos Flamenco Show tickets
The tickets for Tarantos Flamenco Show cost €17 for all visitors over the age of 5 years.
Children up to the age of 5 years get free admission.
Tickets for Tarantos Flamenco Show
Observe the Flamenco show in Los Tarantos, Barcelona's oldest flamenco bar.
Los Tarantos has been in business for over six decades and is a pioneer in Flameco's fame in Barcelona.
View the place that kickstarted the careers of numerous local and international flamenco performers—many of whom still perform!
You can choose between the three shows performed every night, each lasting 30 minutes.
Ticket Price
Adult Ticket (6+ years): €17
Child Ticket (up to 5 years): Free
Tarantos Flamenco Show + Güell Palace
Los Tarantos is just 2 minutes walk away from Güell Palace, so you can plan to experience both on the same day.
Buy this combo ticket that offers a 5% discount and get convenient access to the Flamenco Show and Güell Palace.
On your tour to Palau Güell visit a unique Gaudi creation in the center of La Rambla and access all the building's accessible spaces, including the rooftop.
The tour to Palau Güell includes a downloadable or physical audio guide in 13 languages.
Ticket Cost: €28 per person
Save money & time! Buy The Barcelona Pass and see Barcelona's top local landmarks and attractions. Explore the spectacular Sagrada Familia, Park Güell, and Plaça de Catalunya, and enjoy the city tour from the top deck of the hop-on, hop-off bus.
---
---
How to reach Tarantos Flamenco Show
Los Tarantos is located near Las Ramblas, Barcelona.
Address: Los Tarantos, Pl. Reial, 17, 08002 Barcelona, Spain. Get Directions.
You can either take public transport or your vehicle to reach the show.
By Bus
If you're planning on taking the bus, use either the 59, N9, or V13, then get off at La Rambla – Liceu.
From there, it is a 4- minute walk to Barcelona's oldest flamenco bar.
By Train
If you're taking the Subway, use the L3 (green line), and get off at Liceu.
From there, it is a 4-minute walk to Los Tarantos.
By Car
If traveling by car, put on Google Maps and get started!
If you plan on bringing your car, you can park at the several parking lots near Tarantos Flamenco Show in Barcelona.
Click here to get a list of them!
Tarantos Flamenco Show timings
The Flamenco Show at Los Tarantos Barcelona is open daily from 6.30 pm to 11 pm.
It's better to reach the location 20 minutes before your chosen timeslot, to ensure good seats for the show.
How long does Tarantos Flamenco Show last
Each Tarantos Flamenco show lasts for about 30 minutes.
Considering reaching the location, getting the seat, and returning home, you will need at least an hour.
Best time to go for the Tarantos Flamenco Show
The best time to attend the Flamenco Show at Los Tarantos Barcelona is at 6.30 pm when the first show starts.
The earlier you arrive, the more you will enjoy as the artists are energetic and excited during the initial hours.
The seats are offered first-come, first-served basis, so it will be good if you can make it to the Los Tarantos at least 15 to 20 minutes prior to the show.
The crowd is comparatively less if you reach early and you can even choose the perfect seat for you to enjoy the show.
Popular attractions in Barcelona