The Banksy Museum of Barcelona, also known as Espacio Trafalgar, is a unique exhibition space that provides a comprehensive look into the world of the elusive street artist Banksy.
It aims to provide an immersive and interactive experience for visitors, allowing them to appreciate the work of Banksy in a unique and educational setting.
Whether you are a long-time fan of Banksy or just discovering the artist for the first time, the Banksy Museum in Barcelona is a must-visit destination for art lovers and street art enthusiasts.
This article shares everything you should know before booking tickets for Museu Banksy Museo.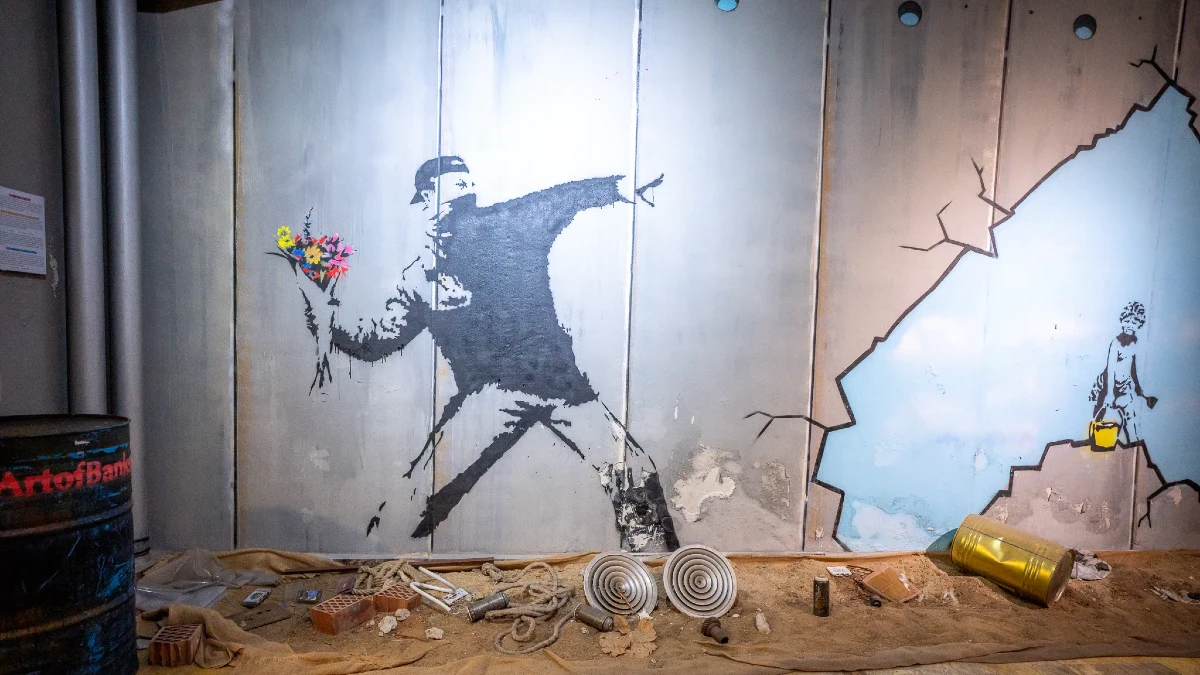 What to expect when visiting the Banksy Museum in Barcelona
At Banksy Museum, learn about the mysterious Banksy, who is thought to have been born in Bristol, England, around 1974 and rose to fame in the 1990s for his provocative stenciled works.
Explore his works on display throughout the United States, Paris, and the United Kingdom before concluding at the Walled Off Hotel in Bethlehem.
In addition to showcasing works of Banksy, the museum also serves as a platform to educate visitors about the artist's political and social commentary.
Many of Banksy's works are critical of societal issues, and the museum provides an opportunity to explore these topics in more detail.
Discover all of the major works of art that have inspired worldwide wonderment.
Admire more than 100 pieces by the most well-known street artist in the world.
Deep dive into this unique experience and share it with your loved ones.
Where to buy Banksy Museum in Barcelona tickets
Tickets for Banksy Museum Barcelona are available online and at the ticket booth open at the attraction.
However, we recommend booking tickets online because it provides several perks.
By booking tickets online, you can save money since online prices tend to be cheaper than tickets at the venue.
When you buy online, you can avoid the long queues at the attraction's ticket counters.
The tickets usually get sold out quickly. But you can prevent last-minute disappointments if you buy tickets online.
How online tickets work
On the booking page, when you book your tickets for Museu Banksy Museo, select your preferred date and the number of tickets and purchase them right away.
You will receive an email with your tickets as soon as you purchase them.
There is no need for you to bring printouts.
On the day of your visit, scan the e-ticket on your smartphone at the welcome desk.
Cost of Banksy Museum Barcelona tickets
The Banksy Museum tickets cost €12 for all visitors aged 26 years and above.
Kids and youth aged between 6 and 25 years as well as seniors aged 65 and above, both with valid IDs, pay a discounted price of €9.
Children up to the age of 5 years can enter the Museum for free and must be accompanied by an adult for entry.
Reduced tickets available on-site for groups (from 10 people)
---
---
Tickets for Banksy Museum Barcelona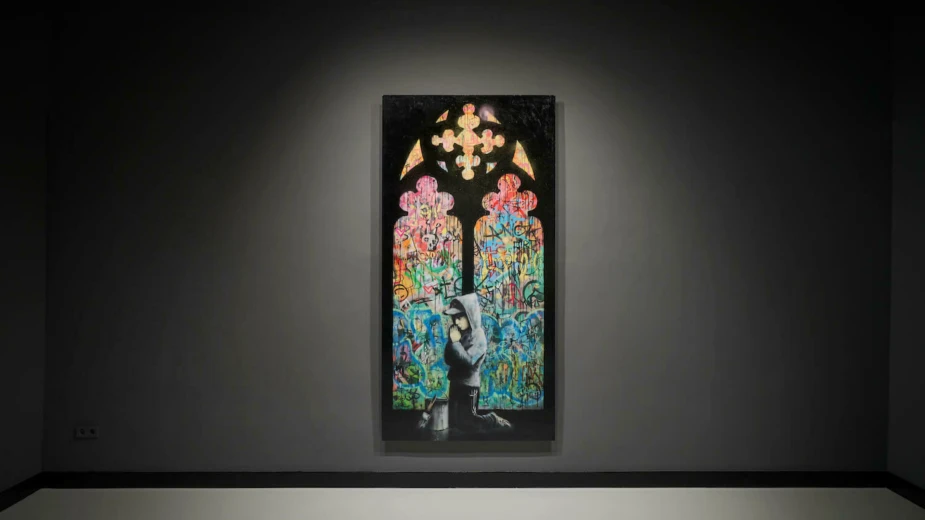 When you book your tickets for Banksy Museum Barcelona, you can immerse yourself in the subversive art of an anonymous genius.
Admire replicas of iconic pieces like Girl with Balloon and Girl Frisking Soldier and see over 100 works by the UK's anonymous provocateur on this self-guided tour.
The museum allows you to feel the power of his unique cultural commentary, satirical and affecting, which so often reminds us of the sad absurdity of life on Earth.
The last admission is 45 minutes before closing.
Ticket Prices
Adult Ticket (26 to 64 years): €12
Kids and Youth Ticket with ID (6 to 25 years): €9
Seniors Ticket with ID (65+ years): €9
Child Ticket (up to 5 years): Free
Save time & money! Buy Barcelona Pass and see Barcelona's top local landmarks and attractions. Explore spectacular Sagrada Familia, Park Güell, and Plaça de Catalunya, and enjoy the city tour from the top deck of the hop-on, hop-off bus.
How to reach Banksy Museum in Barcelona
The Banksy Museum is located in Carrer de Trafalgar in Barcelona.
Address: Carrer de Trafalgar, 34, 08010 Barcelona, Spain. Get Directions.
You can take public transport or drive to reach Espacio Trafalgar.
By Bus
The nearest bus stop is Trafalgar – Bruc (available buses: 19, H16, N4).
Take a 1-minute walk to the Banksy Museum.
Bruc – Rda. Sant Pere is another bus stop that is a 2-minute walk from the museum.
Ronda Sant Pere – Girona (available buses: 19, 47, D50, H16, N4, N8, N11, N28, V15, and V17) is also near the museum and is just a 2-minute walk away.
Another bus stop is Rda. Sant Pere – Pl. Urquinaona (available buses: B20, B25, N12) at a 3-minute walking distance.
By Metro
The nearest subway station is Urquinaona (available metros: L1 and L4), only 4 minutes walk away.
By Car
Get in your car, turn on Google Maps, and get started!
Click here to learn about the nearest parking lots.
Banksy Museum in Barcelona timings
Espacio Trafalgar opens from Monday to Sunday from 10 am to 8 pm, with the last entry at 7.15 pm.
Banksy Museum also has night sessions on Thursdays until 9 pm, with the last entry at 8.15 pm.
---
---
How long does Banksy Museum in Barcelona take
The museum visit lasts approximately 90 minutes.
However, the duration of the museum visit depends on the rhythm of each visitor.
Visitors to the Banksy Museum Barcelona often spend around two hours exploring the exhibits.
Best time to visit Banksy Museum in Barcelona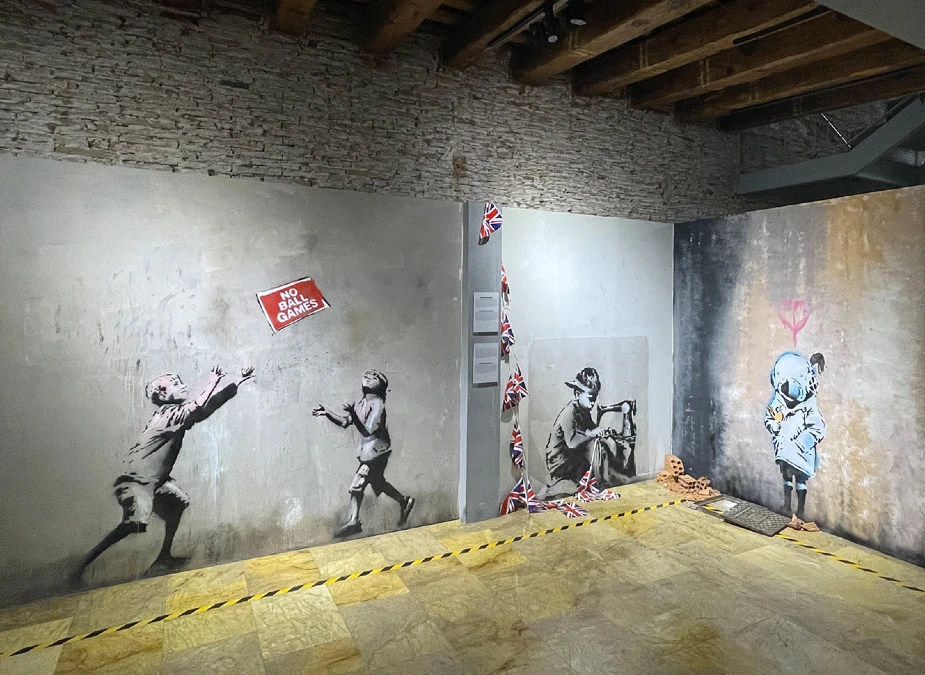 The best time to visit Barcelona Banksy Museum is as soon as it opens at 10 am.
Arrive early so you can experience and enjoy your tour as a small group of people are around in the morning.
Since the Banksy Museum can get busy on weekends, weekdays are better for visiting.
FAQs about Banksy Museum
Here are some questions visitors usually ask before visiting the Banksy Museum, Barcelona.
Where can I book tickets for the Museu Banksy Museo?
Tourists can buy tickets for the attraction online or at the venue, on the day of their visit. For the best experience we suggest you book your tickets online, in advance.
What happens if I miss my entry time at the Banksy Museum in Barcelona?
You will be allowed to enter in the next slot, however, the entry is subject to availability of capacity. If you had booked the last slot of the day and happen to miss it, access to the exhibition outside the business hours may not be possible.
Is the Banksy Museum of Barcelona wheelchair accessible for people with disabilities?
Yes, the exhibition is accessible for people with reduced mobility and wheelchair users.
Can I take photographs inside Banksy Museum in Barcelona?
Yes, you can take pictures and record videos for personal use but without flash or use of accessories like tripods, monopods, and sticks selfies. Photography for commercial use is forbidden inside the premises.
Which items are not allowed inside the Banksy Museum?
You are not allowed to carry food, drinks, baby strollers (child carrier backpacks are allowed), large backpacks, suitcases, motorcycle helmets, bicycles, skateboards, or any other wheeled means of transport. Cloakroom/locker facility is not available on-site.
Is there a gift shop in the Banksy Museum?
Yes, there is a gift store with a wide variety of products at the end of the exhibition from where you can purchase souvenirs or museum merchandise.
Can I cancel/reschedule my visit to the Banksy Museum in Barcelona?
Yes, you can cancel your visit until 11.59 pm on the day before your visit. Rescheduling is possible anytime before your visit.
Source
# Museobanksy.es
# Barcelona.de
# Tripadvisor.com

The travel specialists at TheBetterVacation.com use only high-quality sources while researching & writing their articles. We make every attempt to keep our content current, reliable and trustworthy.
Popular attractions in Barcelona