Colonia Güell has been tucked away in the Barcelona Hills for more than a century.
It was created by the renowned industrialist Eusebi Güell and was constructed by the great architect Antoni Gaudi.
The city's steady southerly expansion towards El Prat's main airport, however, means that its unveiling is only a matter of time, which is creating a wealth of opportunity.
This article shares everything you should know before buying your Colonia guell Barcelona tickets.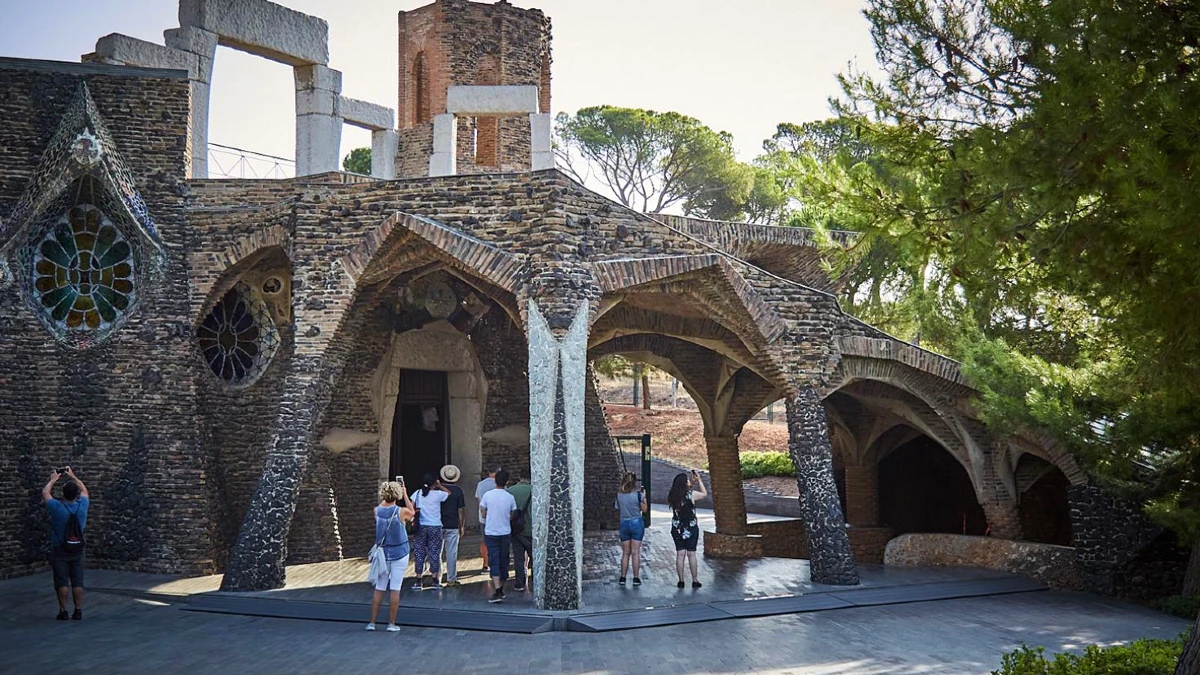 What to expect at Colonia Guell
Visit Colonia Güell, witness the late 19th-century weaving community, and explore Gaudi's best-kept secret, the Crypt.
Your audio tour will explain the what, why, when, where, and how of the Crypt, as well as how it influenced the Sagrada Familia.
See a UNESCO World Heritage site that has been seamlessly incorporated into the surrounding hills, a development that was entirely novel at the time.
As you go through The Colonia Güell, you'll get a sense of what a typical late 19th-century industrial textile community was like.
---
---
Where to buy Colonia Guell tickets
There are two modes of buying tickets for Colonia Guell in Barcelona – online or offline at the attraction
Online tickets for the Colonia Guell in Barcelona can be cheaper than the tickets sold at the venue.
When you buy online, you can avoid the long queues at the attraction's ticket counters.
When you book online and in advance, you also get your preferred time of visit.
Online tickets also help you avoid last-minute disappointment when tickets get sold out.
How online ticket works
On the booking page, select your preferred date, time slot, and number of tickets, and buy them right away.
After the purchase, you will receive the tickets in your email.
You don't need to take any printouts.
All you have to do is show the e-ticket on your smartphone and prepare for the tour.
Cost of Colonia Guell tickets
The Colonia Guell Barcelona tickets cost €10 for all visitors aged between 10 to 64 years .
Students and seniors (above 65 years) get the tickets at a discounted price of €8 (with a valid ID).
Children up to the age of nine years can enter Colonia Guell Barcelona for free.
Tickets for Gaudi's Crypt & Colonia Guell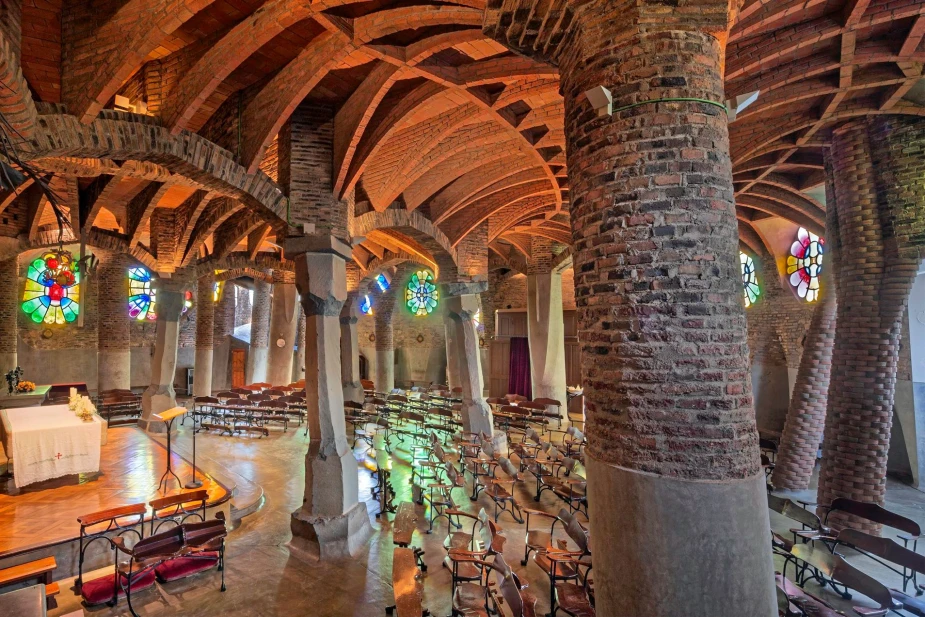 At Colonia Güell, the former textile village outside of Barcelona, you can unlock Gaudi's best-kept secret, The Crypt.
Explore his lab to see where he tested out some cutting-edge methods that he eventually used on the Sagrada Familia.
Your experience will be enhanced by the intriguing audio guide.
This tour has an audio guide in English, Catalan, French, German, Italian, Japanese, Korean, Russian, and Spanish.
At the Colonia Güell box office, present your mobile ticket to get entry.
You must leave some ID as a deposit until the audio guide is returned.
Ticket Price
Adult Ticket (10 to 64 years): €10
Student Ticket (with valid ID): €8
Senior Ticket (65+ years): €8
Children Ticket (up to 9 years): Free
Guided tour of Colonia Guell
You can learn more about this magnificent industrial colony by purchasing tickets for Gaudi's Crypt and Colonia Güell as well as a guided tour.
Start by taking a look around the structure housing the visitor center's permanent exhibit.
The two-story structure is separated into sections that give an overview of the Colony and the Crypt's creation.
See the moody streets of the formerly industrial city while learning about the many instances of Modernist architecture.
Ticket Price
Adult Ticket (10 to 64 years): €13
Student Ticket (with valid ID): €10
Senior Ticket (65+ years): €10
Children Ticket (up to 9 years): Free
Gaudii's Crypt and Colonia Guell from Barcelona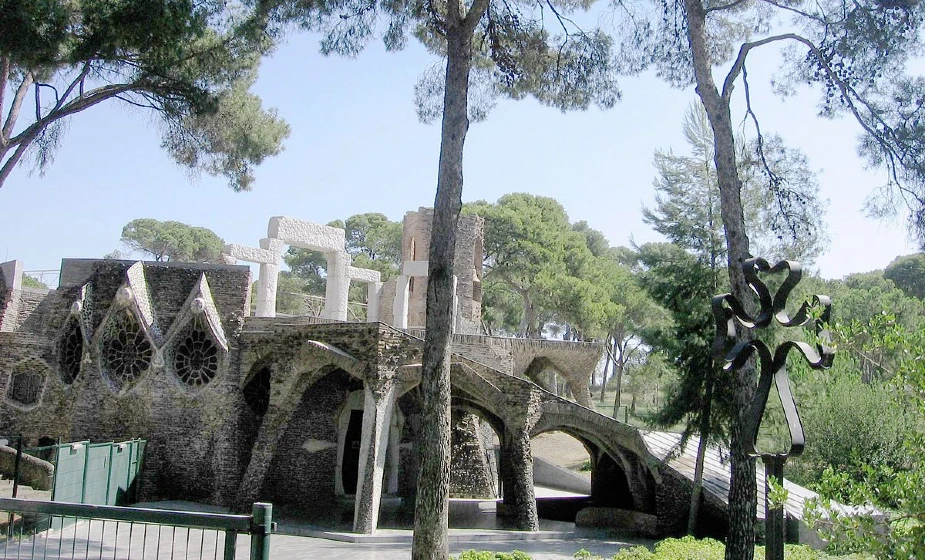 Discover Antoni Gaudi's unfinished masterwork by taking a train ride to Colonia Güell, a 19th-century weaving community, and seeing the crypt there.
Explore this UNESCO-protected architectural marvel's interesting past and well-kept mysteries.
Catch the train to the beautiful Crypt and Colonia Güell from the Pl. Espanya FGC train station.
This tour has an audio guide in English, Catalan, French, German, Italian, Japanese, Russian, and Spanish.
Ticket Price
Adult Ticket (10 to 64 years): €14
Children Ticket (up to 9 years): 5
Senior Ticket (65+ years): €11
Colonia Guell + Casa Vicens Skip-the-Line Tickets
This combo ticket is your access to the private tour of Casa Vicens and Colonia Guell, two of Barcelona's most popular attractions.
Witness the Gaudian masterpieces with a tapas lunch along the way.
The ticket also includes round-trip hotel transfers, skip the line admission, and a private guide.
Ticket Price
Adult Ticket (11+ years): €250
Child Ticket (up to 10 years): €61
Save time & money! Buy Barcelona Pass and see Barcelona's top local landmarks and attractions. Explore spectacular Sagrada Familia, Park Güell, and Plaça de Catalunya, and enjoy the city tour from the top deck of the hop-on, hop-off bus.
---
---
How to reach Colonia Guell
The Colònia Güell is located in the town of Santa Coloma de Cervelló, 23 km (14 miles) to the southwest of Barcelona.
Address: Carrer Claudi Güell, 08690 La Colònia Güell, Barcelona, Spain. Get Directions
You can reach Colonia Guell is by train, bus, and car.
By Train
Lines S33, S8 or S4 to Colònia Güell, the nearest train station, only six minutes walk away.
By Bu
Est. FGC Colònia Güell is the nearest bus stop, only five minutes away.
By Car
If you're traveling by car, turn on your google maps and get started!
The attraction has a free parking where you can park your vehicle.
Colonia Guell timings
You can visit Colonia Guell in Barcelona any day of the week.
Monday to Friday it runs from 10 am to 5 pm while Saturday to Sunday from 10 am to 3 pm.
The attraction remains closed on 1st January, 6th January, 25th December and 26th December.
How long does Colonia Guell take
It takes around one to two hours to complete the Colonia Guell tour.
Best time to visit Colonia Guell
Choose the early hours of the day, i.e., 10 am to 11 am, for a visit to enjoy a hassle-free time.
If you visit Colonia Guell early in the morning, it won't be crowded, and you can explore it peacefully.
You must try to to visit the attraction on a weekday rather than weekend or on a public holiday for a quieter experience.
---
---
What to see at Colonia Guell
Textile workers are no longer housed in Colonia Güell, the largest modernist community in Catalonia.
Visitors to the red-brick building today come to experience the atmosphere of the 19th century.
Gaudii Crypt
The Gaudi crypt is the only portion of the Colonia Güell Church that has been finished.
The crypt has minimal natural light but is illuminated by the stained-glass windows that let in iridescent light beams.
The Chapel
Gaudi spent hours exploring revolutionary architectural techniques, such as the poly-funicular scale model, at the Chapel.
Industrial Buildings
The industrial town, or Recinte Industrial, of Colonia Güell, is a titan of modernist history and boasts the most cutting-edge design and construction.
The 19th century is reflected in brick walls with industrial elements like iron and ceramic intermingled.
Colònia Güell Exhibition
A permanent exhibition with five sections, including Industrial Colonies, The Mill, People, Colonia Güell, and Gaudi's Church, is housed at the former cooperative in Colonia Güell.
The exhibition is a worthwhile experience for those who are curious about the history of the Catalan workers' colonies.
Keep an eye out for the church model that was used to build La Sagrada Familia.
Can Soler de la Torre
The Güell family's vacation home was Can Soler de la Torre, which is situated in Plaça de la Masia.
The estate was transformed into a hub for culture and the arts as a way to raise the standard of living for the workers.
Together with other significant structures, the historic mill that belonged to the Count is now a World Heritage Site.
Ca L'Ordal
Families of peasants, some of whom worked at the mill, lived in Ca L'Ordal and served the landowners as tenants.
Renowned modernist architect Joan Rubió I Bellver created the homes in 1894. One of the historic sites in the industrial community is Ca L'Ordal, which is situated in Plaça Anselm Clavé.
Ca L'Espinal
What was originally the mill manager's home is now a private residence.
On Malvehy Street in Colonia Güell, Ca L'Espinal was constructed by Joan Rubió I Bellver in 1900.
Brick lattices, geometric patterns, and the building's construction as an old steeple are distinctive architectural features that set this structure differently.
Casa del Secretario
The Secretary's House, one of the few structures in Colonia Güell that stands out from the others, has distinctive architecture with a roomy balcony and an iron bat motif on the door.
The Secretary of Santa Coloma de Cervelló lived at the mansion.
Torre Salvana Castle
The Castle of Hell, which dates back to the 10th century, is located exactly at Colonia Güell's entrance.
After a fight in 1715, the castle was destroyed, leaving it to stand in ruins today.
Its walls are the subject of many legends, and residents say the castle has been the scene of several ghostly occurrences.
FAQs about Colonia Guell
Here are some questions visitors usually ask before visiting the Colonia Guell, Barcelona.
Where can I book tickets for the Colonia Guell?
Tourists can buy tickets for the attraction online or at the venue, on the day of their visit. For the best experience we suggest you book your tickets online, in advance.
Is the audio guide free at the Barcelona's Colonia Guell?
Yes, the audio guide is free of cost. However, you are required to leave some form of ID as a deposit until the audio guide is returned.
Is Colonia Guell wheelchair accessible for people with disabilities?
No, the complex is not wheelchair accessible.
Does Colonia Guell have a dress code?
No, the Colonia Guell does not specify any dress code but it is advisable to wear comfortable shoes, and formal clothes.
Is there a facility of space rental in the Colonia Guell?
Yes, the attraction rents out rooms to organize different acts, conferences and presentations. You can contact the attraction's management for more information and booking details.
Can I cancel/reschedule my visit to the Colonia Guell in Barcelona?
Yes, you can cancel your visit until 11.59 pm on the day before your visit. Rescheduling is not possible for this ticket.
Sources

# Gaudicoloniaguell.org
# Archdaily.com
# Wikipedia.org
# Tripadvisor.com

The travel specialists at TheBetterVacation.com use only high-quality sources while researching & writing their articles. We make every attempt to keep our content current, reliable and trustworthy.
Popular attractions in Barcelona