Casa Batllo is a beautiful residential building, which attracts more than a million tourists every year.
It was designed more than 110 years back by Catalan architect Antonio Gaudi, who also built Sagrada Familia, Park Guell, Casa Mila, etc.
The locals also call it Casa dels Ossos or House of Bones since it looks like skulls and bones were used to make it.
This article explains everything you must know before buying Casa Batllo tickets.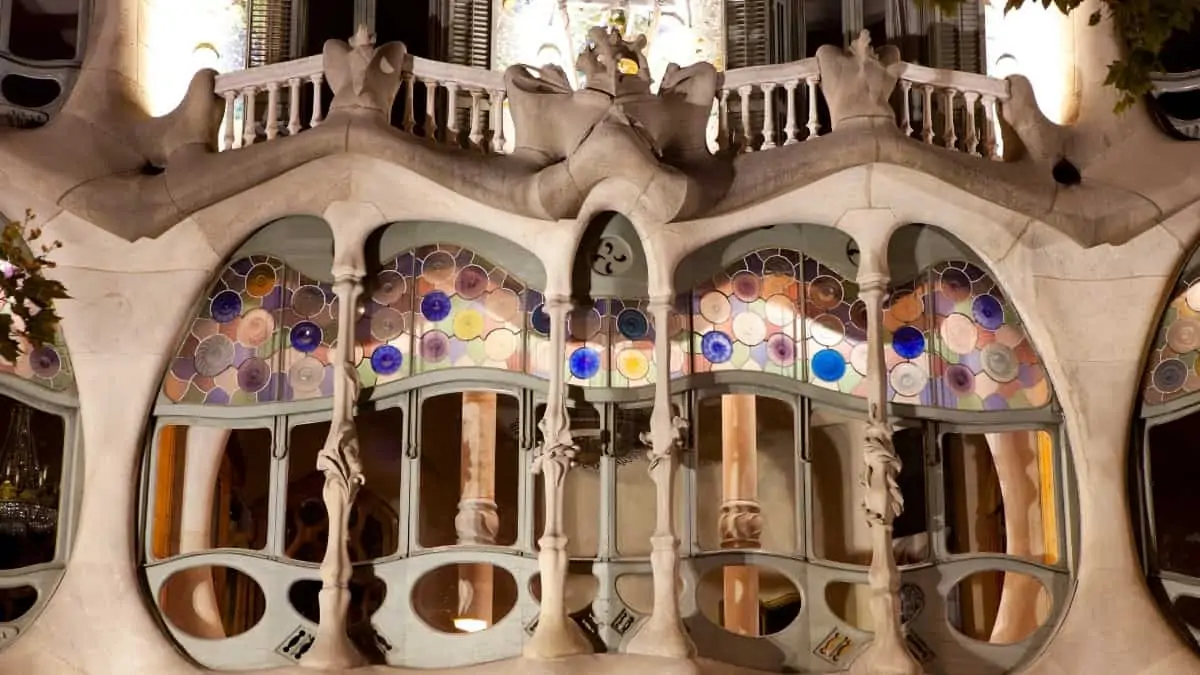 How to reach Casa Batllo
Casa Batllo is in the center of Barcelona, in the street known as Manzana de la Discordia (that is, the Street of Discord). Get Directions
This street has four beautiful buildings fighting for the attention of the passersby and hence, the name Manzana de la Discordia.
The buildings are Casa Lleò Morera, which Domènech designed i Montaner, Casa Amatller, designed by Puig I Cadafalch, Casa Mulleras designed by Enric Sagnier, and finally Casa Batllo by Antonio Gaudi himself.
By Metro
Take L3, also known as Barcelona Underground Green Line, and get down at Passeig de Gracia station.
Once you get down, look for the exit called Calle Aragó-Rambla Catalunya – Casa Batllo is only a minute's walk from here.
If you get out of any other Metro station exit, you will find yourself very far from Casa Batllo.
Since the Barcelona Metro runs until late at night, you can use the L3 trains for Casa Batllo's magical nights as well.
By Bus
Bus H10, Bus V15, Bus 7, Bus 20, Bus 22, and Bus 24 ply towards Casa Batllo.
If you opt for buses 20 and H10, you need to get down at Valencia – Pg de Gràcia bus stop.
All the other bus routes to Casa Batllo stop at Pg de Gràcia – Aragon.
Get free rides and save money on your travel within Barcelona city. Get Hola BCN card
Casa Batllo hours
Casa Batllo opens at 9 am and closes at 9 pm every day.
To accommodate the large number of tourists visiting Casa Batllo, it is open 12 hours a day.
Since it takes an hour to explore Casa Batllo, the last entry for ticket-holding visitors is at 8 pm.
---
---
Best time to visit Casa Batllo
The best time to visit Casa Batllo is between 9 am, and 11 am when the crowd starts coming in.
If you can't make it during the early hours, the next best time to visit is late afternoons – between 3 pm to 5 pm.
Since Casa Batllo is a small indoor attraction and gets upwards of 3000 tourists per day, it can get crowded soon, thus impacting your experience.
If you reach Casa Batllo during peak hours, you may end up waiting for an hour at the ticketing counter.
However, if you buy Casa Batllo tickets online, you can save this waiting time (and save up to 4 Euros per ticket because online tickets are cheaper).
---
---
How long does Casa Batllo take?
The duration of Casa Batllo's VR Video Guide is 45 minutes, and if you explore the Gaudi masterpiece at its pace, you will finish the tour in an hour.
If you don't let the video guide decide your pace but stop for lots of photos, you will need an hour and a half.
Hardcore Gaudi fans and tourists who get into the details will need two hours to explore the most refined residential building Gaudi ever built.
The 3 Houses of Gaudi is a super saver pass and includes tickets to La Pedrera, Casa Batllo, and Casa Vicens. You also get a 10% discount code, which you can use (five times!) to get discounts on future purchases.
Casa Batllo tickets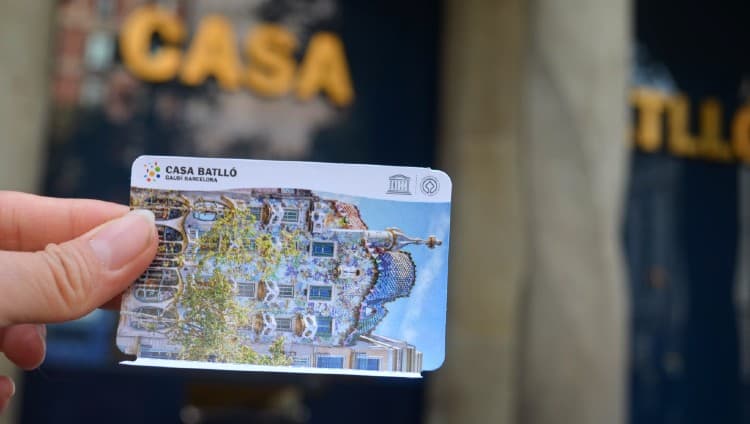 Here are a few things you must know before buying your Casa Batllo tickets.
– Immediately after purchase, your tickets will be emailed to you
– You don't need to take printouts
– On the day of your visit, show the tickets in your email, on your smartphone, and walk in
– With all the tickets, you get the augmented reality video guide for free, along with a headset
Casa Batllo prices
The Standard Casa Batllo tickets for adults 18 to 64 years cost €35, while youth aged 13 to 17 years pay a discounted price of €19 for entry.
Seniors 65 years and above get a €3 discount on their ticket and pay €32 for entry.
Students with a valid ID get a 6 Euro reduction, and their ticket costs €29 per person.
Kids up to 12 years can enter Casa Batllo for free.
The Fast Pass upgrade is priced at €5 per person and helps you skip all the lines.
Online ticket discount
When you buy your tickets at Casa Batllo's ticketing counter, a ticketing window surcharge is applied, which increases the per ticket cost by €4.
When you buy Casa Batllo tickets online, you don't pay the surcharge and thus save money.
Casa Batllo offers two types of experiences – the 10D Experience and the Night Visit.
Casa Batllo's 10D Experience ticket
This 10D Experience ticket lets you access all the visitable levels of Casa Batlló, including its famous Dragon Rooftop.
You also step into the new experiences, the Gaudí Dome (a dome featuring more than a thousand screens) and the Gaudí Cube (a unique six-sided LED cube).
Using a combination of artificial intelligence, augmented reality, and machine learning, the 10D Experience takes you inside the mind of Antonio Gaudi while he created his masterpiece.
During this never-before experience, you will see the history of this magical house come to life all around you.
You can either opt for the Standard 10D Experience or the Fast Pass access, in which case you can skip all the lines.
Fast Pass entry costs €5 more per person, but you spend less time queuing and more time exploring the stunning building.
Standard entry prices
Adult ticket (18 to 64 years): €35
Seniors ticket (65+ years): €32
Youth ticket (13 to 17 years): €19
Student ticket (with ID): €29
Child ticket (up to 12 years): Free entry
Fast Pass prices
Adult ticket (18 to 64 years): €40
Seniors ticket (65+ years): €37
Youth ticket (13 to 17 years): €24
Student ticket (with ID): €34
Child ticket (up to 12 years): Free entry
Casa Batllo's Magic Nights
Casa Batllo's Magic Nights is a two-hour extravaganza that is sure to leave you speechless.
Visitors spend the first hour exploring the beautiful building with an audio guide and the next hour in a live open-air concert on the Casa Batllo's rooftop.
During the music session, which ranges from pop to rock, blues, flamenco, etc., you get to enjoy two drinks of your choice and soak in stunning views of the Barcelona skyline.
There are three Magic Night experiences to choose from – Blue, Silver, and Gold.
While the Blue Ticket gets you one drink at the concert, the Silver Ticket gets you two drinks.
The Gold Ticket is the most premium, and besides two drinks, it also gets you VIP access, a private hall, and a surprise gift.
On the ticket booking page, you can choose the kind of experience you prefer.
Kids up to six years of age can enter for free, and tickets are required only for visitors seven years and above.
Blue Ticket: €49
Silver Ticket: €57
Gold Ticket: €59
Visual Story: 12 must-know tips before visiting Casa Batllo
Is Casa Batllo worth it?
We feel Casa Batllo is worth every Euro spent on the entrance tickets.
Here are our four reasons –
1. It is beautiful both outside and inside
If the exterior design of Casa Batllo makes your jaw drop, wait till you see the inside.
The Noble hall, the entrance hall, the patio of lights, the indoor garden, the loft, and the roof terrace are just some of the places where you will be mesmerized.
None of Casa Batllo's rooms are furnished, yet you will not even realize it. Such is the beauty of the interiors.
We agree Casa Batllo is expensive to set foot in, but we can assure you that it will be worth every cent.
Don't believe us? Check out this video –
Convinced? Buy Casa Batllo tickets
2. Casa Batllo's video guide is the best
Instead of an audio guide, every visitor to Casa Batllo gets a virtual reality video guide.
The virtual reality video tour gives insights into the incredible detail of Gaudi's creation and design.
This guide also shows pictures of the building from more than 100 years ago for visitors to compare.
Kids love this VR tour at Casa Batllo.
If you are on holiday in Barcelona with kids, we highly recommend Casa Batllo.
3. Opportunity for amazing photographs
Casa Batllo is original in its truest sense. There is no other residential building in the world that even remotely resembles Casa Batllo.
Using lines, colors, shapes, contours, and textures, Gaudi comes up with the interiors that transport you into a fantasy world.
That's why photographers fall in love with Casa Batllo.
4. Casa Batllo narrates a legend
Did you know that the building Casa Batllo narrates the legend of St. George?
Sant Jordi's legend:
Once there lived a dragon that demanded one human being every day so that it won't kill the whole town.
One day it is the turn of the Princess to visit the dragon, but St George steps in to slay the monster and save her.
If you look at Casa Batllo closely, you can observe the following references to St. George's legend.
– The roof of Casa Batllo depicts the dragon's scaly back
– On the roof, you will find a massive cross with four arms, which represents Saint George's triumphant sword inside the dragon's back
– On the lower floors, the previous victims of the Dragon are depicted in the form of skull-shaped balconies and bone-shaped pillars
– The flower-shaped balcony at the top refers to the Princess' balcony
Visitors can see these references to the legend from outside Casa Batllo.
However, to see the two other references, you must step inside.
– In the entrance hall of Casa Batllo, there is a staircase whose upper part looks like a dragon's tail – with lots of vertebrae stringed together.
– The last reference to the legend is in the attic, which resembles that of a ribcage of a large animal.
Do you know any other building that tells a story?
All these specialties make Casa Batllo worth your visit.
Inside Casa Batllo
The compliment 'you are beautiful from the inside out' holds for Casa Batllo.
For after building the facade, Gaudi seems to have given his soul to Casa Batllo.
Let's take a sneak peek into the interior of Casa Batllo.
Entrance Hall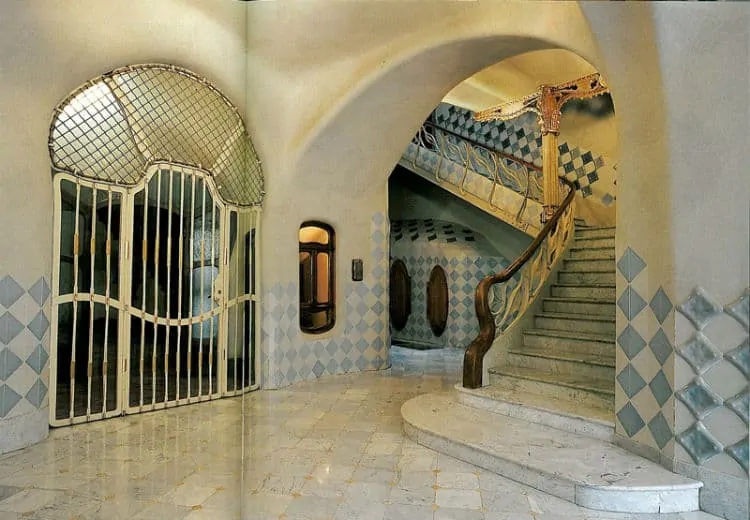 The main entrance of Casa Batllo is divided into two sections – one for the rented apartments and another for the Batllo family.
The entrance hall that leads to the Batllo family's private lounge evokes an underwater experience.
The walls are vaulted and curved with skylights that represent turtle shells.
The railing of the wooden staircase that leads to Mr. Batllo's study looks like animal vertebrae.
Noble Floor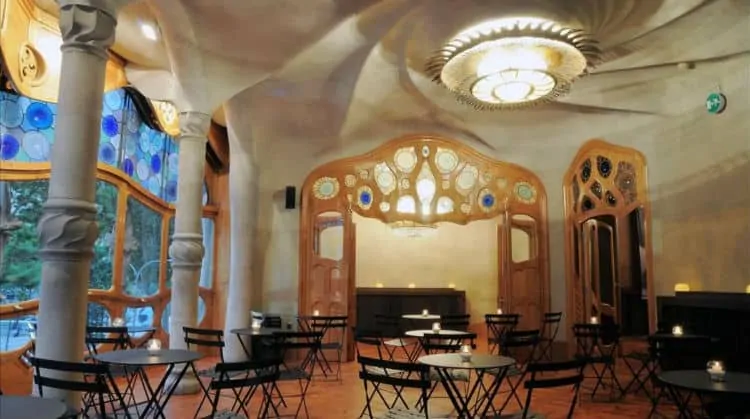 The Noble Floor was the residential area of the Batllo family and is the most creative space.
It has three interconnected sections – Mr. Batllo's study, the living room, and a secluded area for courting couples.
Living Room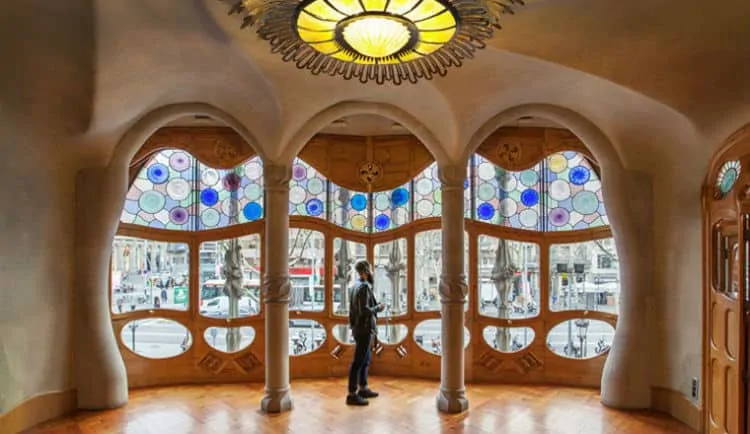 In the morning, you can see the Casa Batllo's living room illuminated by the sunlight streaming in through huge tinted windows.
The size of these windows varies from big on the top to small on the bottom to allow more passage of sunlight.
You will notice that the ceiling tends to spiral down like a whirlpool.
The chandelier in the center makes you feel as if you are staring into the eye of the sea.
Courting Area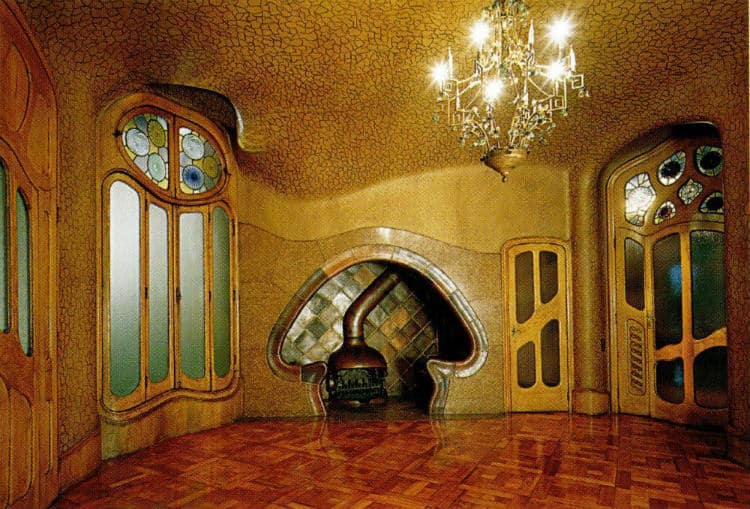 We don't know whose idea it was to include what we now call a 'dating room,' but it is a romantic one.
Gaudi has designed the courting room to provide the couples all the privacy they need.
The major attraction of this room is a mushroom-shaped fireplace.
Patio of Lights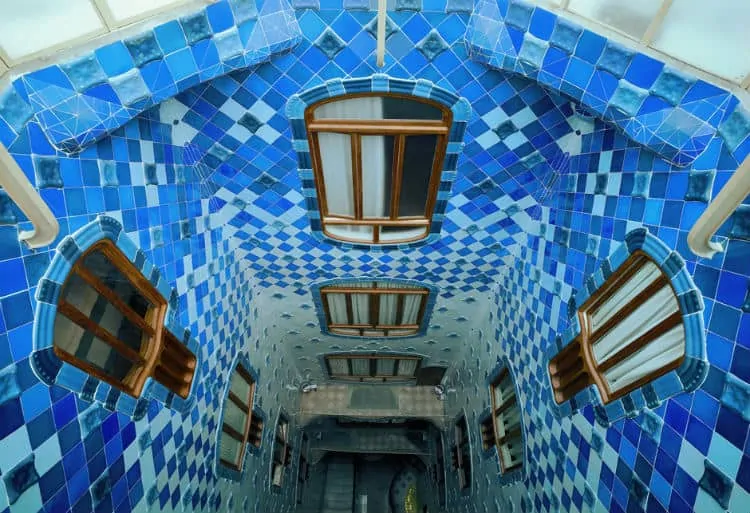 Gaudi wanted light and air to travel to all the rooms through the main skylight.
It is interesting to note the shades of blue tiles that Gaudi used for this portion.
To ensure the uniform distribution of light, he installed darker shades of blue at the top that faded down the bottom.
The Loft
Casa Batllo's loft functioned as a service area for the tenants.
Gaudi used white color for this section, which accommodated storage areas and laundry rooms.
The sixty Catenary arches give an impression of being the ribcage of an animal.
Indoor Garden
Gaudi was a nature lover, and he wanted the Batllo family to enjoy some peaceful time in their private garden.
The garden is attached to their dining hall and contains glass-coated flower pots.
Casa Batllo's roof
Initially built in 1877, Casa Batllo didn't always have the exciting roof it currently has.
However, everything changed when local textile merchant Josep Batllo commissioned Antonio Gaudi to redesign his house in 1904.
Gaudi divided the building into apartments, added the fifth floor, revamped the interiors, added a new facade, and redesigned the roof.
The Catalan architect always put a lot of effort into the roof.
He believed that the roofs gave buildings their personalities.
There are four elements to Batllo House's roof – the Dragon back, the tower and Cross, the four stacks of chimneys, and the terrace.
Roof in the shape of Dragon's back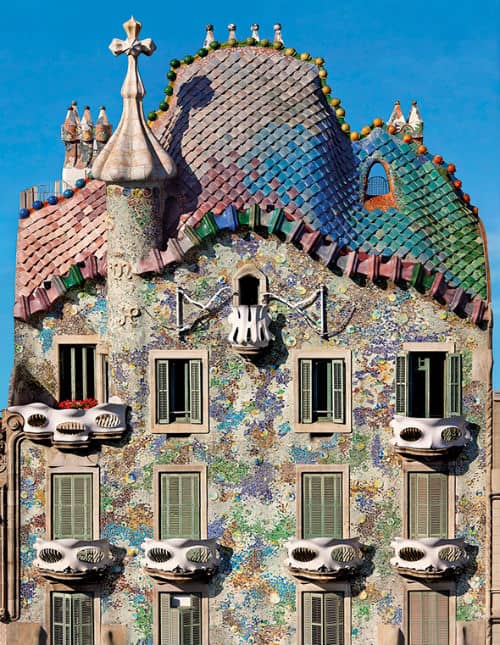 It is hard to miss that Casa Batllo's roof is shaped like a Dragon's back. And on the Dragon's back, its spine distinctly stands out.
A small triangular window towards the right of the building represents the Dragon's eye.
Legend has it that before newer buildings blocked the view, it was possible to see Sagrada Familia from this eye.
The panoramic roof is composed of 600 large tiles, which look like scales.
These large ceramic scales vary in color.
Near the eye, where the Dragon's body begins, the tiles are green.
They turn blue and violet in the center and pink and red towards the tail area of the Dragon.
Keep this color scheme in mind, for we will be discussing it again.
The tower and Cross on the roof
A cross with four arms pointing North, South, East, and West rises from the roof's third element, a tower.
This tower and Cross seem to be inspired by nature and resembles plant life (scroll up to see the image).
Golden colored monograms of Jesus, Maria, and Joseph decorate the tower.
If you stand in front of Casa Batllo and look up, you can't miss these religious references by Gaudi.
Chimneys on the roof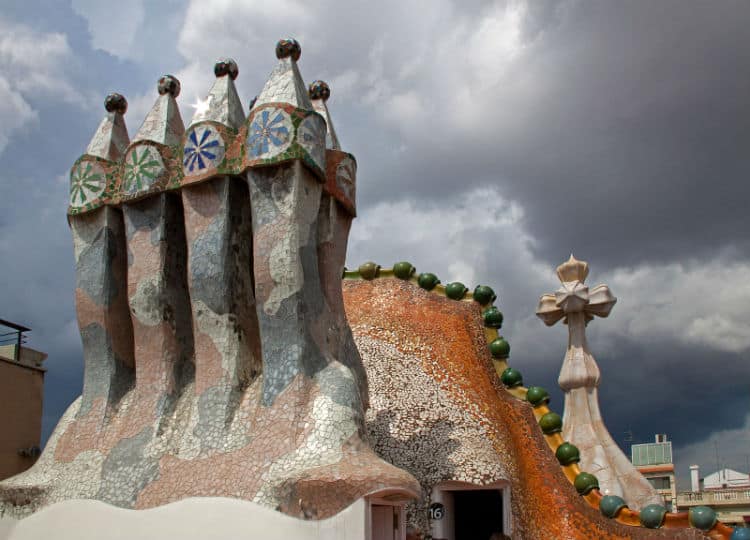 The beauty of Gaudi's architectural ideas was the way he combined utility and design.
He believed that just because something was utilitarian didn't mean that it had to look ugly.
The beautiful chimneys on the Batllo house's roof are proof of Gaudi's philosophy.
The Casa Batllo roof also has four chimney stacks – all stylized and polychromatic. Gaudi designed them to prevent back draughts.
These Gaudi's chimneys are so famous that they provide the backdrop to regular live music concerts held on the Casa Batllo roof.
Casa Batllo's terrace
The terrace of Casa Batllo is an open space offering great views of the Passeig de Gracia.
You will also find the entrance to a small room on the terrace, which now hosts a small water fountain.
When the Batllo family lived in this house, they used the room to store water.
Casa Batllo FAQ
If you are planning a visit to Casa Batllo, it is pretty natural to have questions.
Here are the most often asked questions about Gaudi's Casa Batllo in Barcelona.
When was Casa Batllo built?


The first phase of Casa Batllo's was built in 1877 and included the basement, ground floor, and four floors on top.

In 1903, the Batllo family bought the house and named it Casa Batllo.

And the following year, they decided to refurbish and redecorate the house.

Construction started in 1904 and lasted till 1906.

Who built Casa Batllo?


Two architects have contributed to building Casa Batllo.

However, the influence of the second architect is the greatest – and that's why it is so popular among tourists.

Emilio Sala Cortés, a Professor at the Barcelona School of Architecture, built Casa Batllo in 1877.

Back then, there was no electricity in Barcelona.

Twenty-seven years later (in 1904), his student Antonio Gaudi was commissioned to refurbish Casa Batllo.

Gaudi changed it so much that today it is also referred to as Casa Batllo Gaudi.

Who was Gaudi?


Antoni Gaudi was a Catalan architect who left an inedible mark with his masterpieces all over Barcelona.

Some of his other masterpieces include Sagrada Familia, Park Guell, Casa Mila, etc.

Gaudi was inspired by nature, so he refused to use straight lines in any of his work.

He loved working on a grand scale, and its best example is Sagrada Familia, which is still under construction even after 135 years.

What is Casa Batllo used for?


The current owners of Casa Batllo Gaudi use the building for two purposes – to attract tourists and rent out the premises for high-end events.

In 1995, the owners opened Batllo House for the public for the first time.

The initiative was a hit, and ever since, tourists visiting Casa Batllo have only grown.

In 2005, Casa Batllo became a UNESCO World Heritage site.

Today it is the top-three tourist attraction in Barcelona after Sagrada Familia and Park Guell.

Today Casa Batllo is also rented out to corporates, organizations, and wealthy individuals who want to host their events within its beautiful premises.

Who owns Gaudi's Casa Batllo?


The Bernat Family are the current owners of Casa Batllo.

Interestingly, they are also the owners of the Chupa Chups brand of confectionaries.

The Bernats bought Casa Batllo in 1994 and after restoring the house, turned it into a business initiative.

Today, it is one of the most highly rated cultural and tourist attractions of Barcelona.
Sources

# Wikipedia.org
# Casabatllo.es
# Architectuul.com
# Tripadvisor.com

The travel specialists at TheBetterVacation.com use only high-quality sources while researching & writing their articles. We make every attempt to keep our content current, reliable and trustworthy.
Popular attractions in Barcelona