Casa Batllo or House of Batllo is perhaps the most beautiful residential property ever built.
Antoni Gaudi built Casa Batllo, which now receives more than a million tourists every year, is a major tourist and cultural attraction in Barcelona.
Some of Gaudi's other masterpieces are Park Guell, Casa Mila, Sagrada Familia, Casa Vicens, etc., but Casa Batllo holds pride in his collection.
Inspired by nature, Gaudi has built a dream-like house that all tourists in Barcelona must visit.
Some die-hard Gaudi fans, visit CasaBatlloo at night.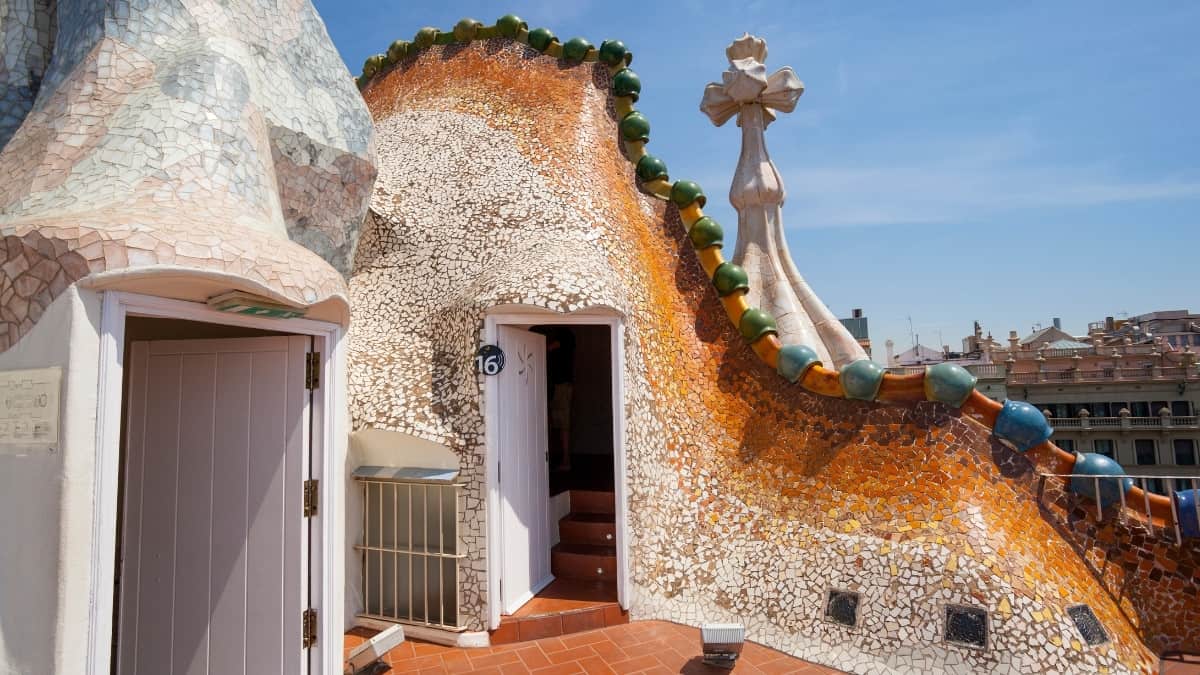 Interesting Casa Batllo facts
Over the years, lots of exciting facts about Casa Batllo have emerged.
Some are documented Casa Batllo facts, and some are just legendary stories.
Some of the below-mentioned facts are academic and while others are just Casa Batllo fun facts.
For example, did you know the fact that there are virtually no straight lines in the entire design of Casa Batllo?
Casa Batllo is named after its second owner
The building was originally built in 1877 by Emilio Sala Cortés, a professor at the Provincial School of Architecture, Barcelona.
In 1903, a businessman named Mr. Josep Batllo y Casanovas bought the building and decided to turn it into his residence and Casa Batllo is named after him.
Mr. Batllo wanted Gaudi to demolish the building
It is a known fact that Mr. Batllo was unhappy with the original design.
He wanted something out-of-the-box, something captivating. He wanted his residence to be the best in the area.
In 1904, he commissioned its remodeling to Antoni Gaudi, the man who had started work on Park Guell in Barcelona just a few years before.
Mr. Batllo gave Gaudi the artistic freedom to create, and the architect didn't let him down.
He even gave the architect permission to demolish the building and start afresh, but Gaudi decided against it.
Gaudi's architecture professor originally built Casa Batllo
The building Antoni Gaudi had to improve was originally built by one of his professors.
When Gaudi was studying at the Provincial School of Architecture in Barcelona, Prof Emilio Sala Cortés used to teach him architecture.
Some believe that when Mr. Batllo asked him to demolish and rebuild Casa Batllo, Gaudi refused—and reformed it instead.
Gaudi got Casa Batllo project because of Park Guell
The Catalan architect Gaudi had started work on Park Guell in 1900. He would continue to work on it for the next 14 years.
In 1903, when Mr. Batllo was looking for an architect to rebuild his residence, he came to know of Gaudi's work at Park Guell.
Mr. Batllo was impressed by what he saw at Park Guell and commissioned Casa Batllo's rebuilding to Gaudi in 1904.
Gaudi's design for Casa Batllo almost got rejected
As is today, back then, every residential building's design had to be approved by the local Government in Barcelona.
Being a risk-taking architect, Gaudi planned many features for Casa Batllo, which broke away from Barcelona's building norms.
Gaudi's plan for Casa Batllo was discussed in great detail by the local government, and there was a lot of opposition. Fortunately, in the end, they consented.
Visual Story: 12 must-know tips before visiting Casa Batllo
Casa Batllo lost a competition for 'best house'
Casa Batllo is located on a street named Manzana de la Discordia.
Manzana de la Discordia means the Apple of Discord.
In Greek mythology, an apple was given by Eris to 'the fairest' that led to discord between three goddesses and, eventually, the Trojan War.
Casa Batllo shares its location on Manzana de la Discordia with four other fashionable buildings –
Around the time Gaudi was building Casa Batllo, Barcelona City Council had announced a competition for the best urban house, and many families were competing.
Five of the competing houses were on this street called Manzana de la Discordia, where 'discord' refers to the rivalry of the architects.
Batllo's house got nominated, but unfortunately, it didn't win the award.
Casa Batllo is a tribute to Saint George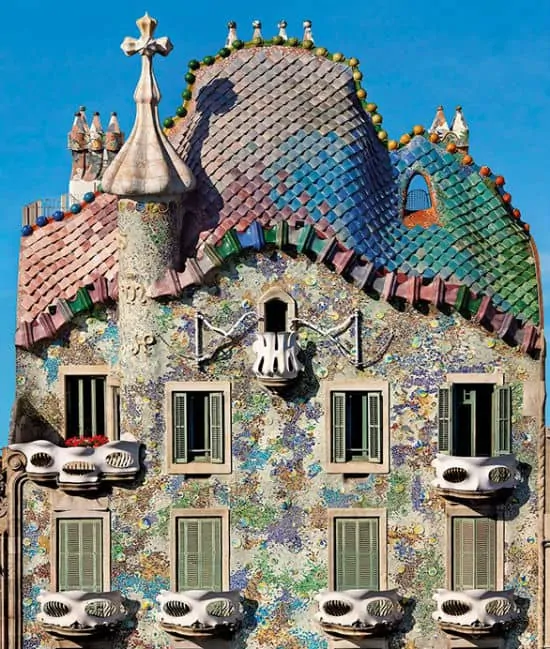 A standard theory exists that Casa Batllo pays tribute to the patron saint of Catalonia, Saint George, and his legendary battle with a dragon.
It is believed that the roof is a dragon and the spire-like structure on the left of the top represents 'Ascalon,' the sword of Saint George, that plunges into the back of the dragon.
The wooden lift in Casa Batllo works even today
Did you know that Casa Batllo sports some exciting features that are unlikely to be seen inside a typical house?
The first lift to be installed in a skyscraper was in 1885 in Chicago, USA.
Just 20 years later, Gaudi was installing elevators inside residences.
Batllo House, for instance, has a wooden lift installed into the patio of lights, which is functional even today.
Gaudi even designed the furniture in Casa Batllo
Antoni Gaudi loved to design every aspect of his spaces with care and precision.
It wasn't just the building; he also worked on the furniture the inhabitants would use in the house.
His furniture was both ergonomically designed and beautiful – a rare quality in those days.
To some people, his furniture looks strange because they break away from the mold, but he has come in for a lot of praise by the design and architect community in the last couple of decades.
Gaudi and his team designed all furniture in Casa Batllo.
The success of Casa Batllo got him another client
Casa Batllo was redone from 1904 to 1906.
A few years after Casa Batllo was completed, another Barcelona businessman named Pere Mila i Camps contacted Antoni Gaudi.
The businessman had seen Casa Batllo and wanted a similar (if not better) residential house for himself.
The location of Gaudi's next project was just 700 meters (2300 feet) from Casa Batllo. It was eventually called Casa Mila (also known as La Pedrera).
Not many know about this Casa Batllo fact.
Note: Because of this proximity, most tourists see both the Gaudi masterpieces at the same time. Some, however, prefer to visit only one and want to know which is better, Casa Batllo or Casa Mila.
In 1950s Batllo family sold off Casa Batllo
The Batllo family lived on the Noble Floor of Casa Batllo till the mid-1950s.
Josep Batllo died in 1934, and his wife followed him in 1940.
After the death of the parents, the children managed the House of Batllo till 1954.
When managing it became difficult, the Batllo children sold the house to an insurance company named Seguros Iberia.
For the next 40 years or so, Seguros Iberia was run from the rooms of Casa Batllo.
Casa Batllo gets rented out for events
In 1993, Casa Batllo got the current owners – the Bernet Family.
Some refurbishment had already started when they had bought the house. They continued to do the refurbishments throughout the whole building.
Two years later, the new owners started renting out Casa Batllo for various events.
The central location of Casa Batllo Gaudi and its beautiful design immediately created a high demand for the rooms.
More than 2,500 square meters of rooms were available for rent.
Interesting fact: The Bernet family also owns Chupa Chups, a famous Spanish brand of lollipop and other confectionery sold in over 150 countries.
Casa Batllo goes public
In 2002, as part of the International Year of Gaudí, the public was allowed inside Casa Batllo to relish the house's beauty.
Since then, both the activities have co-existed – renting out the premises and ticketed entry for tourists.
A lot of credit goes to the current owners for packaging this architectural gem and presenting it to the rest of the World.
For instance, Casa Batllo's audio guide is perhaps one of the finest in the World (this is a subjective opinion).
Casa Batllo is also known as 'House of Bones'
The local name for the building is Casa dels ossos or House of Bones Barcelona.
The locals called it 'House of Bones' since its facade has a visceral, skeletal look.
Identifiable as Modernisme or Art Nouveau in the broadest sense, this residential property appeals a lot to the kids – for it triggers wild imagination. Find out other Barcelona attractions for families with kids
Gaudi has taken inspiration from nature and tried to stick as close to it as possible.
When you visit Casa Batllo, you will find yourself surrounded by plants, skeletons, dragons, marine life, and various other animals.
It is precisely what Antoni Gaudi wanted when he built the house.
Thus, whether you're an aspiring architect, a culture enthusiast, an art student, or simply a tourist, Gaudi's Casa Batllo is a must visit.
What are you waiting for? Book your tickets right away!
When you buy this ticket online, you save 4 Euros (because you don't pay the window surcharge) and avoid the queue.
Sources

# Casabatllo.es
# Discoverwalks.com
# Theculturetrip.com
# Wikipedia.org

The travel specialists at TheBetterVacation.com use only high-quality sources while researching & writing their articles. We make every attempt to keep our content current, reliable and trustworthy.
Recommended reading
# Sagrada Familia facts
# Camp Nou facts
# La Pedrera Facts
# Park Guell facts
# Casa Mila facts
Popular attractions in Barcelona