Barcelona is a vibrant and beautiful city and makes for an excellent holiday destination.
The Spanish capital attracts more than 30 million tourists every year. More than half of them, come with their kids in tow.
The city has plenty to offer for kids of all age groups – toddlers, pre-teens, and teenagers as well.
From stunning architecture to beautiful open spaces, Barcelona is perfect for a holiday.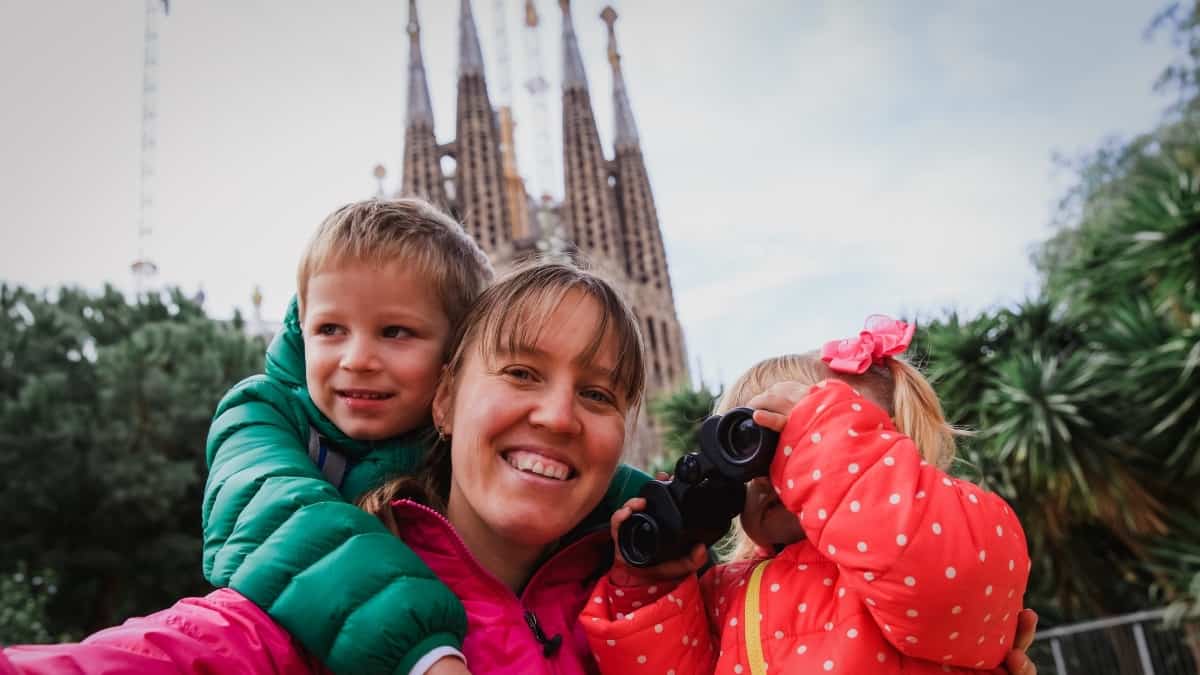 Sagrada Familia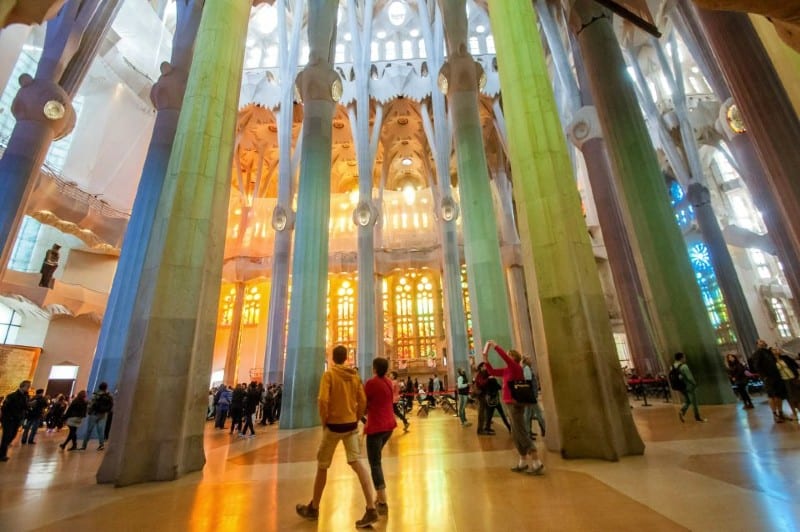 La Sagrada Familia is Spanish architect Antoni Gaudi's most celebrated work.
Its construction started in 1882, and is expected to finish by 2026 – that's a whopping 144 years! More Sagrada Familia facts
Sagrada Familia must be on your 'must visit with kids' list. Let your kids see how glorious incompleteness can be.
Show them the most gorgeous church in the world. After all, 5 Million people who visit Sagrada Familia annually can't be wrong.
There is a bit of walking so make sure you and your kids are well rested before the tour.
If you are traveling with kids below the age of 6, be aware that they won't be allowed up the Sagrada Familia towers. In such cases, only book the regular tickets.
Casa Batllo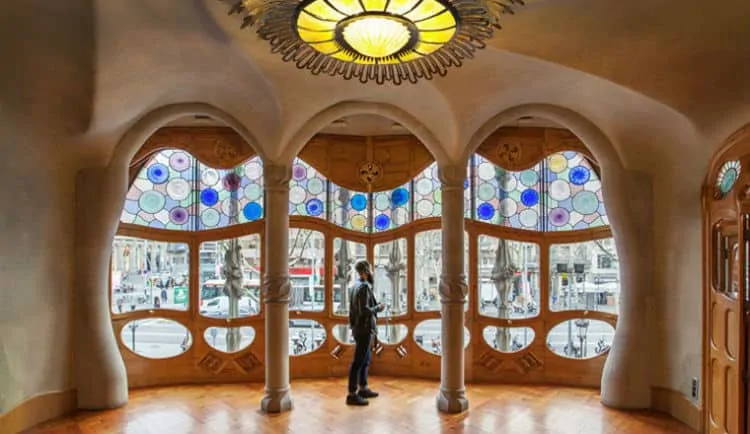 Casa Batllo is yet another marvelous showcase of Gaudi's extraordinary imagination.
Kids love animation and drama, Casa Batllo has both in abundance.
From the outside, Casa Batllo looks as if it has been made from skulls and bones, enough to make your kids feel like they are on set of an animated movie.
No matter how old your child is, one is never too old to be fascinated by a dragon.
When you are standing in front of Casa Batllo, don't forget to look up.
On the roof, there is a slain dragon representing the dragon that was slain by St. George.
Don't be surprised if your children demand to have a dragon on their rooftop after returning from Casa Batllo.
Park Guell
Park Guell is yet another kid-friendly attraction in Barcelona.
It seems like a theme park but was originally intended to be a gated residential community of 60 houses.
Park Guell is a fun attraction for kids of all age groups and receives more than 3.5 million tourists annually.
A mosaic lizard on the entrance and other animals in the different parts of the park will be nice photo opportunities for your kids.
The more you explore Park Guell, the more interesting it gets.
Go there prepared as your kids are going to ask a lot of questions about the Ginger Bread House, the serpentine bench, the colorful Salamander etc. Learn Park Guell facts
PortAventura + Ferrari Land
If you plan this trip with your kids, you get two theme parks at the cost of one.
Located in the south of Barcelona, PortAventura and Ferrari Land is a magnificent world of waterslides, rollercoaster rides, and lots of fun activities that everybody in the family can enjoy.
PortAventura has six zones including Shambhala roller coaster (the fastest and tallest hypercoaster in Europe), Sea Odyssey 4D, and mirror maze El Secreto de Los Mayas.
If your kids love cars, they will love the Ferrari World, which is a theme park within a theme park (it is a part of PortAventura)
The world of fast cars and technology will be at their disposal. There are lots of rides such as Trill Towers, Red Force, and F1 inspired Pole Position Challenge.
This is quite popular with families because it offers two flavors for the price of one.
You can also buy one ticket that gets you direct entry to both the attractions.
Barcelona Aquarium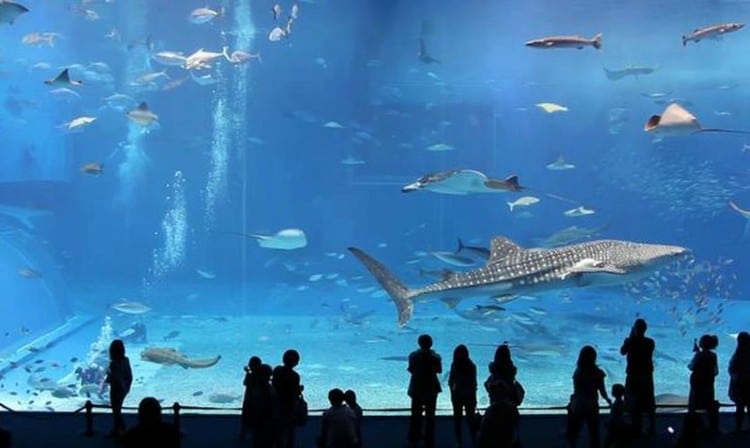 Barcelona Aquarium is the perfect choice for a family day outing with kids. Especially on a hot or a rainy day.
L'Aquàrium de Barcelona is made up of 21 large aquariums, and an underwater tunnel 80 meters long which together hold more than 6 million liters of water.
This massive aquarium hosts 11,000 animals of 450 different species.
It is one of Europe's largest and richest collection of marine life.
It attracts more than 2 million visitors annually making it the 4th most popular tourist spot in Barcelona.
A good percentage of these visitors are kids of all ages.
Your trip to Barcelona is incomplete if you miss this little slice of the sea.
This is the ultimate underwater fun you can have with your children without getting wet.
Barcelona Zoo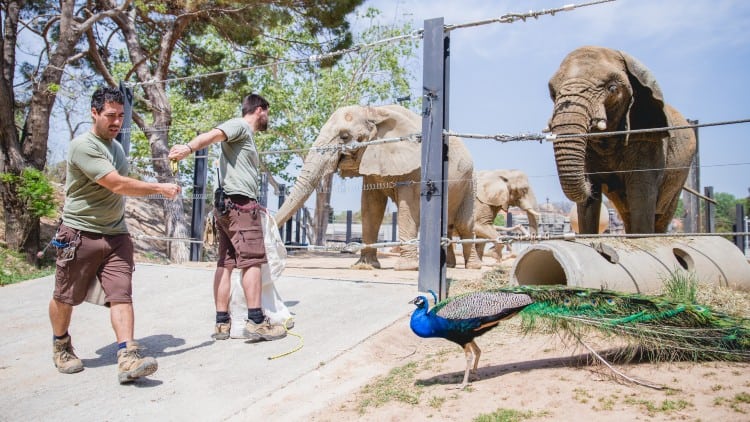 Barcelona Zoo is a popular destination for a day outing spread over 32 acres within the city.
It receives nearly a million visitors annually who visit to see its 2000 animals of 300 different species.
It is also a biodiversity park with 1300 trees, plants, and flowers.
With a rich offering of flora and fauna, Zoo Barcelona is worth visiting, especially for families.
Your kids are sure to love the Land of Dragons, Terrarium, Aviarium, The Farm, Primates Gallery, Marmosets Gallery, Flight Dome, etc.
Camp Nou Experience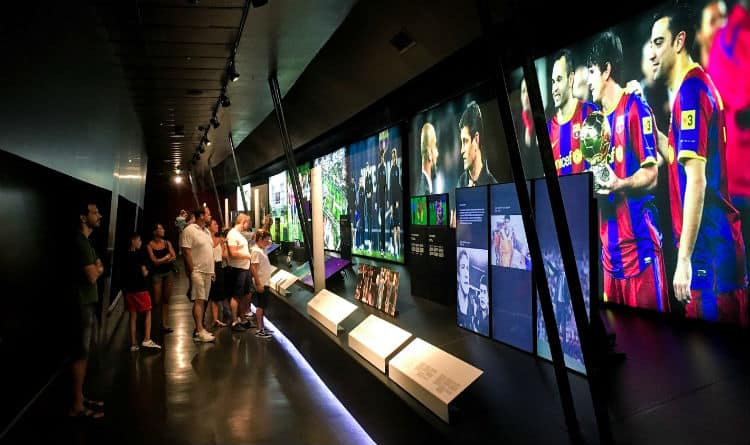 It doesn't matter if your children love football or they don't. Just take them to see Camp Nou.
Camp Nou Experience is dedicated to the very spirit of football and FC Barcelona.
Around 2 million people take this self-guided tour of the Camp Nou stadium and its Museum every year.
As part of this tour, you also get to see the away team's dressing room, the players tunnel, the players' dugout, the Messi Zone, the Press Box and FC Barcelona's chapel.
Montjuic Cable Car
Montjuic Cable Car is one of the most comfortable and exciting ways to see the city of Barcelona.
Your kids will be thrilled to see a bird's eye view of Barcelona.
Montjuic is a small hill located in Barcelona. There are quite a few tourist attractions on this hill.
However, it is the journey to Montjuic which is going to thrill your children the most.
The easiest way to get to the cable car is the funicular railway, as Parc de Montjuïc station is right next to the cable car base station.
The trip to the top of Montjuic is 750-meter-long.
Upon reaching on top of the hill, you can explore the 17th-century hilltop fortress and former prison, Montjuic Castle.
From the top, you get breathtakingly beautiful views of La Sagrada Familia and the Agbar Tower.
Chocolate Museum
When on a holiday in Barcelona with your children, missing the Chocolate Museum will be criminal.
At Museu de la Xocolata, your kids can learn the history of chocolate. How it is manufactured in factories – from the cocoa bean up to how they are packaged and distributed.
At this Museum, one of the best things to see are the famous buildings of Barcelona as chocolate miniatures.
All through your tour of the Museum, the smell of chocolate will tease you – so don't forget to buy some chocolates at the Museum's shop.
The Museum also runs workshop and chocolate making parties for kids.
Tip: While you are at the Chocolate Museum in Barcelona, don't forget to take a sip of the best hot cocoa from the on-site coffee shop.
Poble Espanyol
The Poble Espanyol means 'Spanish Village' and is one of the city's most popular tourist attractions.
It resembles an actual village with replicas of 117 real-life scale buildings from different parts of Spain.
This village is traffic free and is perfect for kids of all age groups.
Poble Espanyol has lots of activities that your kids will love to be a part of.
We highly recommend that your family participates in 'Gymkhana' at Poble Espanyol.
It is a treasure hunting game of discovery and a fun activity for the whole family. As part of this activity, you will be given clues and asked to find different places in the village.
The Gymkhana activity is available in English, Spanish, and Catalan.
Illa Fantasia Waterpark
Illa Fantasia is one of Europe's largest water parks.
In summers when Barcelona is super-hot, your kids deserve a visit to this Waterpark.
This popular tourist attraction is located a 30-minute train ride from the city center.
The Illa Fantasia Water Park has over 22 different water slides, three large swimming pools, a kid's area and places for picnics.
At the waterpark, don't miss the rapids & a pirate-themed maze.
While the kids frolic in the water the adults can relax in the picnic area.
Catalonia in Miniature
Catalonia Miniature Park is the world's biggest miniature theme park in the world and one of its kind in Spain.
Located just 30 minutes' drive and an hour-long train ride from Barcelona, this miniature park is one of the cutest ways to see entire Catalonia in one day.
Kids will be psyched to see all those mini models of buildings and landmarks of Barcelona.
A lovely setup in the woods, Catalonia in Miniature is a 60,000 square meter of the complex with some 147 miniature models.
All these miniature sculptures are so detailed and beautiful that you would be tempted to bring them home. Don't do it though, for that would be illegal.
Caribe Aquatic Park
Summer in Barcelona can sometimes be difficult.
That's why if you are in Barcelona when the sun is high, and you have kids in tow, add Caribe Aquatic Park to your itinerary.
Massive pools, amazing waterfalls, and thrilling rides will we a splashing escape for you and your kids.
Increase the adventure quotient of your Barcelona holiday by riding on King Khajuna, the highest freefall slide in Europe.
Spread across 50,000 square meters, Caribe Aquatic Park is a huge green space with spectacular attractions.
A massive pirate ship with the characters from Sesame Street and lots of twisted slides will keep you entertained the whole day.
Have cool, watery fun with your kids in the summer of Barcelona.
Free things to do in Barcelona with kids
The city of Barcelona has lots of free kid-friendly activities.
The most popular are the numerous beaches in Barcelona. We recommend the Barceloneta, for its lovely sweep of golden sand and promenade backed with restaurants.
If your kids love churches, you can take them to La Catedral. Free entry in the morning and late afternoon makes it worth visiting.
Visit Font Màgica for a water, sound, and light show for free. It was built for Barcelona's 1929 World Exposition and been wowing children ever since.
Barcelona also has some of the finest Parks around, which are perfect for kids between two to ten.
We recommend Turo Parc, Parc de l'Estació del Nord, and Parc de la Ciutadella for good quality time with family and kids.
If you have teenage kids, do take them for a walk along the 1 Km (0.62 Miles) long walkway at La Ramba.
Lined with historical buildings, La Rambla is a great place for a small walk. Especially if you are a food lover.
Sources

# Bridgesandballoons.com
# Runnerbeantours.com
# Tripadvisor.com
# Familydestinationsguide.com

The travel specialists at TheBetterVacation.com use only high-quality sources while researching & writing their articles. We make every attempt to keep our content current, reliable and trustworthy.
Popular attractions in Barcelona