As the name suggests, Icebar is a bar made entirely out of ice and the first of its kind in Spain, which strives to offer a unique and unforgettable experience to visitors.
The bar is kept at a constant temperature of -5 degrees celsius, which is the perfect temperature for the ice to remain solid.
This attraction is the best way to cool off on a hot day and an excellent way to spend an hour or two with friends or family at Barcelona's Icebar.
This article shares everything you should know before booking tickets for the Icebar experience in Barcelona.
Top Icebar Barcelona Tickets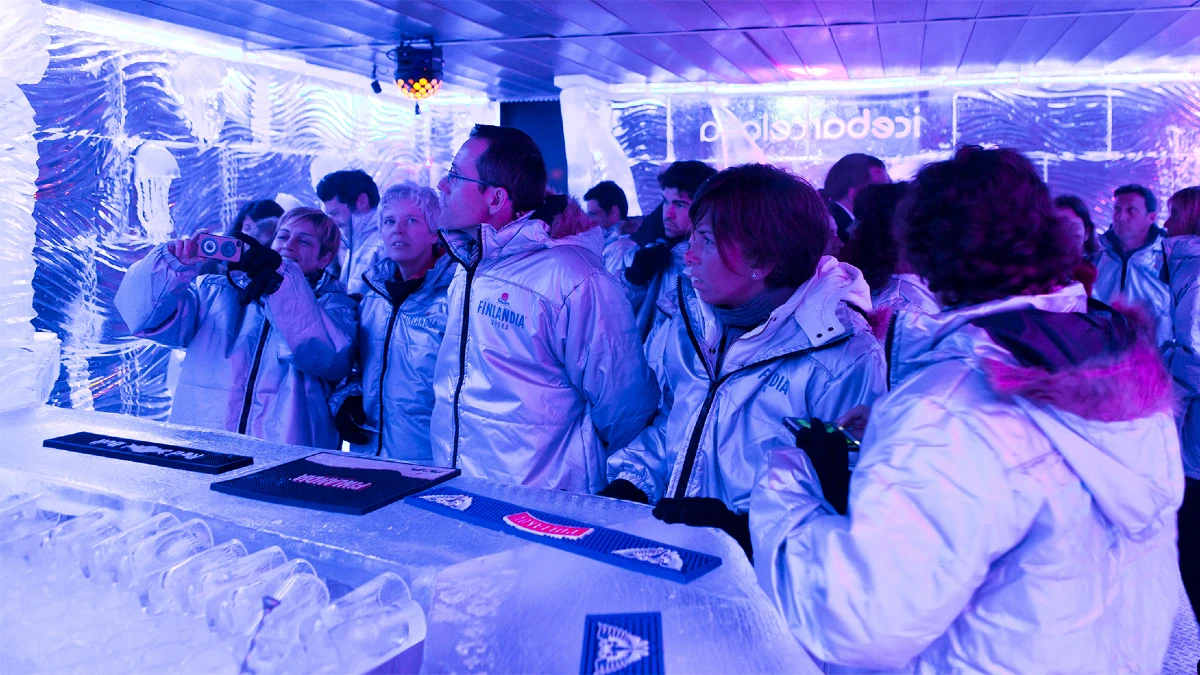 What to expect at Icebarcelona
The Bar at IceBarcelona
The entrance to Icebarcelona is through a large wooden door, which opens to reveal a small room with a few tables and chairs.
Here, you will be greeted by a friendly staff member who will provide you with a warm poncho and gloves to wear inside the bar.
The poncho is designed to keep you warm, and the gloves are essential to prevent your hands from sticking to the ice.
Once you have your poncho and gloves on, you will be led into the ice bar.
You will first notice the stunning ice sculptures that adorn the walls, bar, and even the glasses.
The ice is crystal clear and has been specially treated to ensure that it is hygienic and safe to drink from.
The lighting in the bar changes color every few seconds, giving the room a magical, almost otherworldly feel.
The bar itself is made entirely out of ice and is the centerpiece of the room.
Food and drinks at Icebar Barcelona
The drinks at Icebarcelona are served in glasses made of ice, which is a unique and exciting touch.
The menu features a wide range of drinks, including cocktails, beer, and soft drinks, so there is something for everyone.
The experience of drinking from an ice glass is incredibly surreal.
The drinks are also perfectly chilled, which makes them incredibly refreshing on a hot day.
If you're feeling peckish, Icebarcelona also serves a range of snacks, including nachos, popcorn, and hot dogs.
The food is simple but tasty, and it's the perfect accompaniment to your drink.
The Atmosphere at Icebar in Barcelona
One of the best things about Icebarcelona is the atmosphere.
The bar is small and intimate, so it never feels overcrowded.
The music is upbeat and fun and will keep you energized and excited throughout.
---
---
Where to buy Icebar Barcelona tickets
You can purchase your Ice Bar Barcelona entry tickets online.
Buying tickets online offers you plenty of benefits.
For instance, you can save money as online tickets offer amazing discounts.
You don't have to go through the hassle of booking tickets at the ticket booth, which wastes time.
During peak seasons, Icebar tickets get sold out quickly, but making reservations in advance assures guaranteed entry with your loved ones.
So there is no better way to keep last-minute disappointments at bay!
How online ticket works
Go to the IceBarcelona booking page, select your preferred date, time slot, and the number of tickets, and buy the tickets instantly.
After the purchase, you will receive the tickets in your email.
You don't need to take any printouts.
Show your smartphone ticket at the entrance on the day of your visit and walk into the Ice Bar Barcelona right away.
Cost of Icebar Barcelona tickets
The Ice Bar Barcelona entry tickets cost €19 for all visitors aged 9 years and above.
Children aged between 5 to 8 years get a €10 discount and pay only €9 for entry.
Kids up to 5 years can enter the IceBarcelona for free.
Icebar Barcelona tickets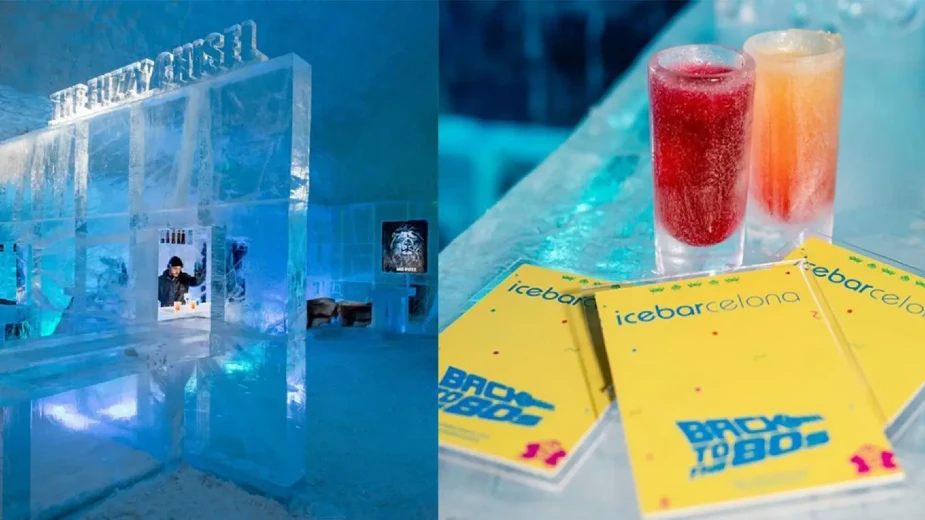 The tickets for Ice Bar Barcelona include admission to the attraction, a jacket, and a pair of gloves to keep you warm.
You will also get a drink served in a glass made of ice.
However, shoes are not provided with this ticket to maintain hygiene.
Ticket Prices
Adult Ticket (9+ years): €19
Child Ticket (5 to 8 years): €9
Save money & time! Buy The Barcelona Pass and see Barcelona's top local landmarks and attractions. Explore the spectacular Sagrada Familia, Park Güell, and Plaça de Catalunya, and enjoy the city tour from the top deck of the hop-on, hop-off bus.
How to reach Icebar Barcelona
Ice Bar Barcelona is situated on the Somorrostro beach, at the beachfront of Port Olímpic, in the neighborhood of Barceloneta.
Address: entrada por la playa, Carrer de Ramon Trias Fargas, 2, 08005 Barcelona, Spain.
You can reach Barcelona's IceBar via both public and private transport.
By Bus
You can board bus number V21 to reach the nearest bus stop Pg Marítim, which is just 3 minutes away from Ice Bar Barcelona.
You can also reach the Av Litoral – Trelawny Bus Stop by boarding bus numbers 59, 136, N0, N6, N8, and N28.
By Subway
You can take metro L4 to the Estació de Ciutadella – Vila Olímpica Subway Station, which is a 9-minute walk from the attraction.
By Tram
Tram line T4 can also take you to the Estació de Ciutadella – Vila Olímpica Station.
By Car
If you're driving, you can turn on Google Maps on your smartphone and get started.
Click Here to check nearby Car Parking Lots.
---
---
Icebar Barcelona timings
IceBar Barcelona opens at 3 pm and closes at 1 am every Monday to Friday.
On Saturdays and Sundays, it opens at 12 pm and closes at 1 am.
However, the timings on Christmas Eve are 12 pm to 7.30 pm, and on Christmas Day, it is 7.30 pm to 3 am.
How long does Icebar Barcelona take
The typical visit to Icebarcelona lasts about 45 minutes, which includes the time taken to explore and enjoy a drink inside the ice bar.
Due to the cold temperature inside the bar, visitors are only allowed to stay for a maximum of 45 minutes.
This prevents anyone from getting too cold and ensures a constant flow of visitors.
Best time to visit Icebar Barcelona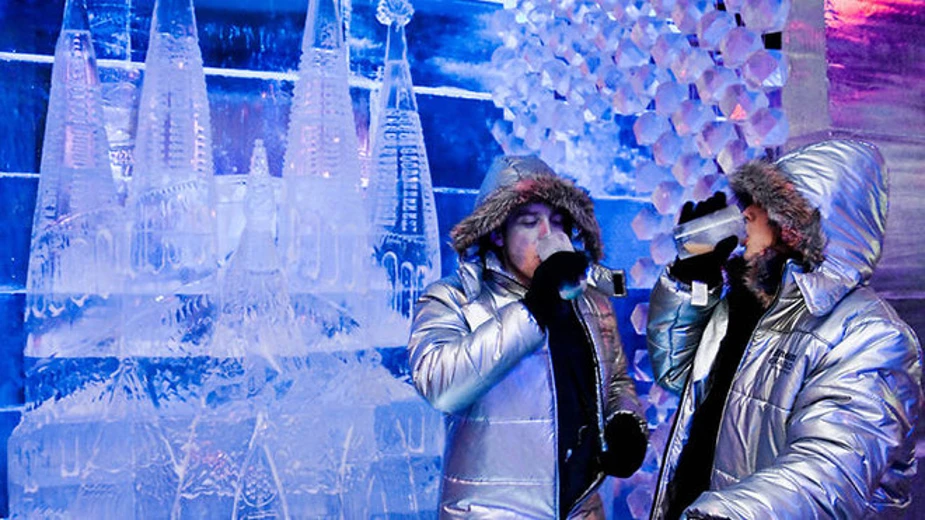 Icebarcelona is an indoor ice bar that maintains a constant temperature of -5°C, regardless of the time of year.
If you prefer to avoid crowds and longer waiting times, it is recommended to visit during the weekdays and during the non-peak season, which is typically from November to February.
Additionally, visiting during the afternoon and early evening hours may offer a quieter and more relaxed atmosphere compared to later at night when it tends to get busier.
Is Icebar Barcelona worth a visit
Icebarcelona is an experience that should not be missed.
The drinks are fantastic, the atmosphere is incredible, and the ice sculptures are breathtaking.
So, if you're looking for a little something different yet unique to do in Barcelona, be sure to check out Icebarcelona.
Popular attractions in Barcelona