Montserrat is a beautiful mountain 60 Kms (37 Miles) from Barcelona, on top of which sits the gorgeous Montserrat Monastery.
Tourists visit Montserrat for multiple reasons:
– To see the beautiful multi-peaked rock formations of Montserrat
– To visit the Montserrat Monastery & Museum
– To seek the blessings of Our Lady of Montserrat, the patron saint of Catalonia
– To hike on the Montserrat mountain
– To listen to L'Escolania, the boys' choir at Montserrat
In this article, we explain everything you need to know before visiting Montserrat, Spain.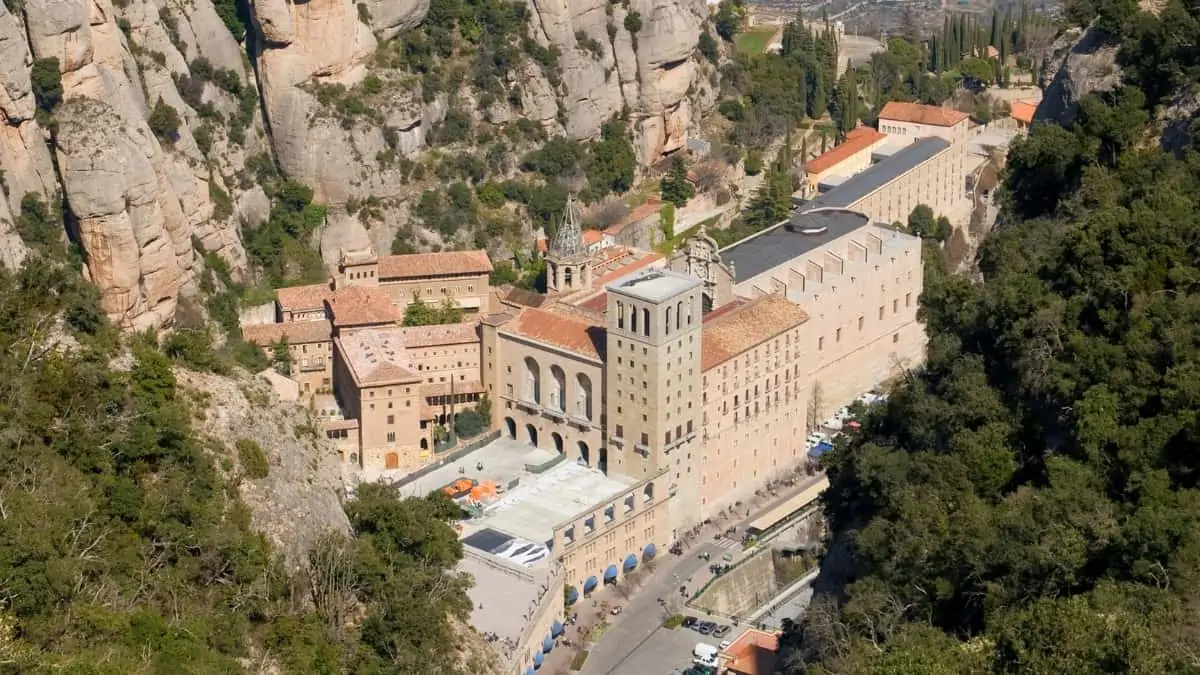 What to expect
Besides experiencing Cable Cars, Rack Railways, hiking, stunning views from the mountain top, etc., there is so much to see and do at Montserrat.
Founded in the 11th century and rebuilt in the 20th century, this Monastery, also known as Santa Maria de Montserrat, still hosts 70 odd Monks.
You can't miss the Basilica of Montserrat which was destroyed in the Peninsular War but rebuilt entirely in 1811.
Pay respects to the statue of Black Madonna, patron saint of Catalonia.
Witness the 12th-century figure of the Virgin Mary and baby Jesus elevated above the high altar in Basilica of Montserrat.
Located below the Montserrat Monastery square, the Montserrat Museum houses outstanding art pieces by artists such as Claude, Monet, Caravaggio, El Greco, Picasso, Degas, etc.
Don't miss out on the special exhibition dedicated to images of La Moreneta.
Listen to the Montserrat boys choir sing.
Walk to Santa Cova de Montserrat, where the figure of the Virgin of Montserrat is believed to have been discovered by the shepherds.
En route to the Holy Cave at Santa Cova, you will find lots of sculptures of religious symbols – all these put together are known as the Monumental Rosary of Montserrat.
Where to book tickets
You can buy the tickets to Montserrat Monastery online or offline at the attraction.
Online tickets tend to be cheaper than tickets at the venue.
When you buy online, you can avoid the long queues at the attraction's ticket counters.
Because the attraction's tickets tend to sell out, booking early helps avoid last-minute disappointments.
How online ticket works
Go to the Montserrat Monastery's booking page, select your preferred date and the number of tickets, and buy the tickets right away.
Once you purchase the attraction's tickets, they get delivered to your email address.
There is no need to get printouts of the ticket.
Cost of tickets for Montserrat Monastery
Tickets for Montserrat Monastery Guided Trip with Lunch cost €90 for visitors aged 13 years and above. 
Children aged four to 12 years pay a discounted price of €80 for entry.
Infants aged 11 years and below can enter for free.
Montserrat tickets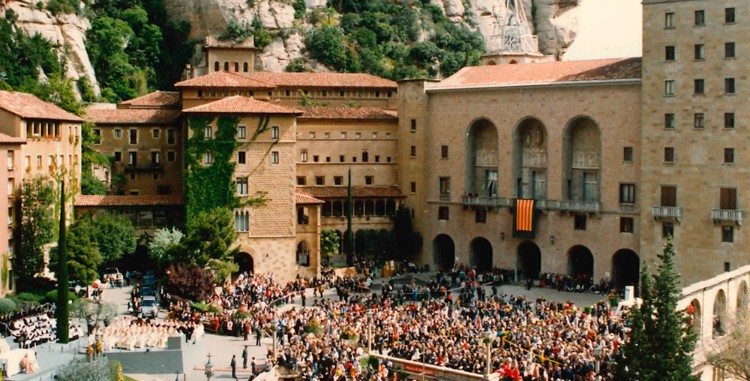 We list below our handpicked tours – the ones most popular with tourists.
If you want to check out all Montserrat tours available, click here.
Cheapest Montserrat tour from Barcelona
This is the most value for money Montserrat tour ticket from Barcelona.
Besides access to Montserrat Monastery, this tour ticket includes roundtrip metro ticket to Plaza España, roundtrip train ticket to Monistrol de Montserrat o Montserrat-Aeri and roundtrip with Montserrat Rack Railway or Cable Car.
You will be able to walk into the glory of the Montserrat Monastery, Montserrat Basilica, Montserrat Museum, and access Moreneta.
The ticket also gives you an admission to Montserrat museum with an engaging audio-visual guide.
You can have an unlimited use of the Santa Cova funicular.
Wind up the trip with the liqueur tasting at the Montserrat shop.
Ticket prices
Adult ticket (13+ years): €47
Child ticket (4 to 12 years): €27
Infant ticket (3 years and younger): Free entry
Montserrat Monastery with hike
This ticket allows you a 5.5 hours guided visit to Montserrat.
Explore the richness of nature cradled in the lap of needle-peaked mountain ranges as you climb your way to the destination.
With the ticket, you will be allowed an entry into the Monastery and train ride on the Sant Joan Railway to observe the area's fascinating flora and fauna.
You will then continue with a soft hike through the greenery of Montserrat Natural Park's scenic landscape.
Make a pitstop to taste the typical Catalan pastry, "coca de Montserrat".
Finally, you can visit the farmers market, the cafe and the souvenirs stores before meeting your guide again to go back to the bus on the way back to Barcelona.
Ticket prices
Adult ticket (9+ years): €65
Child ticket (4 years and younger): €65
Montserrat Monastery with lunch and wine
This ticket gives you access to the picturesque train ride to the Montserrat Monastery.
Enter the grandiosity of the Montserrat Monastery, where your guide will take you through the rich history of the Santa Maria de Montserrat Abbey.
Your ticket allows you to spend some time at the museum and, if you have chosen the full-day tour option, the beautiful boutique winery with mountain views.
You have the option of booking a 3-course meal with wine or a tapas lunch and cheese platter.
Culminate the tour with a stroll through the vineyards, where you can learn about the wine-making process, and enjoy a wine-tasting session before traveling back to Barcelona.
Ticket prices
Adult ticket (13 to 64 years): €90
Child ticket (4 to 12 years): €80
Infant ticket (3 years and younger): Free
If you don't want it to be a full-day affair, we recommend this half-day Montserrat tour from Barcelona.
Save time & money! Buy Barcelona Pass and see Barcelona's top local landmarks and attractions. Explore spectacular Sagrada Familia, Park Güell, and Plaça de Catalunya, and enjoy the city tour from the top deck of the hop-on, hop-off bus.
How to reach Montserrat
There are three ways to reach Montserrat in Spain, and we explain all of them in detail below.
Driving from Barcelona to Montserrat
If you want to get to Montserrat quickly and conveniently, driving is your best option.
While driving from Barcelona, get on B-10 from Via Laietana, and after driving 4 Kms (2.5 Miles) take A-2 to Carretera Manresa.
After driving 35 Kms (28 Miles) on A-2, you must get on to C-55 and eventually to BP-1121 to reach Montserrat.
If you are driving to Montserrat, you can park at two places – right at the Monastery or at the bottom of the Montserrat mountain.
Car park at Montserrat Monastery
Since this car park is right next to the Monastery, it is very convenient for most visitors.
However, we don't recommend it for the elderly or disabled because it is on the side of a hill, and the walk up to the Abbey of Montserrat is a bit steep.
Montserrat Monastery's car park can hold 400 cars and is open 24 hours.
You must pay 6.50 Euros to park your car for a day, and 3.50 Euros for a bike.
Car parking at Rack Railway station
Tourists who prefer to add some excitement to their trip decide to park their car halfway up the Montserrat Mountain – at the Cremallera de Monistrol Vila Rack Railway station.
Parking at this Rack Railway station is free, but you will end up paying for the Rack Railway journey up to Montserrat Monastery.
This parking is an excellent option because you see terrific views of the Monastery from the station (and on your way up).
However, since this is the station's car park, it closes after the last Rack Railway service from Montserrat Monastery reaches Monistrol de Vila station.
If you park here, you must be back before the last Rack Railway service if you want to take your car out.
To know the latest timings, check the official Rack Railway website.
Train from Barcelona to Montserrat
Trains are an affordable, fast, and convenient option to get to Montserrat from Barcelona.
If you prefer to travel from Montserrat by train, you must first reach España rail station on the Green and Red metro lines.
At the massive España station look for Line R5 headed towards Manresa.
It is challenging to find Line R5, but if you follow the 'Green signs for Manresa' or the 'Orange signs for Montserrat' (image below), you can easily reach Line R5.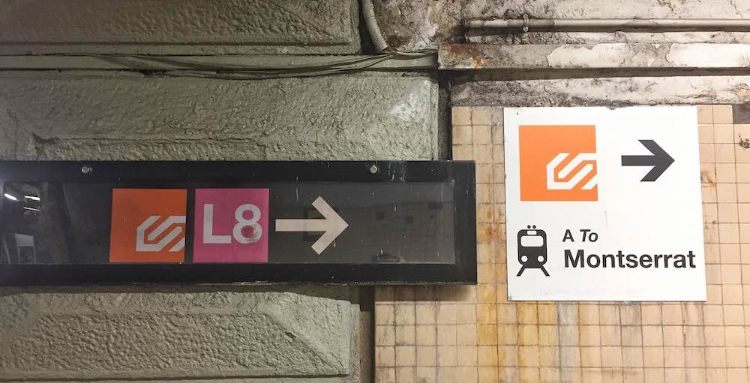 The trains which start from Line R5 at Espana Station take you only to the foot of Montserrat mountain.
From there, to get to the Montserrat Monastery, you can either take the Cable Car or take the Rack Railway Cremallera Funicular.
To take the Cable Car to the Monastery, you must get down at Aeri Montserrat station, and if you prefer to take Rack Railway, you must get down at Monistrol Montserrat station (which comes four minutes later).
Both the Cable Car and Rack Railway take approximately 20 minutes to take you from the foot of the mountain to Montserrat Monastery.
Train timings
The first Barcelona to Montserrat train starts from España rail station at 8:36 am.
After that, there is one train every hour, with the last one leaving the station at 4:36 pm.
The train timing to get back to Barcelona depends on where you board the train – the first station Monistrol Montserrat or the second station Aeri-Montserrat station.
On your return, if you take the Rack railway Cremallera Funicular to get to the foot of the mountain, you will be boarding the train to Barcelona at the first station Monistrol Montserrat.
If you get down from the Monastery to the bottom of the mountain in a Cable Car, you will board your Barcelona train at the second station Aeri-Montserrat station.
The last train from Monistrol Montserrat is at 6.41 pm.
Before this last train, trains leave for Barcelona every hour – going up to the first one at 9:41 am.
These trains starting from Monistrol Montserrat reach Aeri-Montserrat station in four minutes.
That means the first train from Aeri-Montserrat station to España rail station is at 9.45 am, followed by one every hour till the last one at 6.45 pm.
Train tickets
Before you buy train tickets for your Montserrat trip, you must decide on the following –
1. Once you reach the foot of Montserrat, do you want to travel by Cable car or Rack Railway (more about this below)
2. Do you want to buy a one-way ticket or a return ticket (we recommend the return ticket)
3. Do you want to buy 'ToT Montserrat ticket,' which besides covering all transport, also gets you free entry into the Montserrat Museum and includes a buffet lunch at Montserrat Restaurant
Whatever your choice, the Montserrat tickets are available for purchase at PlaçaEspaña station from ticket booths in front of Line R5 to Manresa.
How long does a visit to Montserrat take
If you are traveling from Barcelona, a visit to Montserrat is a full-day trip.
If you travel by train, you need 90 minutes one way – one hour for the train part of the journey and approximately 30 minutes for the Cable Car or Rack Railway.
Even if you travel by road (private car or coach tour), you will need approximately 90 minutes to reach Santa Maria de Monastery Abbey.
Once on Montserrat mountain, there is lots to see, and you will need at least three hours to explore everything.
If you plan to hike up the Montserrat mountain and have lunch or dinner, you may need around five hours.
Map of Montserrat Monastery
There are lots of things to see and activities to do at Montserrat.
Visitors regularly tend to get lost or miss a must-see item while exploring the Montserrat Monastery.
We recommend you understand the Montserrat map before your visit, especially if you are traveling with kids.

Besides the things to see in and around the Monastery, this map also marks visitor services such as restaurants, washrooms, ATMs, picnic areas, etc.
Do not miss the walking trails marked on the map.
If you want to refer to this Montserrat layout again, bookmark this page or download the map to your mobile.
Hiking in Montserrat
Many visitors to Montserrat end up hiking – if not a long trail, at least a short one.
There are many walking & hiking trails around the Montserrat Monastery that suit all kinds of hikers.
Map of Montserrat hiking routes
Before you step out in any direction, visit one of the tourist information stands (three in the Monastery!) and get a free map of the Montserrat mountain.
These maps have the most popular hiking routes mapped out, and on the reverse, you will find details such as directions, walking difficulty, length of the walk, etc., about each hiking trail.
Preparing for Montserrat hike
There are both easy and challenging walk/hike trails at Montserrat.
Whichever path you choose, you must stick to a few basic rules of hiking –
1. Wear sturdy footwear
2. Carry water, because most of the walking routes are exposed, and it can get hot
3. Keep a printed copy of the map with you (if possible, download the offline version of the Google map for this region)
To Montserrat Monastery on foot
One of the best pilgrimage walks in Spain is to start from the foothills of Montserrat and walk to the Monastery, which houses the Black Madonna.
All these pilgrimage walks start from the small town called Monistrol de Montserrat, at the foothills.
The objective of these pilgrimage walks is to reach the Monastery, as they would have done in the olden age.
Best Montserrat hikes
Numerous walking routes start from the Montserrat Monastery.
However, some of the hiking trails start some distance from the Monastery.
You must take one of the Funiculars to reach the hiking trail's starting point in such a case.
Here is a list of the best walking routes in Montserrat:
1. Montserrat Monastery to The Degotalls
Distance: 3.2 Kms (2 Miles)
Time taken: 50 minutes
Slope: 20 meters (66 feet)
This path is an easy Montserrat hike and is relatively peaceful.
To get to this Montserrat hiking trail, you need to get to the Montserrat Monastery car park and then take the road to the left of the Mirador dels Apostals.
The objective of this hike is to see the Degotalls rock formation and turn back.
This course is also referred to as the Cami dels Degotalls hiking route.
2. Montserrat Monastery to Santa Cova
Distance: 2.7 Kms (1.7 Miles)
Time taken: 1 hour 20 minutes
Slope: 120 meters (394 feet)
This path is one of the most popular Montserrat hikes, especially with religious hikers, because an image of the Virgin Mary is believed to have been seen at Santa Cova.
To find this Catalonian hike trail, you must get onto the paved path in between the Montserrat cable car and Montserrat rack railway stations.
A steep 20-minute hike gets you to Santa Cova Funicular's lower station.
If you continue walking along the 'The Path of the Rosary,' in approximately 20 minutes, you'll reach the base of St Paul's Needle.
From St Paul's Needle, Santa Cova is only a 25 minutes' hike.
While returning, you have two options – take the steep incline back or hop onto the Santa Cova funicular.
3. Sant Joan Funicular station to Montserrat Monastery
Distance: 5.2 Kms (3.2 Miles)
Time taken: 1 hour 30 minutes
Slope: 150 meters (492 feet)
To get to the starting point of this Montserrat hiking trail, you need to take Sant Joan Funicular from the Monastery to Sant Joan.
Sant Joan is also known as the upper station.
Once you get out of the station, on your left, you will spot the entire trail going left – stick to it till you reach the Holy cave in Santa Cova.
This walk is nice and even, and during a good stretch of the hike, you get to see fantastic views of the Llobregat Valley and the River Llobregat.
4. Sant Joan Funicular station to the top of Montserrat
Distance: 7.5 Kms (4.7 Miles)
Time taken: 2 hours
Slope: 320 meters (1050 feet)
This course is the most difficult of all hiking trails in Montserrat and starts from Sant Joan station.
This hiking route takes you via Sant Jeroni and Flat of Els Ocells and eventually to the highest point on Montserrat mountain.
You get some of the most beautiful views of Montserrat Natural park and Catalonia itself from the top.
However, this hike's difficulty level is high, so set out only if you have hiked before.
For the keen hiker, Montserrat offers a lot more options.
Montserrat climbing
Instead of hiking, if you are interested in climbing Montserrat, you must visit the nearby town called El Bruc.
It is 13 Kms (8 Miles) from the Abbey of Montserrat and is home to La Sargantana, a company specializing in the outdoor experience.
You can rent out climbing equipment and book sessions with them.
Guided group tours
While the 90 minutes' journey from Barcelona to Montserrat is exciting, it can be intimidating as well.
Many tourists don't want the hassle of managing their transport to and from Montserrat because there so many decisions to make.
As a result, group tours from Barcelona to Montserrat are popular.
These Montserrat tours start anywhere from 8 am to 10 am, and usually last seven to nine hours.
Montserrat Cable Car
To take the Montserrat cable car to the Monastery, you must get down at Montserrat de Aeri, first of the two Montserrat train stops.
Once you get down from your train, you can't miss the Cable Car station right there.
Since each trip can only seat 35 visitors, there are long waiting times to get into the Cable car during peak seasons.
The journey from the Cable Car station to the Montserrat Monastery is five minutes of visual treat over the Llobregat Valley and its river.
The Cable Car travels at a speed of 5 meters/second at a 45% gradient.
If you have mobility issues, we don't recommend the Montserrat Monastery cable car because once you get down, you need to walk up a slope and some stairs to reach the Monastery.
Montserrat cable car timings
Montserrat cable car operates from 9.40 am to 7 pm during the peak season of March to October.
During the lean season of November to February, the service starts at 10.10 am and ends at 5.45 pm on weekdays, and on weekends it begins at 9.40 am and ends at 6.15 pm.
The Montserrat cable car is frequently available – one every 15 minutes.
Montserrat Rack Railway
The Montserrat Rack Railway is also often referred to as the Cremallera mountain train.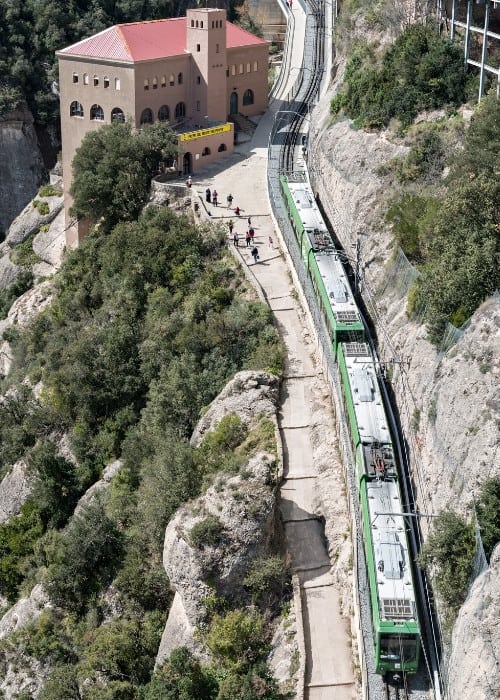 To take the Rack Railway from the bottom of the Montserrat mountain to the Monastery, you must get down from your Barcelona train at Monistrol de Montserrat station.
This station is in a small town of the same name.
There are three stops on the Montserrat Rack Railway – Monistrol de Montserrat, Monistrol Vila, and Montserrat.
To reach the Monastery, you get on to the Rack railway at the first stop and get off at the third stop.
Gitanna / Getty Images
The trip from Monistrol de Montserrat to the Monastery takes approximately 20 minutes.
Important: If you have limited mobility, we strongly recommend the Montserrat Rack Railway.
Montserrat Rack Railway timings
Montserrat Rack Railway operates from 8.35 am to 8.15 pm during the peak season of March to October.
During the lean season of November to February, the service starts at 8.35 am and ends at 6.15 pm daily.
Montserrat Monastery's hours
The Montserrat Basilica, the centerpiece of Montserrat Monastery, is open from 7.30 am to 8 pm.
Mass timings at Montserrat Basilica
Every day, Montserrat Basilica has a mass.
11 am: Conventual mass
On a Saturday, a third Mass is scheduled at 7.30 pm.
On Sundays and holidays, the church has two masses –
11 am: Conventual mass
1 pm: Mass
Montserrat Boys' choir times
Monday to Friday: 1 pm, Salve Regina and Virolai 

Monday to Thursday: 6.45 pm Vespers, Salve Montserratina and Polyphonic Motet 

Saturdays: Rest day

Sundays and religious holidays: 12 pm, Salve Regina and Virolai and at 6.45 pm Vespers, Salve Montserratina and Polyphonic Motet
Choir performance times can sometimes change.
Montserrat Museum hours
The Montserrat Museum opens at 10 am all through the year.
During the peak season of June 11 to September 15, the museum closes at 6.45 pm, and during the rest of the year, it closes at 5.45 pm.
Christmas Day is an exception, for the Museum closes early – at 2 pm.
Throne of Our Lady timings
The Patron Saint of Catalonia can be seen at Santa Maria de Montserrat monastery from 8 am to 10.30 am and from 12 pm to 6.25 pm.
From 15 July to 30 September, the peak tourist season, tourists can see her from 7.15 pm to 8 pm.
Restaurants at Montserrat
When it comes to food at Montserrat, there are two options.
1. Bar de la Placa
Bar de la Plaça is a bar cum cafe right in the middle of Montserrat.
It is a perfect place for a quick coffee or a sandwich, and you can choose to sit inside or hang around the tables outdoors.
Bar de la Plaça is open only during the summer months of March to November.
Monday to Friday: 10 am to 5.30 pm
Weekend: 9 am to 6.30 pm
2. La Cafeteria
La Cafeteria has two zones – the self-service zone called 'Servei Express' and 'Canteen' where warm food is served.
While the self-service area serves sandwiches, chips, drinks, etc., the Canteen area serves full meals.
Monday to Friday: 8.45 am to 5.30 pm
Weekend: 8.45 am to 6.30 pm
Sources

# Wikipedia.org
# Barcelona.de
# Montserratvisita.com
# Ticketshop.barcelona

The travel specialists at TheBetterVacation.com use only high-quality sources while researching & writing their articles. We make every attempt to keep our content current, reliable and trustworthy.
Popular attractions in Barcelona