Moco Museum, an independent museum located in Amsterdam, now has a new venue in Barcelona.
Moco Museum Barcelona seeks to make fine art more accessible to the public and attract younger audiences to art.
It houses masterpieces by artists such as Andy Warhol, Banksy, Salvador Dalí, Damien Hirst, David LaChapelle, etc.
In this article, we share everything you must know about Moco Museum in Barcelona.
Top Moco Museum, Barcelona Tickets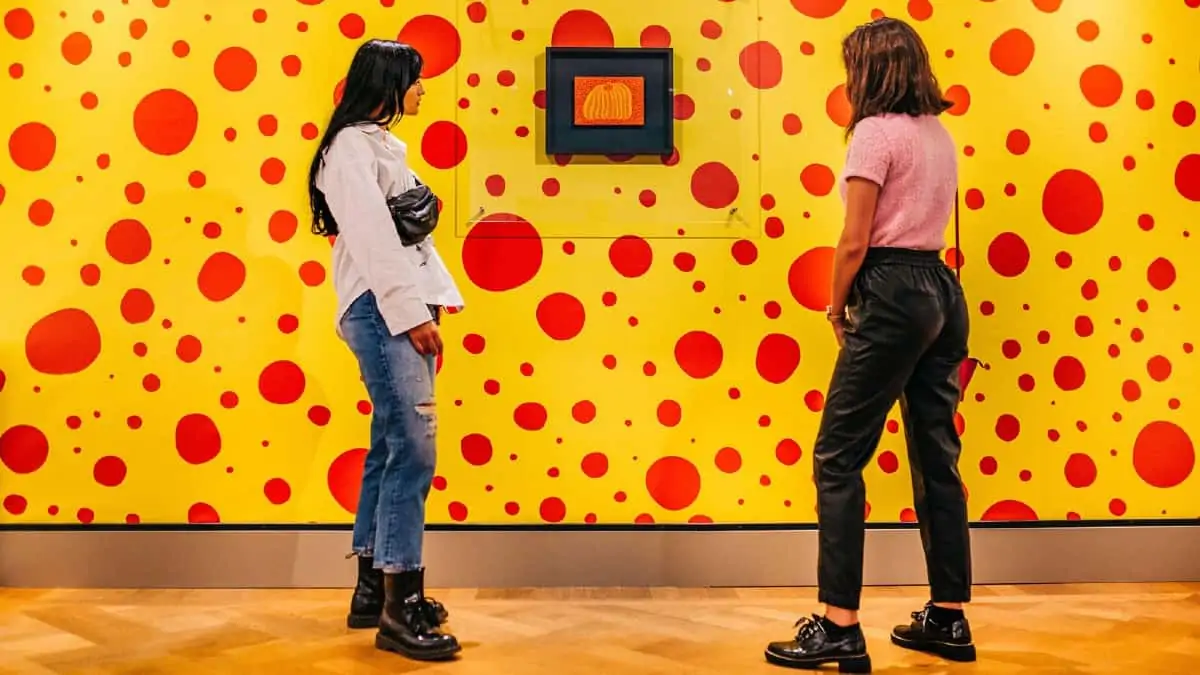 What to expect at Moco Museum Barcelona
The museum showcases modern and contemporary art, besides street art, which is why it is known as MOCO.
The first Moco Museum was opened in Amsterdam, aimed at a young audience not necessarily interested in the art world.
Since the Amsterdam museum opened in 2016, it has welcomed two million visitors, and it is this success that Moco Museum Barcelona will try to replicate.
Modern Contemporary (Moco) Museum will be exhibiting iconic works by internationally renowned artists and rising stars.
Laugh Now
The Laugh Now gallery combines unique street art pieces from Banksy and is a crowd favorite.
Moco Masters Modern
The Moco Masters Modern section exhibits art masters such as Andy Warhol, Jean-Michel Basquiat, Salvador Dalí, Damien Hirst, Keith Haring, KAWS, Yayoi Kusama, etc.
Moco Masters Contemporary
Moco Masters Contemporary showcases the rising stars from around the world. This section showcases artists such as David LaChapelle, Harland Miller, Julian Opie, Hayden Kays, Nick Thomm, Takashi Murakami, etc.
During your visit, do not miss out on the experiential and digital immersive art by teamLab, Les Fantômes, and Studio Irma.
Moco Museum tickets
Moco Museum Barcelona tickets grant you an audience with artworks from some of the biggest names in modern and contemporary art.
These tickets give you access to both the permanent exhibits and the temporary exhibitions.
Where to buy tickets to Moco Museum
You can get your Moco Museum entry tickets at the venue or buy them online, much in advance.
If you plan to get them at the attraction, you must get in the ticketing window queue.
Depending on the time of the day (and month), you may have to wait in the ticket counter line for 15 minutes or more to buy your ticket.
The second and better option is to book tickets to Moco Museum Barcelona online.
When you buy Moco Museum tickets in advance, you save yourself a lot of waiting time by skipping the ticket counter queue.
That is why these tickets are also known as 'skip the line' tickets.
How do the online tickets work?
Once you make the purchase, the tickets get emailed to you.
All you must do is, reach the tourist attraction 10 minutes before the time mentioned on your ticket.
Since you have a ticket and are on time, you can show it on your smartphone and walk into the Moco Museum right away.
Moco Museum ticket prices
Moco Museum ticket costs €16.50 for all adults 19 years and older.
Visitors aged 13 to 18 years qualify for the discounted rate of €11.50 per person.
The art museum also offers a €5 discount to students who can produce a valid student ID at the entrance, and thus they only pay €11.50 to enter.
Unfortunately, the museum doesn't offer discounts for seniors.
Where is Moco Museum, Barcelona
Moco Museum is on the same street – Carrer Montcada – as Picasso Museum Barcelona and just around the corner from the European Museum of Modern Art.
Its address is 25 Carrer de Montcada, 08003, Barcelona. Get Directions
Moco Museum Barcelona is located in a 16th-century structure called Palacio Cervelló.
It used to be the residence of the noble Cervelló family until the 18th century.
Public transport is the best way to reach the modern and contemporary art museum located in Barcelona's El Born neighborhood.
Moco Museum timings
Every day of the week Moco Museum in Barcelona opens at 9 am.
From Monday to Thursday, it closes at 7 pm and on Friday, Saturday and Sunday, it remains open till 8 pm.
The last entry is always one hour before closure.
Moco Museum remains open all through the year, including the National holidays.
Best time to visit Moco Museum
Since this is a newly opened art museum, predicting the crowd pattern is a little tricky.
However, the general rule is that weekends and school holidays get pretty busy, so it is best to visit during weekdays.
The next best time to visit the Moco Museum is Friday evening, around 5 pm.
Since the museum is open till 8 pm on Fridays, you get three hours to explore art.
How long does it take?
The Moco Museum is relatively small, and most visitors will be done exploring in 30 to 60 minutes.
Since the tickets don't have a time limit, you get to explore all artworks and exhibitions at your pace.
Art enthusiasts are known to hang around in the modern art museum a bit longer.
Sources

# Mocomuseum.com
# Tripadvisor.com
# Barcelona.de
# Museos.com

The travel specialists at TheBetterVacation.com use only high-quality sources while researching & writing their articles. We make every attempt to keep our content current, reliable and trustworthy.
Popular attractions in Barcelona