The Dali Theatre and Museum is dedicated to artist Salvador Dalí and houses the most extensive collection of surrealist art in the world.
It is located in Dali's hometown of Figueres, in Catalonia, Spain, and houses 1,500 paintings, drawings, sculptures, etc.
Dali had bought the Figueres' Municipal Theatre, a 19th-century construction destroyed in the Spanish Civil War, and built a museum for himself.
In this article, we share everything you must know before buying tickets to Dali Theatre-Museum in Figueres.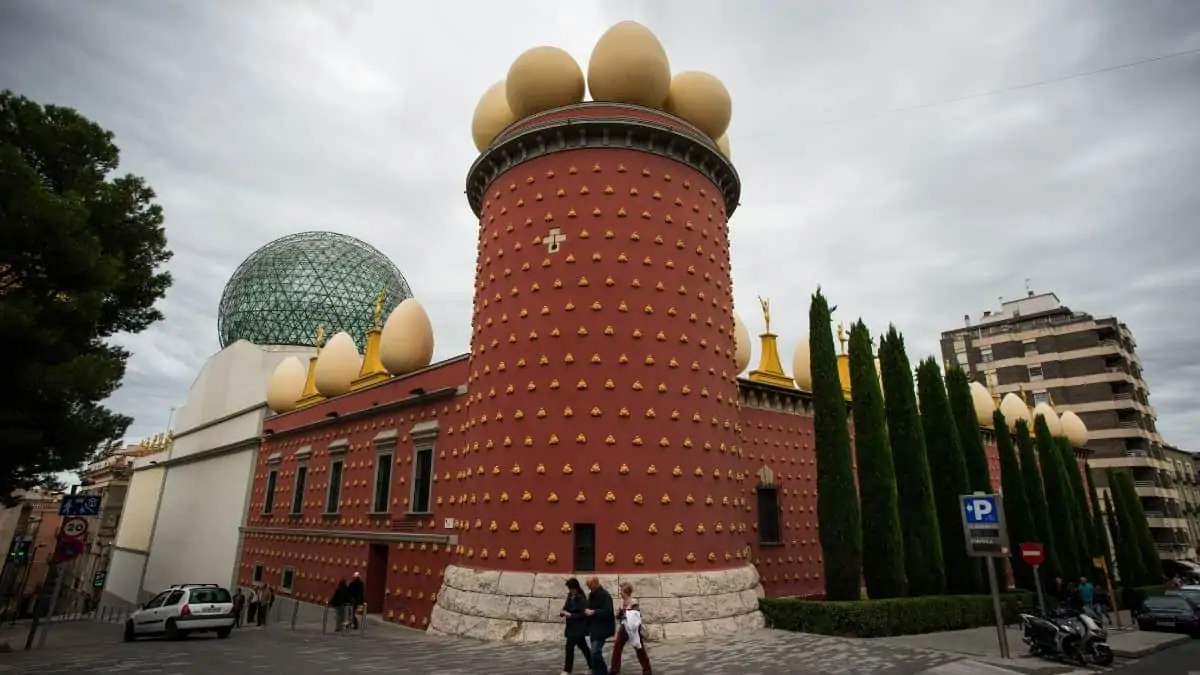 What to expect
Every room, apart from having his art, has also been designed by Dali.
After he died in 1989, the ace Catalonian artist got buried in a crypt at the museum's basement.
Around one and a half million tourists visit the largest surrealistic object in the world every year.
The Dali Theatre and Museum may not be massive, but it has lots to see.
It is important not to get lost amongst the exhibits.
If you have booked a guided tour of the Dali Museum, you don't need its map.
But if you will be on your own, we suggest you understand the its layout by downloading the museum's map.
The Dali Museum in Catalonia has six parts, and you must follow the same order during your visit.
Courtyard and Stage
Ground Floor and Below Stage
First Floor (first part)
Second Floor
Third Floor
First Floor (second part) & exit
Where to buy Dali Museum tickets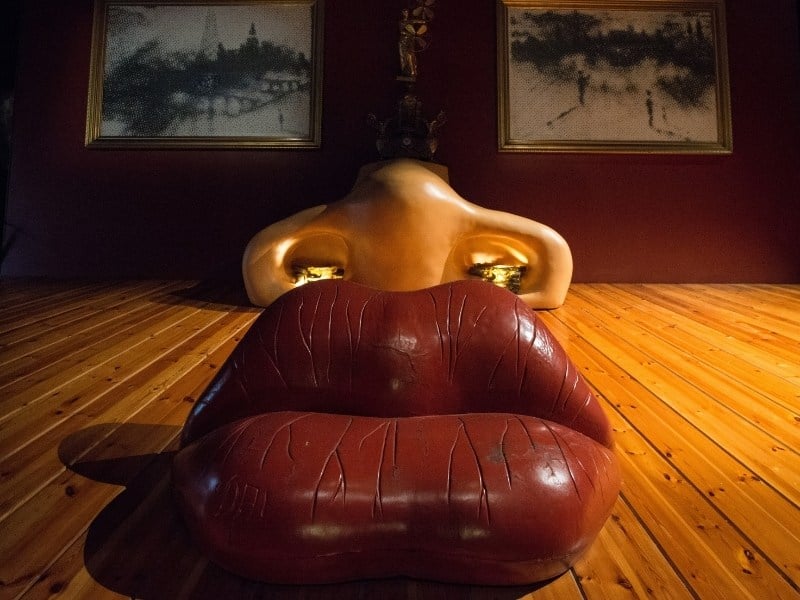 Visitors can purchase their Dali Theatre-Museum tickets online or at the venue.
However, since only a limited number of visitors are allowed to go in at a time, we strongly recommend booking tickets online in advance.
Online prices also tend to be cheaper than tickets at the venue.
When you buy online, you can avoid the long queues at the attraction's ticket counters.
Booking online also helps avoid last-minute disappointments.
How online ticket works
Go to the Dali Museum's booking page, select your preferred date, time slot, and the number of tickets, and buy the tickets right away.
Once you purchase the attraction's tickets, they get delivered to your email address.
There is no need to get printouts of the ticket.
All you have to do is show the e-ticket on your smartphone at the "access with ticket" entrance.
Cost of tickets for Dali Museum
The tickets for Dali Museum cost €19 for all visitors aged 9 years and above.
Disabled visitors with a document certifying 50% disability can also enter for free.
The Dali Museum guided tour tickets are priced at €29 for all visitors aged 9 years and above.
Children aged eight years and below can enter the museum for free, provided they are accompanied by an adult during the visit.
Dali Museum tickets
This Dali Museum ticket gets you access to the world's largest surrealist object.
You will be able to admire the many brilliant exhibitions, including the famous Mae West Room, the Rainy Taxi, Dalí's tomb, Dalí Jewels collection, etc.
With the ticket, be prepared to be surprised around every corner of the museum's unconventional layout which is also an assortment of mirrors, hidden spaces, and unexpected perspectives.
Be compelled to explore the depths of your own imagination as you undertake this immersive journey through the mind of Dali.
Adult ticket (9+ years): €19
Child ticket (up to 8 years): Free entry

Dali Museum guided tour tickets
Dali Museum guided tour tickets allow you priority access ticket to the Dalí Theatre-Museum.
This multilingual tour will be in the language you are comfortable with (English, French, Spanish or Catalan)
Dive into the Dali's world deeper than you would have on a self-guided tour with the help of an expert guide.
Adult ticket (9+ years): €29
Child ticket (up to 8 years): Free entry
Dali Museum tours from Barcelona
There are many kinds of tours from Barcelona to the Dali Museum and its neighboring areas.
We share some of our favorites below –
Dali Museum's timings
Dali Museum's timings vary with seasons.
During the months of January to June and October through December, the museum opens at 10.30 am and closes at 5.15 pm from every day except Mondays.
The timings for the month of September is 9.30 am to 5.15 pm every day except Mondays..
In July and August, the peak months of the museum, it welcomes visitors from 9 am to 7.15 pm daily.
The museum remains closed on 25 December and 1 January.
The last admission is 15 minutes before closing.
Best time to visit Dali Theatre-Museum
The best time to visit Dali Theatre and Museum in Figueres is as soon as they open.
When you start early, you can avoid the crowd and give yourself enough time to explore the city of Figueres.
During the peak season of July to September, the Dali Museum gets crowded, and only a certain number of visitors are allowed inside at a time.
How long does the Dali Museum take
To fully enjoy the visit of the three Dalí Museums, you need at least two days.
However, if you are exploring only the Figueres site, you are likely to spend at least two to three hours, exploring all the rooms and their exhibits spread over the three floors.
This estimation includes the 20 plus minutes you may spend enjoying the outside garden and the ten minutes of sifting through souvenirs in the massive gift shop.
How to reach Dali Theatre-Museum
The Catalonian city of Figueres where the Dali Theatre-Museum is located is 147 kilometers (91 miles) north of Barcelona.
Address: Plaça Gala i Salvador Dalí, 5, 17600, Figueres. Get Directions
You can reach the Dali Theatre-Museum by public transport or your private car.
By bus
Museu Joies is the nearest bus stop to the museum, only a minute's walk away.
By train
Figueres Station, which is 12 minutes walk from the Dali Museum, and Figueres-Vilafant, which is 20 minutes walk, are the closest train stations.
You have five options to get to the museum.
Line Barcelona – Figueres (RENFE)
Line Cervera – Figueres (SNCF)
Line Perpignan – Figueres Vilafant (SNCF)
Line Paris – Figueres-Vilafant (AVE / AVANT)
Line Barcelona – Figueres Vilafant (AVE / AVANT)
Numerous buses can also get you closer to the Salvador Dali Museum in Figueres.
By car
If you are driving from Barcelona to Dali Museum, you must take the AP7 motorway (Barcelona-la Jonquera). And then take the Figueres exit, or take the main road Nacional II (Barcelona-France).
Drive to the city center, and you can't miss the Dali Museum.
Alternatively, turn on your Google Maps and get started.
Dali Theatre and Museum doesn't have a car park of its own, and you must park your vehicle at one of the paid parking places in Figueres such as:
If you want more parking options, check out this map.
The Dalinian Triangle
Salvador Dali had an extensive global influence when he was alive, which continues even today after his death.
In Catalonia, Spain, which was his home, he influenced three places the most – Figueres, Púbol, and Portlligat.
These three municipalities of Catalonia form what is known as the Dalinian Triangle, a territory of around 40 square kilometers.
While Figueres has the Dali Theatre-Museum, Púbol has the Gala Dalí Castle, a unique sanctuary and resting place for his wife, Gala Dali.
From the outside, Gala Dalí Castle is an 11th-century structure, but inside it is one of Dali's great creative works focused on one person, his muse Gala.
Portlligat, a village in the municipality of Cadaqués, has the Salvador Dalí House-Museum, where he lived and worked from 1930 to 1982.
After Gala Dalí passed away, he started staying at the Castle in Pubol.
Visitors who want to better understand the life and works of Salvador Dalí's opt for the Dalinian Triangle tour.
FAQs about Dalí Theatre-Museum
Here are some questions visitors usually ask before visiting the Dalí Museum, Barcelona.
Where can I book tickets for the Teatre-Museu Dalí?
Tourists can buy tickets for the attraction online or at the venue, on the day of their visit. For the best experience we suggest you book your tickets online, in advance.
Which items are not allowed inside the museum?
The Dalí Theatre-Museum forbids the carrying objects larger than 35 x 35 x 25 cm, rucksacks, bags, umbrellas, pushchairs, or any other object inside the museum. Left-luggage facility is available on-site to deposit such objects before entering the premises.
Can I take photographs inside Salvador Dali Museum in Barcelona?
Yes, you can take pictures inside the museum but without flash or the use of tripod or any other photographic accessories. Photos should be for personal use. Photography inside the museum for commercial purpose requires authorization and rights clearance.
Is Dalí Theatre-Museum wheelchair accessible for people with disabilities?
No, the museum is not wheelchair accessible, owing to its location in the ruins of a former theatre.
Can I bring my pet to Barcelona's Salvador Dali Museum?
No other animals excepts service dogs are allowed inside the venue.
Can I cancel/reschedule my visit to the Dalí Theatre-Museum in Barcelona?
Yes, you can cancel or reschedule your visit until 11.59 pm on the day before your visit.
Sources
# Salvador-dali.org
# Wikipedia.org
# Tripadvisor.com

The travel specialists at TheBetterVacation.com use only high-quality sources while researching & writing their articles. We make every attempt to keep our content current, reliable and trustworthy.
Popular attractions in Barcelona