Barcelona Aquarium is one of Europe's largest and richest collections of marine life and has the only Oceanarium on the whole continent.
Barcelona Aquarium attracts more than two million visitors annually, making it the 4th most popular tourist spot in the city after Sagrada Familia, Park Guell, and Camp Nou.
This article explains everything you must know before buying Barcelona Aquarium tickets.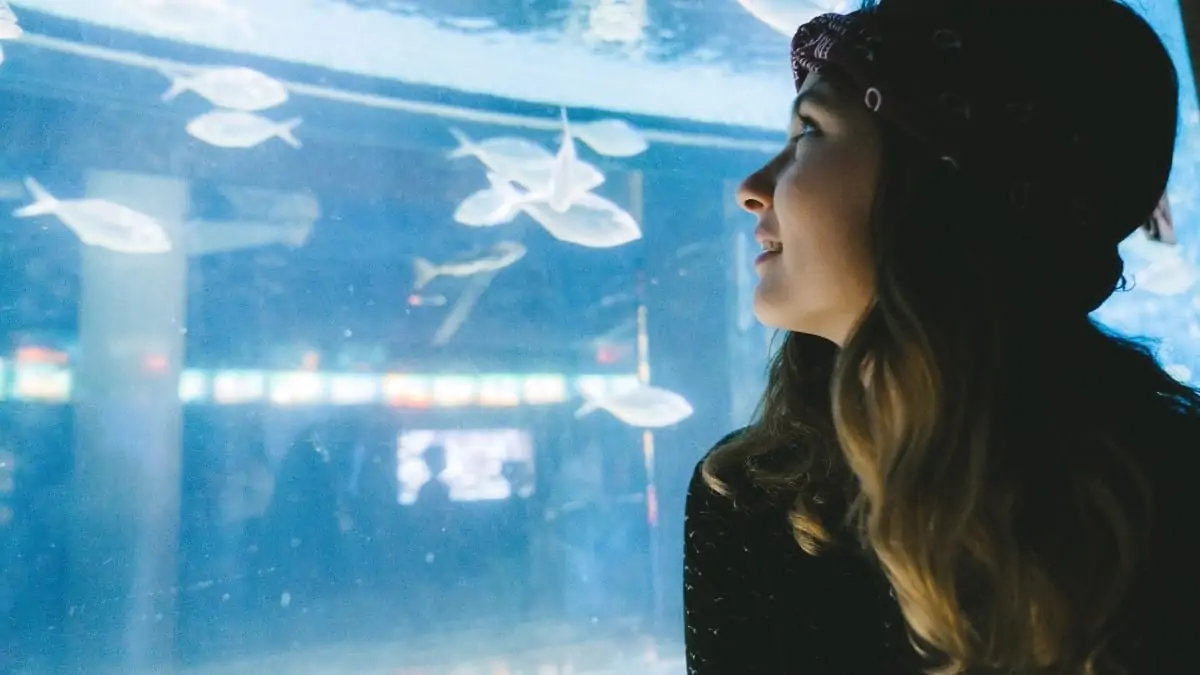 What to expect at Barcelona Aquarium
Barcelona aquarium ticket for all visitors older than 11 years costs €21 while kids between 5 to 10 years pay a discounted price of €16.
If you plan to visit the aquarium and Barcelona Zoo on the same day, you can get the Aquarium and Zoo combo ticket.
Barcelona aquarium tickets
These Barcelona Aquarium tickets get delivered to your inbox immediately after purchase.
You don't need to take printouts.
On the day of your visit, you walk past the ticketing counter queue, show the tickets on your smartphone and enter the aquarium.
This is why these tickets are also known as 'Skip the Line' tickets.
The tickets aren't timed, which means you can enter the aquarium anytime you want and stay for as long as you want.
Barcelona Aquarium prices
Barcelona aquarium ticket for all visitors older than 11 years costs €21 while kids between 5 to 10 years pay a discounted price of €16.
Kids between 3 to 4 years pay only €8 for their entry – getting a whopping 60% reduction on their Barcelona aquarium tickets.
Unfortunately, there are no discounts for seniors or students.
Because of these massive discounts for kids, families visit the aquarium in huge numbers.
Don't forget to carry valid ID cards for visitors availing of these discounts.
Entry to the aquarium is free for children below three years of age.
Online ticket discount
Barcelona Aquarium also offers discounts when tourists book their tickets online.
These discounts range from 10% to 15%, depending on the age of the visitor.
In short, when you book your Barcelona aquarium tickets online, you don't just save time by skipping the long lines to buy tickets, but you also save money.
Ticket price
Adult ticket (11+ years): €21
Youth ticket (5 to 10 years): €16
Child ticket (3 to 4 years): €8
When you buy Barcelona Aquarium and Camp Nou Experience tickets together, you get an additional 5% off. You can visit the attractions on different days. Find Out More
Barcelona Zoo & Barcelona Aquarium
Many tourists visiting Barcelona with kids tend to plan both Barcelona Zoo and Aquarium on the same day.
If you are traveling with kids, this is a great combination to do on a single day.
Barcelona Zoo and Barcelona Aquarium are only 1.5 Km (0.93 miles) apart and can be finished in a day.
It is best to visit the Zoo in the morning (before the sun gets too hot) and land up at the Aquarium by 5 pm.
Early evening is when the crowd gets thin again, and you can be amongst the fish and shark by yourself.
With fewer people, you can also take great photographs.
This combo is a super saver because you also get a 10% discount code, which you can use (five times!) to get discounts on future purchases.
How to reach Barcelona Aquarium
Aquarium Barcelona is in Port Vell, a harbor in Barcelona, Catalonia, Spain.
You can board Metro line L4 and get down at Barceloneta Metro station or board L3 and get down at Drassanes station, next to the Columbus monument.
Public bus routes such as V17 and 39, 45, 59, 91, 120, D20, H14, V13, V15 can also help you reach Barcelona Aquarium.
These busses drop you at the Port Vell from where a 7-minute walk can get you to the aquarium.
Save money with free unlimited rides within Barcelona city. Get Hola BCN card
Aquarium's opening hours
Barcelona aquarium opens at 10 am, every day of the year.
During the peak season of June to September, it closes at 9 pm, in the shoulder months of April, May, and October, it closes at 8 pm, and the rest of the year, the aquarium closes at 7.30 pm.
Barcelona Aquarium's timings:
Period
Opening
Closing
Jun, Jul, Aug & Sept
10 am
9 pm on all days
Apr, May & Oct
10 am
Weekdays: 8 pm
Weekends: 8.30 pm
Jan, Feb, Mar, Nov & Dec
10 am
Weekdays: 7.30 pm
Weekends: 8 pm
The last entry is one hour before closure.
Barcelona Aquarium feeding time
If you visit the aquarium with your kids, we recommend you time your stopover around the feeding times.
Sharks: If you visit on either Tuesday or Friday, you can witness how the sharks at Barcelona Aquarium get fed between 12 noon and 1 pm.
Divers get into the Shark tanks and extend rods into the water onto which the shark's favorite food, such as fish and squid, is impaled.
Penguins: Being the greediest of them all, Penguins get fed twice daily between 11.30 pm and 4.30 pm.
To view this feeding activity, you need to be in the Planeta Aqua Room.
Rays: The Rays get fed by the aquarium staff every day at 2 pm. On Sundays, the visitors don't get to attend the feeding session.
Eagle Rays and Morays: This is a fantastic feeding session at Oceanarium's tunnel every weekday at 12.45 pm.
Kids love these feeding sessions. Book your tickets now!
If you are into wildlife, you must check out Barcelona Zoo & Aquarium Pass, which gives you access to both the attractions and the city's Cable Car service. You also get a 10% discount code, which you can use (five times!) to get discounts on future purchases.
Best time to visit Barcelona Aquarium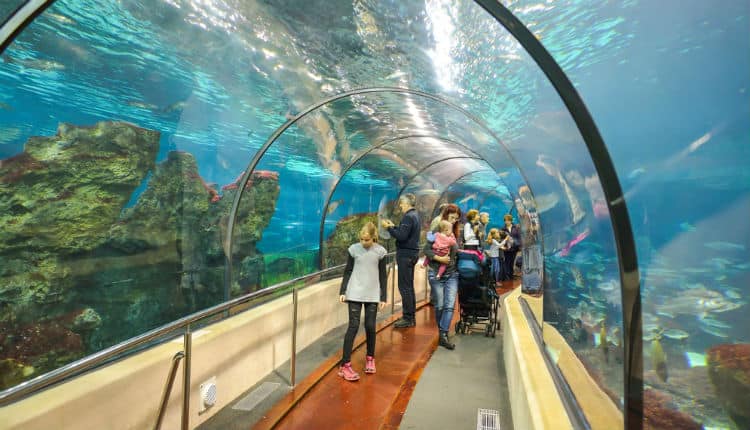 The best time to visit Barcelona Aquarium is as soon as they open at 10 am.
The crowd is yet to come in, and visitors can better view the fish and sharks in the aquarium.
The guides are also fresh at the start of the day, translating to better, energetic tours and detailed answers.
Since Barcelona Aquarium is one of the best things to do with kids in Barcelona, it gets many visitors.
If you want to dodge the crowd entirely, you must avoid the peak months of June to September.
Note: When you buy Barcelona Aquarium's entry tickets much in advance, you can avoid standing at the ticket counters queues and save time. Online tickets are also much cheaper.
How long does Barcelona Aquarium take
If you visit Barcelona Aquarium with kids, you need at least two hours to see all the animal exhibits and attend the feeding sessions.
Since the Barcelona Aquarium ticket has no time limit, you can spend the whole day exploring the sea creatures once you are inside.
If you are with kids or elders and plan to stay longer, we recommend regular breaks for food and water at the restaurants.
What to see at Barcelona Aquarium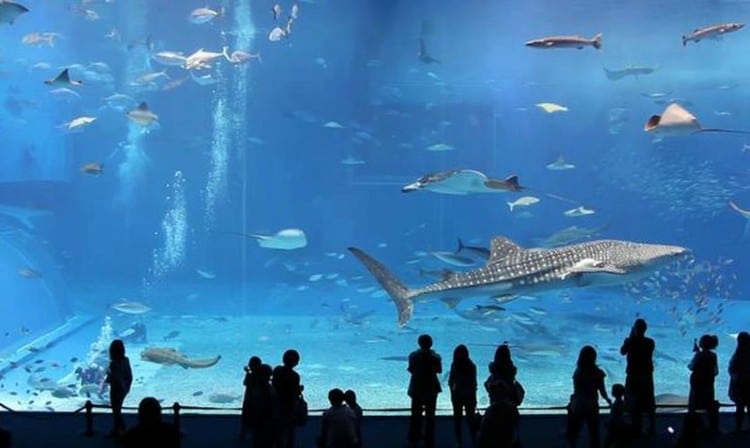 Barcelona Aquarium is one of the largest and most-renowned Aquariums in the world.
It is home to more than 11,000 sea creatures of over 450 different species.
The Oceanarium
With a diameter of 36 meters and a depth of 5 meters, Barcelona Aquarium's Oceanarium is Europe's largest.
It contains almost 4 million liters of water and is home to a large number of species.
Don't miss walking under this 80-meters long transparent tunnel filled with water.
Mediterranean aquariums
Fourteen aquariums representing the Mediterranean's different marine communities form this exhibit.
With each of these aquaria, you learn about the unique species of the region.
Do not miss the two recreations of Spain's coastline – the Ebro Delta and the Medes Islands.
Themed aquariums
The themed aquariums help understand the finer details of marine flora and fauna, which tend to get ignored in large aquariums.
The different themed aquaria are:
– Marine invertebrates
– Seahorses
– Shark Eggs
– Tropical Corals
– Fantastic Creatures under the sea
Tropical aquariums
Kids really love this exciting exhibition which consists of seven aquariums depicting the colors under the sea.
These aquariums are full of coral reefs, the beautiful architectural creations built by colonial invertebrates – corals.
Planeta Aqua
Planeta Aqua is on the second floor and helps the visitors learn about the many ways creatures have adapted to diverse aquatic environments.
You get to see how they have adapted to life in freezing water, the darkness in the deep seas, the relatively warmer tropical water, etc.
This section also has computer games, information, and interactive panels.
Explora! – Children's area
Explora! is an interactive space quite popular with kids of all ages.
Featuring 50+ interactivities in which children can touch, see, listen to, and discover nature, this section aims to raise a child's awareness of the marine World.
Jewels of the sea
In this section, you get to see the most fantastic shells ever discovered in the World.
You also get to see the tools that Malacologists (scientists who study Molluscs) use to study these invertebrates.
If you are interested in squids, octopuses, clams, oysters, snails, etc., you are sure to love this permanent exhibition.
Tripadvisor reviews
Tripadvisor users rate Barcelona Aquarium highly.
We have picked out two of the most recent Barcelona Aquarium reviews for you.
Review 1
A wonderful visit. We have two children aged 3 and 9, and they both loved the Aquarium. Initially, we hesitated to visit as the entrance ticket is quite pricey, and we've seen quite a few marine centers before in the UK. However, it was well worth it. Nice, large layout and decor, spanking clean interiors, fish and penguins beautifully exhibited, and a lovely play area for younger ones. Thoroughly recommend.

Manda2014
Review 2
We visited just for fun. The aquarium was great. Large, lots of tanks and different types of sea life. A long moving walkway surrounded by an enormous tank on all sides and above you. The upper level has the penguins and lots of kids' activities! Recommend it!

CindyRK55
Food and drinks
The Barcelona Aquarium has a restaurant with excellent views of the Sea and the Port of Barcelona.
At this self-service restaurant, you can choose from a variety of different moderately priced dishes.
If you want to stop for a brief while for a soft drink, or a sandwich, we recommend the Aquarium's cafeteria.
Facts about Barcelona Aquarium
Barcelona Aquarium has 21 large aquariums and an underwater tunnel 80 meters long, holding more than 6 million liters of water.
Of the 21 aquariums at this attraction in Barcelona, 14 aquariums represent the diverse marine communities of the Mediterranean.
The other seven are dedicated to the tropical seas – recreating the Caribbean, the Great Barrier Reef, and the Red Sea in one place.
This massive aquarium hosts 11,000 animals of 450 different species.
Sources

# Aquariumbcn.com
# Barcelona.de
# Wikipedia.org

The travel specialists at TheBetterVacation.com use only high-quality sources while researching & writing their articles. We make every attempt to keep our content current, reliable and trustworthy.
Popular attractions in Barcelona