Montjuic Cable Car is a two-in-one experience – it transports you to the top of Montjuïc Hill and also offers fascinating panoramic views of Barcelona on the way up.
The Montjuïc Cable Car links the funicular station at Paral·lel station to Montjuïc Castle, on top of Montjuïc mountain.
During the 752-meter (2467 feet) run above the ground, you sit in modern cabins and get to see Barcelona's most famous structures and landmarks.
While experiencing Montjuic Cable Car, you can also visit other attractions such as Fundació Joan Miró , the Museu Nacional d'Art de Catalunya, Poble Espanyol, etc.
In this article, we share everything you must know before buying Montjuic Cable Car tickets.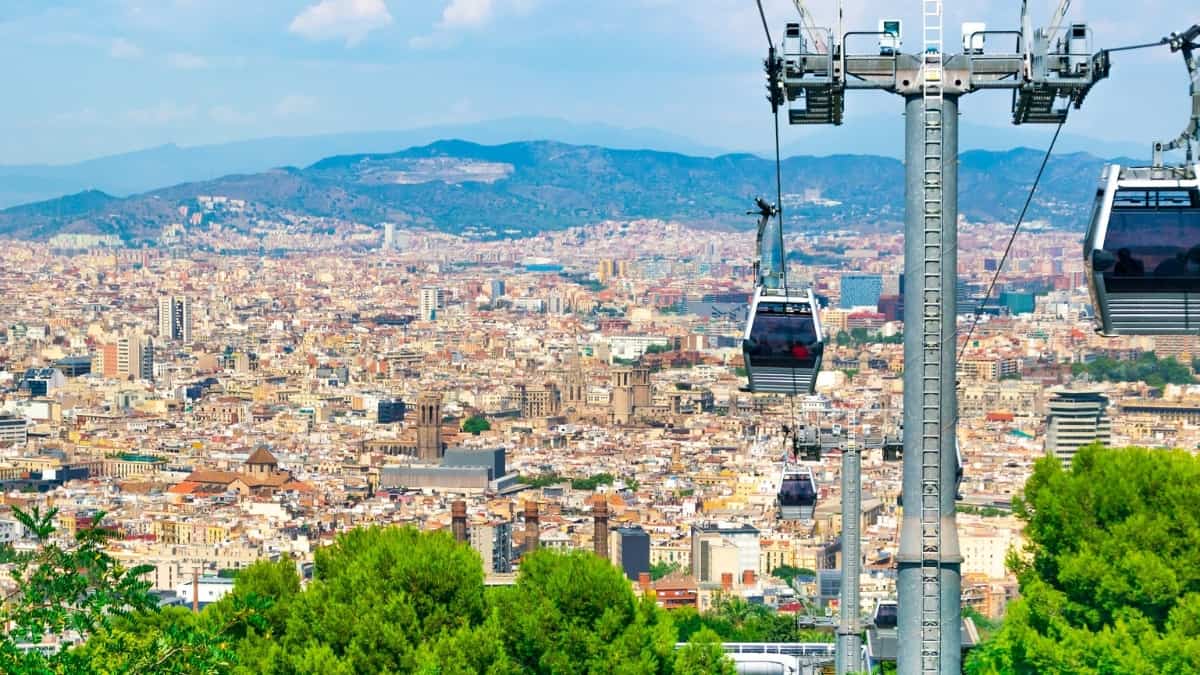 What to expect
Montjuic Cable Car is locally known as Telefèric de Montjuïc.
Check out the video on what to expect during your ride.
Montjuic Cable Car tickets
To board the Montjuic cable car and get to the top of Montjuïc hill, you need to buy tickets.
It is better to purchase Montjuic cable car tickets online because you can avoid the queue at the station's ticket counter.
With these tickets, visitors can hop on and off at any three stations – Parc de Montjuïc, Miramar, and Castell de Montjuïc.
Visitors can either purchase return tickets (available online) or one-way tickets.
One-way tickets are available only at the ticket counters at the stations.
Even though there are other ways of getting to Montjuïc Hill, tourists and most locals opt for the Montjuic cable car tickets because it offers a bird's-eye view of Barcelona.
Departure point
The Montjuic cable car doesn't have a specific departure point. You can use these tickets to board the cable car from any of the three stations.
What does a return ticket allow?
Montjuic cable car's return ticket allows you to board from any station and then get off at any other two stations, explore and then get back in to return.
You can start and end your journey, at whichever cable car station you please.
Validity of the return ticket
Your ticket for a ride on Montjuic cable car is valid for 90 days from the date of purchase.
However, once you use it, it is valid only for that day – you must use it on the same day.
Ticket discounts
When you buy Montjuic cable car tickets online, you get a 10% discount – tickets at the cable car stations are costlier.
The full ticket costs €12.15, and kids four to 12 years get a 30% discount on the prices and pay only €8.73.
Children younger than four years can join the ride for free.
Montjuic Castle & Cable Car
If you aren't on a budget holiday, we highly recommend this three-and-a-half-hour guided tour, including the cable car experience and a visit to Montjuic Castle.
You start the walking tour in the city center, visit the Old Town and the famous Boqueria Market, and numerous attractions on the way before taking the cable car to the hilltop.
After exploring the castle, you visit the building's dungeons.
The final stop is the castle's terrace for the most spectacular, panoramic viewpoints of the city.
With your Montjuic Cable Car ticket, you can get down whenever you want.
If you prefer a full-day tour, check out the six-hour guided tour, which includes a visit to Montjuic Castle, the Magic Fountain, and the Cable Car experience.
Visual Story: 12 must-know tips before visiting Montjuic Cable Car
Montjuic Cable Car route
Locally known as Telefèric de Montjuïc, the Montjuic Cable Car has three stops – Parc Montjuic stop, Castle stop, and Mirador stop.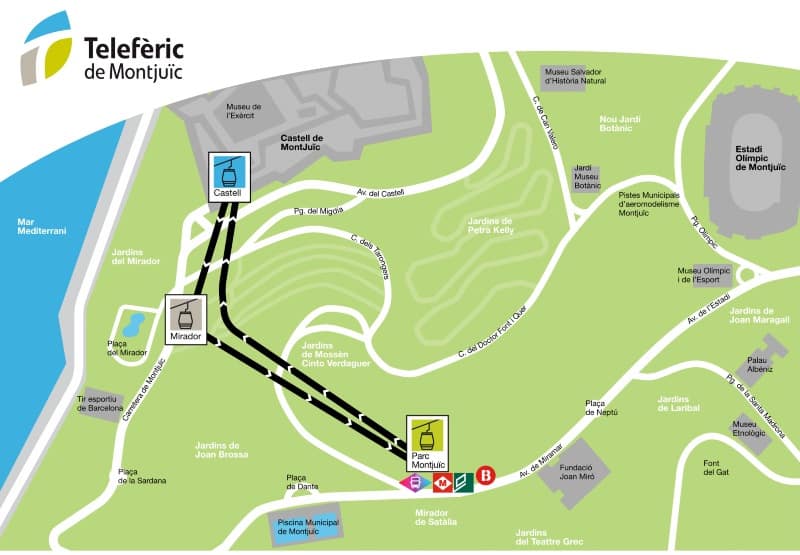 The cable car service starts at Parc de Montjuïc, halfway up Montjuïc mountain on Avinguda de Miramar, and goes directly to the Castle stop. There are no stops in between.
While returning from the Castle, the Montjuic Cable Car takes a different route and stops at the Mirador.
You can continue to stay in the cable car and get back to the Parc Montjuic stop, but we recommend you get down and explore.
From Mirador, the cable car then returns to the starting point – the Parc Montjuic stop.
Some visitors get off at the Mirador stop and walk to Parc de Montjuïc.
Where to get down
Depending on what you want to do, you must choose one of these Montjuic Cable Car stops.
Parc Montjuic
Montjuïc Mountain's main cultural attractions, such as Fundació Miró, the National Art Museum of Catalonia, Poble Espanyol, and Barcelona Ethnological Museum, are all near this stop.
Olympic Ring, the site of the Barcelona '92 Olympic Games, is also nearby.
Castle stop
If you want to visit the Montjuïc Castle but want to avoid the exhausting climb up, you must get down at the Cable Car's Castle stop.
Besides the Castle, visitors also explore the Montjuïc Mountain gardens – Botanical Garden, Joan Brossa Gardens, and Mossèn Cinto Verdaguer Gardens.
Mirador stop
Get down at the Mirador stop if you want the best views of Barcelona city.
There are numerous terraces and lookout points, such as Mirador de l'Alcalde, Miramar Gardens, and the Mossèn Costa i Llobera Gardens.
How to get to Montjuic Cable Car
You can board and get down at any of the Montjuic Cable Car stops.
And to reach them, you have a variety of transport options.
Take Line 2 or Line 3 of the Subway Service and get down at Paral·lel station.
From the subway station, you must take the funicular to get to Parc de Montjuïc, the first Montjuïc cable car station.
The Funicular de Montjuïc is a mountain train that takes you on a quick trip from Paral.lel metro station to the cable car's base station.
You can also board buses 55 or 150 and get down at the Miramar – Estació del Funicular bus stop.
Montjuic Cable Car hours
Montjuic Cable Car service starts at 11 am, all through the year.
During the peak months of June to September, the service ends at 7 pm, and during the shoulder months of March, April, May, and October, it closes at 6.30 pm.
During the winter months of November to February, the Montjuic Cable Car closes at 6 pm.
The last entry is one hour before closing.
What to see at Montjuic Hill
Montjuic Hill has cultural attractions, historic sites, parks, gardens, and even a castle.
Montjuic Castle
Montjuïc Castle is at the summit of Montjuïc Mountain, 173 meters (568 feet) above sea level.
The fortress was built during Reapers War in 1640 and, over the years, used to both defend Barcelona and to bombard it.
To explore Montjuïc Castle, you must purchase entry tickets at the gate.
Do not miss out on the sculpture at the castle's moat, which pays tribute to the 'meter.'
At the Montjuïc Castle in 1792, French geographer and astronomer Pierre-André Méchain had defined 'meter' as the new unit of measurement.
Cable Car stop: Castle Stop
National Art Museum of Catalonia
The National Art Museum of Catalonia houses the world's best exhibitions of Romanesque art.
During your visit, you can also see masterpieces of Gothic, Renaissance, Baroque and modern art.
Visitors usually spend around two hours exploring the 25,000 exhibits on display.
The art museum opens at 10 am all through the year. During summer it remains open till 8 pm, and during winter it closes at 6 pm. On Sundays and public holidays, it closes at 3 pm.
Cable Car stop: Parc Montjuïc
Magic Fountain of Montjuïc
The Magic Fountain, located at the bottom of Montjuïc Mountain, has become a symbol of Barcelona.
It was built for the 1929 Universal Exposition, but even today, locals and tourists gather around daily to enjoy the mesmerizing spectacle of water choreography.
After dark, the Magic Fountain illuminates the Catalan capital. The music starts even as the fountain lights up in different colors and shades, and the water dances to the melody.
Shows last 10 to 15 minutes, and entry is free for all.
This guided tour includes a visit to Barcelona's Magic Fountain.
Cable Car stop: Parc Montjuïc
Archaeology Museum of Catalonia
The Archaeology Museum of Catalonia exhibits archaeological remains illustrating the evolution of Catalonia and its environment from the first prehistoric settlers to the medieval period.
The exhibits are originals from archaeological sites in Catalonia and others from the Iberian peninsula and Mediterranean locations.
The highlights of the Archaeology Museum of Catalonia include:
Crown from the 8th-century Treasure of Torredonjimeno
The jaw of a Neanderthal from 53,200 years ago
Iberian Treasure of Tivissa, from the 4th to 3rd centuries BC
Roman statue of Priapus found at Hostafrancs from 2nd century
Cable Car stop: Parc Montjuïc
Poble Espanyol
Poble Espanyol is an open-air architectural museum home to replicas of more than a hundred buildings from different parts of Spain.
At this attraction, visitors see a typical Andalusian district and examples of Romanesque architecture, among other features.
Together they make up a miniature town with streets, houses, squares, theatres, food joints, and craft workshops.
For a better experience, ask for the audio guides at the entrance.
To enter Poble Espanyol, you need to buy tickets, and it is better to get them online.
Cable Car stop: Parc Montjuïc
Barcelona Botanical Gardens
Barcelona Botanical Garden's 14 hectares has more than 1,300 plants from five Mediterranean regions – Australia, California, Chile, South Africa, and the Mediterranean Basin.
The garden aims to protect and promote Mediterranean plants from all around the world.
Cable Car stop: Castle Stop
Fundació Joan Miró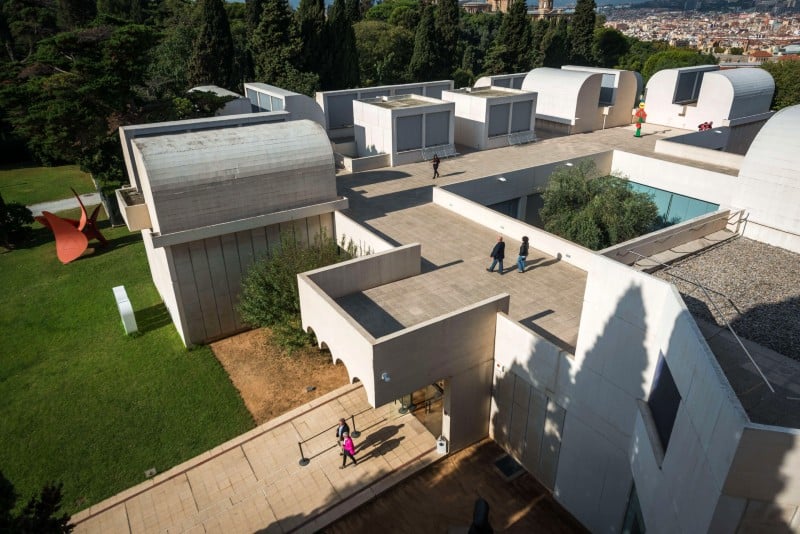 The Fundació Joan Miró building is integrated into the landscape while retaining its own unique charm.
The art museum houses 14,000 pieces by the Catalan artist Joan Miró.
The art foundation has been around for more than 45 years, exhibiting Miró's art and the latest in contemporary art.
There are two ways to explore Fundació Joan Miró – you can get the regular entry tickets or book a guided tour where a local art expert shows you around.
Cable Car stop: Parc Montjuïc
Joan Maragall Gardens
Joan Maragall Gardens are the city's largest and most elegant gardens.
It surrounds Palauet Albéniz, the residence of the Spanish royal family when they are in Barcelona.
These 4 hectares gardens combine the French classicist style with the Mediterranean approach and include many pergolas and terraces.
Cable Car stop: Parc Montjuïc
Olympic and Sports Museum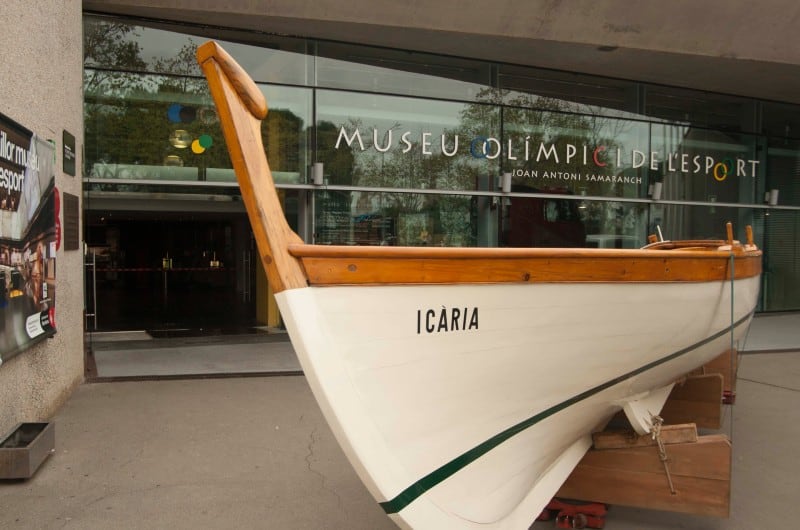 You must visit the Joan Antoni Samaranch Olympic and Sports Museum on Montjuïc Hill if you love sports.
The museum offers a global perspective of sport in numerous disciplines, and visitors can perform virtual experiments with their idols.
The Joan Antoni Samaranch Collection contains pieces related to sport, art, and culture donated by the former IOC president.
Cable Car stop: Parc Montjuïc
Miramar Gardens
The Miramar Gardens are more than a century old and are 60 meters (197 feet) above sea level.
They offer majestic 270º views of Barcelona and contain hundred-year-old trees.
The gardens are landscaped into regular terraces, held in place by stone walls and wrought iron railings, with trees and various flower beds.
The central part of the garden is a stone fountain surrounded by three female sculptures – Fertility, Serenity, and Pomona.
Cable Car stop: Mirador Stop
Mirador de l'Alcalde
Mirador de l'Alcalde is a lookout point that takes advantage of the mountain's steep incline to offer some of the finest views of Barcelona and the Mediterranean coast.
The park consists of a series of terraces distributed into various levels connected by stairways.
The park's center is home to an ornamental fountain.
Cable Car stop: Mirador Stop
Mossèn Costa i Llobera Gardens
The Mossèn Costa i Llobera Gardens are on the south-east slope of Montjuïc Hill, and home to plants are from sub-desert, desert, and tropical zones.
The garden covers six hectares with more than 800 species and is one of the most crucial cactus gardens in Europe.
In 1987, The New York Times included the Mossèn Costa i Llobera Gardens on its list of the world's top ten beautiful gardens.
Cable Car stop: Mirador Stop
Sources

# Telefericdemontjuic.cat
# Ticketshop.barcelona
# Tripadvisor.com

The travel specialists at TheBetterVacation.com use only high-quality sources while researching & writing their articles. We make every attempt to keep our content current, reliable and trustworthy.
Popular attractions in Barcelona