The Chocolate Museum is a unique and fascinating museum in Barcelona, Spain.
Dedicated to the history and art of chocolate, the museum offers a unique experience for chocolate lovers and history enthusiasts alike.
Visitors to the Museu de la Xocolata can explore the history and art of chocolate, from its origins in South America to its role in Europe today.
This article shares everything you should know before booking tickets for the Museum of Chocolate in Barcelona.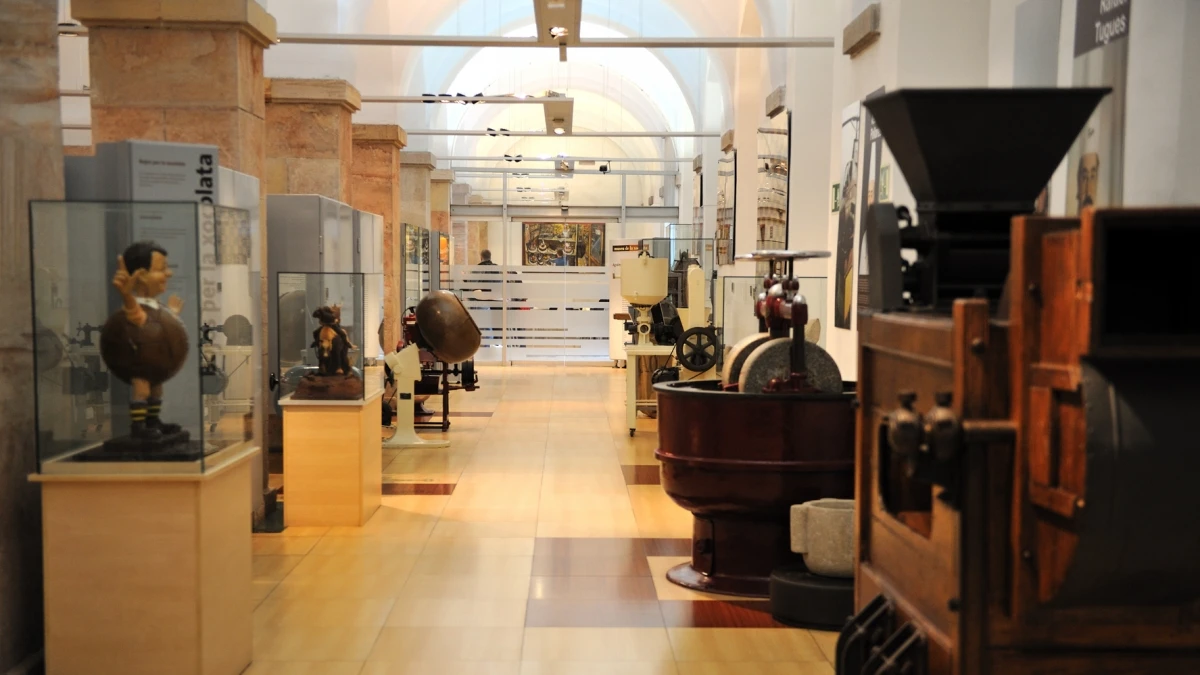 What to expect at Chocolate Museum
Barcelona's Chocolate Museum features a wide range of exhibits and displays that explain the history and production of chocolate, as well as its cultural significance.
On your tour, you'll be surprised to learn about this sweet treat's many uses and benefits.
You can learn about the different types of chocolate, the chocolate-making process, and the many health benefits of chocolate.
The museum also features interactive exhibits that allow visitors to participate in chocolate-making activities and taste a variety of chocolates from around the world.
The museum also has a shop and café where visitors can sample some of the finest chocolates from around the world, including handcrafted chocolates made by local artisans.
The café is a relaxing and welcoming place to sit and enjoy a delicious cup of hot chocolate or a light snack.
The Museu de la Xocolata is a must-visit destination for anyone who loves chocolate or who is interested in the history and culture of this sweet treat.
Whether you are a chocolate connoisseur or simply looking for a fun and educational experience, the museum offers something for everyone.
---
---
Where to buy Chocolate Museum tickets
You can purchase your Chocolate Museum entry tickets at the attraction or online in advance.
If you land at the venue to buy tickets, you'll have to line up at the ticket counter.
During peak times, these lines can get long, and you will end up wasting your time.
Online tickets for the Chocolate Museum in Barcelona are cheaper than the tickets sold at the venue.
Online tickets also help you avoid last-minute disappointments when tickets get sold out.
How online ticket works
Go to the Museum of Chocolate Barcelona ticket booking page, select your preferred date and the number of tickets, and buy them instantly.
After the purchase, you will receive the tickets in your email.
You don't need to take any printouts.
Show your smartphone ticket at the entrance on the day of your visit and walk into the Museu de la Xocolata immediately.
Cost of Chocolate Museum tickets
The Museum of Chocolate in Barcelona entry tickets cost €6 for all visitors aged 18 to 64 years.
Youth aged between seven to 18 years and students with a valid ID pay a discounted price of €5 for entry.
Senior over 65 years (with ID) and people with disabilities also pay €5 for entry.
Children up to the age of seven years can enter the museum for free.
Chocolate Museum entry tickets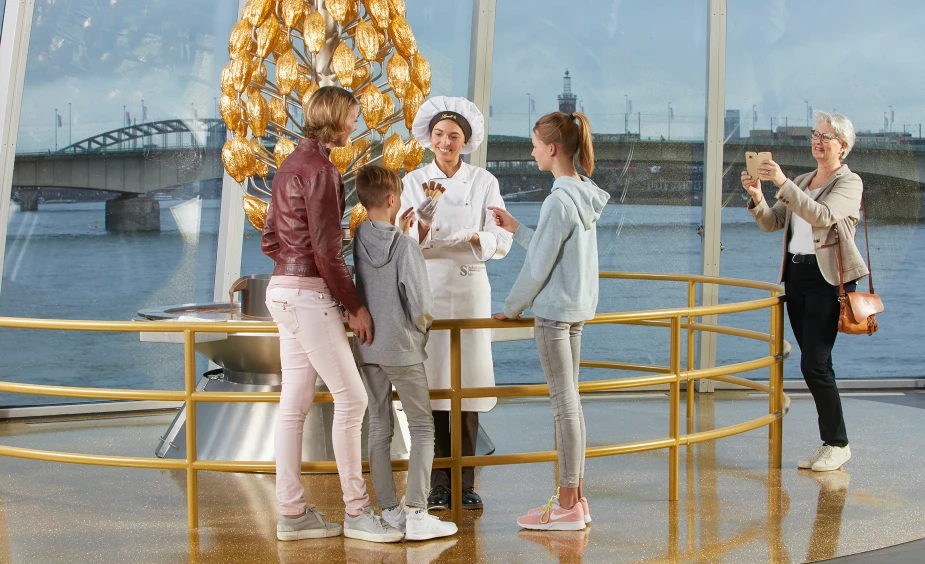 The Museu de la Xocolata tickets include entrance to the museum and access to all the exhibits.
You will also get one free chocolate bar with this ticket.
However, this ticket does not include access to Oompa-Loompas.
Ticket prices
Adult Ticket (18 to 64 years): €6
Youth Ticket (7 to 18 years with a valid ID): €5
Senior Ticket (65+ years): €5
Student Ticket (with a valid ID): €5
Disabled Visitor Ticket: €5
Child Ticket (up to 7 years): Free
Save money & time! Buy The Barcelona Pass and see Barcelona's top local landmarks and attractions. Explore the spectacular Sagrada Familia, Park Güell, and Plaça de Catalunya, and enjoy the city tour from the top deck of the hop-on, hop-off bus.
---
---
How to reach Chocolate Museum Barcelona
The Museu de la Xocolata is located in Barcelona's former Saint Agustí monastery.
Address: C/ del Comerç, 36, 08003 Barcelona, Spain. Get Directions!
You can reach Barcelona's Chocolate Museum via both public and private transport.
By Bus
You can board bus numbers 39, 40, 42, 45, 51, 120, H14, H16, V15, V17, V19, B20, B25, N11 and 120 to reach the Parc de la Ciutadella – Princesa Bus Stop, which is a 2-minute walk from the Museu de la Xocolata.
By Subway
You can take Line 4 to reach the Jaume I Subway Station, which is a six-minute walk away.
Alternatively, take L1 to Arc de Triomf station, an eight-minute walk away.
By Car
If you're driving, you can turn on Google Maps on your smartphone and get started.
You can park your car in Passeig de la Circumval·lació or Passeig de Picasso.
Barcelona's Chocolate Museum timings
All through the year, the Museum of Chocolate in Barcelona opens at 10 am
It closes at 7 pm from Tuesday to Saturday.
On Sundays an public holidays, the museum closes at 3 pm.
The Museum hours on January 5 and December 24 and 31 end at 2 p.m.
It remains closed on Mondays.
The museum remains closed on 25th December, 26th December, 1st January, 6th January, 10th April, 24th June, and 15th August.
Last admission to the Chocolate Museum is 30 minutes prior to the closing time.
How long does the Chocolate Museum take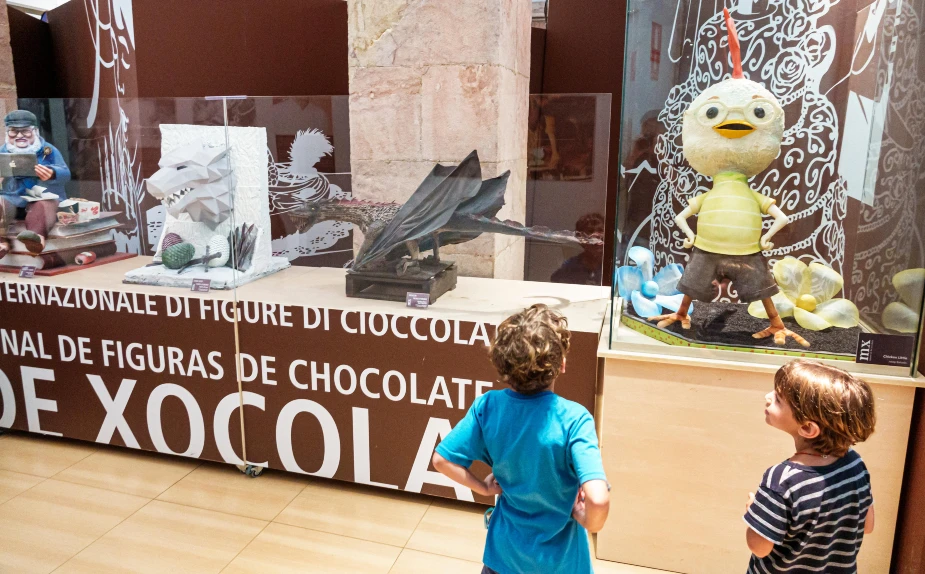 A visit to the Chocolate Museum in Barcelona can take one to two hours, depending on the individual's interests and level of engagement with the exhibits.
The museum is relatively small, with most exhibits and displays on the ground floor, making it easy to navigate and explore.
You are free to explore the museum, read the information panels, watch videos, and enjoy the interactive displays.
Best time to visit Chocolate Museum
The best time to visit the Chocolate Museum museum is as soon as it opens at 10 am.
This is when the crowds are usually smaller, and you can take your time to explore the exhibits and learn about the history and production of chocolate.
It is recommended to visit during the weekdays as fewer people are around than on the weekends.
What to see at the Chocolate Museum in Barcelona
Barcelona Chocolate Museum's highlight is its collection of antique chocolate-making equipment and tools, including traditional chocolate molds and hand-cranked machines.
You can see how chocolate was made in the past and learn about the techniques and skills used by chocolate makers.
The Museum of Chocolate also features a beautiful display of chocolate sculptures and artwork, showcasing the creativity and imagination of chocolate artists.
In addition to the exhibits and displays, the museum also offers a range of educational programs and workshops for visitors of all ages.
These programs cover various topics, including the history of chocolate, chocolate-making techniques, and the health benefits of chocolate.
They are designed to be fun, educational, and engaging, providing visitors with a unique and enjoyable experience.
FAQs about Museu de la Xocolata
Here are some questions visitors usually ask before visiting the Museum of Chocolate, Barcelona.
Where can I book tickets for Barcelona's Chocolate Museum?
Tourists can buy tickets for the attraction online or at the venue, on the day of their visit. For the best experience we suggest you book your tickets online, in advance.
Can I buy chocolate in the Museum of Chocolate in Barcelona?
Yes, you can buy all kinds of chocolate variations and other sweets at the museum shop.
What are some other nearby attractions?
Museu de la Xocolata is in close proximity to attractions like Ciutadella Park, Barcelona Zoo, Picasso Museum, and MEAM Museum.
Does the Museum of Chocolate host any events?
Yes, the museum regularly hosts events, activities, and workshops on the subject of chocolate. For example, the museum conducts workshops where you can learn how to make sculptures from chocolate. To attend these events, you must book the tickets in advance.
Is Museum of Chocolate wheelchair accessible for people with disabilities?
Yes, the complex is wheelchair accessible to accommodate visitors with mobility challenges.
Can I cancel/reschedule my visit to the Chocolate Museum in Barcelona?
Yes, you can cancel or reschedule your visit until 11.59 pm on the day before your visit.
Sources
# Museuxocolata.cat
# Barcelona.de
# En.wikipedia.org

The travel specialists at TheBetterVacation.com use only high-quality sources while researching & writing their articles. We make every attempt to keep our content current, reliable and trustworthy.
Popular attractions in Barcelona