Receiving over ten million tourists every year, Park Guell is the second most popular attraction in Barcelona.
A playground of Gaudí's unique architectural and artistic concepts, Park Güell was declared a UNESCO World Heritage Site in 1984.
The attraction is a classic symbol of Barcelona's rich cultural heritage and offers an incredible experience to architecture enthusiasts, art admirers, and nature lovers.
This article explains everything you need to know before buying your Park Guell tickets.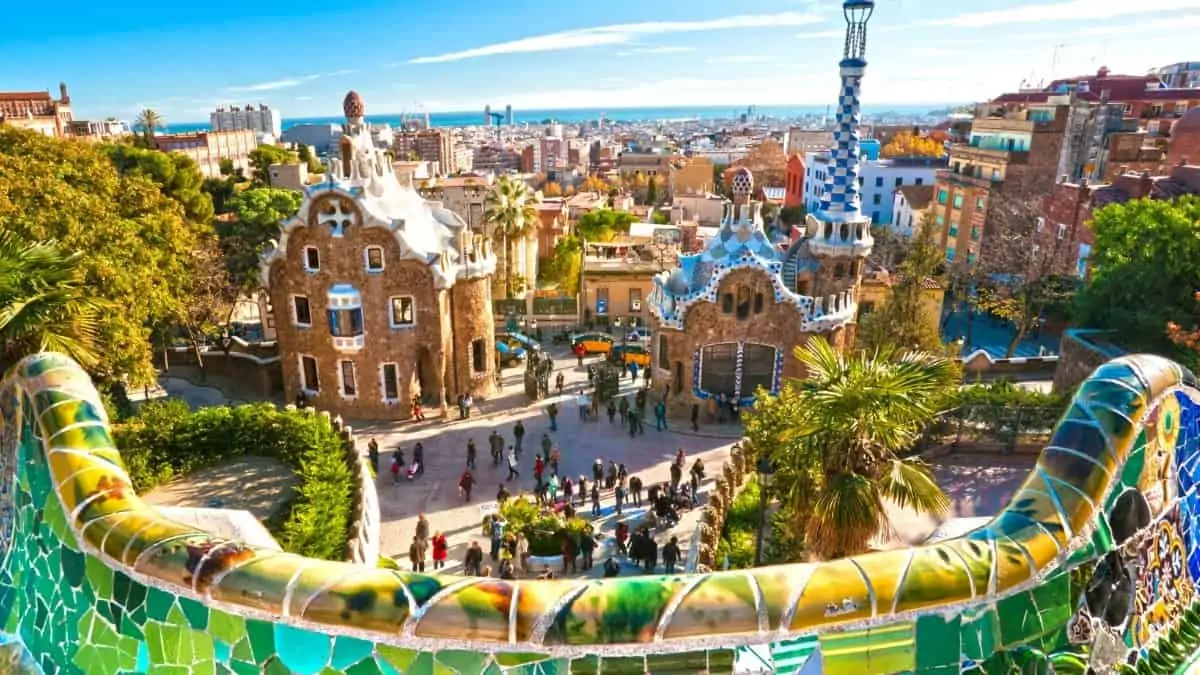 What to expect at Park Guell
Located on the hills of Barcelona, Park Guell was a residential complex designed by architect Antoni Gaudi between 1900 to 1914.
Originally, the complex was supposed to have 60 houses, but when it wasn't much of a success, the project got abandoned.
After a few years, the authorities turned it into a Public Park.
Today, the monument reflects Gaudí's signature architectural style of colorful mosaics, organic shapes, and playful sculptures in consonance with nature, religion, and the Catalan folklore.
Park Guell has two parts –
1. Monumental Zone
2. Public Park
Monumental Zone
The Monumental Zone occupies 5% of the total area of Park Guell.
This section of Guell Park contains most of Antoni Gaudi's work, which the tourists come to see.
The must-see attractions in this zone are:
Guard Museum (Museu del Guarda)
Hypostyle Room (Sala Hipòstila)
Gardens of Austria (Jardins d'Àustria)
Wash House Portico (Pòrtic de la Bugadera)
Nature Square or terrace (Plaça de la Natura)
The Roadways, Paths, and Viaducts
Public Park
Known as "Plaça de la Natura" in the native language, the Park area is a large open space serving as a meeting point for visitors.
This area is open to all but doesn't have Gaudi's work.
The park is surrounded by a sinuous, serpentine bench ornate with marvelously colored ceramic shards.
This seating setting provides a comfortable place to rest while feasting your eyes on the unmissable views of Barcelona and Mediterranean Sea.
Where to book tickets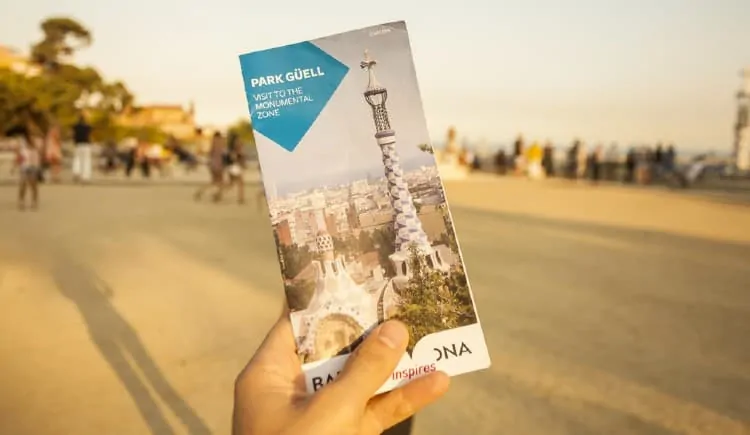 You can buy the tickets to Park Guell online or offline at the attraction.
Online tickets tend to be cheaper than tickets at the venue.
When you buy online, you can avoid the long queues at the attraction's ticket counters.
Because Park Guell allows only 700 tourists to enter every half hour, booking early can help you get your preferred time slot.
During peak days, the attraction's may sell out. Booking early helps avoid last-minute disappointments.
How online tickets work
Go to the Park Guell's booking page, select your preferred date, time slot, and the number of tickets, and buy the tickets right away.
Immediately after purchase, your tickets get emailed to you.
You don't need to take any printouts.
Reach the tourist attraction 15 minutes before the time mentioned on your ticket.
Show your tickets on your smartphone and walk into Park Guell right away.
Cost of tickets for Park Guell
Park Guell tickets cost €14 for visitors aged 13 to 64 years.
Children aged seven to 12 years and seniors 65 years and older pay a discounted price of €9 for entry.
Kids up to six years and disabled visitors can enter for free provided they both are accompanied by an adult or a carer during their visit.
Carers can purchase their tickets at a reduced rate of €9.
Disabled tourists need to carry along their disability certificate to avail discounts.
Park Guell entry tickets
This ticket gives is the cheapest and most popular way to enter Park Guell.
It provides Skip The Line access into the monument, a true privilege at the overcrowded attraction.
You can visit all the areas of Park Guell, except the Casa Gaudí Museum which requires a separate ticket.
Adult ticket (13 to 64 years): €14
Youth ticket (7 to 12 years): €9
Seniors ticket (65+ years): €9
Infant ticket (up to 6 years): Free entry
Park Guell guided tour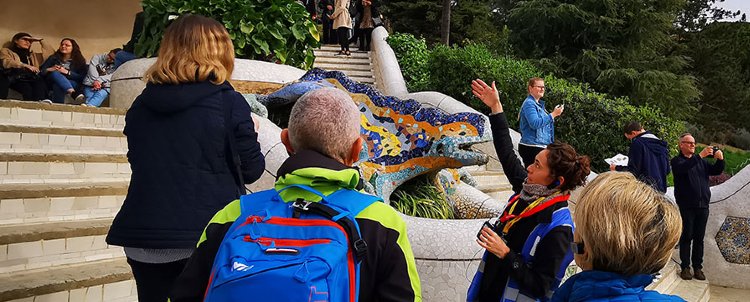 This ticket allows you 1.5-hour access inside the Park Guell with the expertise of local guides who help you understand Catalonia's art movement's rich symbolism, how Gaudi achieved harmony with nature, the secrets of Gaudí's architecture, etc.
The guide gives an insight into how Antoni Gaudí's mind worked and will explain anecdotes and stories about Park Guell.
During this 90-minute tour, you will also get headsets to hear the guide clearly.
After the guide has taken you around, you are free to hang around for as long as you want.
Adult ticket (12+ years): €26
Child ticket (3 to 11 years): €23
Infant (up to 2 years): Free
Park Guell and Casa Gaudí Museum
This combo ticket allows you entry into the Park Guell and Casa-Museu Gaudí.
Casa-Museu Gaudí is located within the park and is the former residence of Antoni Gaudí himself.
With the Park Guell and Casa Gaudí Museum ticket, you can cover the entirety of Park Guell, witness Gaudí's home containing his personal belongings, furniture, and architectural models.
Ticket cost: €21
Guided tour of Park Guell & Sagrada Familia
This tour starts with a visit to Park Guell, after which you get 90 minutes of lunchtime.
The whole group then moves to Sagrada Familia in an air-conditioned transport.
At the Basilica, the local guide takes you around for an hour after which you can stay for as long as you want.
Duration: 4 hours
Adult ticket (11+ years): €82
Child ticket (4 to 10 years): €49
Infant ticket (up to 3 years): Free entry
The Gaudi package
The Gaudi Package includes tickets to Gaudi masterpieces Sagrada Familia and Park Guell and a Barcelona Card.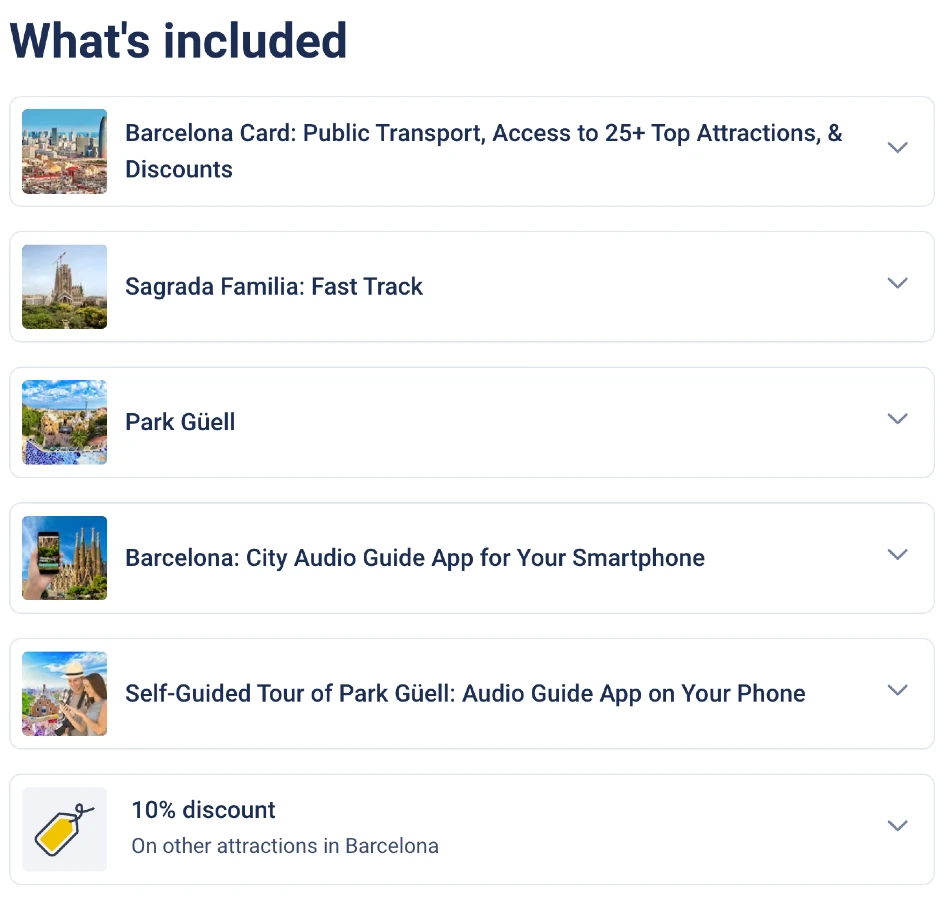 It is a great way to save money if you are in Barcelona for more than two days.
The Barcelona Card makes traveling in the city easier because you get unlimited free travel for 72 hours on the metro, buses, trains, and trams.
The package also gets you a guidebook, a map of Barcelona, free entry to 20+ museums, and discounts on even more.
When you buy the Gaudi Package, you also get a 10% discount code, which you can use (five times!) to get discounts on your future purchases.
Save time & money! Buy Barcelona Pass and see Barcelona's top local landmarks and attractions. Explore spectacular Sagrada Familia, Park Güell, and Plaça de Catalunya, and enjoy the city tour from the top deck of the hop-on, hop-off bus.
How to reach Park Guell
Park Guell is situated off Carrer d'Olot in Barcelona.
Address: 08024 Barcelona, Spain. Get Directions.
You reach the attraction by public transport or your own vehicle.
By bus
Get off at Travessera de Dalt, only a 10-minute walk away, by taking H6 and D40.
You can take the entrance from Avinguda del Santuari de Sant Josep de la Muntaya or Carrer Larrard, both having escalators.
By metro
Get onto Green Line (L3) Metro and get off at Lesseps Station, only a 20-minute walk away. Take the entrance on Avinguda del Santuari de Sant Josep de la Muntanya, which has an escalator.
You can also get off at Vallcarca Station on Line 3, a 20-minute walk away. Take the entrance on Baixada de la Glòria, which has an escalator.
By Car
If you're traveling by car, turn on your Google Maps and get started.
You can park your car at BSM Travessera de Dalt – Park Güell car park.
To secure a spot at this car park, booking in advance is recommended.
Park Guell opening hours
Park Guell in Barcelona opens every day from 9:30 am to 7:30 pm.
The opening hours of the attraction is subject to change with seasons.
Best time to visit Park Guell
The best time to visit Park Guell is as soon as it opens at 9.30 am.
When you start early, you avoid the crowd, especially the group tours coming in by 10.30 am.
With fewer people and early morning light, you also get to take stunning photographs of the colorful Barcelona attraction.
How long does Park Guell take
Visitors who stop for photos, read guides, and spend time looking at the intricate detailing at Gaudi's masterpiece spend around 90 to 120 minutes exploring Park Guell.
Tourists in a hurry are known to finish exploring Park Guell in an hour.
Some sit on the Park Guell bench and spend time, and many others climb up to the stone cross at the top of Park Guell and get panoramic views of the city.
Is Park Guell worth it?
Park Guell is worth a visit for four reasons – it is Antoni Gaudi's most refined masterpiece, at just €13.50 for entry, is a value for money attraction, a visit to Park Guell comes with a city tour, and you get to sit on the world's longest bench.
We strongly recommend paying the entrance fee for the Monumental Zone at Park Guell and checking out all Gaudi's work.
1. There is nothing like Park Guell, elsewhere
Since almost all of Antoni Gaudi's work is concentrated around Barcelona, you can only see his masterpieces while holidaying in the city.
Park Guell is not a multi-destination attraction like Madam Tussauds or Disneyland, which you can experience during your next vacation elsewhere.
The exclusivity makes Park Guell worth visiting.
2. It is value for money
For a general ticket costing only €13.50 and a discounted ticket price of Euros €9.33, what you see inside the Park Guell Monumental zone is totally worth it.
In comparison, Casa Batllo's tickets cost €35, and Sagrada Familia tickets cost €31.60.
3. A trip to Park Guell comes with a city tour
Your trip to Park Guell from the center of Barcelona will cost you €2.5.
Even though the journey by bus lasts only around 20 minutes, you get to see parts of the city you won't otherwise visit.
4. World's longest bench is in Park Guell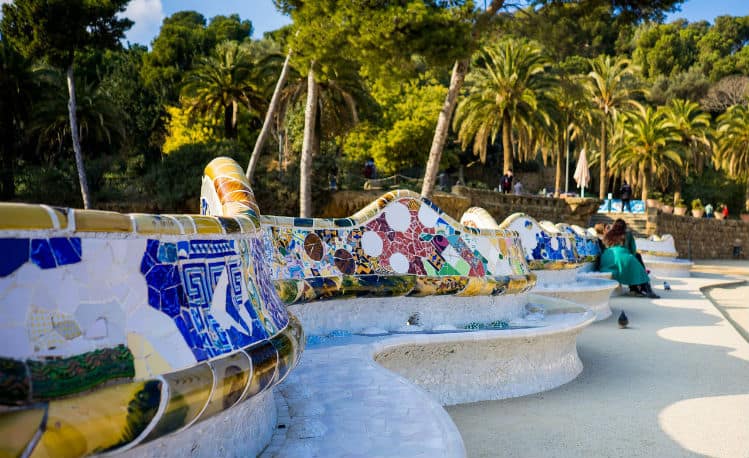 The Egyptians gave ergonomic chairs to their Gods as long back as 7500 BC.
However, Antonio Gaudi decided to do one better at Park Guell.
The colorful, mosaic-embedded bench he built at Park Guell is 110 meters (361 feet) long.
It is said to be the longest undulating bench in the world.
The opportunity to sit on this bench and snap a selfie makes Park Guell worth it.
Visual Story: 13 must-know tips before visiting Park Guell
FAQs about Park Guell
Here are some questions visitors usually ask before visiting the Park Guell, Barcelona.
Where can I book tickets for the Park Guell in Barcelona?
Tourists can buy tickets for the attraction online or at the venue, on the day of their visit. For the best experience we suggest you book your tickets online, in advance.
Can I leave and re-enter Barcelona's Park Guell?
No, because the attraction's ticket is timed. You can stay inside the complex for as long as you want but once you leave the premises, you cannot re-enter on the same ticket.
Will I get entry in Park Guell if I'm late?
You will get entry inside the complex up to 30 minutes after your scheduled time slot. For example, if you have booked a ticket for 11.30 am, you will be allowed to enter the museum until 12 pm. Entry after 30 minutes is not allowed.
Which is a better public transportation choice to reach Park Guell – bus or metro?
If you are short on time, take the Metro, which reaches faster. Buses take longer, but you get a better view of the city on your way. Tourists also prefer buses over Metro because the walking distance from the bus stop is shorter than from the Metro station.
Is Park Guell wheelchair accessible for people with disabilities?
No, the complex is not wheelchair accessible due to its location up on the hills.
Is there a dress code in Barcelona's Park Guell?
No, there is no specified dress code in the attraction. However, you are advised to wear comfortable footwear and clothing protecting you from the sun, especially during periods of intense heat. 
Can I take photographs inside Park Guell?
Yes, photography is allowed inside the attraction but only for personal use. Photography for commercial purposes requires advance authorization from the organization.
Park Guell and Sagrada Familia on same day
If you plan to visit both Sagrada Familia and Park Guell on the same day, check out the following directions:
For free rides on Barcelona's public transport, Get Hola BCN card
Park Guell audio guide
If you need help to explore Park Guell but find the guided tours too costly, the Park Guell audio guide is a good option.
You can follow one of the recommended walking routes in Park Guell and combine it with the Park Guell audio guide app for an excellent experience.
The guide, which is in the form of a mobile app, provides information, photographs, interactive maps, and audio to supplement the route.
Park Guell app is available in seven languages, and you can download it for both Android and iPhone.
Park Guell map
Park Guell is on Carmel Hill in Barcelona.
It is best explored on foot and with ample time to spare.
Because of the exploratory nature of this tourist attraction, it is best if visitors carry along with Park Guell maps or recommended walking routes with them.
Most tourists get a printout of Park Guell's map or recommended walking route and carry it along.
After all, nobody wants to miss out on must-see items in the Park Guell. Or keep walking around in circles.
Park Guell involves a lot of climbing up and climbing down.
We suggest you contact the Park authorities at the entrance and get the Park Guell route map customized for tourists with limited mobility.
If you don't want to miss out on anything and prefer a guide to tell you where to go next, book a guided tour of Park Guell.
Save money with Barcelona Card. Choose from 3-5 days and enjoy free travel on public transport and free offers at various attractions. Buy BCN card
Recommended routes
The route you will take to explore Park Guell will depend on the entrance you get in through.
Park Guell entrances
Before we tell you about Park Guell's entry points, you must know the meaning of these three Catalan words –
Passatge: Passage
Carrer: Street
Carretera: Highway
Park Guell has three entrances – two are at the base, and one at the top of the Park.
Carrer de Larrard leads to Carrer d'Olot on which is the main entrance of Park Guell.
If you are taking Bus Line H6, D40, or 92, you will enter the main entrance on Carrer d'Olot.
The second entrance is on Carretera del Carmen, and if you are reaching Park Guell by private tour buses or coaches, this is how you will enter.
Passatge de Sant Joseph de la Muntanya is the entrance at the top of Park Guell, and if you are taking the Metro, this is how you will enter.
You can access this entrance by an elevator.
Best walking routes at Park Guell
Whichever entrance you get in from, your objective should be to not miss any of the highlights within Park Guell Monumental Zone.
Identify the appropriate route map, take a printout, and take it along when visiting Park Guell. Or better still, bookmark this page.
To help you understand the Park Guell maps better, here is the key:
A: Entrance and Porter's Lodge
B: Casa del Guarda (the Guard's house)
C: Monumental staircase (the Dragon stairway)
D: Hypostyle room, the outdoors
E: Hypostyle hall, the indoors
F: Austria gardens
G: Nature square or Greek Theatre
H: The roadways, paths and viaducts
I: Ramp and Casa Larrard
On the route maps, the blue arrow depicts the point of entry.
Route 1: From Sant Josep de la Muntanya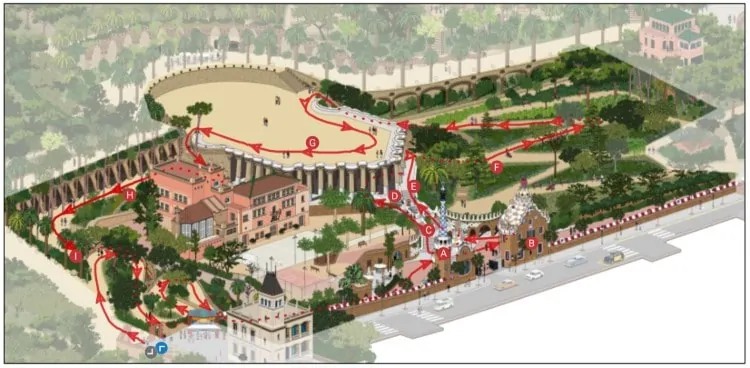 Route 2: From Carrer d'Olot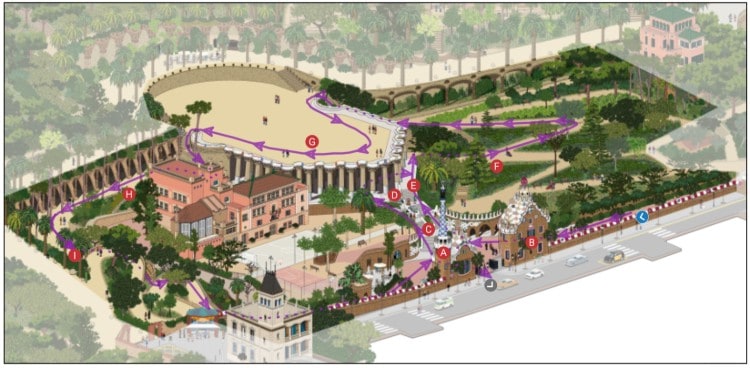 Route 3: From Place de la Natura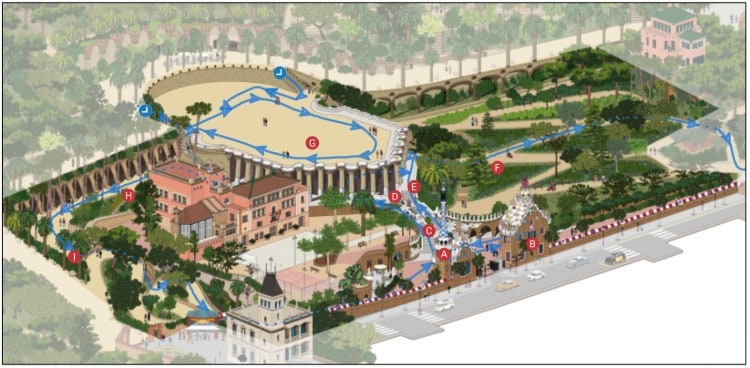 Sources
# Parkguell.barcelona
# Thrillophilia.com
# Parkguell-tickets.com
# Ticketshop.barcelona

The travel specialists at TheBetterVacation.com use only high-quality sources while researching & writing their articles. We make every attempt to keep our content current, reliable and trustworthy.
Popular attractions in Barcelona