Most tourists in Barcelona visit both Sagrada Familia and Park Guell on the same day.
Native experts say it is best to start with Park Guell in the morning and go to Sagrada Familia in the evening.
If you think otherwise, you can check out how to go from Sagrada Familia to Park Guell.
This article will explain the best way to cover both attractions in a day without rushing them and yet making the most of your visit.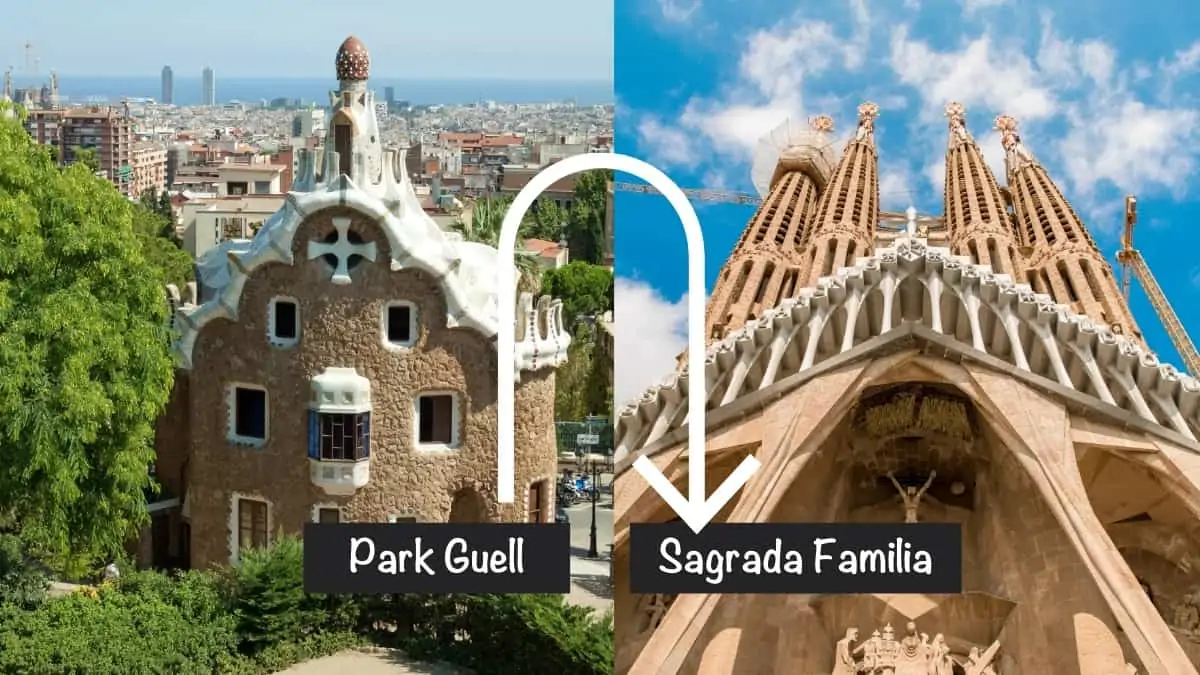 Park Guell and Sagrada Familia in one day
If you manage your time at each attraction well, you can see both Gaudi masterpieces in less than five hours.
Tourists in a hurry are known to finish exploring Park Guell in an hour but for a satisfactory tour, you need at least 90 minutes.
If you decide to go up one of the Towers, you need at least two hours at Sagrada Familia. If you skip the Towers, you only need 90 minutes.
Tourists can buy the Gaudi Bundle and explore the attractions themselves, or opt for the guided tour of Sagrada Familia and Park Guell.
Park Guell to Sagrada Familia
There are multiple ways to get to Sagrada Familia from Park Guell.
You can choose the option that works best for you – depending on your budget, time on hand, and how much you are willing to make out of your visit.
Whichever mode of transport you choose, Sagrada Familia is guaranteed to be crowded by the time you reach.
We strongly recommend that you buy Sagrada Familia tickets much in advance.
Metro to Sagrada Familia
From the Metro station nearest to Park Guell, you can take the subway to Sagrada Familia.
A brisk 10-minute walk from Parc Guell takes you to El Coll Teixonera Metro station, from where you can board a metro to Sagrada Familia station.
Once you get down at the station, a 200-meter (650 feet) walk will take you right to the doorsteps of the largest Basilica in Europe.
Bus from Park Guell to Sagrada Familia
To catch a bus from Park Guell, step out and walk towards PG Maritim.
Get on Bus number 92 going towards Lepant-Guinardo, and in five minutes, you should reach your transit point.
From Lepant-Guinardo, get onto Bus number V 21, traveling towards AV Guadi.
Five minutes and four stops later, you will be at Gaudi's Basilica Sagrada Familia.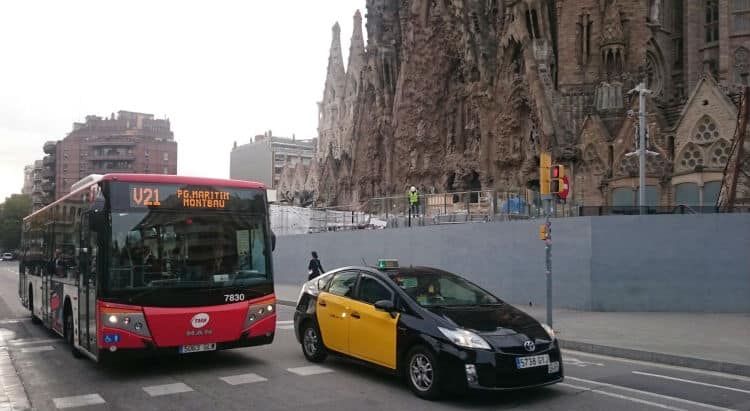 Visual Story: 13 must-know tips before visiting Park Guell
Taxi from Park Guell to Sagrada Familia
If you take a taxi from just outside Park Guell, it will cost you approximately ten Euros to go to Sagrada Familia.
The distance is a short 2.5 km (1.5 miles), and the duration of your trip will be around 10 minutes, not including any waiting time in traffic.
Here is the route your taxi will take: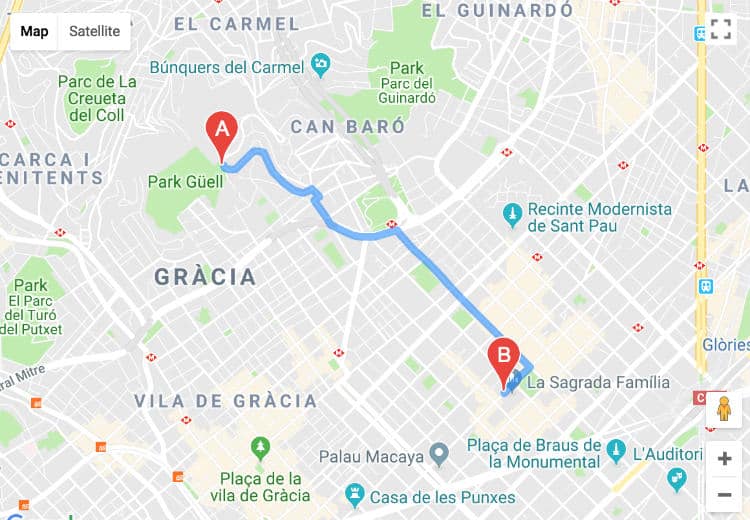 Visual Story: 12 must-know tips before visiting Sagrada Familia
If you call the taxi by phone, you can expect the cab to come with the taximeter already running.
However, that amount cannot exceed €30 during the day and €4 at night.
Walking from Park Guell to Sagrada Familia
If you can walk 2.5 kms (1.4 miles) from Park Guell to Sagrada Familia, we highly recommend that.
This walk is through the residential areas and doesn't take more than 35 minutes.
Park Guell is 191 meters (626 feet) above sea level, and the Basilica designed by Gaudi is only 33 meters (108 feet) above sea level – so it is downhill, leisurely walk. Get Directions
Recommended Reading
– Nativity facade or Passion facade
– What's inside Sagrada Familia
– Are Sagrada Familia tower tickets worth it?
Sagrada Familia and Park Guell tickets
If you plan to visit both Sagrada Familia and Park Guell on the same day, you can save money by buying combo tickets.
These skip-the-line tickets also save your time and help avoid stress because they include transportation.
Sagrada and Park Guell tickets are cheaper when bought online.
You also get to avoid the long lines at the ticketing counter, saving you time.
The Gaudi Bundle
With one great-value package, the Gaudi Bundle helps you unlock two of Antoni Gaudí's architectural masterpieces – Sagrada Familia and Park Guell.
Besides access to Antonio Gaudi's mind-bending architectural marvels, this package includes a comprehensive audio guide to teach you all about Barcelona.
If you get this package, you must handle the transport between the two attractions yourself.
Cost of Gaudi Bundle
Adult ticket (30 to 64 years): €59
Senior ticket (65+ years): €47
Youth ticket (13 to 29 years): €55
Youth ticket (11 and 12 years): €51
Child ticket (7 to 10 years): €14
Kids below six years can enter for free.
Guided tour of Park Guell & Sagrada Familia
This tour starts with a visit to Park Guell, after which you get 90 minutes of lunchtime.
The whole group then moves to Sagrada Familia in an air-conditioned transport.
At the Basilica, the local guide takes you around for an hour after which you can stay for as long as you want.
Duration: 4 hours
Adult ticket (11+ years): €82
Child ticket (4 to 10 years): €49
Infant ticket (up to 3 years): Free entry
Besides the transport between Sagrada Familia and Park Guell, if you also want a hotel pick up and drop, check this tour out.
If you don't want a guided tour and can travel between the two attractions yourself, we suggest buying individual tickets.
Since these are Skip The Line tickets, you can show the ticket on your mobile and enter the attraction.
If you are a honeymooning couple or love to Instagram, check out this Instagram Tour of the Most Scenic Spots, including the Park and Sagrada Familia.
Save money on your travel within Barcelona city. For unlimited free rides on public transport, Get Hola BCN card
Sources
# Rome2rio.com
# Parkguell.barcelona
# Barcelona.com
# Tripadvisor.com

The travel specialists at TheBetterVacation.com use only high-quality sources while researching & writing their articles. We make every attempt to keep our content current, reliable and trustworthy.
Popular attractions in Barcelona