Some of the five million-plus tourists who visit Sagrada Familia every year go back without getting inside Gaudi's church in Barcelona.
The more thoughtful tourists go inside Sagrada Familia and enjoy the interiors of Gaudi's masterpiece.
The interior of this world-renowned monument is a stunning blend of art and architecture.
Many tourists ask, "Is it worth buying a ticket and going inside Sagrada Familia?"
The short and decisive answer is "Yes," you must check out Sagrada Familia's interiors.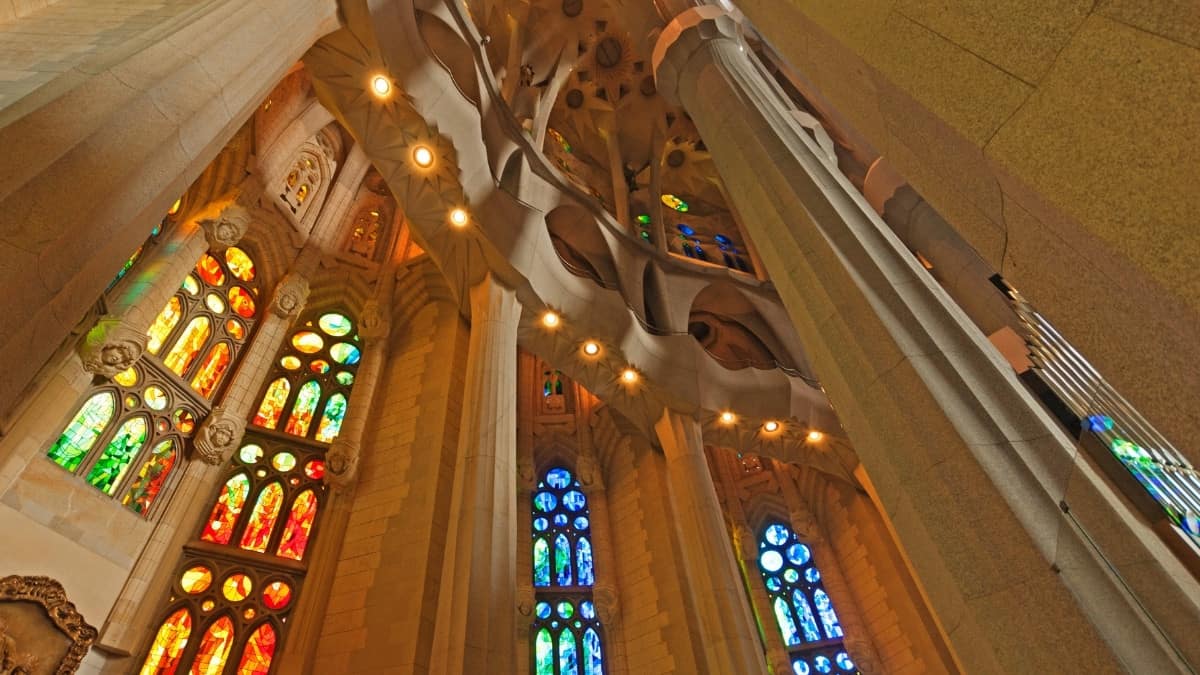 About Sagrada Familia
Antoni Gaudí was a genius. Modern architects considered his methods revolutionary a century after he used them.
He used his buildings to communicate the Christian belief and message of the Evangelists.
However, you don't necessarily need to be a believer to appreciate Sagrada Familia from the outside and inside.
Sagrada Familia has 18 towers, each of which has a special significance.
The tower dedicated to Jesus Christ is in the middle, and four towers representing the Gospels surround it.
The tower above the apse, which has a star, represents the Virgin Mary.
The remaining 12 towers represent the 12 Apostles, who carried on Jesus' work.
All these towers and the rest of the building make three facades – the Nativity Facade, the Passion Facade, and the Glory Facade.
The nativity facade is about Jesus' birth, the Passion facade is about his suffering and death, and the Glory facade (which is yet to be completed) is about his resurrection and glory.
When you buy Sagrada Familia tickets, you can see all this by just walking around the church.
Some visitors do just that – they don't go inside Sagrada Familia to see the interiors.
Some visitors go the full distance – they walk around the Basilica, step inside to appreciate the interiors, and go up one of the Sagrada Familia towers.
Inside Sagrada Familia
Pope Benedict XVI consecrated Antoni Gaudi's masterpiece in 2010.
After that, the church began international and special masses and allowed the tourists inside.
Sagrada Familia Basilica was now more than just an architectural stop for tourists.
Now tourists were lining up in droves to go inside Sagrada Familia and appreciate its interiors.
Interestingly, even though Pope Benedict XVI announced it as a Basilica, most people still refer to it as Sagrada Familia Cathedral.
Visual Story: 12 must-know tips before visiting Sagrada Familia
Lights and colors inside Sagrada Familia
Antoni Gaudi has always loved playing with lights and colors.
One of the best parts about Sagrada Familia interiors is watching the sunlight seep through the stained glass.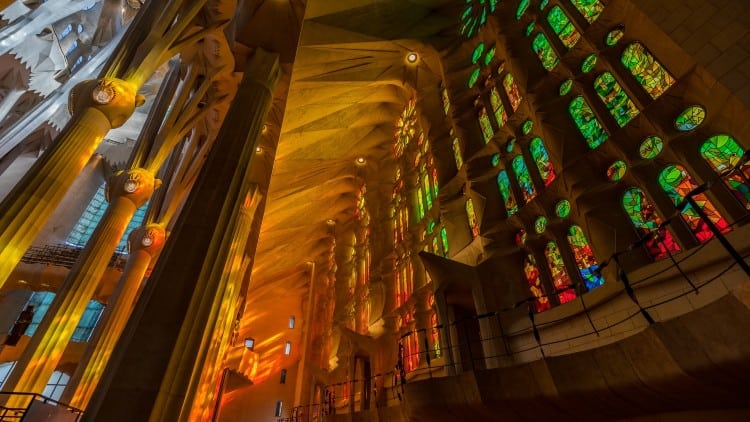 It is harmonious with the rest of the structure and accentuates the intricate detailing inside the church.
With the branching columns heading for the sky and the rays of light falling on you, it feels like you are in a forest.
Most tourists feel that they are standing in a jungle full of trees with the sun's rays trying to reach them.
With no lines and no flat surfaces, the designs inside the church are comprehensive and rich.
You won't repent your decision to step inside Sagrada Familia.
Did you know that a bookseller first suggested the idea of a Basilica like Sagrada Familia? Find out more such Sagrada Familia trivia.
Is going inside Sagrada Familia worth it?
The short and definite answer is, "Yes, it is."
The cheapest way to see the insides of Sagrada Familia is by buying the basic Sagrada Familia ticket.
However, the best way to explore and understand the interiors is by touring with a guide.
After all, a local with extensive knowledge can make the trip interesting. Check out the guided tour of Sagrada Familia.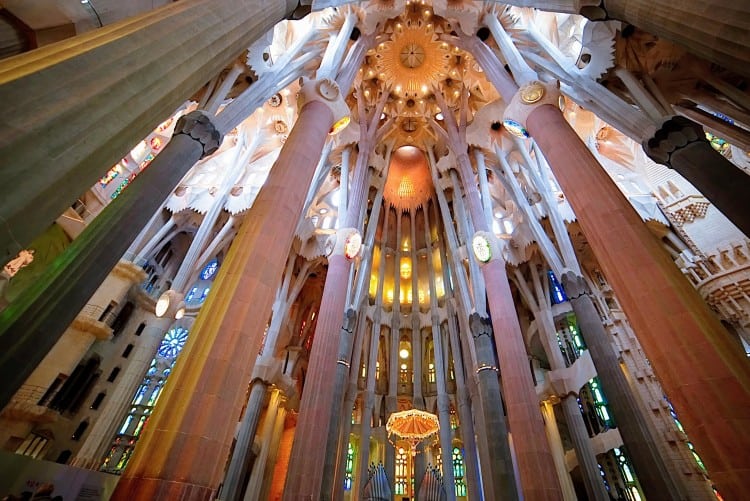 As for why we think going inside Sagrada Familia is worth it, check out our reasons below –
1. The entry tickets are cheap
The Sagrada Familia Fast Track ticket costs €34 for adults aged 30 to 64.
The tickets are available at a reduced price of €31 for youth aged 11 to 29 years and students with valid IDs.
The tickets for seniors 65 years and above cost €27.
Kids below ten years walk in for free.
This ticket price also includes the audio guide.
In short, you get to see 130 years of Gaudi's work in less than 35 Euros.
More than 90% of the visitors to Sagrada Familia opt for Fast Track tickets – the cheapest and the most popular of its kind.
This ticket money goes in as your contribution to building Europe's largest Church.
2. It is a Spanish thing!
Every city has one identifier attached to its personality. London has the London Eye, Paris has the Eiffel Tower, and New York has the Statue of Liberty.
Similarly, Barcelona in Spain has Sagrada Familia.
You cannot plan a holiday in Barcelona without going inside the city's most boast-worthy attraction!
Most visitors also visit Park Guell on the same day. Find out the fastest way to go from Sagrada Familia to Park Guell or from Park Guell to Sagrada Familia.
3. You can avoid the queues
If you do two things, you can avoid the queue at Sagrada Familia, making it a quick trip.
First, find out the best time to visit Sagrada Familia and buy Sagrada Familia ticket online.
You don't wait in the serpentine queues outside the ticketing office when you buy your ticket online.
You only have a brief wait at the entry of the Church.
When you don't waste your time waiting to buy your tickets, what you see inside Sagrada Familia is worth the time spent.
4. It is a great photo opportunity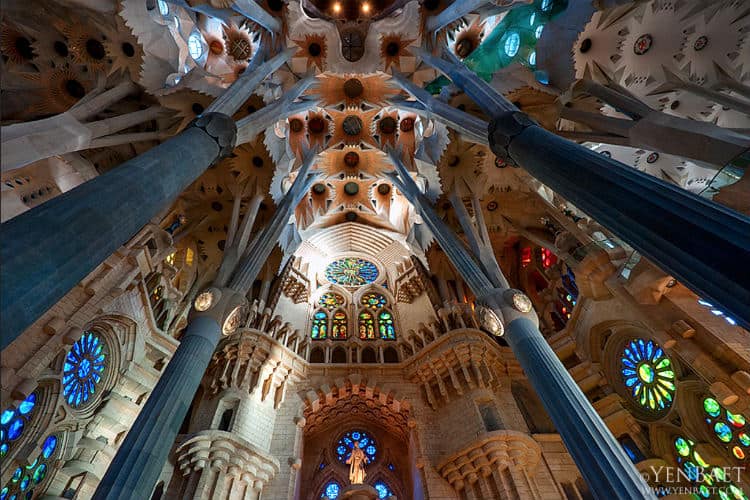 Sagrada Familia inside is a great photo opportunity because most attractions are above eye level.
Usually, when we visit a crowded tourist spot, it is challenging to take excellent photographs because of all the people who get into the frame.
Inside Sagrada Familia, this doesn't happen. If you love photography, this is a dream destination.
5. Sagrada Familia is a different church
Some tourists believe if you have seen one church, you have seen all churches.
Please don't fall into that trap, for Sagrada Familia is as imposing inside as it is outside.
Most churches are dark and cold. Further, traditional churches use dark colors to create a somber mood for worship.
Gaudi decided to do away with this approach and used pale colors accentuated by the sun's rays, getting in through the stained glasses.
6. It doesn't take long
You can enjoy the Sagrada Familia's interior in less than an hour.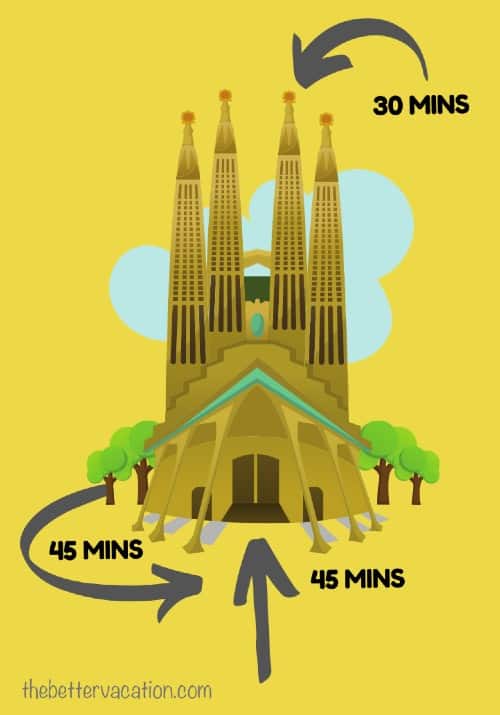 Not sure if you should go up the Towers? Check out our article on whether Sagrada Familia towers are worth it.
If you are in Barcelona for a more extended holiday, you can save money while traveling inside the city. For unlimited free rides on public transport, Get Hola BCN card
Sources

# Sagradafamilia.barcelona-tickets.com
# Foreverbarcelona.com
# Barcelona.de

The travel specialists at TheBetterVacation.com use only high-quality sources while researching & writing their articles. We make every attempt to keep our content current, reliable and trustworthy.
Popular attractions in Barcelona