Camp Nou, also known as the Barcelona Stadium, is a must-visit attraction in the city.
Two million tourists take the Camp Nou Stadium tour every year.
As part of this tour, tourists also get to visit Barcelona Football Club Museum inside the Stadium.
In this article, we explain everything you need to know before booking your Camp Nou Tour.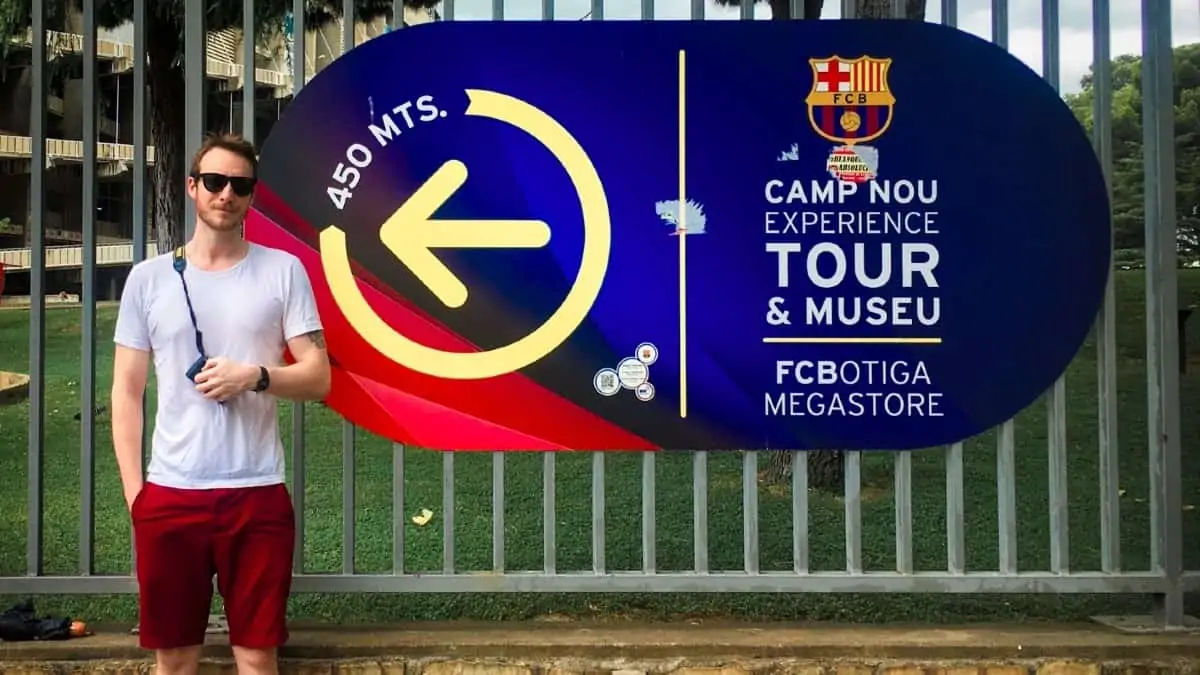 What to expect
Check out the video to get an idea of what to expect on the Camp Nou tour.
There is only one way to see and enjoy the greatness of Camp Nou and FC Barcelona – by going on a tour.
For visitors 11 years and above, the Camp Nou tour ticket costs €26 per person, and kids aged 4 to 10 years can get in by paying a discounted price of €20.
Camp Nou tour tickets
This Camp Nou tour ticket lets you access everything there is to see and experience at the premier Barcelona stadium.
Camp Nou tour ticket's inclusions are:
– Away team dressing room
– FC Barcelona's chapel
– Player's tunnel
– Player's dugout
– FC Barcelona Museum
– Camp Nou's Press Box
– The Messi Zone
These tickets are timed – while booking, you must choose one of the many half-hour time slots available.
These Camp Nou Experience tickets are smartphone tickets, which means they get delivered to your email, and you don't need to take printouts.
On the day of your visit, show them the ticket in your email and walk in.
Camp Nou tour price
Adult ticket (11+ years): 26 Euros
Child ticket (4 to 10 years): 20 Euros
Infant ticket (up to 3 years): Free entry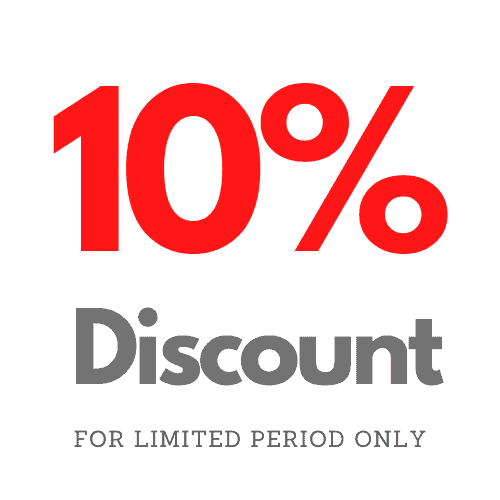 You can get fantastic discounts when you buy tickets for these attractions together –
Visual Story: 12 must-know tips before visiting Camp Nou
Guided tour of Camp Nou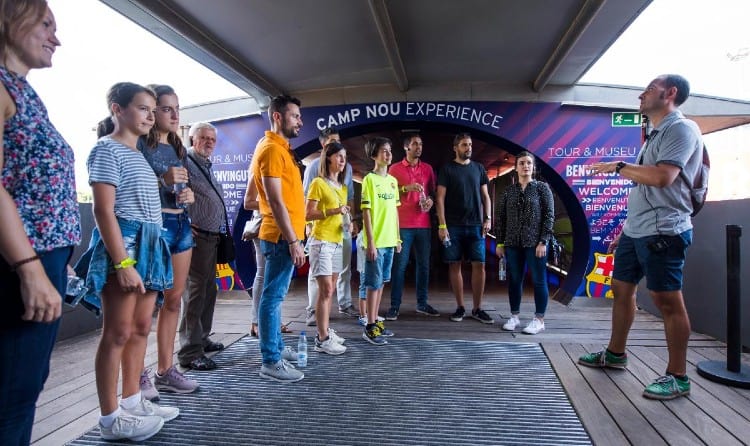 If you prefer a FC Barcelona guide to take you around, check out this guided Barcelona Stadium tour.
Why online Camp Nou tickets are better
You can buy Barcelona Camp Nou tickets online, or you can buy from the ticketing window at Gate No. 9 of the Stadium.
For the best Camp Nou tour experience, we recommend you buy the tickets online.
There are four distinct advantages of booking your Camp Nou Stadium tour online.
1. Avoid the queue
If you decide to buy tickets for the Barca Experience from the Stadium, you must stand in a queue at the Gate No. 9 ticketing counter.
Depending on the season and time of the day, you may have to wait anywhere from 30 minutes to 2 hours in the line.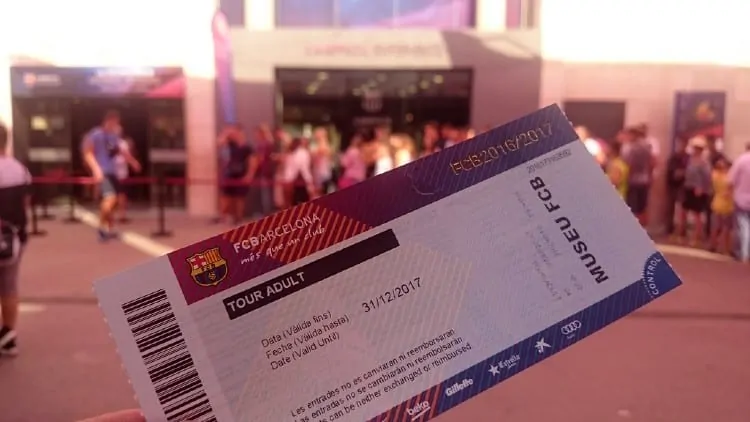 You can avoid this waiting time if you buy your tickets online.
Bonus: If for some reason, you didn't heed to our advice and are now standing in Camp Nou's ticketing queue, check out these interesting Camp Nou facts
2. Ticket prices are discounted
Yes, you read that right – if you buy your Camp Nou tickets online, you get a discount on the ticket.
When you buy Barcelona Camp Nou tickets at the venue, you get charged 2.5 Euros extra for every ticket.
This 'extra' you end up paying is called the handling charge (also known as the window surcharge).
When you buy online, you don't pay this surcharge and hence end up with a 2.5 Euros discount on every ticket.
Save money, buy Camp Nou Tour tickets online.
3. Avoid the wait for your time slot
Tickets issued at Camp Nou have a time mentioned on them.
And you can only start your Tour Camp Nou at the time specified on your ticket.
If you don't purchase your tickets online, these timed tickets result in additional waiting time during crowded days.
Let us explain how:
Let's say you reach Camp Nou Stadium at 2 pm.
You stand in the queue at the ticketing counter for a half-hour and get your tickets at 2.30 pm.
But because of the crowd, the next available time slot is 3.30 pm (this time gets printed on your tickets).
Now, you will have to wait for an hour before you can start the Camp Nou Experience tour.
When you book your ticket online, you can avoid this waiting by arriving at the Camp Nou entrance in time for your tour to start.
4. No need to do research on match days
Camp Nou tour gets affected when matches are scheduled at the stadium.
For Champions League matches
When a Champions League match is scheduled, the Camp Nou tour gets affected on two days – one day before the game (for preparation) and the day of the game.
On both days, you can visit the FC Barcelona Museum, the Trophy Room, and Messi's Zone till 3 pm.
But this is only half the experience, so we don't recommend visiting on match days.
For La Liga & Copa del Rey matches
The Camp Nou tours get canceled when La Liga and Copa del Rey matches get scheduled.
How booking online helps
When you buy Camp Nou tour tickets online, you can't book on match days.
Thus, you don't have to do your independent research on match days.
You also won't land up at the stadium's Gate No. 9 to buy tickets on a matchday only to be turned away.
Save yourself a lot of trouble, buy Camp Nou tickets online.
How to reach Camp Nou
Camp Nou has been FC Barcelona's home since it was inaugurated in September 1957.
The Camp Nou stadium is in the Les Corts neighborhood of Barcelona.
There are many ways to get to Barca stadium.
Camp Nou access gates
Here is a map showing all the Camp Nou entrances –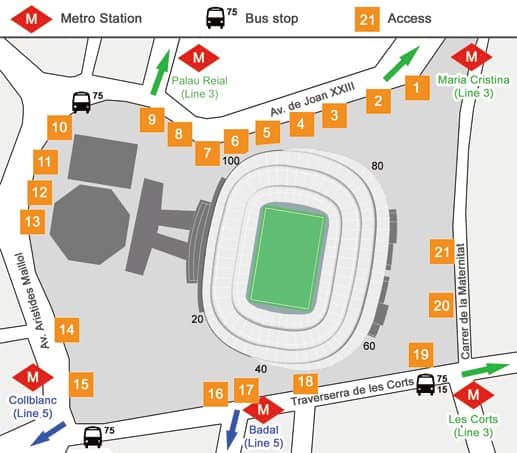 If you are near the Barcelona Stadium, you can walk the distance.
You should reach Gate No. 7 or Gate No. 9 on Avinguda de Joan XXIII if you have booked a Camp Nou tour.
By Metro
Two Metro Lines take you close to Camp Nou – Line 3 and Line 5.
If you are taking Line 3, get down at Metro Station Palau Reial or Les Corts.
If you are reaching Barcelona Stadium by Line 5, the closest Metro stations are Collblanc and Badal – you decide.
From each of these Metro Stations, Camp Nou is approximately 10-minutes by walk.
By Bus
Bus numbers D20, H6, H8, 7, 33, 54, 56, 57, 59, 63, 67, 68, 70, 75, 78, 113, 157 & L12 pass through Camp Nou.
Camp Nou parking
During Camp Nou tour hours, free parking is available for all visitors.
You must enter the Stadium via Access 14 (Carrer Arístides Maillol).
On match days, parking is available only till four hours before the kick-off time.
If you have booked your Camp Nou tour on a match day, opt for public transport.
Save money during your Barcelona holiday. For free rides on public transport, get Hola BCN card
Camp Nou tour hours
During the peak season of April to October, the Camp Nou Experience tour is available from 9.30 am to 7.30 pm every day.
During the rest of the year, the Barcelona FC Stadium and Museum open at 10 am and close at 6.30 pm.
| | | |
| --- | --- | --- |
| Period | Day(s) of the Week | Time |
| 2 Jan to 8 Jan | Daily | 10 am to 7.30 pm |
| 9 Jan to 24 Mar | Monday to Saturday* | 10 am to 6.30 pm |
| 25 Mar to 14 Oct | Daily | 9.30 am to 7.30 pm |
| 15 Oct to 16 Dec | Monday to Saturday* | 10 am to 6.30 pm |
| 17 Dec to 31 Dec | Daily | 10 am to 7:30 pm |
*During the lean period from 9 Jan to 24 Mar and from 15 Oct to 16 Dec, on Sundays the Camp Nou Tour is only available from 10 am to 2.30 pm.
Camp Nou tours on Match days
On Matchdays, Camp Nou Experience tours get canceled.
That's why match days aren't the best time to visit Camp Nou.
However, depending on the type of match, certain parts of the Camp Nou Stadium tour are open to the public.
When is Camp Nou closed?
Camp Nou remains closed on Christmas and New Year.
Best time to visit Camp Nou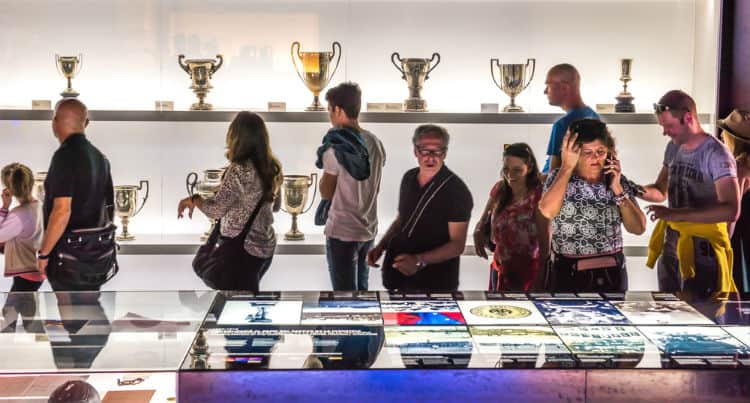 The best time to visit Camp Nou and start your Barcelona Stadium tour is before 11 am.
The queue is short, and you can spend as much time as you want to explore the exhibits at the FC Barcelona stadium and Museum.
If you can't make it before 11 am, the next best time is by 4 pm.
But then, you only get two and a half hours to make the most of your Tour Camp Nou.
On all days of the week, the period just after lunch sees the longest queues.
If you want to avoid the crowd, it is best to book Camp Nou tour tickets online.
Visiting this attraction close to the match days isn't advisable because the Barcelona Camp Nou tour gets canceled.
Camp Nou in winter
You won't experience long lines at the ticketing counters and the other attractions on tour during winter.
However, during these months, the Camp Nou stadium feels a bit colder than usual.
The self-guided museum tour, which is indoor, doesn't get affected in winter.
Best time for photographs
Inside the FC Barcelona Museum you can take close shots of trophies and other memorabilia all through the day.
However, if you want to take good photographs of the stadium, the best time to visit Camp Nou is before 5 pm.
Shadows start to elongate and darken up the photographs after 5 pm.
Hint: If you plan to get photographed on the pitch, don't wear green. You don't want to merge with the lush green Camp Nou grass.
How long does Camp Nou tour take?
The Camp Nou Tour, which includes both FC Barcelona Museum and the Stadium, takes two hours.
Serious Barcelona FC fans are known to spend even up to four hours on tour.
Most of this time goes in viewing the Barcelona FC's trophies, the various other exhibits on display, learning the club's history, and soaking in the stadium atmosphere.
There is no time limit on the Camp Nou tour ticket – once inside, you can stay and explore till it is closing time.
What to see at Camp Nou Experience tour
Camp Nou Experience tour is a self-guided tour that takes you through everything there is to see at Europe's finest soccer stadium.
This experience is also known as the Barcelona FC tour.
On non-match days, the Camp Nou Experience tour includes everything on offer at the world-class stadium.
1. 3D presentation at Camp Nou
This 3D show provides images and scenarios of famous football matches.
If you are visiting with kids, stop by here because they seem to love this 3D show more than adults.
This 3D show has no audio – perhaps, to cater to tourists from all nations.
2. Away team dressing room, Camp Nou
You get a peek inside the away team dressing room where Ryan Gigs, David Beckham, Didier Drogba, Frank Lampard, and many other legends have discussed team strategies before facing the mighty FC Barcelona.
3. FC Barcelona's Chapel
Gods of football come to worship the real God at this Chapel before entering the pitch and facing their opponents.
The Chapel is right next to the dressing room.
4. Players' tunnel and the dugout at Camp Nou
This part of Tour Camp Nou is sure to give you goosebumps.
It is the same tunnel through which players such as Maradona, Johan Cruyff, Ronaldo, Romario, Ronaldhino, Xavi, and Messi walked to the pitch.
You will be standing on the spot graced by their stud-laden feet.
You can also sit on the dugout benches and do a fake warm-up as if you were going in next.
However, this part of the tour remains closed on match days, and you can only enjoy a panoramic view of the stadium.
5. FC Barcelona Museum
At the Museum, you can see all the 5 Champions Leagues, 3 FIFA Club World Cups, 24 La Liga titles, and 29 Spanish Cups.
Many interactive walls take you through the glorious history of the club.
A video presentation showcases some of the biggest wins of Barcelona FC.
6. Press Box at Camp Nou
As part of the tour, you can explore the elegant 29-cabin Barcelona press box, which stretches for about 35 meters above the ground.
The view from the press box is one of the best.
7. Artwork of Miro at Camp Nou
The famous artist Miro was a Barcelona fan, and as a tribute, he has made a beautiful lithograph displayed at the club.
The painting is bound to catch the attention of art-lovers visiting the FC Barcelona stadium.
Read more such Camp Nou facts.
8. The Messi Zone, Camp Nou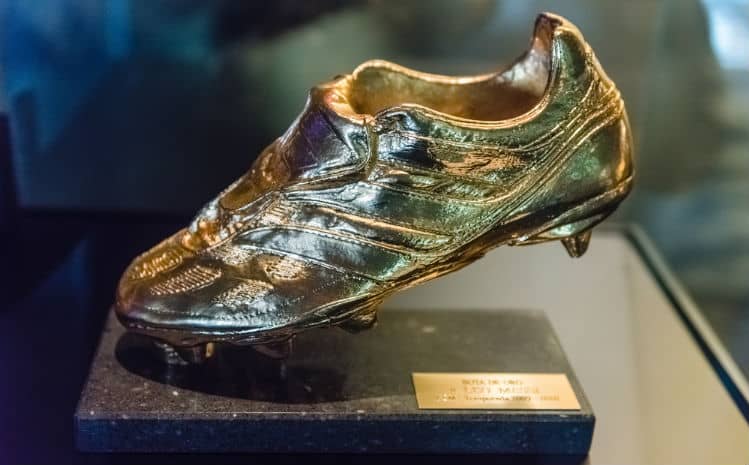 The club hero! The legend! The magician! No words are enough to describe this footballing maestro who grew up in this club.
In Messi's Zone, you can see his three Golden Boots and five Ballon D'ors.
If his trophies and the prizes overwhelm you, get ready to be blown away by the continuously-running big screen display of Messi's legendary goals.
Camp Nou tour reviews
Camp Nou is a highly rated attraction on TripAdvisor.
Its 4.5 rating makes it a top 10 tourist attraction in Barcelona.
We have selected two of the most recent Camp Nou reviews for you –
Really interesting tour
As a football lover, I was always going to love this, but my wife who is not really into football also enjoyed it.
The Museum was fascinating. The Museum is not only about the team but the part they played in Catalonian history and the differences between Catalonia and Spain.
Being able to go pitch side, see the change rooms, media boxes and walk up the tunnel to the pitch was all part of the exciting experience. – H3005MGjohna
A must for any football fan!
I have been to Barcelona twice now and both times I have visited Camp Nou.
I honestly cannot describe how amazing the stadium is, I still enjoyed the tours and experiences even though I had already seen them. – Avigeektraveller
Camp Nou audio guide
The Camp Nou Experience tour is self-guided.
You will see enough directional arrows, information boards, bright yellow barriers, etc., to direct you all through the tour.
Besides, there are security guards and attendants to guide you if you get stuck.
However, if you love lots of information, we recommend you purchase the Camp Nou audio guide.
Working the Camp Nou's audio guides is easy.
It has two parts – a device where you can input numbers corresponding to the exhibit you are standing next to and an earphone that relays the info.
Barcelona Stadium tour's audio guide costs 6 Euros per person, and you can buy it at the venue.
These audioguides are available in Catalan, Spanish, English, French, Italian, German and Dutch.
Restaurants in Camp Nou
If you prefer you can break your Camp Nou tour for some good Spanish food at 'Tapas 24', or the popular Spanish fast food joint 'Pans and Company' or 'Ice Rink'.
All these restaurants serve local fare.
You can't be a soccer fan and not have a beer at Camp Nou.
That's precisely why 'Estrella Damm Hall' dishes out beer and snacks for the tourists who walk in.
Souvenirs at FCBotiga
FCBotiga stores are the official merchandise store for Barcelona FC.
The largest of the FCBotiga stores is at Camp Nou.
At the end of the Camp Nou Stadium tour, you will be ushered into FCBotiga to pick up souvenirs.
These FCBotigas also exist in other parts of Barcelona and are excellent places to pick up gifts for friends and relatives.
Sources

# Fcbarcelona.com
# Barcelona-tickets.com
# Barcelona.com
# Ticketshop.barcelona

The travel specialists at TheBetterVacation.com use only high-quality sources while researching & writing their articles. We make every attempt to keep our content current, reliable and trustworthy.
Popular attractions in Barcelona