Barcelona's Tablao Flamenco Cordobes has every right to be regarded as the city's most important historical tablao.
Since its establishment in 1970 under the direction of a family of artists, it has welcomed every great flamenco performer to Barcelona.
Without losing a shred of authenticity, it has grown to be a flamenco industry standard while remaining true to its illustrious past as a tablao flamenco.
This article shares everything you need to know before buying tickets for Tablao Flamenco Cordobés en Barcelona.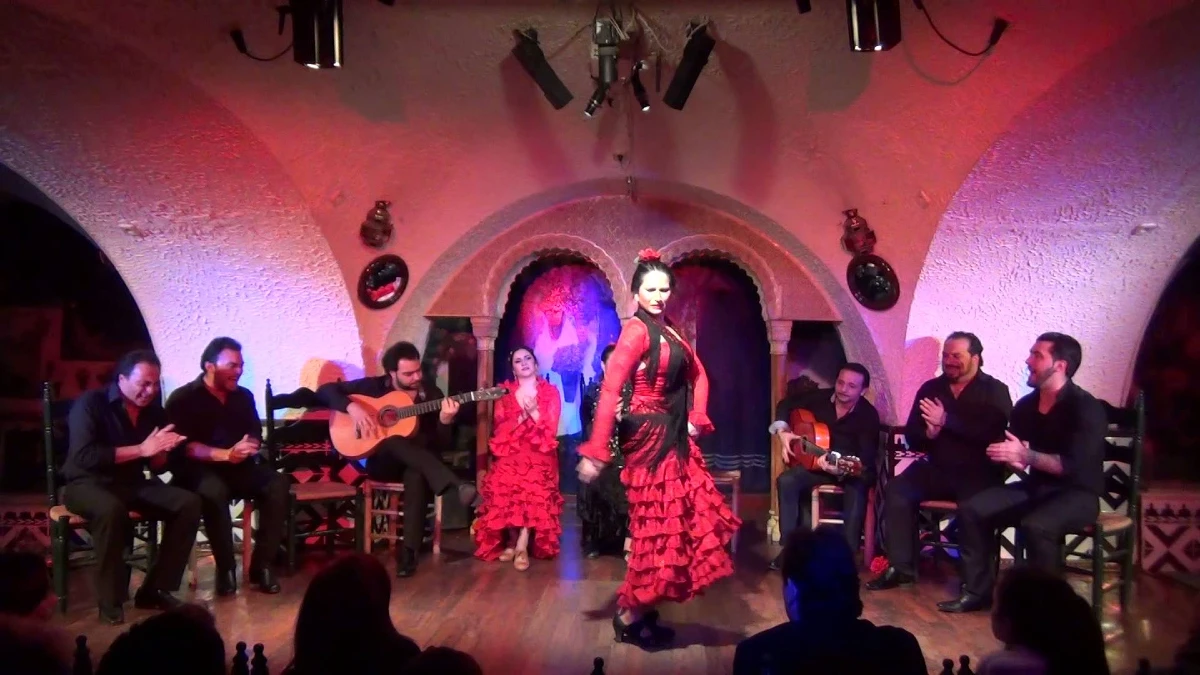 What to expect on Tablao Flamenco Cordobes show
The Tablao Flamenco Cordobes, established in 1970 and run by a family of performers, offers authentic flamenco performances in Barcelona.
Visit the place that, throughout the period of Spain's democratic transition, grew to be the primary gathering place for fans of flamenco.
High-intensity flamenco performances are combined with Spanish and Catalan delicacies in the adjacent restaurant every evening at Tablao Flamenco Cordobes.
One of the few places of its sort on La Rambla, Tablao Flamenco Cordobes is renowned for drawing some of the best flamenco dancers in the nation.
Where to buy Tablao Flamenco Cordobes show tickets
There are two modes of buying tickets for Tablao Flamenco Cordobés show – online or offline at the venue.
If you land at the venue to buy tickets, you'll have to line up at the ticket counter. During peak times, these lines can get long, and you will end up wasting your time.
Online tickets for Tablao Flamenco Cordobes can be cheaper than those sold at the venue.
When you book online and in advance, you also get your preferred time of visit.
Online tickets also help you avoid last-minute disappointment when tickets get sold out.
How online ticket works
On the booking page, select your preferred date, time slot, and number of tickets, and buy the tickets right away.
After the purchase, you will receive the tickets in your email.
You don't need to take any printouts.
All you have to do is show your smartphone ticket at the welcome desk and get the entry.
Cost of Tablao Flamenco Cordobes tickets
The Tablao Flamenco Cordobés in Barcelona tickets cost €82 for the show and dinner for all visitors aged 3 years and above.
All the visitors aged 3 years and above have to pay €46 for the ticket if they choose to have drinks with the show.
Tickets for Tablao Cordobes Flamenco Show + Dinner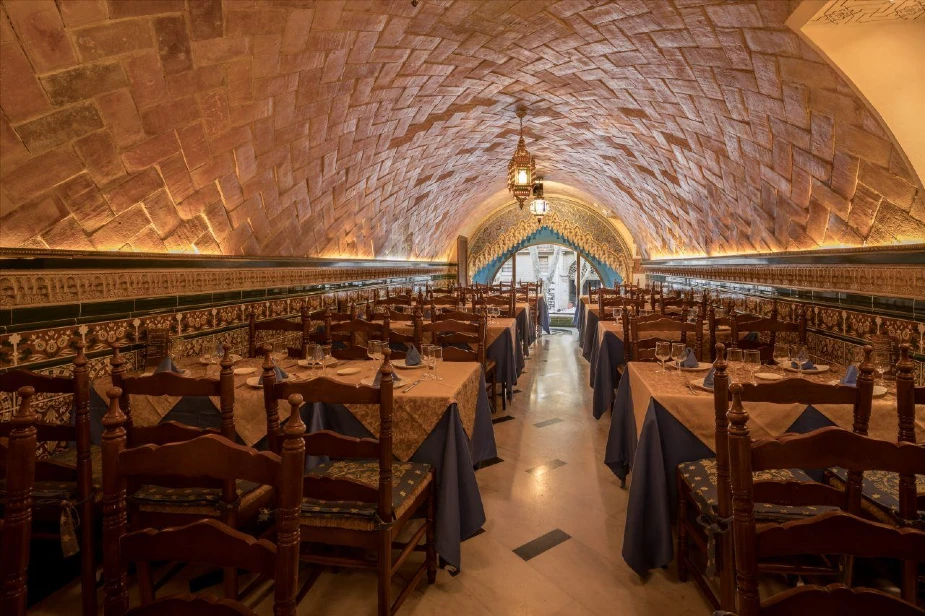 The best night out in Barcelona one experience is a flamenco dinner show on La Rambla in the center of Barcelona.
Before the event, chow down on a buffet luncheon that includes regionally genuine Spanish food.
From the delicious pintxos (small snacks) of the Basque Country to the southern gazpachos, sample it all.
Enjoy beverages like wine, beer, cava, sangria, or soft drink.
Ticket Cost (3+ years): €82
Kids aged 4 to 8 years receive 50% off tickets, redeemable on-site with identification. The show is not suitable for children under 3 years.
Tickets for Tablao Cordobes Flamenco Show + Drinks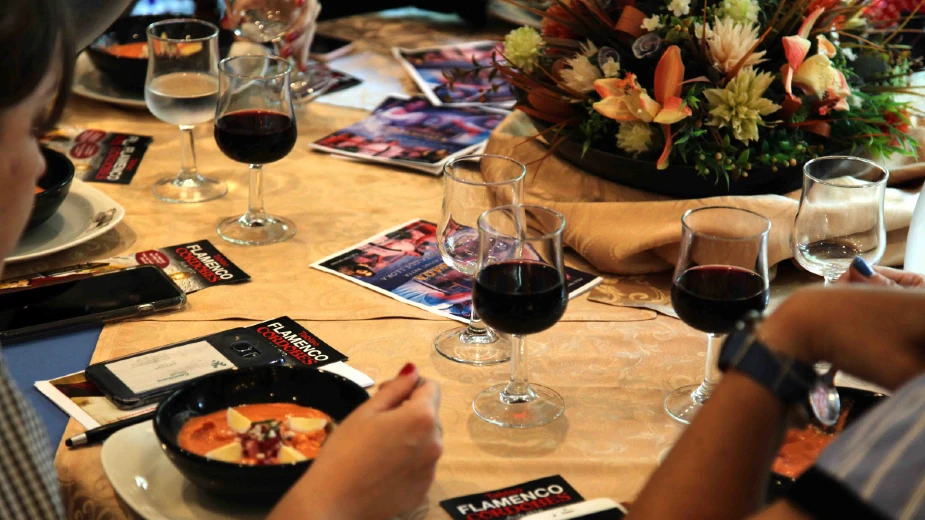 Have a drink to go along with a genuine flamenco performance at Tablao Cordobés in Barcelona.
Legendary performers have performed in flamenco shows at Tablao Cordobés for many years.
This ancient venue makes the ideal setting for an evening of fervent performances.
Ticket Cost (3+ years): €46
Wax Museum Barcelona + Tablao Cordobes show + Dinner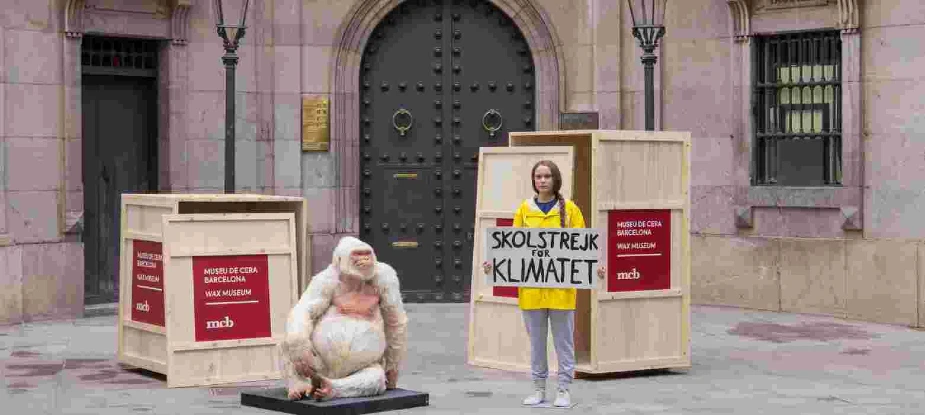 Wax Museum is just 300 meters (1000 feet approx) away from Tablao Cordobés, and you can walk the distance in around four minutes.
This is the reason why visitors love to explore both places together using a combo ticket.
When you buy this combo ticket, you save up to 5% of the ticket cost.
Ticket Cost: €98
Save time & money! Buy Barcelona Pass and see Barcelona's top local landmarks and attractions. Explore spectacular Sagrada Familia, Park Güell, and Plaça de Catalunya, and enjoy the city tour from the top deck of the hop-on, hop-off bus.
How to reach Tablao Flamenco Cordobes
Tablao Flamenco Cordobés, en Barcelona, is located in the heart of Las Ramblas in Barcelona.
Address: La Rambla, 35, 08002 Barcelona, Spain. Get Directions
The most convenient way to reach Tablao Flamenco Cordobés en Barcelona is by metro, bus, and car.
By Subway
Drassanes is the nearest subway station to Tablao Flamenco Cordobés – Barcelona, only three minutes away.
By Bus
La Rambla – Santa Mònica is the nearest bus stop, only a two minutes walk away.
By Car
If you're traveling by car, turn on your google maps and get started!
Palau Nou De La Rambla – Lliure is the nearest parking station to Tablao Flamenco Cordobés, only five minutes walk away.
Tablao Flamenco Cordobes timings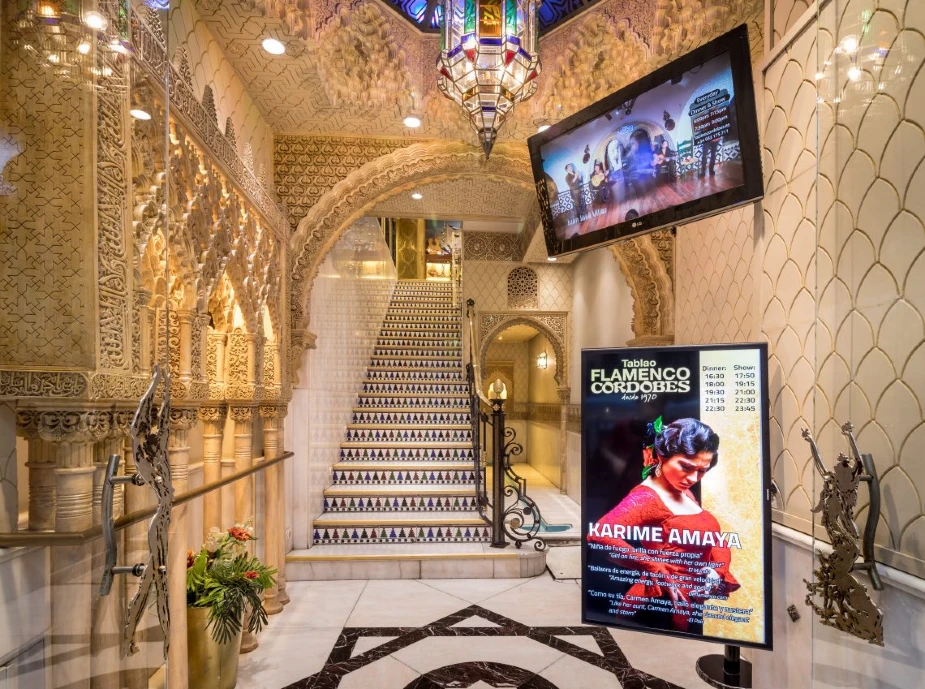 Tablao Flamenco Cordobés shows run all year round, but not all schedules may be available every day from 6 pm to 11 pm.
When booking tickets online, pick a time slot that suits you.
We suggest you arrive 15 minutes before the start of the show to ensure smooth entry and get a good seat inside the hall.
How long does Tablao Flamenco Cordobes take
The whole experience of Tablao Flamenco Cordobés would last for about 2.5 hours, of which 80 minutes is reserved for the LIVE show and the rest for dinner.
Best time to go to Tablao Flamenco Cordobes show
The best time to go for Tablao Flamenco Cordobés en Barcelona is when it presents its first show at 6 pm.
During the first show of the day, the artists are most energetic, and you, too, will feel the beat.
At that time, the crowd will be less, and you can enjoy the show peacefully.
If you want to enjoy the meal with the show, you should prefer evening shows.
Popular attractions in Barcelona