Barcelona Zoo is a popular destination for a day outing spread over 32 acres within the city.
It receives nearly a million visitors annually who visit to see its 2000 animals of 300 different species.
It is also a biodiversity park with 1300 trees, plants, and flowers.
With a rich offering of flora and fauna, Zoo Barcelona is worth visiting, especially for families.
Here is all you need to know before you buy your Barcelona Zoo tickets.
Top Barcelona Zoo Tickets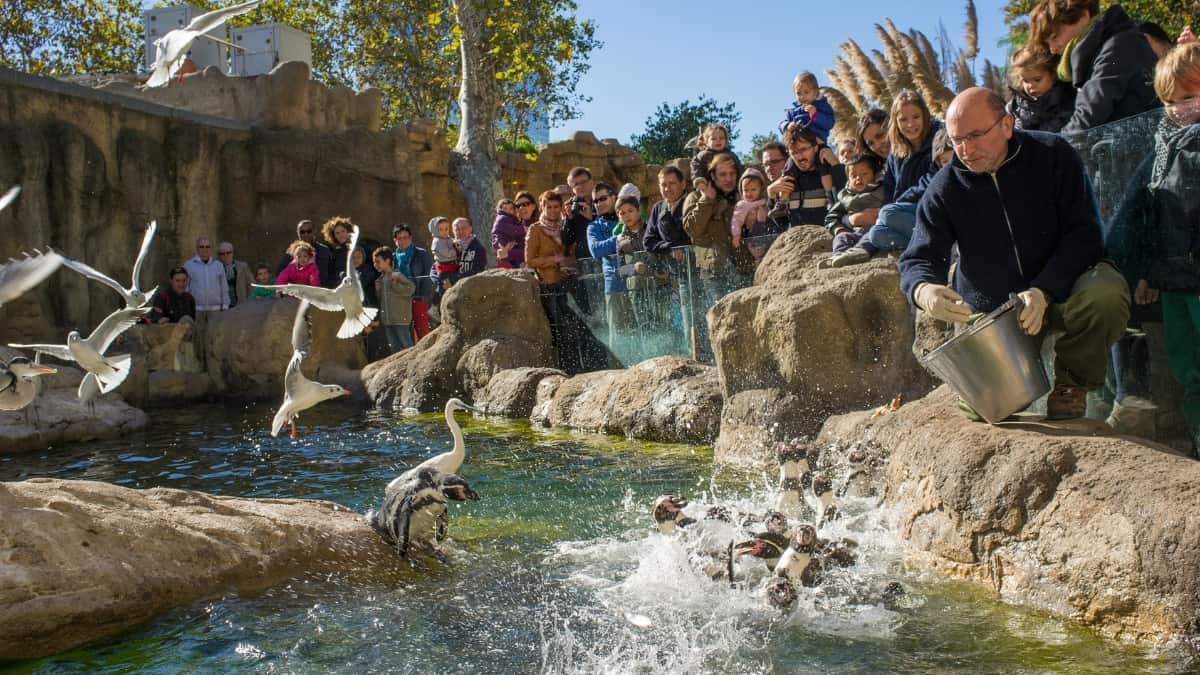 Barcelona Zoo opening times
Barcelona Zoo opens every day at 10 am, but its closing time varies depending on the season.
In the winter months, it closes at 5.30 pm, in Spring and Fall by 7 pm and in the summer months it remains open till 8 pm.
The ticket offices wind up 30 minutes before the zoo closes.
On Christmas Day, the zoo closes in the afternoon.
| From | To | Timings |
| --- | --- | --- |
| 1 January | 18 March | 10 am to 5.30 pm |
| 19 March | 15 May | 10 am to 7 pm |
| 16 May | 15 September | 10 am to 8 pm |
| 16 September | 29 October | 10 am to 7 pm |
| October 30 | December 31 | 10 am to 5.30 pm |
Best time to visit Barcelona Zoo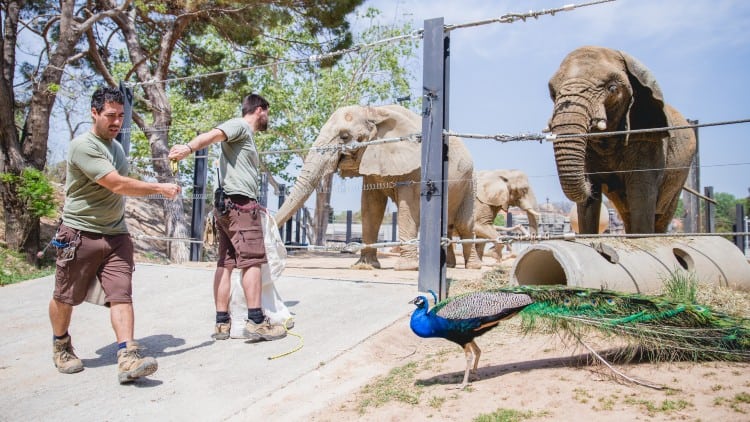 It is best to visit as soon as the Barcelona Zoo opens at 10 am.
As the day progresses and gets hotter, the animals recede to shaded areas and are sometimes hard to spot.
The animals are most active during the first half of the day, and the crowds and queues are smaller as well.
When you start early, you cover a considerable part of zoo before you break for lunch.
On weekends and public holidays, Barcelona Zoo tends to draw a large number of people.
If possible, pick a weekday for your visit to avoid the rush.
Spring and summer months are an excellent time to visit so you can enjoy the outdoors. However, this is when the zoo is also most crowded.
Barcelona Zoo is popular among tourists as well as locals. Hence you are likely to find some crowd whenever you decide to visit.
Book your Barcelona Zoo tickets in advance to gain quicker access and save time from waiting at the booking office queue.
How long does Barcelona Zoo take?
Visitors tend to cover all the animal exhibits, special attractions, and wildlife shows in Zoo Barcelona in four hours.
If you are visiting with children, you may need an additional hour.
Children tend to linger longer around their favorite animal enclosures and make frequent stops for pictures and food.
Some families end up spending an entire day at the zoo.
If you are a group of adults in a hurry, you can keep a better pace and wrap it up in two hours.
If you are into wildlife, you must check out Barcelona Zoo & Aquarium Pass, which gives you access to both the attractions and the city's Cable Car service. You also get a 10% discount code, which you can use (five times!) to get discounts on future purchases.
Barcelona Zoo price
Barcelona Zoo ticket price for adults 13 years and older is 20.33 Euros.
Child ticket for visitors aged 3-12 years costs 12.33 Euros.
Kids under the age of three enter the zoo for free.
The ticket includes a single entrance to the Barcelona Zoo.
Reduced tickets for visitors who use wheelchairs are available onsite, and their carers enter for free.
Barcelona Zoo tickets
We recommended you buy your Barcelona Zoo tickets online for three reasons:
You avoid the queue and can use that time towards exploring the zoo.
Tickets onsite get sold on a 'first come, first served' basis. Booking your tickets online (and in advance) guarantees access.
They are convenient – the tickets get emailed to you, and you don't need to take any printouts.
You can take the entrance through Parc de la Ciutadella and show your smartphone ticket at the box office and walk in.
Cancellation Policy: Visitors can cancel these online tickets 24 hours before the visit.
Ticket price
Adult ticket (13+ years): €20.33
Child ticket (3 to 12 years): €12.30
Barcelona Zoo and Aquarium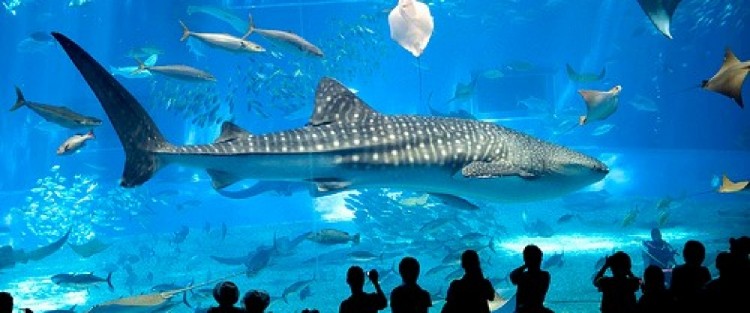 The Barcelona Aquarium is one of the top-most attractions in the city.
Located in del Port Vell, Moll d'Espanya, s/n, 08039 Barcelona, the aquarium is only a 15 minutes walk from the zoo.
For visitors that can maintain a good pace, Barcelona Aquarium can be covered in two hours and is open for longer hours than the zoo.
Several visitors club their zoo and aquarium visit on the same day, while many others visit them on separate days.
When you buy this Barcelona Zoo & Aquarium combo, you get a 10% discount code, which you can use (five times!) to get discounts on future purchases.
It is ideal for locals and tourists with children.
When you buy Barcelona Zoo and Camp Nou Experience tickets together, you get an additional 10% off. You can visit the attractions on different days. Find Out More
Barcelona Zoo animals
The main attractions at Barcelona Zoo are Lions, Elephants, Rhinos, Zebras, Giraffes, Leopards, Pandas, Bears, etc.
The big cats have their own enclosures.
The 2000+ animals and birds in the zoo are divided and showcased in nine unique habitats.
Every zone is designed to mirror the native environment of the respective species, giving an insight into the varied habitats, vegetation, ambiance, etc.
Let's take you through the different zones of Zoo Barcelona.
Land of Dragons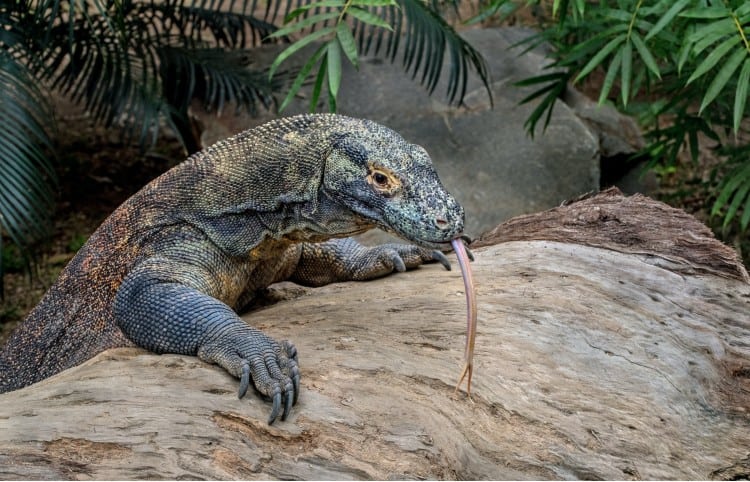 The Komodos facility houses five animal species from the Asia Pacific. It has two primary enclosures – a large one for the Komodo Dragon and the other for Muntjac deer.
Besides these, three bird species from the Asian continent are also present – the Java Sparrow, the Nicobar Pigeon, and the Pied Imperial Pigeon.
Terrarium
Inaugurated in 1972, the Terrarium at the Barcelona Zoo houses one of Europe's best collections of amphibians and reptiles.
It has small dragons, poison dart frogs, iguanas, large spectacled caimans, etc.
It also houses the dwarf crocodile and various species of giant snakes like the python and the boa.
Another fascinating part of the Reptile House is the assisted reproduction room for animals.
It is open to the public and popular amongst children as they can see baby tortoises, snakes, and iguanas here.
Aviarium
Barcelona Zoo has an extensive range of birds from different continents.
The facility was initially constructed in 1970 and renovated in 2002 to represent the varied ecosystems seen in the American, Asian and African jungles.
Barcelona Zoo Aviary is upgraded as per the respective natural habitat of the 70 types of birds that live here.
The Farm
The Farm, also popularly known as the Children's Zoo, is a hot favorite amongst the youngest visitors.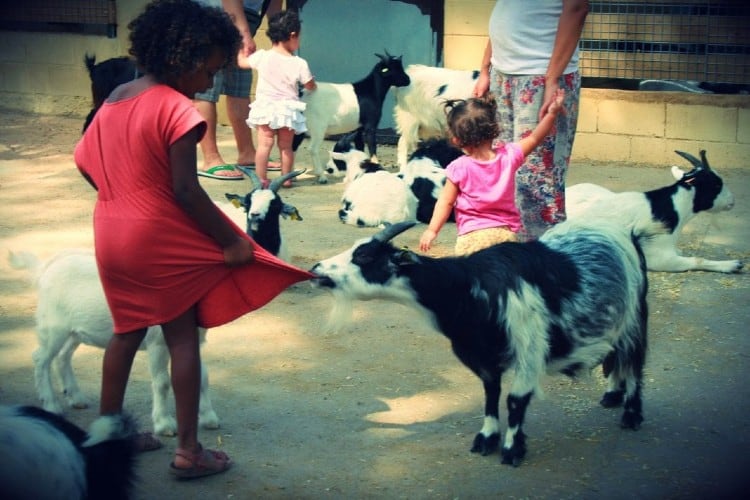 It has goats, ponies, cows, sheep, pigs, horses, rabbits, asses, field mice, etc.
It also has domestic animals such as hamsters.
Don't miss out on the Catalon donkey, a species that was on the verge of extinction.
Children can pet and interact with these animals.
Primates Gallery
Small Primates Gallery has natural living environments that have been created for the primates to be at home.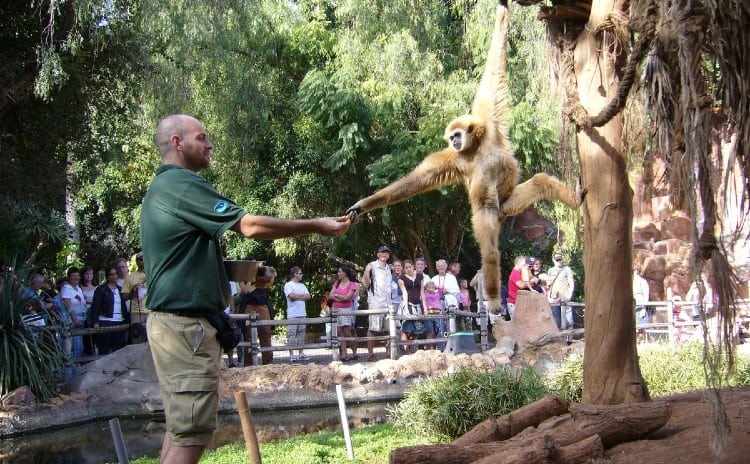 Some of the species housed here are Brazza Monkey, the White-Naped/Nosed Monkey, the Putty-Nosed Monkey, the Red Monkey, the Barbary Macaque, etc.
Visitors can also see the Talapoin, the Siamang, and the Collared Mangabey.
The Primate section has a covered passage with glass walls that enables visitors to see animals climbing up, speedily sliding down ropes, and doing other 'monkey business' like eating their fruit.
Marmosets Gallery
The Marmosets section with its Titi Monkey Gallery is the most visited Barcelona Zoo exhibit.
It was constructed in 1990 to house a sample of one of the world's smallest primates- the South American Titi Monkeys.
Currently, the Marmosets Gallery has seven species of primates living together.
These are the Goeldi Monkey, the White-Faced Monkey, the Golden Headed Lion Tamarin, the Emperor Tamarin Monkey, the Golden-Handed Tamarin, and the Cotton-Top Tamarin.
It also holds the smallest primates in the world – the Pygmy Marmosets.
Palmeral
Closest to the Barcelona Zoo entrance is the Palmeral section with many brightly feathered noisy birds.
The delightful garden to stroll around enables visitors to observe the different bird species from various positions and changing views.
It is enthralling to watch the riotously colorful species like White Cockatoos, Triton Cockatoos, Sulphur-Crested Cockatoos, the Red-fronted Macaw, the Hyacinth Macaw, the Blue Macaw, the Green, and Red Macaw, the Military Macaw, the Golden Parrot, the Yellow-cheeked Parrot from Ecuador, the Red-tailed Parrot and the Red-breasted Parrot.
Flight Dome
The large oval-shaped Bird Flying Dome houses the birds that inhabit the swampy terrain.
Water zones combined with grassland and varied vegetation make for an apt breeding environment for several native species in this section.
The zoo authorities later release these birds in the Catalan Natural Parks.
Barcelona Zoo's Dolphin Show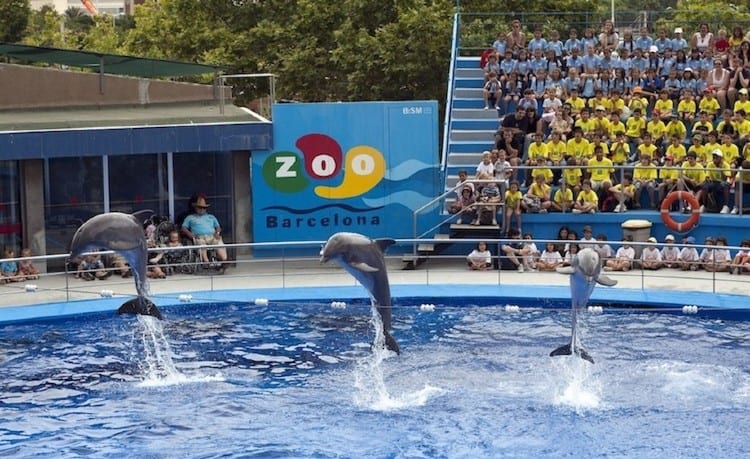 Barcelona Zoo Dolphinarium was amongst the first of its kind in all of Europe.
The Dolphin Show in the Hall of Dolphins here was a major attraction.
Tourists from far and wide thronged to watch the animals jump, swim, raise their hind flippers, swim high in the medium-body, or greet the public with side flippers.
It was popular amongst young and old visitors and had people queuing up 45 minutes before the show's start to gain access and strategic viewing points.
Dolphin shows stopped
After constant requests and appeals from animal rights groups and to become an animalist zoo, Barcelona Zoo took a tough call of stopping this show for good.
On Sunday, 15 November, 2015, the dolphins performed for the last time.
After that, the acrobatic display didn't happen, but visitors could observe the mammals swimming around their pool enclosures.
Barcelona Zoo Dolphins transferred
In July 2020, Barcelona Zoo became the first zoo in Spain to permanently close its Dolphinarium.
The move firmly established their stand against the captivity of these intelligent mammals.
The last three dolphins – Nuik, Tumay, and Blau – were transferred to and rehabilitated in Athens Zoo.
How to get to Barcelona Zoo
Barcelona Zoo is located in the Parc de la Ciutadella s/n, 08003 Barcelona not far from the Born district.
It is just a five-minute drive or a 15-minute walk from Barcelona Aquarium.
Visitors can access Barcelona Zoo through two points – the Ciutadella Park and the other along Wellington Street, next to Passeig de Circumval – lació (ring-road). Get Directions
By Bus
Bus transport in Barcelona offers comprehensive connectivity around the city.
Bus route nos. D20, H14, H16, V21, V27 will drop you closest/at the Barcelona Zoo.
By Metro
Take the L1 Metro line to either Marina station or the Arc de Triomf from where you can walk to the Barcelona Zoo.
Marina is 15 minutes walk while Arc de Triomf is 10 minutes walk to the wildlife attraction.
If Metro Line L4 is closer to you, get down at either Barceloneta Subway station or Ciutadella –Vila Olímpica.
Both are less than 1 km (two-third of a mile) from the zoo and can be walked in approximately 10 minutes.
By Tram
Tram route T-4 takes you to Ciutadella – Vila Olímpica, which is just 11-minute walk from the Barcelona Zoo.
Tram routes connect and complete the travel routes where subway/ metro is unavailable.
By Renfe
Renfe or Spanish Railway is another option.
Renfe routes through/ to Arc de Triomf (10-minute walk to the zoo) and Estació de França (4-minute walk) will take you to the closest distance from the Barcelona Zoo.
Driving to Barcelona Zoo
If you are driving from within Barcelona city, fire up your Google map and take the Ronda Litoral to exit number 22.
It is better to book your car parking slot in advance.
Salou to Barcelona Zoo
Salou is just 55 miles away from Barcelona.
You can plan a day excursion from Salou to the Barcelona Zoo by bus (2.15 hours), train (1.45 hours), or car (1.15 hours).
Barcelona Zoo map
Barcelona Zoo is spread over 32 acres, and it is advisable to carry the map to strategize your visit.
It will help locate the enclosures and sections and facilities such as restrooms, restaurants, picnic areas, medical rooms, lockers, and souvenir shops.
They are convenient for families who may want to start viewing their favorite animals instead of whatever comes along the path.
The Barcelona Zoo map can help you navigate the grounds without getting exhausted or wasting time finding various exhibits. Download map
You can also get the zoo map and directions on the Barcelona Zoo app (Android/iPhone) to help you plan your visit, get information on shows and special attractions.
Restaurants in Barcelona Zoo
Barcelona Zoo allows visitors to carry their own food and drinks.
If you decide to stay light and not carry your own food, you can choose from the restaurants at the attraction.
From pizzas to hot dogs and soups to juices, the zoo's restaurants offer a good spread.
However, it is strictly prohibited to feed animals in the exhibits and zoo grounds.
Here is a list of the restaurants you can try while visiting the Barcelona zoo to beat those hunger pangs.
El Terrarium
El Terrarium or the Terrace outside the Terrarium zone is an Italian food joint serving sumptuous pasta, salads, and pizzas.
They also cater sandwiches and fruit salad.
The restaurant has a children's menu as well as gluten-free options.
It is open every day from 10.30 am to 5.30 pm.
La Granja (Farm) cafe
La Granja or the Farm cafe located next to the children's playground at the Zoo farm offers fresh pizzas, salads, sandwiches, and sides.
Their signature dish and the big draw for hungry visitors is the rotisserie chicken.
The café has gluten-free options and a children's menu.
Picnic areas
You can take a lunch or snack break in the designated picnic areas.
There are three enabled areas – Lady of the Umbrella, Parliament, and Farm with comfortable tables and benches to enjoy your meals.
Sources

# Zoobarcelona.cat
# Tripadvisor.com
# Barcelona.de
# ticketshop.barcelona

The travel specialists at TheBetterVacation.com use only high-quality sources while researching & writing their articles. We make every attempt to keep our content current, reliable and trustworthy.
Popular attractions in Barcelona