The Glòries tower, also known as the Agbar Tower, is a modernist skyscraper in Spain.
Designed by French architect Jean Nouvel, the tower is considered one of the most iconic landmarks of the city and is a remarkable example of modern architecture in Spain.
The tower's 38 floors rise to a height of 144 meters, and its distinguished shape is courtesy of a series of irregular hexagonal floor plates, lending it an avant-garde, fluid form.
This article shares everything you should know before booking tickets for the Glòries Tower in Barcelona.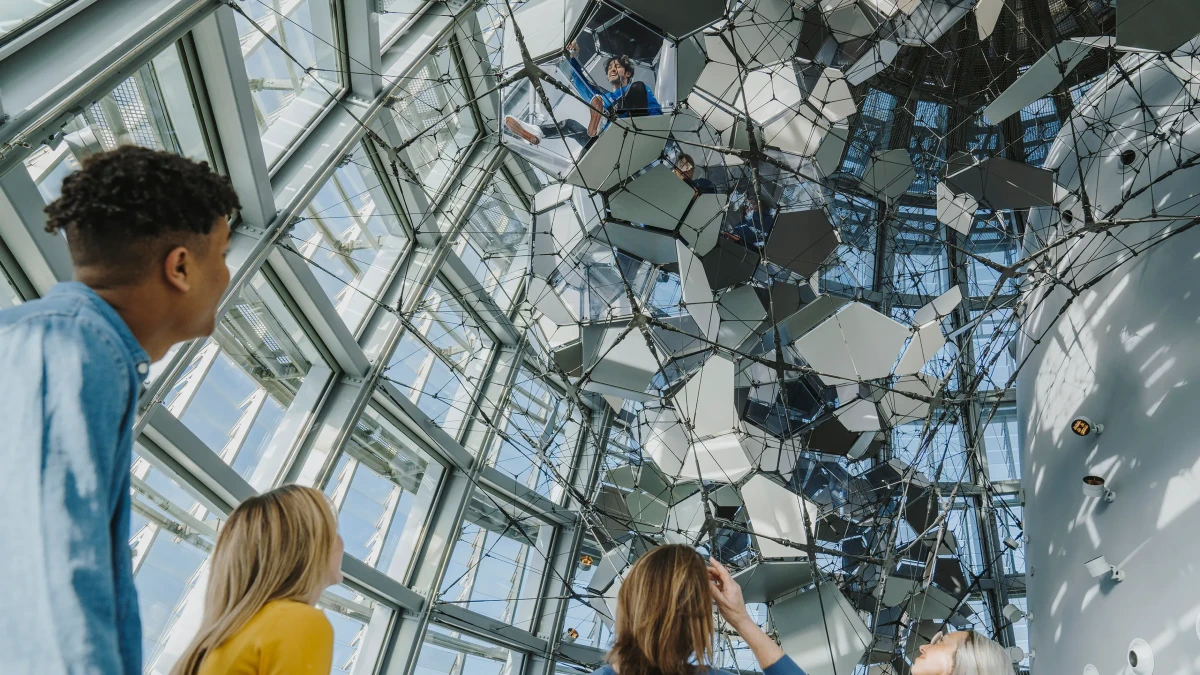 What to expect at the Glòries Tower
The Glòries Tower is located near the beach and is surrounded by parks, gardens, and other modern buildings, making it a key part of the city's urban landscape.
Here are some of the highlights you can expect to see when visiting the tower:
Iconic Facade
The building's unique double-skin facade, made of glass and aluminum, is one of its most striking features.
It is illuminated at night by 4,500 multi-colored LED lights, creating a spectacular light show that can be seen from miles away.
Open Interior Spaces
One of the most interesting features of the Torre Glòries is its interior.
The tower's interior is characterized by its open spaces and clean lines, with large windows providing ample natural light and stunning city views.
Environmental Sustainability
The Agbar Tower is equipped with several energy-saving systems.
This includes a rainwater collection system, a waste management system, and a system for generating electricity from renewable sources.
These systems help reduce the building's energy consumption and minimize its impact on the environment.
Art Installations
The Glòries tower is home to several art installations, including a large mural by Spanish artist Sol LeWitt, which covers one of the building's walls.
360-Degree Views
The Torre Agbar's location near the beach and its height of 138 meters provide visitors with 360-degree views of the city of Barcelona and the surrounding area.
Whether you are an architecture buff, a fan of contemporary design, or simply someone who appreciates beautiful buildings, the Torre Glòries is a must-see destination in Barcelona.
---
---
Where to book Glòries Tower entry tickets
You can purchase your Torre Glòries entry tickets at the attraction or online in advance.
We strongly recommend booking tickets online as online prices tend to be cheaper than tickets at the venue.
When you buy online, you can avoid the long queues at the attraction's ticket counters.
Booking online also helps avoid last-minute disappointments.
How online ticket works
Go to the Glòries Tower booking page and select your preferred date, time slot, and the number of tickets, and buy them instantly.
After the purchase, you will receive the tickets in your email.
You don't need to take any printouts.
Scan your the e-ticket on your smartphone at the entrance on the day of your visit and walk into the Tower Agbar right away.
Cost of Glòries Tower entry tickets
The Torre Glòries entry tickets cost €15 for all visitors aged between 18 and 64 years.
Seniors aged 65 years and above pay a discounted price of €12 for entry.
Children aged between 5 and 17 years also pay a reduced rate of €12 for entry.
Kids up to 4 years can enter the Glòries Tower for free and must be accompanied by an adult during the visit.
Tickets for Torre Glòries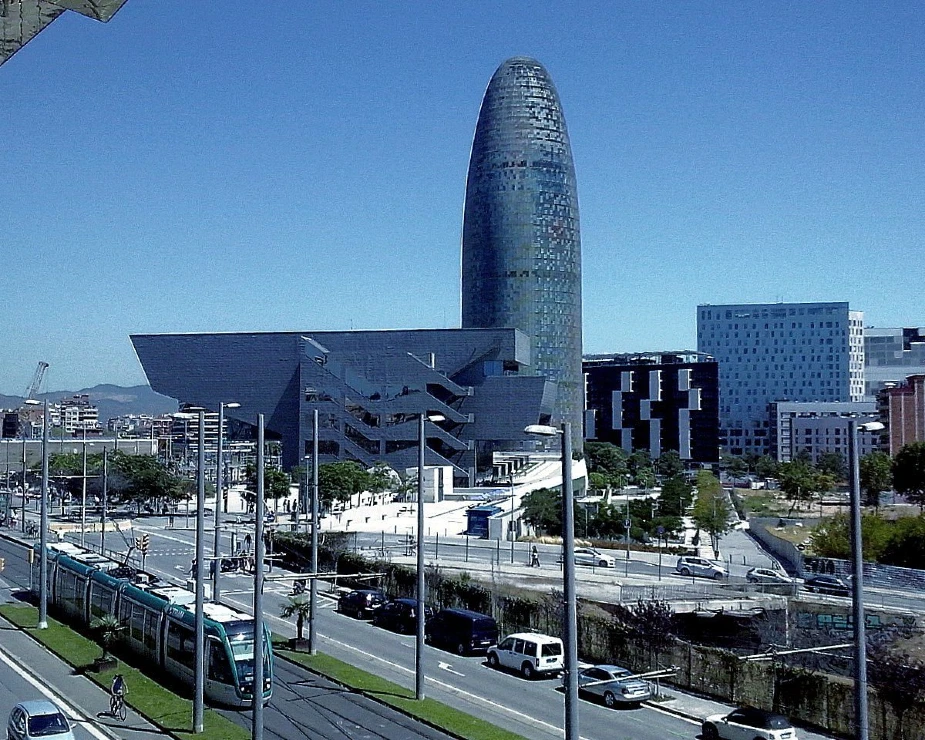 The tickets for Torre Glòries include access to the interactive museum and the 360º lookout on the 33rd floor.
You can also find an exhibition space on the 26th floor, which offers a multimedia experience showcasing Barcelona's history and evolution.
You will also receive an audio guide that provides information about the tower, the surrounding area, and Barcelona's history.
You can also add Cloud Cities Barcelona Experience for an extra €10 during checkout.
Ticket Prices
Adult Ticket (18 to 64 years): €15
Senior Ticket (65+ years): €12
Youth Ticket (5 to 17 years): €12
Infant Ticket (Up to 4 years): Free
Save money & time! Buy The Barcelona Pass and see Barcelona's top local landmarks and attractions. Explore the spectacular Sagrada Familia, Park Güell, and Plaça de Catalunya, and enjoy the city tour from the top deck of the hop-on, hop-off bus.
---
---
How to reach Torre Glòries
The Torre Glòries is located in the district of Sant Martí, in the northeastern part of the city.
Address: Avinguda Diagonal, 211, 08018 Barcelona, Spain. Get Directions!
You can reach Barcelona's Agbar Tower via both public and private transport.
By Bus
You can board bus numbers 192 and V23 to reach the Badajoz – Diagonal Bus Stop, a 1-minute walk from the Glòries Tower.
By Tram
Tram lines T5 and T6 can take you to La Farinera Tram Stop, a 2-minute walk from the tower.
By Subway
You can take Subway Line 1 to reach the Glòries Subway Station, a 2-minute walk away.
By Car
If you're driving, you can turn on Google Maps on your smartphone and get started.
Click Here to check nearby Car Parking Lots.
Torre Glòries Barcelona timings
The timings of the Glories Tower vary based on peak and non-peak seasons.
From 15 October to 31 March, the Agbar Tower in Barcelona opens at 9.30 am and closes at 6.30 pm from Wednesdays to Mondays.
However, from 1 April to 14 October, the time is 10 am to 9 pm.
The tower remains closed on Tuesdays.
The Torre Glòries remains closed on 25 December and 1 January.
On 24 and 31 December, the tower is open from 9.30 am until 3 pm.
How long does Glòries Tower take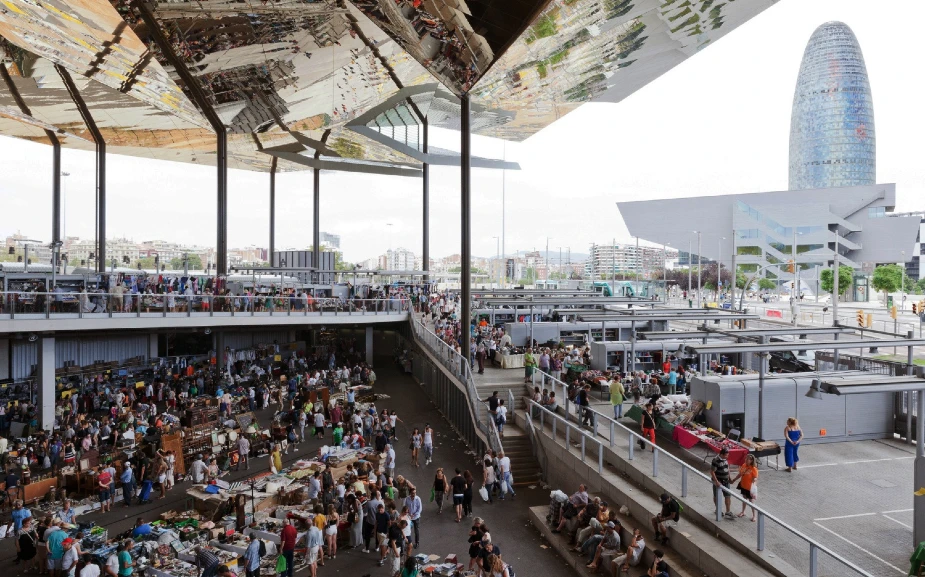 The Glòries Tower takes around one hour to explore.
However, you can spend as much time here as you want.
Best time to visit the Glòries Tower
The best time to visit the Torre Glòries is during weekdays, early in the morning, or late in the afternoon if you want to avoid crowds.
Another best time to visit Torre Glòries is during sunset when the sky changes color, and the city's lights start to twinkle.
So, if you want to witness a stunning sunset view, plan your visit for late afternoon or early evening.
Is Torre Glòries worth a visit
A visit to the Torre Glòries is an opportunity to see a unique and innovative building that showcases the creativity and technical expertise of its designer, Jean Nouvel.
Its unique design and environmentally sustainable features make it an important landmark in Barcelona and a symbol of its commitment to progress and innovation.
Whether seen at night, when its LED lights create a stunning light show, or during the day, when its striking facade reflects the sun, the Torre Agbar, captures the imagination and inspires awe.
---
---
FAQs about Glòries Tower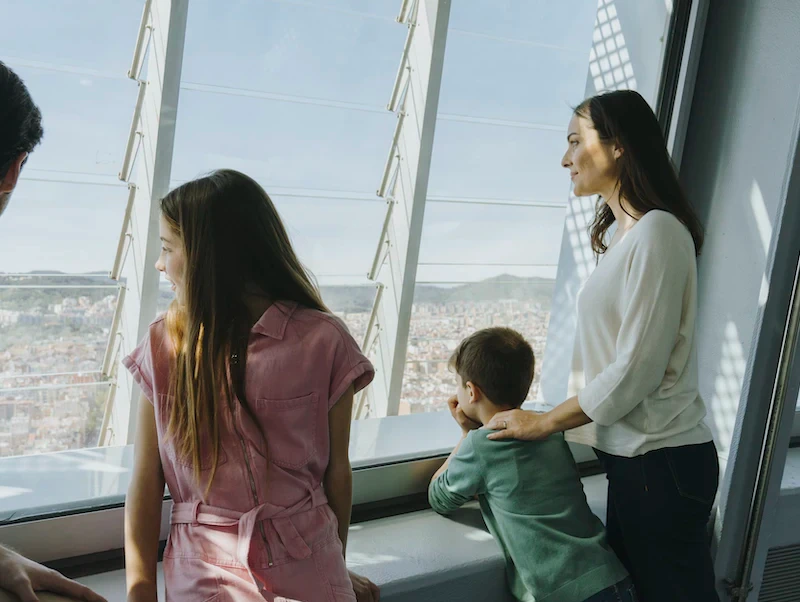 Here are some questions that visitors usually ask about Glòries Tower, Barcelona.
Can I book tickets to Barcelona's Glòries Tower in advance?
Yes, visitors can book tickets to Glòries Tower in advance through the Glòries Tower booking page.
Is the Glòries Tower open to the public?
Yes, visitors can access the tower's observation deck and enjoy views of Barcelona's skyline.
Is there an elevator in Barcelona Glòries Tower?
Yes, there is an elevator that takes visitors to the observation deck.
Can I bring my pet to Glòries Tower?
No, pets are not allowed inside the tower.
Can I take photos inside the Glòries Tower of Barcelona?
Yes, visitors are allowed to take photos inside the tower and on the observation deck.
Is there a gift shop in Glòries Tower?
Yes, there is a gift shop located on the observation deck where you can purchase souvenirs and other items.
Can I visit the Glòries Tower in Barcelona at night?
Yes, the tower is open for a visit until 9 pm, allowing visitors to enjoy the city's skyline at night.
Source
# Miradortorreglories.com
# Wikipedia.org
# Tripadvisor.com

The travel specialists at TheBetterVacation.com use only high-quality sources while researching & writing their articles. We make every attempt to keep our content current, reliable and trustworthy.
Popular attractions in Barcelona