Park Guell was never intended to be a park. It was to be a gated residential community of 60 houses, on the outskirts of Barcelona.
In 1900, Count Eusebi Güell commissioned it and asked ace Spanish architect Antoni Gaudi to start the work. Gaudi worked on Park Guell till the Count died in 1914 and his heirs decided to stop work on the project.
In these 14 years, with the help of his trusted artisans, Antoni Gaudi ended up architecting one of the most beautiful landmarks in the World.
Over the years' lots of interesting facts about Park Guell have been unearthed. Some are documented Park Guell facts and some are just legendary. Some are academic and some are just Park Guell's fun facts.
Why should you know more about Park Guell? Because 10 Million tourists visit Park Guell every year – second only to Sagrada Familia. And much ahead of other Barcelona attractions such as Camp Nou, Barcelona Aquarium, Casa Batllo and Casa Mila.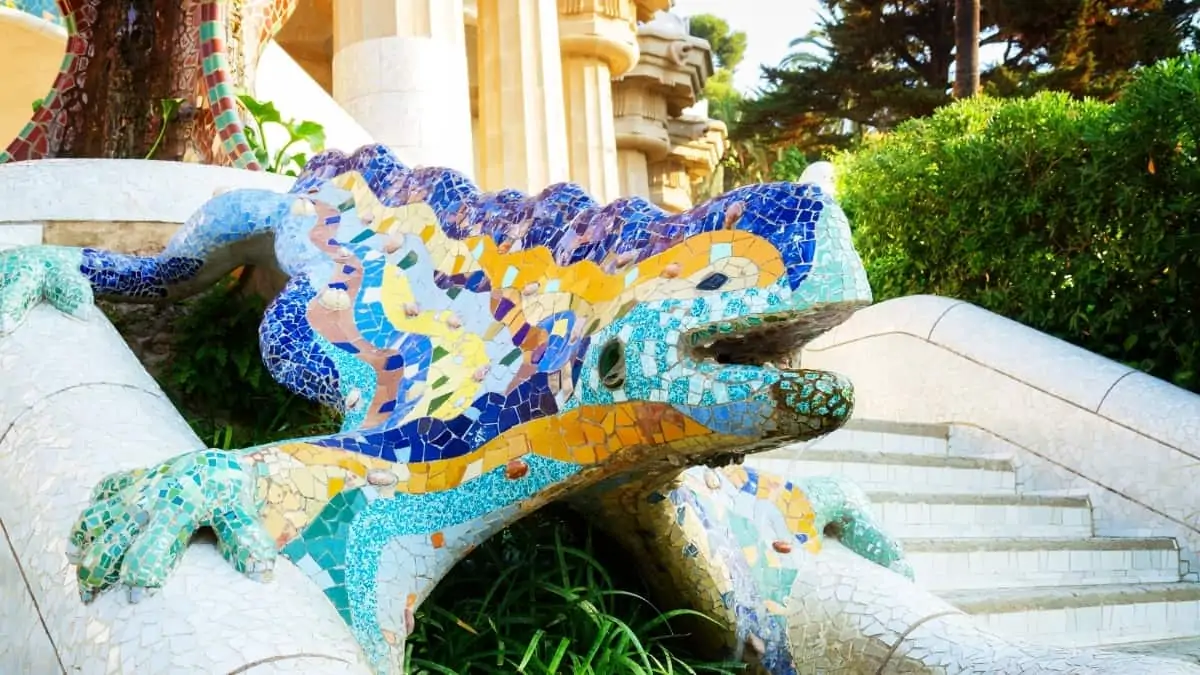 Guell Park was once a failed project
We all know that more than 12 million tourists come to see Park Guell every year. But not so long ago, Park Guell was a failed project.
Count Eusebi Güell, who had lots of money and Antoni Gaudí who had lots of ideas joined hands to build Guell Park with lots of high-quality houses.
They built a model house – which is now referred to as Gaudi House Museum – to showcase the residential complex but nobody came forward to book the houses.
As a result, after Eusebi Güell died, work on this project was abandoned in 1914.
The half-built residential complex was bought over by the city of Barcelona in 1922 and converted into a public park. It was opened to the public in 1926.
'Park Guell' got its name because of British influence
In 1898, Sir Ebenezer Howard had introduced the concept of the 'Garden cities' in the United Kingdom.
He described this Garden city movement as a method of urban planning where residential houses were inter-spread with enough greenery and industry.
Count Eusebi Güell was inspired by the English garden cities movement and wanted to bring it to Spain.
Just like the Garden city plans, this residential community was to have a lot of greenery and hence the word "Park."
To this he added his family name to make it Park Guell.
Gaudi House in Park Guell wasn't built by Gaudi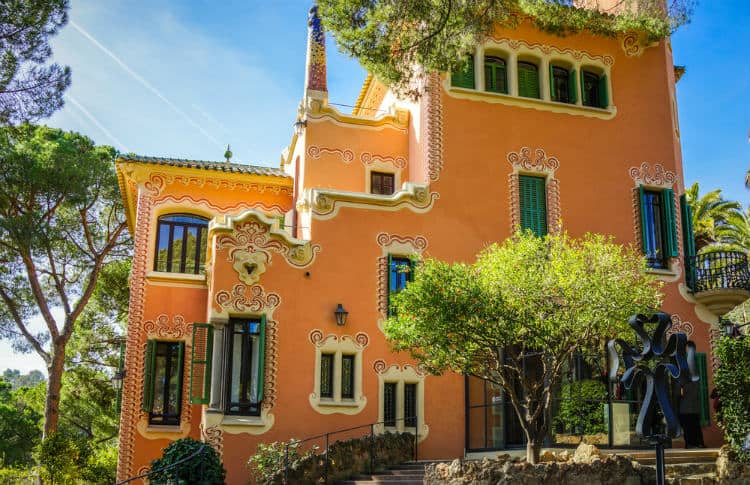 Did you know that Gaudi house, which is the most popular attraction in Park Guell, was not built by Gaudi?
It was built by Gaudi's friend and an assistant named Francesc Berenguer i Mestres.
Antoni Gaudí had signed the plans on behalf of Berenguer because his friend wasn't a qualified architect.
Many tourists don't know this Park Guell fact.
Park Guell has three entrances
The Parc Güell has multiple entrances.
The main access from Carrer d'Olot is the most beautiful. The other entrances are at Carretera del Carmel and Passatge de Sant Josep de la Muntanya.
Unless you are visiting as a group in coaches, we suggest you enter via the main entrance.
Tourists traveling to Park Guell in tourists coaches prefer the entrance at Carretera del Carmel because of the coach park. Check out Park Guell Monumental Zone's map.
Iron Gates at Park Guell wasn't part of the plan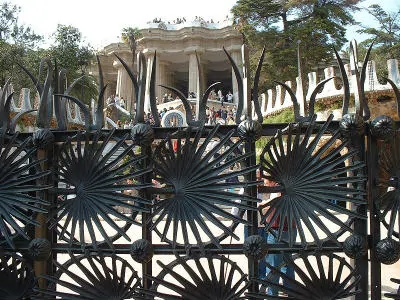 The iron gates, designed in the shape of palm leaves weren't part of Gaudi's plan for Park Guell.
When Park Guell was first built the gates were wooden.
Sometime after Gaudi's death, the current iron gates were brought in from Casa Vicens, the first house that Antoni Gaudi designed in Barcelona.
Image: Wikimedia.org
>> Buy tickets for Casa Vicens museum
Visual Story: 13 must-know tips before visiting Park Guell
Gaudi wanted to impress right from the word go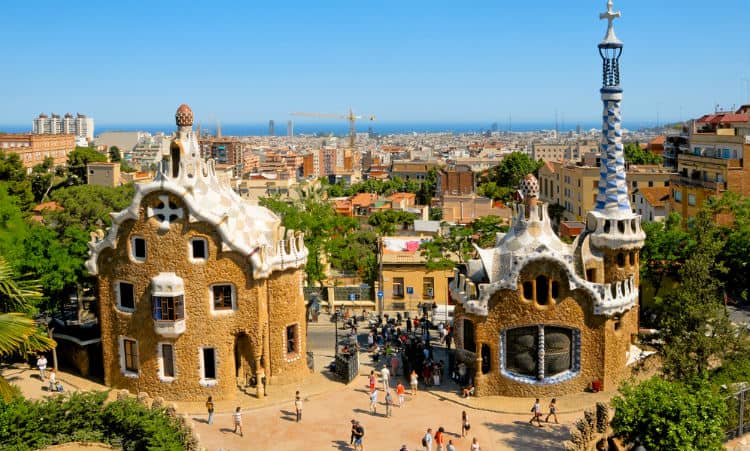 On both sides of the Park Guell's main entrance are two very imposing buildings – the porter's lodge with a waiting room and telephone etc on the right and the guard's residence called Casa del Guarda to the left.
Casa del Guarda is today part of Barcelona History Museum. Both the buildings are beautiful and attract a lot of crowds.
Entry to Casa del Guarda is now included in the entrance fee of Park Güell so you don't need to buy separate tickets.
These two buildings were inspired by the story of Hänsel and Gretel.
The Salamander at Park Guell is Barcelona's symbol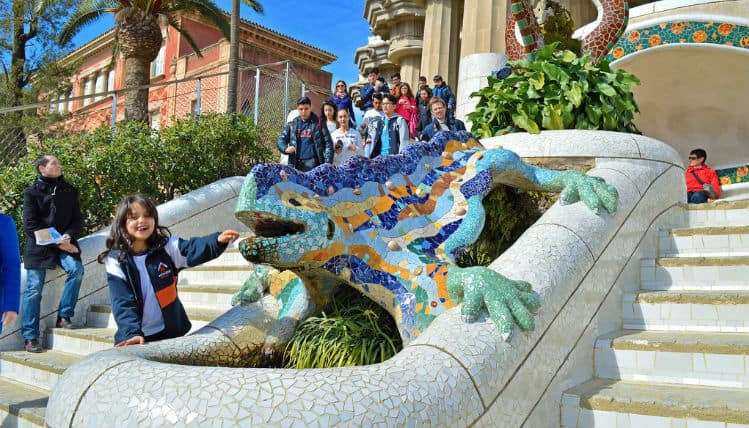 A colorful salamander rises prominently on the stairs at the entrance of Park Güell as one of its fountains.
This multicolored mosaic salamander is also sometimes known as "el drac" or the dragon. And Sometimes as the Park Guell lizard.
Since this Salamander at Park Guell was considered the symbol of Barcelona, three vandals tried to destroy it in 2007.
They entered Park Guell with an iron bar and rained blows on the beautiful Salamander statue and destroyed its face.
Thankfully, they were arrested by the police before they could cause any more damage.
Measuring 2.4 meters in length, this Salamander seems to be guarding Park Guell. It is made of bricks and covered in colorful Trencadis.
As for what is Trencadis, read on.
Gaudi invented Trencadis and used it extensively
This is an interesting Antoni Gaudi's Park Guell fact.
To bring uniqueness and colorfulness to his work, Antoni Gaudí invented Trencadís. He had first used it on his work called Fincas Güell, one of Count Guell's estates in Barcelona.
Trencadis is a mosaic decorative system where the artisans cover surfaces with small pieces of broken ceramic. Gaudi made sure artisans working on Park Guell used Trencadis everywhere.
The name Trencadis originated from the Catalan word 'trencar', which means 'to break' in English.
Park Guell is full of animal representations
It is no secret that Gaudi loved nature. As a result, his this masterpiece in Barcelona has a lot of animals on display.
And to top it, some of the best execution of Trencadis technique is on the animals. Broken, colorful ceramic pieces make these animals look life-like.
Salamander
Your tour of Park Guell will start with the Salamander at the entrance (some also call it the Dragon).
While some believe, this Salamander guards the park, other historians say it represents alchemical Salamander, symbolizing fire.
Snake
Since Gaudi was a Catalan (a native of Catalonia in Spain) he decorated the staircase at the entrance with a snake surrounded by the Catalan flag.
Some historians believe that this snake represents Nejustan, a snake Moses carried on his staff.
Octopus
A large Octopus rests on the ceiling of Hypostyle Room, the marketplace for the residential complex.
This Octopus represents the water drainage system that passes through the inside of this roof.
Lions
On the outside of the balcony are gargoyles in the form of lion heads. These act as the water drainage system for the balcony.
Park Guell was Gaudi's second park
Park Guell wasn't the first park that Antoni Gaudi worked on.
As a young and upcoming architect, he had designed the central masterpiece – a fountain – for Parc de la Ciutadella in Barcelona.
The fountain was guarded by winged Dragons, which went on to become one of Gaudi's trademarks in his later works.
Gaudi had planned a marketplace in Park Guell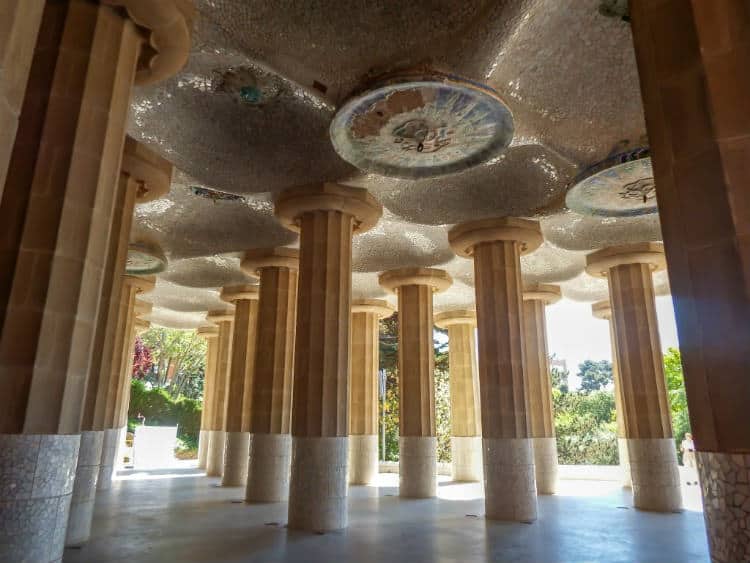 This is a Park Guell fact which proves that Antoni Gaudi was a forward-thinking architect.
The Hypostyle Room in Park Guell, made up of 86 striated columns, was to be the marketplace for the gated residential complex.
Its design was heavily influenced by the Roman temples.
Hypostyle Room is locally known as Sala Hipóstila.
Just above the Hypostyle Room is the well-known Guell Park terrace from where you can see the whole of Barcelona.
Park Guell's terrace offers best views of Barcelona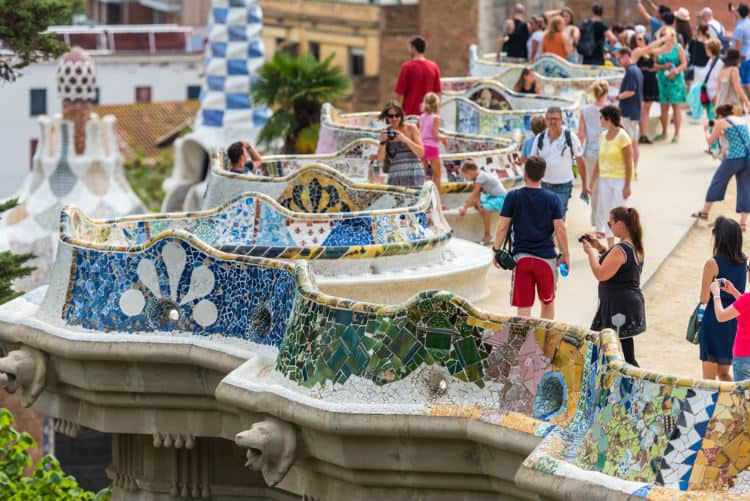 Parc Güell's best attraction is its terrace, which overlooks Barcelona. The vantage point this terrace offers results in some of the best photographs of Barcelona.
All along the terrace runs a serpentine bench, where tourists can rest. The comfort of these benches is legendary – perhaps the first ergonomically designed benches in the World.
The terrace is 110 meters long and is decorated with colorful mosaics all along.
This balcony was to be the entertainment space for the residents of the complex. Gaudi called this balcony "Greek Theatre" and wanted the residents of the estate to watch plays from the balconies of their houses.
Take a selfie on this balcony. Buy Skip The Line tickets for Park Guell
Walkways were to connect all houses in Park Guell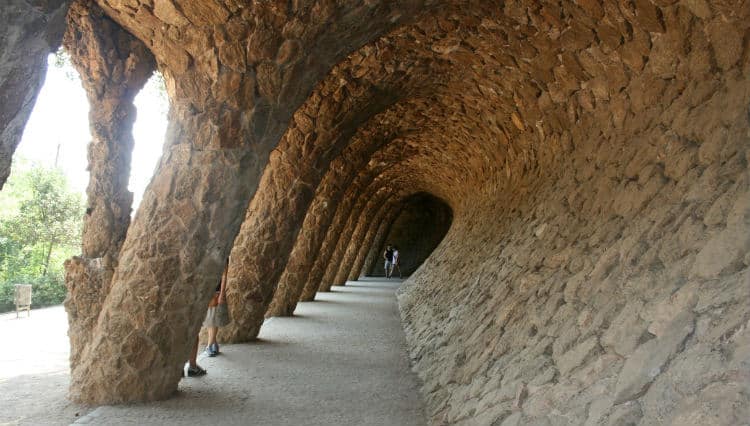 Gaudi's team built covered footpaths which were to connect all the houses within the residential community.
These covered footpaths also supported the roads above – one of the features of Gaudi's architecture where every element served more than one purpose.
The Laundry Room Portico is one such covered arcade and is named so because of the laundress sculpted into one of the columns.
Gaudi had each of these columns supporting the walkway designed by a different architect to make it unique.
He also used local stone which helps them merge with the natural landscape.
Austria donated trees to be used in Park Guell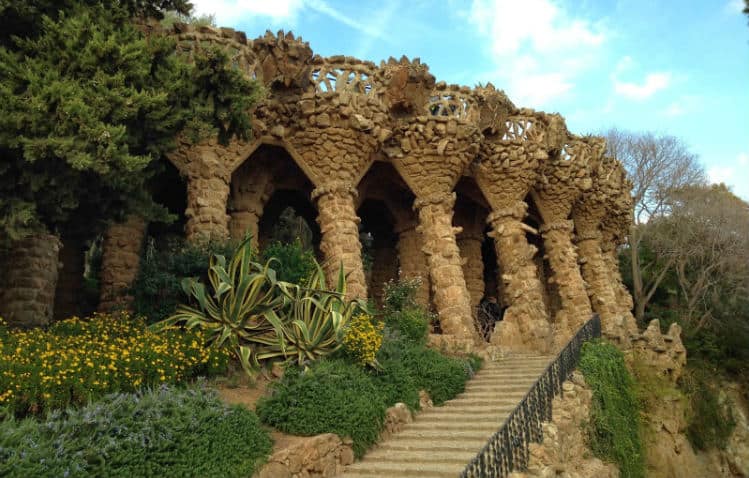 One of the zones of Park Güell is called Austria Gardens. It wasn't always called so.
When the city of Barcelona had taken over Park Guell, this zone was empty so they started using it as a municipal plant nursery.
However, in 1977 Austria donated a lot of trees which were planted in this zone thus giving it the name 'Austria Garden.'
95% of Park Guell can be accessed free of charge
Did you know that when you buy tickets for Park Guell, it is only for 5% of the park? You can wander around the other 95% free of charge.
The paid part of Gaudi's park is called the Monumental zone and includes the entrance area with the colorful Salamander, the Casa Del Guarda, the balcony with curved bench and the market hall. Buy tickets to Park Guell's monumental zone
To ensure the best experience for tourists visiting this Gaudi's masterpiece, only 400 visitors are allowed inside the monumental zone for every half hour.
Gaudi's efforts turned a whole mountain green
This is an environmental Park Guell fact.
Park Guell is located on a mountain. Today the location is full of vegetation but it wasn't always so.
When Eusebi Güell commissioned Antoni Gaudi for building Park Guell, the mountain was called Muntanya Pelada or 'bare mountain' because it was so barren.
In the 14 years that Gaudi was working on this project, he introduced a multitude of plants and Mediterranean vegetation to the mountain.
With time these plants and trees adapted to the surroundings and prospered.
Some of the plants and trees Gaudi helped in bringing to the bare mountains are – pine, eucalyptus, palm trees, carob trees, oaks, olives, figs, cork oaks, cypresses, almond trees.
With time this flora resulted in the growth of fauna as well.
Recommended Reading: Best things to do in Barcelona for families with kids
There are no straight lines in Park Guell
Gaudi believed that straight lines didn't exist in nature. Since he wanted the design to imitate nature, he used curved lines all through Guell Park.
Gaudi left secret messages in Park Guell
It is believed that Antoni Gaudi was a Freemason (a secret group which only recruits high achievers) and he is known to have left secret messages all over Park Guell.
Park Guell has five-pointed stars all around. The number five represented order and chaos for the Freemasons.
It also represented the "five senses." For the secret society, the 'number 5' was also the fifth element – after Earth, Fire, Water and Air.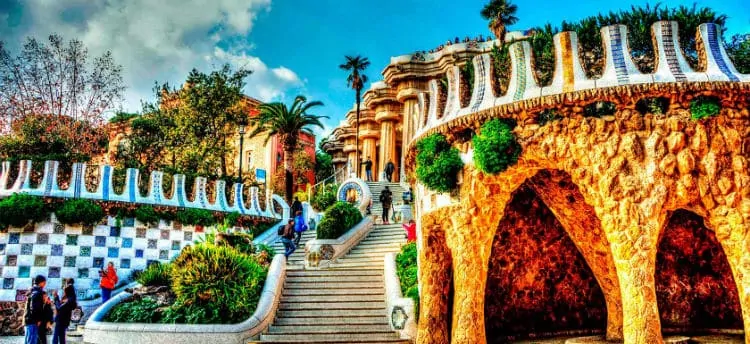 Gaudi also seems to have an affinity to the number 33. The Freemasons' hierarchy had 33 levels and therefore Gaudi is believed to have introduced 33 steps in the staircase at the entrance of Park Guell.
Gaudi is known to have carried his obsession with the number 33 to Sagrada Familia too.
On the Passion facade, he designed a Sudoku where all sides add up to 33.
However, many historians debunk the Freemason theory saying that the number 33 only represents the age at which Jesus Christ was crucified.
Only one house was sold in Park Guell
Barcelona Lawyer Martí Trias i Domènech was the only person who believed in the Park Guell project.
In 1905 he bought a house in the park and aptly named it Casa Martí Trias i Domènech.
He would end up being the first and last person to buy a house in Park Guell.
This Gaudi believer had a son called Alfonso. Now, why are we talking about his son? To find out, read on.
After his accident, Gaudi got help from unexpected quarters
Many years after the Park Guell project was abandoned, Antoni Gaudi was hit by a tram while he was crossing the road.
Since Gaudi practiced austerity, he wasn't wearing 'good' clothes and everyone mistook him for a beggar and left him to die.
It was the son of Park Guell's first buyer, Alfonso, who recognized the ace Spanish architect and took him to the hospital for treatment.
Gaudi however, never recovered from the accident and died.
If you book this ticket online, you save up to 1 Euro per ticket because you don't pay ticket window surcharge. You don't need to stand in a waiting line – so you save time too!
Sources
# Theculturetrip.com
# Parkguell-tickets.com
# Enjoytravel.com
# Justfunfacts.com

The travel specialists at TheBetterVacation.com use only high-quality sources while researching & writing their articles. We make every attempt to keep our content current, reliable and trustworthy.
Recommended reading
Popular attractions in Barcelona