Nothing can be as amusing as taking in a fine dining experience from the 93rd floor of Summit One Vanderbilt in Aprés.
While enjoying food and drinks, you can immerse yourself in the panoramic view from the Summit One Vanderbilt observation deck. 
But remember, to get into Aprés, you must buy Summit One Vanderbilt tickets as it is part of the observatory experience. Click here and book tickets!
Top Summit One Vanderbilt Tickets
Aprés menu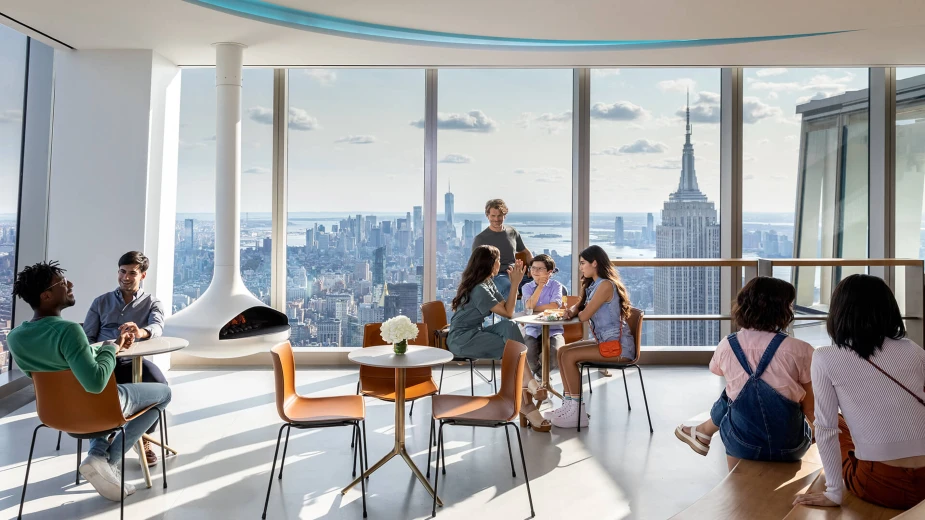 Aprés in One Summit Vanderbilt has everything to kill your hunger and thirst!
You can pick anything from their menu, from fresh fruits and wholesome breakfast to healthy salads and flavorful sandwiches.
Endeavor their hot dogs, sweet & savory pretzels, pinwheels, or cake pops.
You can also try hot and cold refreshing beverages like fruit juice, hot chocolate, espresso, or their wide range of cocktails, beers, and wines.
Click here to check out Aprés Menu.
Summit One Vanderbilt at night transforms into a mesmerizing sanctuary amidst the city lights, showcasing the breathtaking charm of New York.
Is Aprés worth it?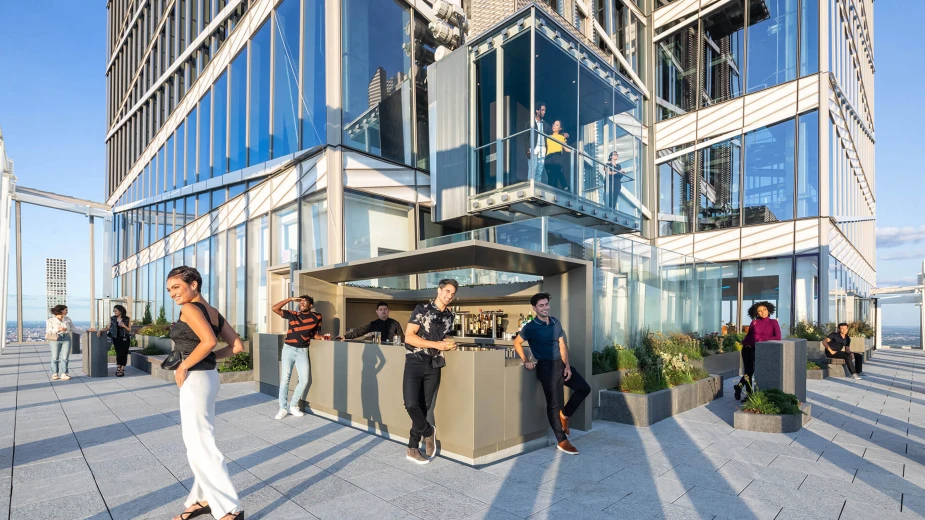 Aprés is quite an affordable restaurant cum bar where you can expect dishes and drinks ranging between US$2 to US$18.
The food served here is rich in flavors and looks absolutely delectable.
The top-notch service guests receive here is commendable and something that will bring you here again and again.
The last thing that makes Aprés the best restaurant is its intriguing ambiance.
Guests can choose to have food indoors or outdoors on the terrace, relishing the stunning views from the deck.
Considering the price, quality of food, services, and ambiance, Aprés offers, it is truly worth visiting.
If you are still not satisfied, feel free to check out some other restaurants near Summit One Vanderbilt.
Recommended Reading
# Summit One Vanderbilt with New York Pass
# Is Summit One Vanderbilt worth it?
# Summit One Vanderbilt vs The Edge
# Summit One Vanderbilt or One World Observatory
# Summit One Vanderbilt or Empire State Building
# Summit One Vanderbilt or Top of the Rock
Many visitors wonder if they can eat and drink at Le Pavillon while visiting Summit at One Vanderbilt. You can. However, you should know that the Le Pavillon restaurant is part of the One Vanderbilt building and is not inside the Summit Observatory.