Originally opened in 1903 by Frederick Thompson and Elmer "Skip" Dundy, Luna Park in Coney Island is New York's largest amusement park, known for its thrilling rides, vibrant atmosphere, and rich history.
A beloved destination for locals and tourists alike for over a century, the adventure park's enduring popularity can be attributed to its ability to blend nostalgia with modern entertainment, creating a timeless and exhilarating experience.
This article shares everything you need to know before booking Luna Park in Coney Island tickets.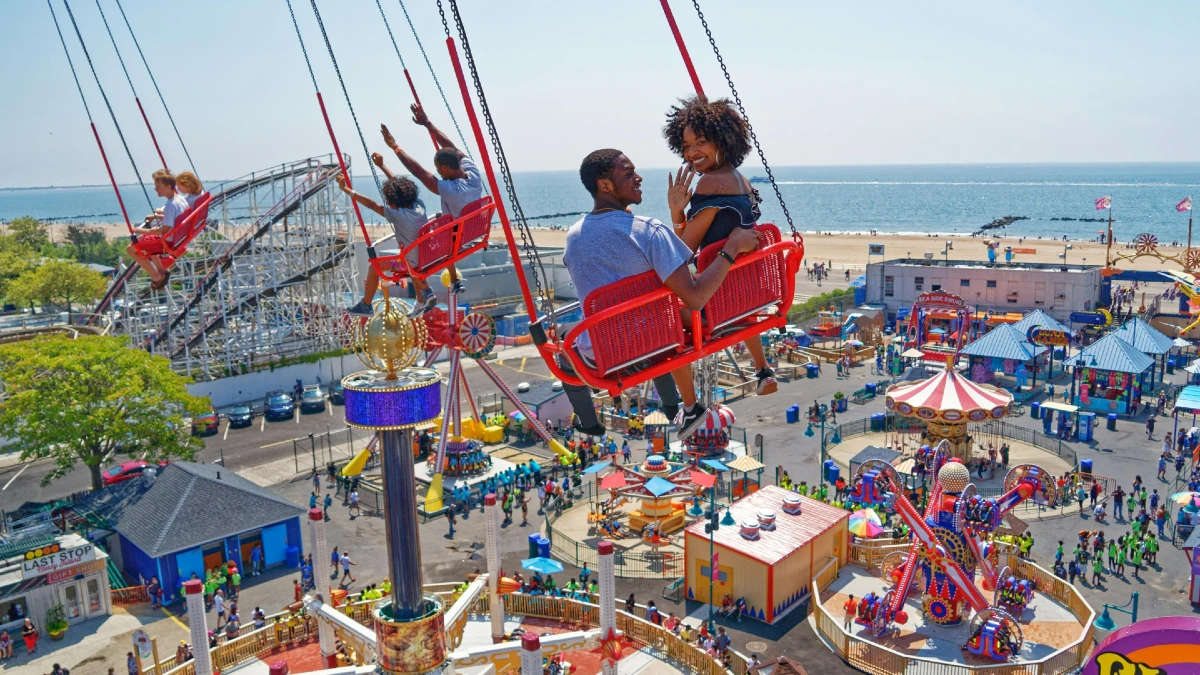 What to expect at Luna Park in Coney Island
From the historic and most beloved roller coasters like the Cyclone and the Thunderbolt to the classic spinning rides like the Steeplechase and the Wonder Wheel, Luna Park has something for everyone.
Get an authentic taste of the golden age of amusement parks with Cyclone, a symbol of the park and a cultural icon in its own right since 1927, courtesy of its steep drops, sharp turns, and bone-rattling twists.
Luna Park in Coney Island is a living testament to the enduring spirit of joy and resilience as it was rebuilt and reopened after a fire devastated a large portion of the park in 1944.
Explore a thrilling world of adventure next to a beautiful stretch of three miles of sandy beaches, two and a half miles of boardwalk, and other exciting attractions.
Level up the excitement by participating in live entertainment shows, including concerts and circus performances.
Indulge your taste buds between rides, grabbing a bite at the various dining options available, ranging from classic Coney Island treats like hot dogs and cotton candy to international cuisine.
Gaming enthusiasts can treat themselves to the array of games present at the site, and shoppers can go on a spree buying Luna Park merchandise, souvenirs, and much more.
---
---
Where to book the tickets
The tickets for Luna Park in Coney Island are available at the attraction or online in advance.
We recommend booking your tickets in advance to avoid the hassle of queuing up at the counter and wasting time.
Not only can you save time, but you can also get exclusive discounts and offers by booking online.
Booking beforehand can prevent any last-minute disappointment or delays.
How do online tickets work?
To book your visit to Luna Park in Coney Island, head to the booking page and choose your desired date and number of tickets.
Once you've made your purchase, your tickets will be sent to your email.
You can walk into the park by showing the ticket at the gate on the day of your visit.
Cost of Luna Park in Coney Island tickets
The Luna Park in Coney Island tickets is priced at US$65 for all visitors 48″ (3.8 feet) or taller.
Tickets are priced at a discounted price of US$43 for all visitors under 48″ (3.8 feet).
Children under 36″ (3 feet) get free admission.
Luna Park in Coney Island tickets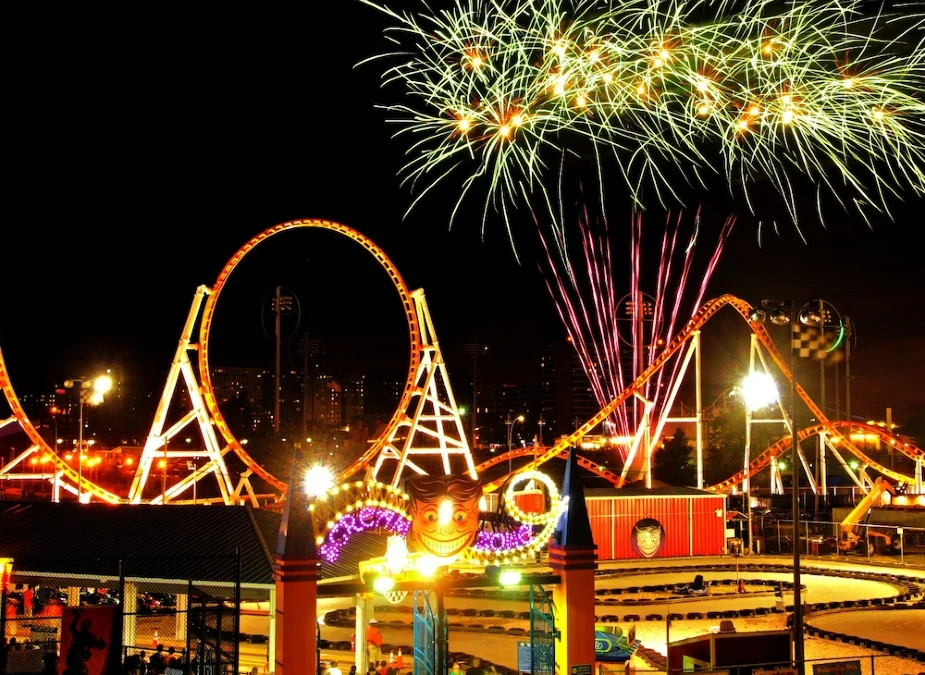 Book tickets for Luna Park and embark on an escapade away from Manhattan on the beach.
Enjoy 36 rides on a 4-hour joy ride, ranging from a leisurely carousel to new attractions like Leti's Treasure and Toni's Express.
Experience an unforgettable seaside adventure with family-friendly attractions and entertainment at the largest amusement park in New York City.
Enjoy exciting thrill rides and attend special events at the fun-filled world of Luna Park.
Explore a scenic landmarked boardwalk that offers both shopping and dining options.
Ticket Prices
General Admission (Over 48″): US$65
General Admission (Under 48″): US43
Children (under 36″): Free
New York Aquarium + Luna Park Coney Island
While planning a trip to Luna Park in Coney Island, make the best of your time in New York by visiting the New York Aquarium.
Experience the vibrant marine life of Glover's Reef from a snorkeler's perspective.
Immerse yourself in a thrilling 4D theater experience with your New York Aquarium admission that combines 3D film with sensory technology for an unforgettable adventure.
Witness the daily shows at the Aquatheater featuring California sea lions interacting with trainers.
Explore the wonders of the underwater world at the New York Aquarium with various aquatic displays starring penguins, sea lions, sharks, and more!
Take your children to the Playquarium and let them delve into the underwater world. They can walk through a life-sized kelp forest while learning about marine communication.
Get an exclusive 10% discount on booking this combo ticket.
Ticket Cost: US$85
Save time & money! Buy New York CityPass and visit 5 iconic attractions of NY like the Empire State Building, 9/11 Memorial and Museum, Guggenheim Museum, and many more. Book now and get up to a 40% discount!
---
---
How to reach Luna Park in Coney Island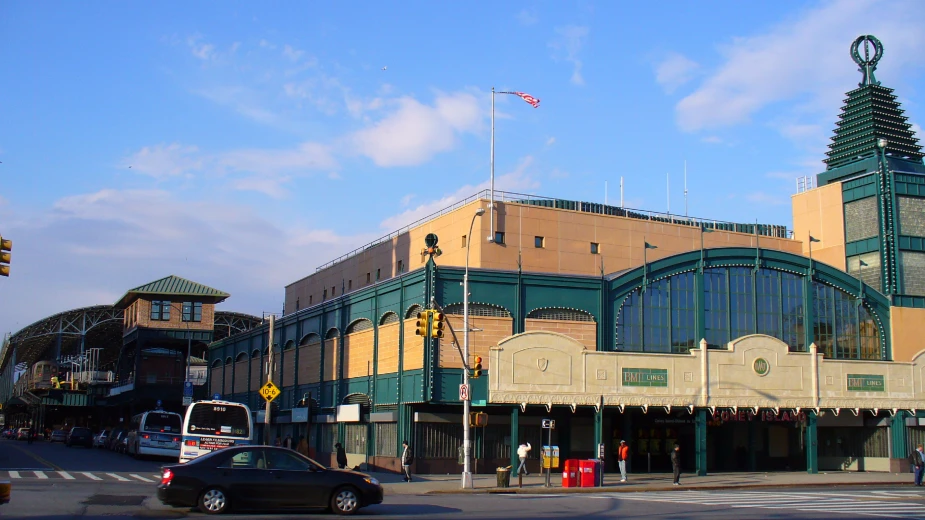 Luna Park is an amusement park located in Coney Island, Brooklyn.
Address: 1000 Surf Ave, Brooklyn, NY 11224-2811. Get Directions!
You can reach Luna Park by public transport or car.
By Bus
Board the B36 to Surf Avenue and West 8th St, or B68 to Neptune Avenue and West 8th St. to reach Luna Park.
Luna Park is a minute's walk from Surf Avenue and West 8th St station and a four-minute walk from Neptune Avenue and West 8th St station.
By Subway
Take the line Q & F to West 8th Street Station or D, F, N & Q to the Coney Island-Stillwell Avenue Station to reach Luna Park in Coney Island.
West 8th Street Station is a three-minute walk from Luna Park, as is Coney Island-Stillwell Avenue Station.
By Car
If you're driving by car, turn on Google Maps and get started!
You can choose between a host of parking options on Surf Avenue.
Luna Park in Coney Island timings
Luna Park in Coney Island opens at different hours across the summer.
Opening hours may vary between 10 am to 12 pm, depending on the park calendar.
The park closes at different times, varying from 8 pm right up to 12 midnight.
We recommend referring to Luna Park's calendar before your visit or contacting its authorities to ascertain its active hours on the day of your visit.
How long does the tour take
A visit to Luna Park in Coney Island usually takes over 3 hours.
The duration also depends on several factors, like the day of your visit, the number of people in your group, and so on.
Best time to visit Luna Park in Coney Island
Luna Park opens in the summer and gives visitors an opportunity to have a thrilling and exhilarating time.
If you wish to avoid crowds, planning your trip on a weekday is best.
Early morning hours tend to receive less traffic.
---
---
Reviews for Luna Park in Coney Island
Here are some Luna Park in Coney Island reviews to make your trip easier.
Best theme park in America
AMAZING! Best theme park I've ever been to in America! In my opinion it is at the level of enjoyment of seeing a Broadway show or seeing the sights! Would definitely recommend!
Fun times
We had a blast at Luna Park on Coney Island. My 8 year old son and I went here one evening the week of July 4th. It was pretty fun. They had fireworks! We had The sightseeing pass so this was included with that. Highly recommend checking out Luna Park.
Heaven for Children
Been here just to see the adventure and of course for the Nathan's Famous. Is a great place for adventure, fun, and long strolls along the beach or the walkway. Many people performing street dance.
Family Fun
At the heart of Coney Island, Luna Park is a wonderful place with plenty of fun games and rides. Check out the wristbands and passes for unlimited rides. In particular, I enjoyed the games, circus coaster, the Tickler, and the Coney Island Raceway. You will leave smiling.
FAQs about Luna Park in Coney Island
When was Luna Park in Coney Island opened?
Luna Park opened originally in 1903 and has undergone several renovations and changes since.
What are the operational hours at Luna Park in Coney Island?
The park hours can vary depending on the season and day of the week. 
Luna Park is typically open from 11 am to 12 am during peak season. 
Before visiting Luna Park, it's best to check their calendar or contact the park authorities to confirm their operating hours for the day.
What kind of rides can I experience at Luna Park?
Some of the most iconic rides at Luna Park include the Cyclone roller coaster, the Thunderbolt coaster, and the Luna 360.
Can I carry outside food and drinks to Luna Park?
Outside food and drinks, except baby food and formula, are not allowed in the park. 
However, the park has plenty of dining options, ranging from fast food to sit-down restaurants.
Is Luna Park accessible to persons with disabilities?
Most rides at Luna Park are accessible to visitors in wheelchairs. 
It also has designated accessible parking spaces and restrooms.
Are pets allowed at Luna Park in Coney Island?
All pets apart from service animals are strictly not allowed at Luna Park.
Sources
# Lunaparknyc.com
# Wikipedia.org
# Tripadvisor.com

The travel specialists at TheBetterVacation.com use only high-quality sources while researching & writing their articles. We make every attempt to keep our content current, reliable and trustworthy.
Popular attractions in New York