The 'Edge' is New York's latest observation deck after the Empire State Building, Top of the Rock, and One World Observatory.
It is on the 100th floor of the 30 Hudson Yards building, and at the height of 345 meters (1,131 feet), Edge is the highest outdoor observation deck in the Western Hemisphere.
Edge opened to the public in March 2020.
Edge Hudson Yards' unique design that gives visitors the feeling of being suspended in the air and its glass floor, through which they can look 100 floors below, is its biggest draw.
One of the main attractions of Edge is the outdoor viewing area, which extends 24 meters (80 feet) out from the side of the building, and the visitors can step out onto the platform and take in views of the city from a unique perspective.
In this article, we share everything you must know before booking Edge at Hudson Yards ticket.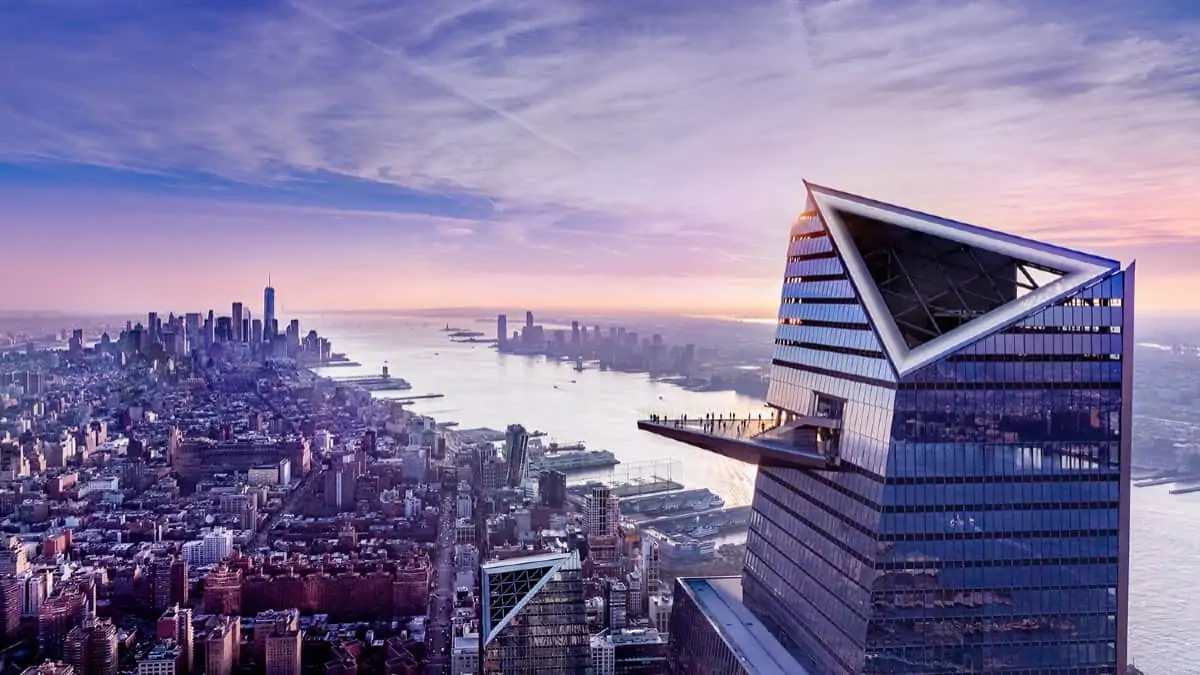 What to expect at Edge
Edge at Hudson Yards is on Level 100, and a high-speed elevator takes you there in 52 seconds.
From the indoor deck, offering 360-degree views, you see New York City's iconic skyline.
Then you step onto the highest outdoor sky deck in the Western Hemisphere.
The moment they are on the outdoor deck, most visitors head for the Eastern Point – the edge of the sky deck, which is how this attraction gets its name.
At the Eastern Point, there's space for one person to stand alone, surrounded by glass, air, and sky.
Then they try out the thrilling Glass Floor and the Angled Glass Walls, which get you as close to the view as possible.
If you are in the mood for it, you can try the Champagne Bar as well.
The Edge's vantage point on the western side of Manhattan lets you take in the entire skyline – from the tip of Central Park down to the Statue of Liberty and beyond.
---
---
Edge Hudson Yards tickets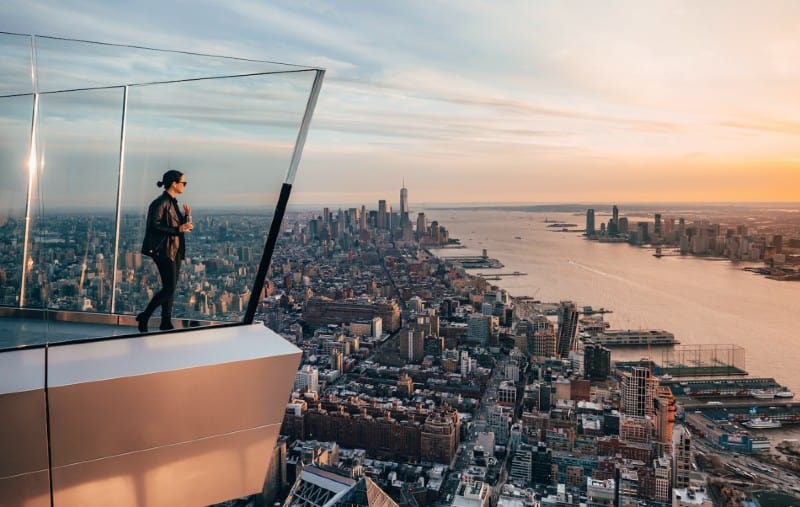 Visitors can buy only the Edge tickets or purchase the Hudson Yards Walking tour and Edge Observation Deck ticket.
Where to buy tickets
You can get your Edge Hudson Yards entry tickets at the venue or buy them online, much in advance.
If you get them at the attraction, you will waste 15 to 30 minutes in the ticketing window queue, depending on the crowd.
When you buy Edge Hudson Yards tickets in advance, you save yourself a lot of waiting time by skipping the ticket counter queue.
That is why these tickets are also known as Edge skip-the-line tickets.
How online tickets work
As soon as you make the purchase, Edge's online tickets get delivered to your inbox.
On the day of your visit, show the ticket on your smartphone and walk in. No need to take printouts!
You must be at the attraction at least 15 minutes before the time mentioned on your ticket.
Edge's ticket prices
Edge at Hudson Yard's ticket costs $48 for all visitors 12 to 61 years old.
Kids between six to 11 years get a $6 discount and pay a reduced price of $42 for entry.
Seniors 62 years and older also pay a reduced price of $46 for their admission.
Entry to the Edge observation deck is free for kids under six years, and you don't need to buy tickets for them.
Tickets are $2 more on Peak Days, which you will know when you select the dates on the ticket booking page.
Update: Due to the pandemic, the crowd is less, so for the time being, Edge doesn't differentiate between Peak and non-Peak days.
Edge tickets are timed
Since the Edge observation deck's tickets are timed, you must choose your preferred time of visit while buying them.
Be at the attraction's entrance around 15 minutes before the time mentioned on your tickets.
Don't come in early because there is no waiting area at Edge for upcoming entry times.
However, if you reach Hudson Yards early, you can explore the area, for it has many things to see and do.
If you reach late, ask for the Experience Ambassador who may accommodate you during the next available entry time.
Edge skip the line tickets
All tickets to Edge include access to both the indoor and the outdoor deck on Level 100.
Visitors can also access Glass Floor, Angled Glass Walls, Skyline Steps, and Eastern Point.
Every visitor to the observatory gets a free digital souvenir photo.
Adult ticket (12 to 61 years): $48
Child ticket (6 to 11 years): $42
Seniors ticket (62+ years): $46
Hudson Yards Walking Tour + Edge Observation Deck tickets
Enjoy a 60-minute live guided tour in English of Hudson Yards, Midtown Manhattan's newest chic neighborhood.
Then receive guaranteed access to THE EDGE, the highest outdoor sky deck in the Western Hemisphere, suspended in midair and with 360-degree views.
Learn how this new neighborhood was created over a railway yard and see the highlights of Hudson Yards, including the Vessel and the Shed.
Hudson River Bundle
The Intrepid Museum is only 3 km (2 miles) from Edge of Hudson Yards. Since the observatory doesn't take more than 90 minutes, visitors add the Sea, Air, and Space Museum to the day's itinerary. Buy the combo and get a 10% discount on your future bookings.
---
---
Visiting Edge for free
Visitors can enter the Hudson Yards' Edge observatory for free if they have bought New York Explorer Pass or New York's Sightseeing DAY Pass.
Both the Passes let you skip the queue at the Edge's ticketing counter and go straight to the 100th-floor observation deck for free.
Besides Edge, these discount cards also help you explore attractions such as the Statue of Liberty, Empire State Building, 9/11 Museum and Memorial, MoMA, etc., for free.
These discount passes help you save up to 45% of your ticket cost.
Some tourists wonder which observation deck is better – One World Observatory or The Edge.
---
---
How to reach Edge at Hudson Yards
The Edge observation deck is on the 100th floor of 30 Hudson Yards, New York, right on the bank of the Hudson River. Get directions.
You can board the No. 7 Subway line to get to 34 St Hudson Yards.
MTA Bus Lines M34-SBS, M12, and M11 can also drop you closer to the attraction.
Penn Station is just two blocks east between West 31st and West 33rd Streets and 7th and 8th Avenues.
To get to Edge, you must enter the shop area at Hudson Yards and take an elevator to Level 4.
Car Parking
Hudson Yards has ample parking at 10 Hudson Yards, Abington House, and One Hudson Yards.
All these parking places are along West 30th Street between 10th and 11th Avenues.
Click here to know more about the nearby parking lots.
---
---
Edge's timings
The Edge of Hudson Yards is open from 10 am to 10 pm, daily.
The last elevator ride is 50 minutes before closing.
---
---
Best time to visit Edge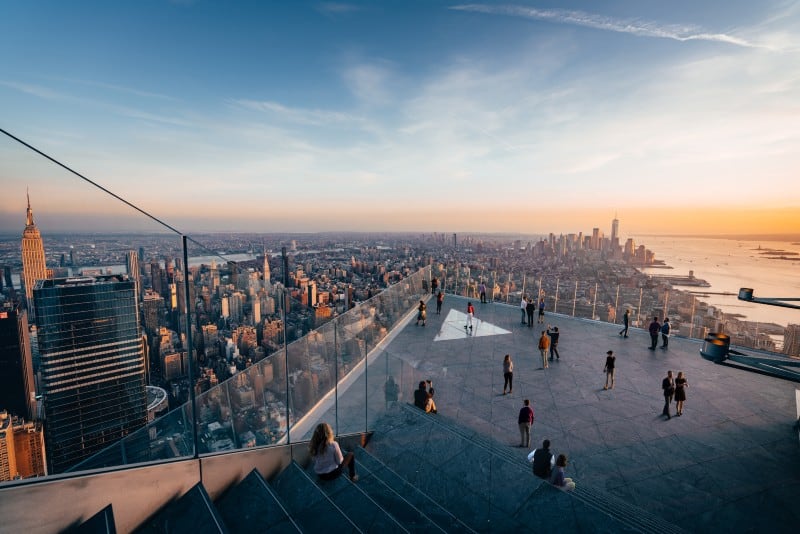 If you want to avoid the crowd, the best time to visit Edge at Hudson Yard is as soon as it opens at 10 am.
If you want stunning views, the best time to visit the observatory is just before sunset.
You can reach the attraction an hour before sunset to give yourself enough time to reach the top of the observation area.
Besides stunning sunset views, you also get to enjoy the New York skyline during the day and at night.
Tip: Sunset times get crowded, so it is better to book early.
---
---
How long does it take at Edge?
Visitors usually spend 45 minutes to one hour enjoying the New York skyline from Edge at Hudson Yards observatory.
You will need approximately 30 minutes to reach the viewing platform during peak hours, making it a 90 minutes experience.
Since there is no time limit on the Edge tickets, some visitors sip on the Champagne and enjoy the views longer.
---
---
Edge Hudson Yards at night
The Edge at Hudson Yards is open till 10 pm, and the last elevator goes up to the 100th floor 50 minutes before closing.
If you have the time and the money, we suggest you visit the Manhattan observation deck twice – once in the morning and once at night.
Otherwise, let us share how a visit to the Edge after dark is different from a visit during the day, and you can decide for yourself.
– You can spot many famous illuminated skyscrapers
– The Hudson River looks breathtaking, reflecting the city lights and the lit-up ferries moving across it.
– From the top of the building, you can see for almost as far as 130 km (80 miles).
– You can spot the Statue of Liberty holding her torch, gleaming above the New York harbor.
– Since there are lights below and above (stars!), it feels as if you are sandwiched between two heavens.
– It is romantic, and you get your personal space since there is no crowd
– If you love taking photographs, you can capture the perfect night sky and the city lights
---
---
Food & drinks at Edge
No outside food and drink are allowed at Edge in New York. Visitors can only bring water to drink in clear plastic bottles.
Edge has a Champagne bar that offers an assortment of snacks and beverage options.
Visitors can order Champagne, Wine, Beer, Coffee, Soft Drinks, and Savory and Sweet Snacks.
If you prefer a fine dining experience, check out Peak on level 101.
Peak offers an excellent dining experience alongside fascinating views of New York City.
What to wear
The outdoor deck of Edge Hudson Yards in New York is more fun, but it is open to the elements. The weather on the 100th floor can be different from what you experience on the ground. Come prepared.
---
---
Other attractions at Hudson Yards
Hudson Yards is Manhattan's newest neighborhood, and you can explore it before or after your visit to the Edge observation deck.
There are lots of things to see and activities to do at Hudson yards.
Go up the Vessel
The Vessel is a 16-story, 46 meters (150 feet) tall structure of 154 interconnected staircases inside Hudson Yards.
This latest landmark of New York has around 2,500 steps and 80 unique landings, and visitors can climb up to enjoy panoramic views of Manhattan's West Side.
High Line Park
The High Line is a 2.4 km (1.5 miles) long iconic urban park built on a historic, elevated rail line running 30 feet above street level.
High Line runs the perimeter of Hudson Yards, along the west side of Manhattan.
The main entrance of the High Line is on 30th Street by 10 Hudson Yards, and visitors can experience nature, arts programs, performances, niche music shows, exhibitions, etc.
If you want to explore High Line, you can choose between – Chelsea Market and The Highline Tour or High Line & Hudson Yards Walking Tour.
Dine at Peak
Peak is a premium restaurant and bar on Level 101 of the Hudson Yards building.
Visitors love the fine dining experience even as they take in the views of New York City.
They serve lunch on Friday, Saturday, and Sunday between 11.30 am and 3 pm. Dinner is available on all days starting from 5 pm to 10 pm.
Sources

# Hudsonyardsnewyork.com
# Edgenyc.com
# Wikipedia.org
# Cityexperiences.com

The travel specialists at TheBetterVacation.com use only high-quality sources while researching & writing their articles. We make every attempt to keep our content current, reliable and trustworthy.
Popular attractions in New York
Observatories in USA
# One World Observatory
# Top of the Rock
# Empire State Building
# Chicago Skydeck
# 360 Chicago