Skydeck Chicago is the highest observation platform in the USA and offers excellent views of the city and Michigan lake.
Lured by the need to step on 'The Ledge,' more than 1.7 million people visit this observatory every year.
This article explains everything you must know before buying your Skydeck Chicago tickets.
What to expect at Skydeck Chicago
Most users buy the regular SkyDeck tickets online and buy Fast Pass from many of the Fast Pass counters at the attraction if they see a crowd.
This approach is the best way to avoid waiting in the queue and save money.
---
---
Skydeck Chicago lines
During peak hours, days, or seasons visitors may have to wait for hours in the lines.
There are many lines at Skydeck Chicago in which visitors have to wait to get the whole experience at the observation deck.
Elevator queue to go down to the ticket counter
You have to wait in a line at the elevator to get down to the ticket counter for buying your tickets.
The ticket counter line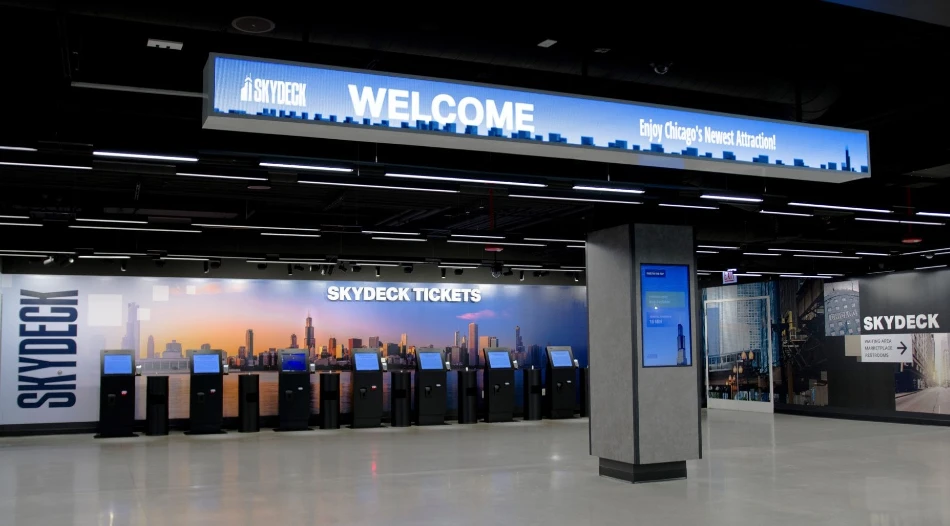 You will find long waiting lines at the ticket counter on weekends and peak times to buy Skydeck Chicago's entry tickets.
However, you can skip these lines if you buy your Skydeck Chicago tickets much in advance.
Elevator lines to go up to Skydeck
These are also very long lines.
During this wait, you get to see interactive exhibits and the "Reaching For The Sky" presentation.
Depending on the time, day, and season, waiting for the elevator can last 15 minutes to 2 hours.
With the fast pass ticket, you can skip these elevator lines and get to within 2-4 elevator rides from the Skydeck.
However, we don't recommend you buy a Fast Pass online.
Since Skydeck Chicago's Fast Pass is three times as costly as a regular ticket, it makes sense to see the crowd at the time of your visit and purchase the Fast Pass.
The line to get onto the 'Ledge'
Skydeck's Ledge is glass boxes extending 1.3 meters (4.3 feet) from the skyscraper's Skydeck on the 103rd floor.
It is quite an adrenalin rush to stand on this ledge, and that's why there is a 10 to 20-minute waiting line here as well.
Even if you have a Fast Pass ticket, you still have to wait with the standard ticket holders in the line for the Ledge.
Queue at the elevator to get down
Everybody has to wait in this line regardless of their tickets.
There is no Fast Pass line at the elevator to get down.
Our recommendation: For the best experience, visit during non-peak hours. Buy regular SkyDeck tickets online, and buy Fast Pass at the venue only when you see massive lines.
---
---
Skydeck Chicago tickets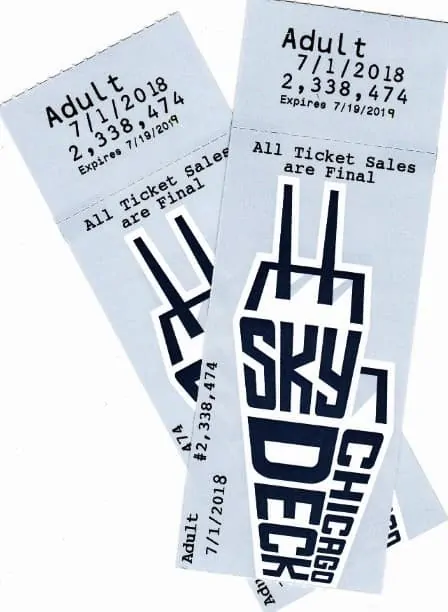 This Standard Skydeck entry ticket gives you access to all observation decks and exhibits in the observatory.
With this online ticket, you also get to avoid the long lines at the ticket counter.
Once you enter the building from the entrance located on S. Franklin St. between W. Jackson Blvd. and W.Adams Street, walk towards the ticket examiner.
They will scan the ticket on your mobile and let you in.
Adults ticket (12+ years): $30
Children ticket (3 to 12 years): $22
Kids under three years walk in for free.
The Chicago Pass includes tickets to Skydeck Chicago, Field Museum, and Architecture River Cruise from Michigan Avenue. You also get a 10% discount code, which you can use (five times!) to get discounts for other Chicago-based attractions.
---
---
Skydeck Chicago Fast Pass
The longest wait at Chicago Skydeck is for the elevators, taking more than an hour during peak times.
The Willis Tower management has lined up interactive exhibits and the 'Reaching For The Sky' presentation to ensure visitors don't get bored when they wait for the elevators.
The Skydeck Fast Pass gets you VIP access with express entry to Skydeck elevators.
With a Fast Pass, you will stand in the Express Line and be within 2-4 elevator rides from the observation deck.
However, we don't recommend Fast Pass because, at $55 per person, they cost two times more than the standard ticket.
We recommend you buy regular Skydeck Chicago ticket now and upgrade to Fast Pass if it is too crowded on the day of your visit.
Many Fast Pass ticket counters are available at the attraction.
If you are in Chicago for three days or more, buying one of the discount passes is wiser because they help you save more than 40% on the ticket costs and get you expedited entry into the attractions. Chicago CityPass, Chicago Explorer Pass, and Go City All-Inclusive Pass include free access to Skydeck Chicago.
---
---
Skydeck Chicago hours
During the peak tourist months of March to September, Skydeck Chicago opens at 9 am and closes at 10 pm.
Rest of the year, Skydeck Chicago opens later, at 10 am and closes early, at 8 pm.
The last entry is always 30 minutes before closing.
Skydeck Chicago is open throughout the year, including Christmas Eve, Christmas Day, New Year's Eve, and New Year's Day.
---
---
Best time to visit Skydeck Chicago
The best time to visit Skydeck Chicago is an hour before sunset because you get to see Chicago's skyline in three different ways – during daylight, twilight, and nighttime.
Since everybody wants to see the sunset from Skydeck Chicago, it gets crowded around this time.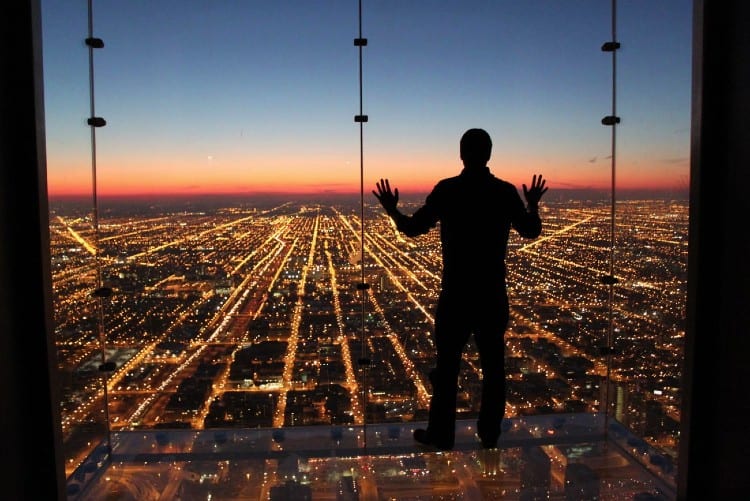 The second best time to visit Skydeck Chicago is early in the morning.
You can altogether avoid the crowd if you visit this observation deck before 11 am in summer and before noon in winter.
Best season to visit
Winter is the best season of the year to go up on Skydeck Chicago.
Since winter is the offseason, there is hardly any crowd, and you have the observation deck to yourself.
You can reach the observatory on the 103rd floor in about 10 minutes during December, January, or February.
During the peak months, it can take a minimum of 45 minutes.
---
---
How long does Skydeck Chicago take?
Visitors usually spend an hour and a half during their visit to Skydeck Chicago's observatory.
Some tourists are known even to wind up their visit in an hour.
However, your complete tour of Skydeck Chicago can take anywhere from 2 hours to 4 hours, depending on the crowd and the waiting lines.
If you want to minimize the time taken at Skydeck, buy Skydeck tickets in advance and visit early in the morning or late at night.
Couples in love, guests wanting to see the glittering Chicago skyline, or those that want to avoid the crowd visit the observatory after dark. Find out everything about Skydeck Chicago at night.
---
---
What to see at Skydeck Chicago
There are six things to see and experience at Willis Tower's Skydeck Chicago.
Skydeck Museum
The Skydeck Museum has informative exhibits about the Willis Tower and its history.
The exhibits also narrate Chicago's rich history and culture through exciting visuals.
Video Screens
Video screens keep the visitors engaged even as they wait for their turn.
These screens give visitors a sense of what to expect at the Observatory on the 103-floor and The Ledge.
Multimedia elevators
Elevators at the Willis Tower observatory are one of the fastest in the World.
As the elevators go up, they display information concerning the height that the lift is at currently.
Reaching the Sky
'Reaching the sky', is the theatrical presentation at the Skydeck Chicago.
It narrates how Willis Tower and Chicago's other landmarks set the standards for architectural achievements.
The Ledge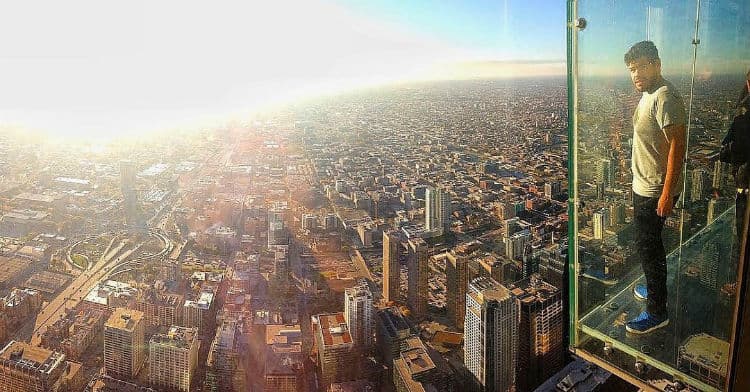 Skydeck's Ledge is a glass box extending 1.3 meters (4.3 feet) away from the main walls of the Willis Tower.
The Ledge is different because you look through the glass floor instead of looking through glass windows (as in other observatories).
The observatory's management spotted the forehead prints of thousands of visitors wanting to see the streets below and decided to build these extensions.
Through the glass floors, you will be looking at Wacker Drive and the Chicago River from a height of 412 meters (1,353 feet).
Limited time on The Ledge
Time on the Ledge is limited for visitors to ensure that everybody gets a chance to experience the thrill.
Groups with three or fewer members get a maximum of 60 seconds/group, and groups of four or more members get a maximum of 90 seconds/group.
Skydeck Observatory
Skydeck, the observatory, is the main attraction of the building.
This observatory in Chicago's Willis Tower is United States' tallest observation deck.
It offers 360-degree views of the city, and on a clear day, you can see for 50 miles in every direction.
---
---
Skydeck Chicago reviews
Skydeck in Chicago was voted a Top 10 Worldwide Attraction by travelers on Tripadvisor.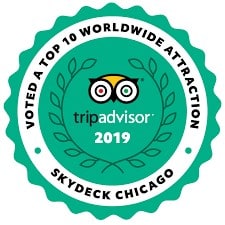 There are only two other attractions in the USA, which feature in this Top 10 list – Statue of Liberty and the French Quarter in New Orleans.
Almost every visitor to Skydeck Chicago who left a review on Tripadvisor spoke about the 'glass box' and 'glass floor' – their reference to the fantastic Ledge experience.
Many also used the phrases 'views are amazing' and 'great view of the city' while describing what they saw from the Observatory.
---
---
How to reach Skydeck Chicago
Skydeck Chicago is an observation deck in Willis Tower, sometimes referred to by its older name 'Sears Tower.'
Skydeck Chicago is on the 103rd floor of the 110-floor building.
Address: 233 S. Wacker Dr., Franklin Street, Chicago, IL 60606.
The entrance to the Skydeck Chicago is towards the east lobby of Franklin Street.
It is best to use public transportation to get to this attraction.
By Metro
You can board Brown, Orange, Pink, or Purple Line trains on Chicago Transit Authority's 'L' system to reach Skydeck, Chicago.
Get off at the Quincy Station, which is about a block away from Franklin Street, and walk the rest of the distance (see map below).
Skydeck Chicago is also close to Ogilvie Transportation Centre and Union Station.
Both the stations are within a 10-minute walk from Skydeck Chicago Willis Tower.
By Bus
The Skydeck Chicago is also accessible by buses from all over the city.
If a bus is your preferred mode of transport, get onto Bus No 1, 7, 22, 28, 126, or 151.
Skydeck Chicago parking
The nearest parking is Tower Self Park, located directly across the street from the tower on Franklin Street.
Tower Self Park, which InterPark operates, is located at 211 W. Adams, Chicago, IL 60606. Their phone number is 312/935-2724.
The parking garage remains open 24 hours a day, seven days a week.
---
---
Skydeck Chicago vs 360 Chicago
Some tourists holidaying in Chicago wonder if they should visit Skydeck Chicago or 360 Chicago.
If you didn't know, 360 Chicago in John Hancock building is yet another observatory just 2.4 Kms (1.5 Miles) from Skydeck.
360 Chicago is on the 94th floor and offers excellent views over the city and Lake Michigan.
From a location perspective and from the views they offer, both of them are pretty similar.
360 Chicago's tickets are cheaper than Skydeck's tickets, and yet Skydeck gets a massive crowd.
Recommendation
If you have time and budget for only one visit, we recommend you buy Skydeck Chicago tickets.
If you have time for two trips, you can visit the Skydeck in the morning and book 360 Chicago for a night visit (they are open till late).
Still confused? Read our Skydeck Chicago vs. 360 Chicago comparison.
Popular attractions in Chicago
# Chicago Architecture Tours
# Art Institute of Chicago
# Field Museum
# 360 Chicago
# Gangsters and Ghosts Tour
# Crime and Mob Bus Tour
# Legoland Discovery Center
# Chicago Architecture Center
# Navy Pier Ferris Wheel
# iFly Chicago
# Chicago History Museum
# Medieval Torture Museum
# Museum of Contemporary Art
# BlueMan Group Chicago
# Museum of Surgical Science
Observatories in USA
# Empire State Building
# One World Observatory
# Top of the Rock
# Edge at Hudson Yards
# 360 Chicago