Chicago has two world-class observation decks – 360 Chicago and Skydeck Chicago – making it difficult for a visitor to choose.
Since both are excellent modern observatories, visitors are confused – from where should they see the city's skyline?
In this article, we compare 360 Chicago to Skydeck Chicago so that you can make an informed decision.
Visit 360 Chicago and Skydeck Chicago
If time and money permits, we suggest you visit both the observatories.
Both are historic buildings – 360 Chicago observatory has been around since 1969, while Skydeck Chicago opened its doors to its first visitor in 1974.
Both the decks offer stunning views of the Chicago skyline, and the experience is very different.
You can either purchase the 360 Chicago ticket and Skydeck Chicago ticket individually or opt for the combo ticket which gets you entry into both the observatories at a 5% discount.
If you are holidaying in Chicago for a longer period, buy the Chicago CityPass, which gets you access to both the observatories.
Now, let's compare Willis Tower Skydeck Chicago and 360 Chicago on six parameters.
Location of observatories
Despite the reasonably different views from their observation decks, the two buildings are not very far from each other.
Location is important because based on the tourist attraction you are visiting or the hotel you are staying in, one observatory may be closer than the other.
360 Chicago is located on Michigan Avenue, and Skydeck Chicago is on Wacker Avenue (entrance is on Jackson Boulevard).
However, if you won't be staying in the city center, the location won't matter much because they aren't that far apart.
360 Chicago observatory is only 3.2 Kms (2 Miles) from Skydeck observatory.
Height of both observatories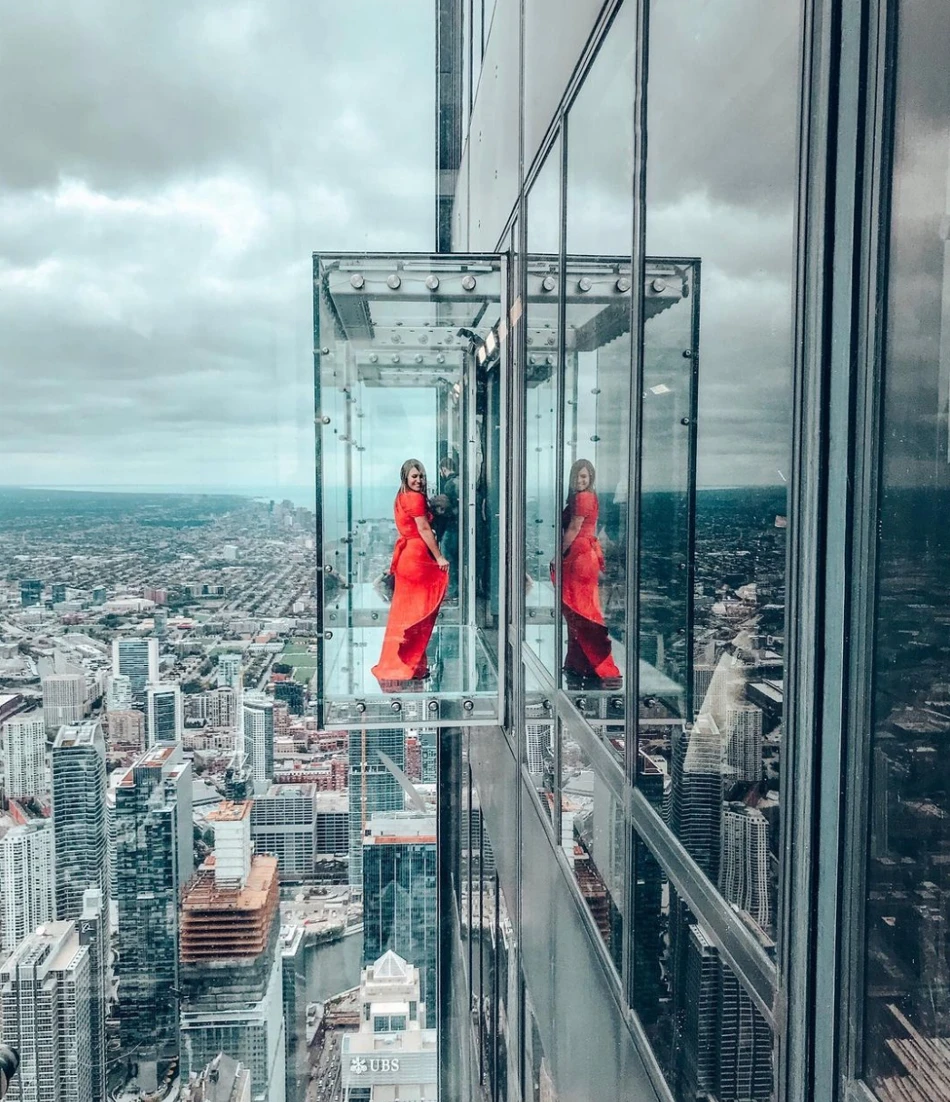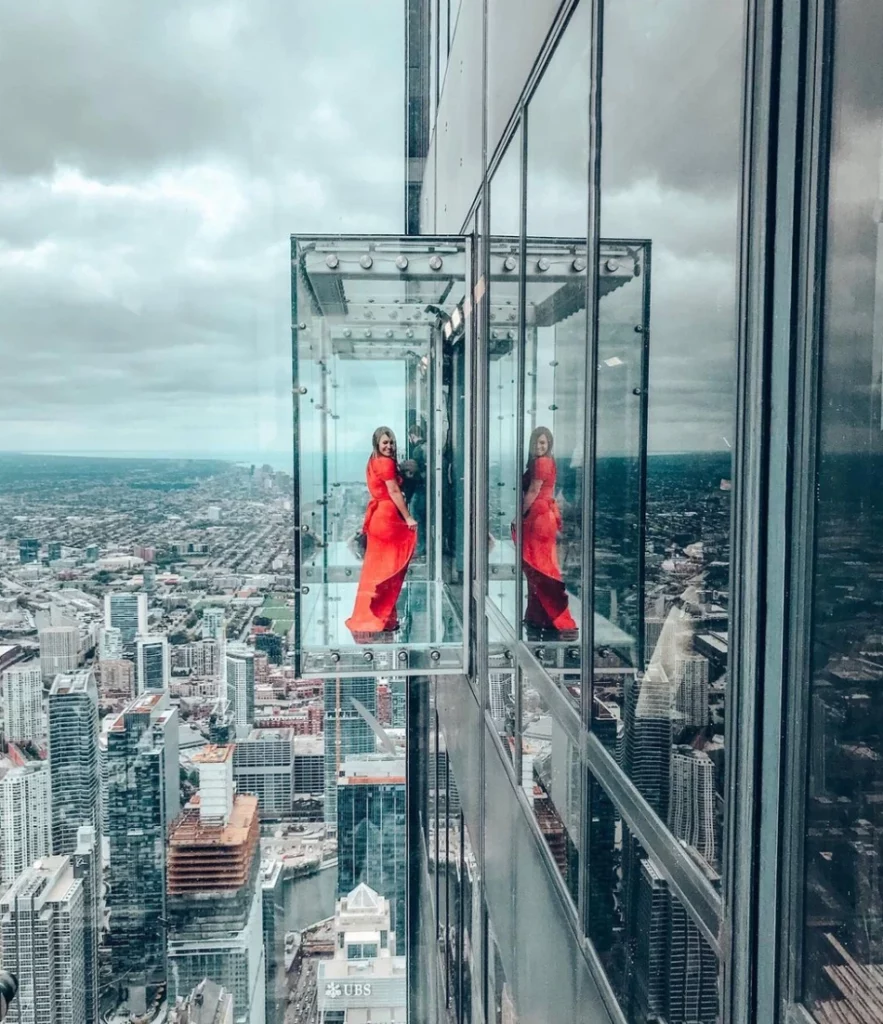 Skydeck Chicago's observatory is higher than 360 Chicago's observatory.
Skydeck is on the 103rd floor of the Willis Tower, at the height of 412 meters (1353 feet).
360 Chicago is on the 94th-floor of the John Hancock Building, at the height of 305 meters (1000 feet).
But the views from 360 Chicago's observation deck aren't anything less.
Cost of tickets
Besides the observatories, both the Chicago attractions also offer interesting exhibits and experiences as part of general admission.
Skydeck Chicago's standard ticket costs $30 for guests 12 years and above, while those between 3 to 11 years pay a discounted price of $22 for entry.
The cost of 360 Chicago tickets depends on the time of visit – early morning slots are the cheapest, and the sunset time slots are the costlier.
From 9 am to 2.30 pm, guests older than 12 years pay $30 for entry, while kids 3 to 11 years pay a discounted rate of $20.
The sunset rates kick in from 3 pm to 6 pm, and adults pay $35 for entry while kids pay $23.
From 6.30 pm onwards, the regular rates apply.
At 360 Chicago, you must pay extra to experience the TILT, while at Skydeck Chicago, their Ledge experience is part of the entry ticket.
Waiting times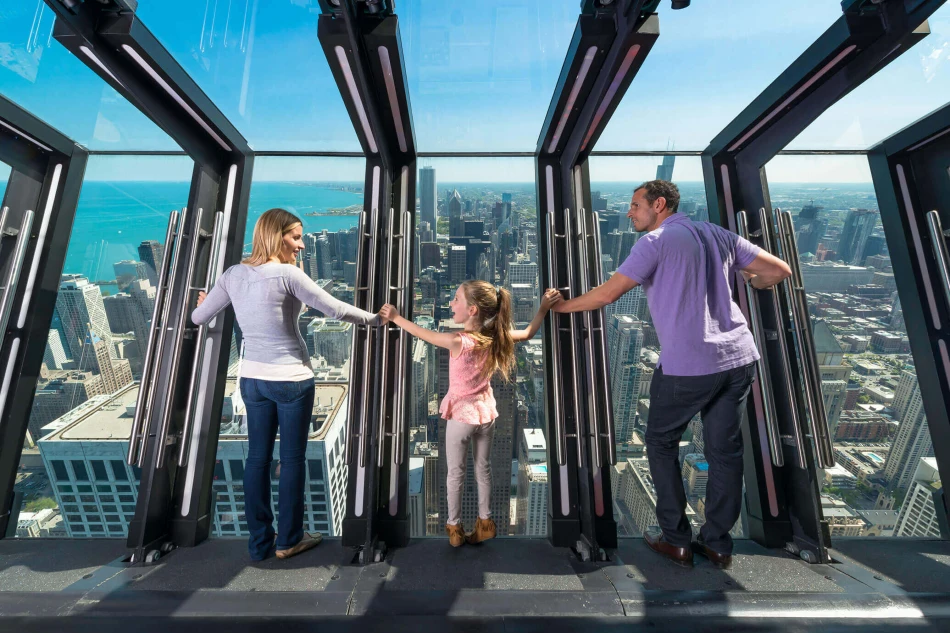 The average waiting time at Skydeck Chicago is double the waiting time at 360 Chicago – during peak times.
This is because Skydeck Chicago gets almost double the number of visitors 360 Chicago gets.
This is why if you are traveling with impatient kids (or elderly adults) it may be worthwhile to opt for 360 Chicago.
Whichever observatory you opt for, do purchase your tickets in advance to avoid waiting in lines.
Opening hours
Sometimes the opening times of the observatories may help you decide on which one to visit.
360 Chicago is open daily from 9 am to 11 pm, and the last entry is at 10.30 pm.
Skydeck Chicago is open daily from 9 am to 10 pm.
However, during the lean months – October to February – the Skydeck's hours get reduced to 10 am to 8 pm.
TILT vs. Ledge
What differentiates Chicago's two observatories is their unique feature – 360 Chicago's Tilt and Skydeck Chicago's Ledge.
360 Chicago's Tilt
Access to 360 Chicago's Tilt is not included in the standard ticket.
You can buy 360 Chicago tickets with the Tilt experience beforehand, or you can decide to upgrade at the venue.
Skydeck Chicago's Ledge
Skydeck's Ledge is glass boxes extending out 1.3 meters (4.3 feet) from the skyscraper's Skydeck on the 103rd floor.
The Ledge is different because instead of looking through glass windows (as in other observatories), you look through the glass floor.
There are four such boxes, and access to The Ledge is part of the regular Skydeck tickets.
Our recommendation
Both Skydeck Chicago and 360 Chicago have their advantages and disadvantages.
What is best for you depends on what you expect from your visit to the top.
If the height of the observatory is crucial for you, opt for Skydeck Chicago, which is 107 meters (351 feet) taller than its counterpart. Book Tickets
Visitors who prefer shorter lines and lots of glass windows will be happier visiting 360 Chicago. Book Tickets
If you are still stuck on Skydeck Chicago or 360 Chicago, opt for the Chicago CityPass and see fantastic views from both decks.
Whichever observatory you choose, please remember to:
Buy your tickets online in advance. It helps you save money, and also avoid long queues at the venue
Check the weather and ensure the day is clear before booking your tickets
If you have time on your hands, you can read up more on Skydeck Chicago and 360 Chicago before deciding.
Observatories have a certain romance after dark, which is why some tourists visit Skydeck Chicago after dark.
Popular attractions in Chicago
# Chicago Architecture Tours
# Art Institute of Chicago
# Field Museum
# SkyDeck Chicago
# 360 Chicago
# Gangsters and Ghosts Tour
# Crime and Mob Bus Tour
# Legoland Discovery Center
# Chicago Architecture Center
# Navy Pier Ferris Wheel
# iFly Chicago
# Chicago History Museum
# Medieval Torture Museum
# Museum of Contemporary Art
# BlueMan Group Chicago
# Museum of Surgical Science
Other observatories in USA
# Empire State Building
# One World Observatory
# Top of the Rock
# The Edge at Hudson Yards