Art Institute of Chicago has the most extraordinary Impressionist collection outside of Paris.
It is the only museum in the world to be top-ranked by TripAdvisor for four years continuously and is the Number 1 thing to do in Chicago.
In this article, we explain everything you must know before buying Art Institute of Chicago tickets.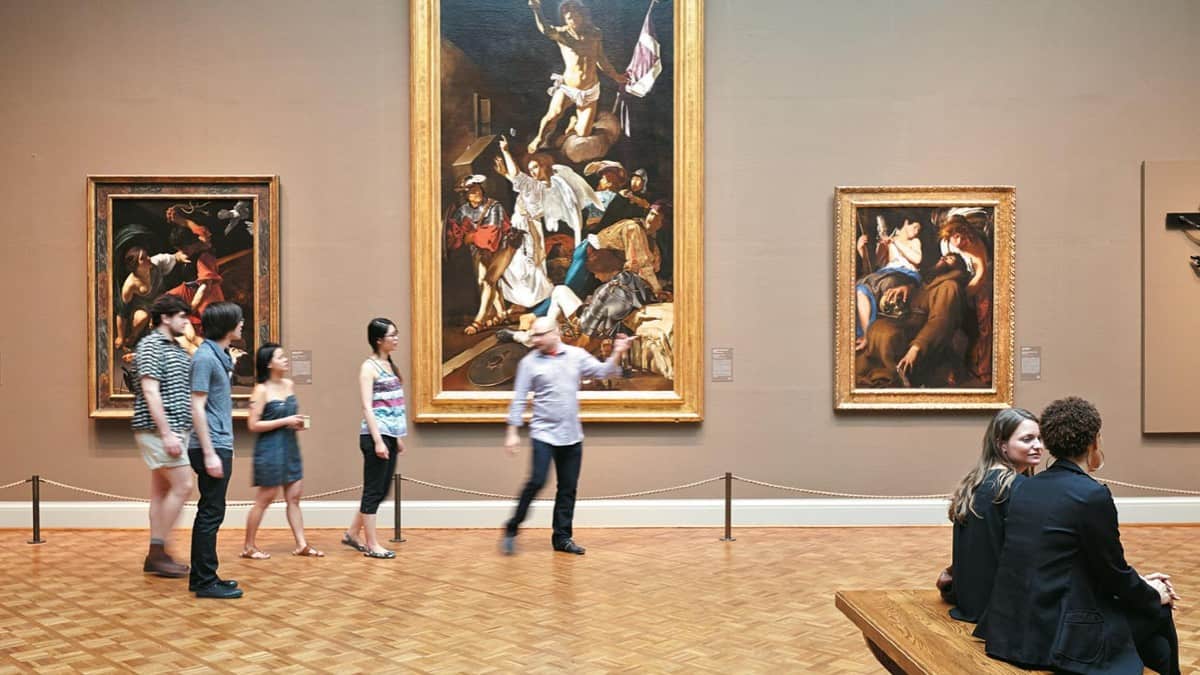 What to see in Chicago Art Museum
The exhibits at this Museum can be broadly categorized as paintings & other artworks.
Most famous paintings
The Museum's walls are lined with art from around the world.
Each painting is equally enchanting and captures the attention of the visitors.
However, if one must identify the best of the lot, here is our recommendation –
1. A Sunday afternoon on the island of La Grande Jatte
A Sunday afternoon on the island of La Grande Jatte by Georges Seurat is the perfect example of 'little dots making a mighty artwork.'
This large painting uses the pointillist technique to depict a casual scene of the French riverside.
2. Nighthawks
Nighthawks by Edward Hopper is one of the most recognizable paintings of the 20th century.
The painting shows an all-night diner with customers and employees in a secluded setting of NYC.
3. The Bedroom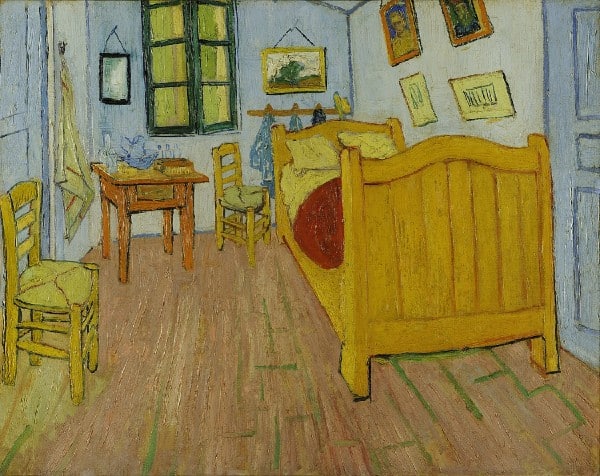 Vincent Van Gogh painted three versions of The Bedroom, which is a colorful representation of his life.
The original is housed in Amsterdam, Netherlands.
4. American Gothic
American Gothic by Grant Wood represents the shift from farming to industrialization in America in the 1930s.
The painting depicts an expressive farmer standing beside his daughter.
5. Child's Bath
Child's bath by Mary Cassatt is a three-dimensional painting that shows an adult giving a bath to a child.
This painting was made at the end of the 19th century, making her the only American artist in the exhibition of French Impressionists.
6. Water Lilies
The Art Institute of Chicago holds a special delegation of Claude Monet's Water Lilies series.
These 250 paintings were completed in the last 30 years of his life.
The range depicts exquisite flowers from his French home.
Other must-see artworks
Besides the paintings, you must not miss many other masterpieces during your visit to the Art Institute of Chicago.
We list a few –
1. The Thorne Miniature Rooms
Thorne Miniature Rooms are tiny dollhouses built with a lot of detail by the finest craftsmen in the world.
Kids are left awestruck with this reproduction of 17th and 20th-century palaces, cathedrals, and residences.
Watch this video to know more –
2. The Modern Wing
The most recent addition to the museum is an outstanding example of architecture.
The European Modernism gallery holds artworks by Picasso, Dali, and many more with rotating film exhibits.
American Windows
American Windows by Marc Chagall is blue-tinted and has a history of leaving the visitors speechless.
It was recently restored to its original glory.
Field armor for man and horse
Artisans in Nuremberg, Germany, produced the field armor for man and horse in the 16th century.
The dynamic action form of this piece of art skillfully forged of steel has wowed one and all.
Buddha Shakyamuni
Buddha Shakyamuni statue seated in meditation comes from a South Indian town, Nagapattinam, and dates to the 12th century.
Buddha is seated in a lotus posture with a calming face. You can also spot the mark on his forehead called 'urna.'
What to see in one hour
If you are in a hurry, it is possible to explore the Museum's masterpieces in only one hour.
Here are the exhibits you can see within 60 minutes.
| Exhibit's Name | Gallery No | Floor |
| --- | --- | --- |
| Ando Gallery | 109 | 1st |
| El Greco's The Assumption of the Virgin | 211 | 2nd |
| Armor for Man and Horse | 239 | 2nd |
| Georges Seurat's A Sunday on La Grande Jatte—1884 | 240 | 2nd |
| Claude Monet's Stacks of Wheat | 243 | 2nd |
| Georgia O'Keeffe's Sky above Clouds IV | 249 | 2nd |
| Edward Hopper's Nighthawks | 262 | 2nd |
| Archibald John Motley, Jr.'s Nightlife | 263 | 2nd |
| Marc Chagall's America Windows | 144 | 1st |
| Pablo Picasso's The Old Guitarist | 391 | 3rd |
| Joan Mitchell's City Landscape | 291 | 2nd |
| Andy Warhol's Liz #3 | 296 | 2nd |
If you get in through the Michigan Avenue entrance, start at the top and finish at the bottom.
And if you get in through the Modern Wing entrance, you must start at the bottom and work backward.
---
---
Art Institute of Chicago tickets
There are three ways to experience the Art Institute of Chicago – book a self-guided tour, a guided tour with a local art expert, or book a combo ticket, which gets you access to both the art museum and 360 Chicago, a nearby observatory.
Tickets are NOT timed
When you book your Art Institute of Chicago tickets, you don't have to select a timeslot.
This means you have the flexibility of visiting the art museum anytime during its opening hours.
We suggest you give yourself at least two hours to explore the artwork.
Buying tickets online is better
When you visit the art museum, you must stand in two lines – at the ticket counter to purchase your tickets and the security check.
If you buy regular Skip The Line tickets or Guided tour tickets much in advance, you can skip the long lines at the ticket counter and quickly go through the security.
Depending on the day and season, this saves you 15 to 45 minutes of waiting time.
Ticket printout
All Chicago Art Museum tickets are smartphone tickets, and as soon as you make the purchase, they get emailed to you.
On the day of your visit, you can show the ticket in your email, on your smartphone, and walk in.
No need to take printouts!
Skip-the-line Art Institute of Chicago ticket
This self-guided tour ticket gets you to access both the permanent collection and the regularly rotating temporary exhibitions.
With this ticket, you can also join the free guided tour, starting at noon and 2 pm.
Or you can download the free mobile app to explore the museum and listen to audio tours in English, Spanish, and Mandarin.
For a full refund, cancel this ticket at least 24 hours before your planned visit.
Tickets price
Adult ticket (18 to 64 years): $35
Seniors ticket (65+ years): $29
Youth ticket (15 to 17 years): $29
Student ticket (with valid ID): $29
Child ticket (upto 14 years): Free entry
Guided tour of Art Institute of Chicago
Experience some of the world's most famous art pieces on a guided tour of the Art Institute of Chicago.
A trained and certified art expert leads this two-and-a-half-hour tour.
The guide shares expert information on the collection and the museum's history and hidden gems.
If you opt for the semi-private tour, you will go around the museum with a maximum of eight participants.
You can also opt for a fully private tour.
Cost of semi-private tour: $115 per person
Cost of private tour: $200 per person
If you are also planning to visit 360 Chicago, check out this combo which includes access to the art museum and the observatory. It is a great way to score a 10% discount.
---
---
Art Institute of Chicago hours
The Art Institute of Chicago opens at 11 am from Thursday to Monday.
It closes at 5 pm, except on Thursdays when it remains open till 8 pm.
The popular art museum remains closed on Tuesday and Wednesday.
The Museum and its shops stay closed on Thanksgiving, Christmas, and New Year's Day.
---
---
Best time to visit the art museum
If you prefer to walk and explore the artworks in peace, the best time to visit the Art Institute of Chicago is between 12 pm to 3 pm.
However, the Art Institute of Chicago is so massive that it can accommodate many people without making it feel crowded.
Remember to buy tickets online in advance so that you don't waste time in the ticket counter lines.
---
---
How long does it take?
If you love art and prefer to get into the details, you will need three to four hours to explore what's on display at the Art Institute of Chicago.
Some visitors are known to complete their tour in just 60 minutes, and some even extend it to six hours.
Tourists who have been to many art museums say that art fatigue sets in after approximately 2 hours of roaming around.
If you plan to stay longer, we recommend regular visits to the restaurants/cafés to recharge yourself.
---
---
Art Institute of Chicago free day
If you are an Illinois resident, the best time for you to visit is Wednesday, between 5 pm to 8 pm.
Every week, for these three hours, locals can get in without buying any admission tickets.
However, they must display a valid resident ID proof at the entrance.
If you do not have an ID card issued by the State, you can bring along your lease agreement, bill, or mail that shows your name and has your Illinois address.
While the Illinois residents enjoy their free day on Wednesday, some visitors can enter for free throughout the year.
Kids under 14
Children under fourteen years of age can enter for free daily.
Is it always free for local teens?
Local teenagers (age 14 to 17 years) needn't buy a ticket as long as they can present valid ID proof at the entrance.
---
---
Star painters at the Art Institute
The Art Institute of Chicago is full of paintings from renowned artists worldwide and across different eras.
However, paintings by two painters – Van Gogh and Claude Monet – get a lot of attention from the visitors.
Van Gogh
There is a total of 17 artworks by Van Gogh displayed in the museum.
The most important being –
1. The Bedroom (1889)
2. Self-Portrait (1887)
3. The Poet's Garden (1888)
4. Madame Roulin Rocking the Cradle (1889)
5. The Drinkers (1890)
Claude Monet
There is a total of 46 artworks by Claude Monet presented Art Institute of Chicago.
His top five crowd-pullers are –
1. Stacks of Wheat (189/91)
2. Water Lilies (1906)
3. Arrival of the Normandy Train, Gare Saint-Lazare (1877)
4. The Beach at Saints- Adresse (1867)
5. Cliff Walk at Pourville (1882)
---
---
Art Institute of Chicago map
At the Art Institute of Chicago, exhibits are spread over a total floor space of one million square feet.
For a first-time visitor, its sheer size can be overwhelming.
That's why we recommend carrying a museum map with you while you roam around.
Besides helping you find the masterpieces, this map can also help you find visitor services such as restrooms, cafes, escalators, Museum shops, ramps, etc.
Bookmark this page to get back later from your mobile, or download the map.
---
---
Renting audio guide
Chicago Art Museum's audio guide is available for rent from the audio guide counter in the Michigan Avenue and Modern Wing lobbies.
The audio guide costs 7 dollars per person. These devices are free for visually impaired visitors.
It is available in English, French, Spanish, and Chinese.
Museum's mobile application
If you don't want to spend money on the Museum's audio guide, the next best option is to download their mobile app.
The app uses location-aware technology with audio storytelling, and it seems as if the art itself is speaking to you.
Here is how the mobile application works:
The app is available for both iPhone and Android phones.
---
---
How to reach the Art Institute of Chicago
Art Institute of Chicago is in the heart Chicago's downtown – adjacent to Millennium Park and steps away from Lake Michigan.
Art Institute of Chicago entrances
Art Institute of Chicago is made up of two buildings – the Michigan Avenue Building and the Modern Wing, and a bridge connects both.
Michigan Avenue Building was built in 1893, while the Modern Wing got added in 2009.
You can choose to enter the Museum from either of the entrances.
Here is a layout that explains these two buildings and what to expect in each.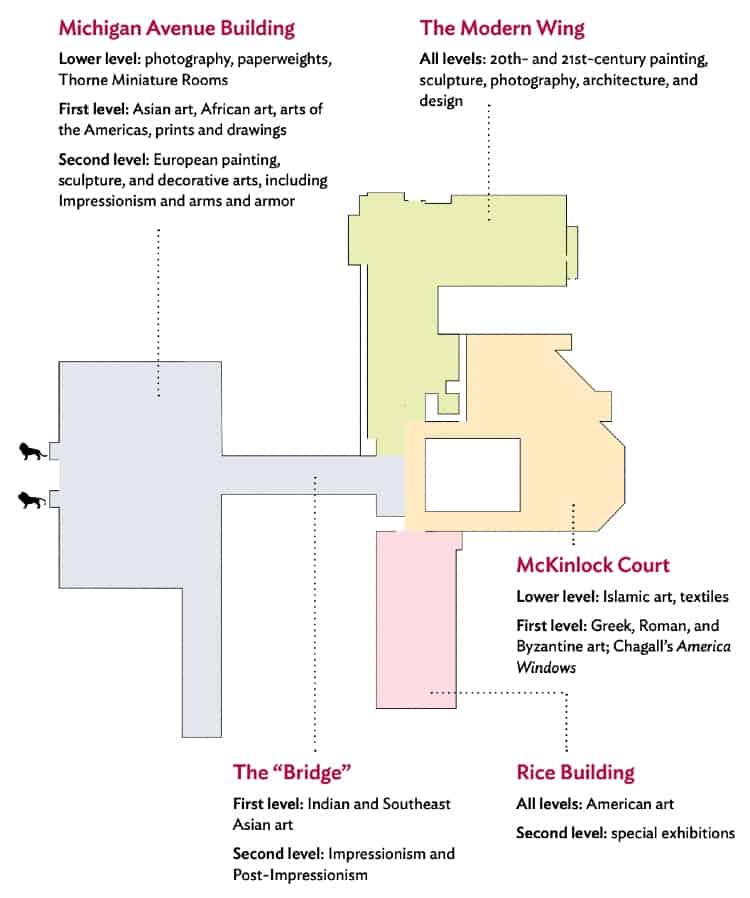 Michigan Avenue Entrance
Address: 111 South Michigan Avenue, Chicago, Illinois 60603.
Directions to Michigan Avenue Entrance
Modern Wing Entrance
Address: 159 East Monroe Street, Chicago, Illinois 60603
Directions to Modern Wing Entrance
Public transport
The museum stands one block East of the Loop, making it accessible via the "L" train system.
You can also use the Brown, Green, Orange, Pink, and Purple lines that stop above ground at Adams/Wabash Station, one block West of the Museum.
The Red and Blue lines stop underground at Monroe Station, some blocks away.
You can also use Metra, Chicago's yet another commuter rail system, to get to Van Buren Metra Station or Millennium station and walk your way to the Art Museum.
Art Institute Chicago parking
Valet Parking service is available at the Modern Wing entrance from 10:30 am to 5 pm, at 28 dollars per car.
However, if you prefer to park yourself, you have several parking options.
The best course is to use SpotHero to find and reserve parking near the Museum before your visit.
Else there is enough space in Millennium Garages, the underground parking lot below the parks adjacent to the Museum.
For spot availability and rates, call (312) 616-0600.
---
---
Restaurants at the Art Institute
If you plan to stay longer at the Art Museum, you must recharge yourself at regular intervals.
The Art Museum has three unique places to eat.
Museum Café
It is open daily from 11 am to 4 pm.
From Wednesday to Friday, the Museum Cafe stays open from 5 pm to 7.30 pm.
Terzo Piano
Serves lunch from 11 am to 3 pm daily.
On Thursday you can get dinner too, from 5 pm to 8 pm.
The place also offers Sunday brunches from 11 am to 3 pm.
Balcony Café
The café opens daily from 10:30 pm to 4:30 pm.
On Wednesday, Thursday, and Friday to accommodate the extra crowd, it stays open till 7 pm.
Restaurants near Art Institute of Chicago
If you want a quick eat, head out to Roti Mediterranean Grill, The Fat Shallot or Le Pain Quotidien.
It is natural to expect bang for the buck when you are traveling with a big family or group.
In such a case, we recommend the value for money restaurants near Art Institute of Chicago such as Goddess and The Baker, Oasis Café or Shake Shack.
For a comfortable sit-down-and-eat experience after all the walking, check out Brightwok Kitchen, Italian Village, or Revival Foodhall.
Sources

# Artic.edu
# In.hotels.com
# Tripadvisor.com
# Wikipedia.org

The travel specialists at TheBetterVacation.com use only high-quality sources while researching & writing their articles. We make every attempt to keep our content current, reliable and trustworthy.
Popular attractions in Chicago